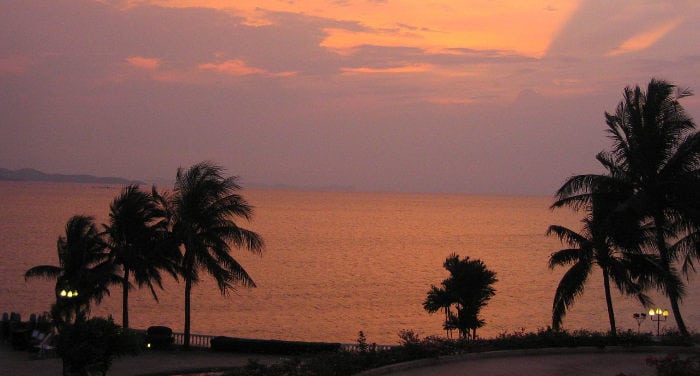 Pattaya is one of the most well-known Thai cities to foreigners for its exciting nightlife. But, besides the wild parties, it offers so much more! Every year more than six million tourists, including many families, arrive from around the world to stay in the most controversial of Thai cities.
Besides Pattaya, in this guide I'll also talk about a little Thai pearl, the island of Ko Lan, located a few kilometers off the coast of Pattaya. In contrast to the latter, Ko Lan is an oasis of tranquility, where you can relax and fully enjoy the spirit of "sabai-sabai" that is so characteristic of the Thai people.
General Information
Though there are larger and more densely populated cities, Pattaya is considered a tourist destination, especially for its nightlife and outdoor activities such as water sports.
The best time to visit Pattaya is from November to March. These five months are considered the driest and therefore the most ideal for fully enjoying the city.
Ko Lan (Koh Larn), also called Coral Island, is instead a little paradise that's little more than 5 square kilometers, situated 7 kilometers from the port of Pattaya, and is considered one of the greenest and best-preserved islands in the entire kingdom of Siam.
How to get to Pattaya and continue on to Ko Lan
By land
Bus and minivan
The best and cheapest way for getting to Pattaya from Bangkok is definitely by either bus or minivan. Both leave from Ekkamai Station, and no longer from Victory Monument, as has been the case since November 2016.
Travel time is about 2 hours, depending on the traffic, and the cost is about 90-100 THB per person.
If you're traveling with large bags, my recommendation is that you take the bus, so that you can stow them without paying a supplementary fee. If you're just traveling with a backpack, then you can take a minivan, of whom the majority will ask you to keep your bag under the seat.
The biggest difference between these two options are the comfort level and timetables. For obvious reasons the bus will take a little longer to get to Pattaya, while with a minivan it'll only take an hour and a half to two hours if traffic isn't too bad.
Whether you take the bus or the minivan, you'll be deposited at the Pattaya bus station, in he northern part of the city, just a few meters from the Macro supermarket, and about 3 kilometers from the city center. The station is very well organized, the staff speak English and also arrange for open taxis (the "song taew") which for 50 THB will bring you directly to your hotel.
Even though the majority of buses and minivans for Pattaya leave from Bangkok, other tourist destinations around the country also offer this type of service. From the island of Phuket, for example, you can get to Pattaya in 16-18 hours, for about 900 THB, traveling overnight in one of the so called VIP buses.
It's also possible to reach the waters of Pattaya from the more northern regions of the country: from Chiang Mai for example the ticket costs 725 THB a person and takes 11 hours of travel.
Click here to read our guide on buses in Thailand.
Train
Another cheap way of getting around Southeast Asia is the train. Though Pattaya isn't connected with the rest of the country by any rail lines, you can get to Bangkok by train, and then take the bus or minivan to your final destination.
The internet site for the Thai railways is well-organized and allows you the possibility to book directly online.
Click here to read our guide on traveling around Thailand by train
By air
Depending on the region you're coming from, it might be more comfortable to get to Pattaya by air.
If you're in the south of Thailand, you can take a direct flight from the island of Phuket, via one of the national carriers: Bangkok Airways.
Bangkok Airways also offers flights for Pattaya from another island: Koh Samui. Both routes last an hour and forty minutes and the average cost for a one-way ticket is around 3,000 THB a person.
You can obviously also get to Pattaya from the north of the country, with the Asian Easyjet: AirAsia. In this case the price for a flight from Chiang Mai to Pattaya is less than the one offered by Bangkok Airways: 1,500 – 1,700 THB a person.
AirAsia also offers direct flights for Pattaya from Udon Thani, Ubon Ratchathani, Hat Yai, and also internationally from Australia, China, India, Indonesia, Malaysia, the Philippines, Singapore and others.
There are no direct flights from Europe, which always require a stop in Bangkok.
By sea
From January 2017 a ferry service was introduced that leaves from the west coast, more precisely Hua-Hin, arriving at the port of Pattaya in about an hour and a half. The course of this new route is fixed at 1,250 THB, and the departure time is 13.30.
Because of the bad weather that has characterized the month of January, ferry service is briefly suspended, though it should be reactivated by Monday, February 13.
Getting to Ko Lan from Pattaya
Once you get to Pattaya, getting to the island of Ko Lan is very easy. Every 30 minutes there's a ferry from the city's main port that will bring you directly to the island for just 30 THB. One important thing to know however: from 9:30 a.m. to 12:00 a.m. there are no ferries to the island.
If instead you're looking for a faster option you can hire a private boat that will take you to Ko Lan in 15 minutes. In this case prices vary from 2,000 to 3,500 THB, depending on how many people you are and which beach you want to go to.
The beaches
Pattaya
Pattaya offers three main beaches: Pattaya Beach, Jomtien Beach, Naklua Beach.
Pattaya Beach is the city's main beach and stretches for 3 kilometers. This beach goes along the city center where there are resorts, bars, restaurants, and also the possibility to do some water sports like parasailing (you're dragged behind a motorboat while attached to a parachute).
Like all the other beaches in Pattaya, this is also a sandy beach. All week long (except for Wednesdays), you can also rent beach chairs (or high chairs!) and umbrellas, where you can tan and enjoy the good local food while seated on the beach. The cost for a chair and umbrella is 50 THB a day.
Pattaya Beach would certainly not be considered the most beautiful or cleanest in the city, but compared to other coasts in Thailand, such as the city of Cha-Ham, it could be considered a good place for a few days of relaxing.
Jomtien Beach, located to the south of Pattaya Beach, is the Pattaya area beach where you'll find the biggest resorts and luxury hotels. It goes for 6 kilometers, and compared to Pattaya Beach is certainly much more peaceful and suited for families.
Naklua Beach is the beach that's north of Pattaya. Reachable in ten minutes by car, Naklua Beach offers clear water and different resting points. This beach too, like Jomtien, is populated by various 5 star hotels and is much more tranquil compared to the city center beaches, making it good for families and those who want absolute relaxation.
Ko Lan
The waters that bathe the beaches of Ko Lan are considered among the clearest of all Thailand. Coral Island is in fact one of the natural gems least-visited not only by international tourists but also by Thais, who prefer larger islands like Koh Samet or Koh Chang.
There are six main beaches, each reachable from the port for 50 THB a person, using local taxis. If you'd rather be more independent, you can rent a scooter for prices between 300 to 400 THB a day.
Ko Lan's beaches are completely equipped with tourism infrastructure, like restaurants, bathrooms, showers and also a few hotels.
The most well-known beach on the island, though not the most extensive, is Samae Beach. This part of the island is half a kilometer long, and also has a hotel onsite, the "Xanadu Beach Resort". During the high tourism season (December – February) it is very crowded, even due to the fact that many private boats prefer this bay for their stops.
The most extensive beach on the island is Tawaen Beach, with a lenth of about 700 meters. Like the other beaches on the island, this too boasts various restaurants (more than 20!) and water sports for all tastes.
In order of size, you can move on to the beaches of Tien, Nual, Tonglang, and Tayaiy. Some are easily reached by local taxis, others instead are not connected by the island's main road and are accessible only by water, like Tonglang Beach.
Where to stay
Hotels in Pattaya
Lodging options in Pattaya vary greatly. The cheapest guest house starts at 350 THB a night, the most expensive hotel can be up to even 30,000 THB.
As a city that has expanded much in terms of surface area, my recommendation is to book a hotel near one of the main beaches. A gorgeous resort right in the center, with pools, excellent Thai restaurants, and included breakfast buffet is "The Bayview Pattaya", which offers rooms in the heart of Pattaya for 1,600 THB a night (a bit more expensive compared to a guest house, but it's worth it!).
If you want to learn more about hotels in Pattaya, you can read this article.
Ko Lan
The island offers lodging for all budgets and lifestyles, from simple guest houses to luxury resorts with a private beach. Obviously prices vary, starting at a minimum of 1,000 THB, reaching up to 6,000 THB a night.
What you need to keep in mind is that, like all islands, Ko Lan has higher prices than the mainland; also due to the limited number of hotels (fifteen on the whole island).
What to do
At the beach
Water sports available at the beaches of Pattaya and Ko Lan, are more or less the same. The most common is probably flying over the water on a parachute dragged by a motorboat (parasailing).
This type of activity has become very popular in Thailand especially in the past two years; and today almost every beach has people ready to offer it to you starting from 600 THB in Ko Lan, up to 1,500 THB a person for a five minute flight.
A favorite activity for kids is the "banana". As is the case on the most famous Mediterranean beaches, in Thailand too you can be driven around for ten minutes seated on an inflatable banana. Prices are less than they are for parasailing: 300 THB.
Many tourists, attracted by the relatively low prices compared to occidental standards, try their hand at driving a jet ski. Unfortunately this type of activity often ends up as a real scam. After finishing your half hour it's highly probable that you'll be accused of having ruined the jet ski in some way, to have caused some sort of (nonexistent) damage, and have to pay a high sum of money.
This type of scam and the danger that this type of watercraft presents has led many hotels in Pattaya to warn their guests to stay away from it.
Snorkeling and diving are quite popular on Ko Lan, where you can also see coral, bamboo sharks and sea turtles. Agencies that organize these activities are located in Pattaya. A few examples are Seafari Dive Center and Adventure Divers, both located in the middle of the city.
In the city
Pattaya is sadly mostly known for its sex tourism, which is fully visible throughout the city, but particularly on "Walking Street", a road located near the port where there are night clubs and erotic shows.
Even though in June of 2016 the new minister of tourism Kobkarn Wattanavrangkul had declared wanting to close the local night clubs and red lights (the so-called "go-go bars") and make the city safer and desirable for those who aren't looking for sex tourism, the situation seems to have reached an impasse.
The attractions available in the city are many, staring with the numerous temples such as Wat Phra Yai, located on the hill that divides Pattaya Beach from Jomtien Beach. This splendid temple is surrounded by an ample garden, and to get there you have to walk a long climb characterized by a stairway of gilded snakes. This is highly recommended around sunset!
The Pattaya zoo (Sriracha Tiger zoo) is the most visited attraction by families with small children. The zoo also offers free transport by buying option A (a ticket that includes transportation) for 650 THB for adults or 550 for children.
The second option also includes lunch for a total of 850 per adult and 650 for children. The zoo is about 2 kilometers from the city center and hosts 200 Bengal tigers. In pure Asian style, you can also participate in activities beyond simply admiring the animals; there's the shooting gallery, you can have your picture taken while feeding tiger cubs, or take in a show with crocodiles, elephants or pigs.
The Pattaya Floating Market represents the most touristy version of the traditional floating market of Amphawa.
This attraction covers 100,000 square meters, where more than 100 shops make their best offers. As in Amphawa, in this market you can also buy fresh fruit, eat freshly made Thai food, or rent a wooden boat for thirty minutes and visit the various floating shops.
Considering its popularity, shuttle buses are available for 20 THB, every 2 hours, from the center of Pattaya they'll bring you to the entrance of the market. The price of a ticket is 200 THB a person.
If your objective is to visit the entire world in half a day, then the Mini Siam and Mini Europe Park is what you're looking for. In this theme park you'll see all the most important monuments in the Kingdom of Siam (Thailand's ancient name) depicted, as well as the most visited ones in the world, such as the Tower of Pisa, New York's Statue of Liberty, and the Sydney Opera House. The ticket price is 300 THB a person, and the park is open until 22, reachable also by taxi from the center of Pattaya for about 500 THB.
Photo Credits:

Pattaya by Herry Lawford