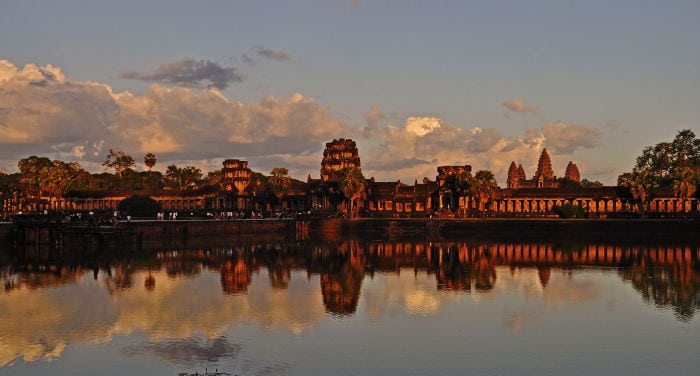 Siem Reap is a town of a little less than 200,000 inhabitants, located in the northeast of Cambodia. It is also the second most well-known city in the country, after the capital Phnom Penh.
It's most famous for the complex of temples often erroneously called Angkor Wat (which as we'll see later on is, in reality, the name of one of the temples making up part of the Angkor archeological site).
The center of the city of Siem Reap is crossed by an 80 kilometer river of the same name that starts in Phnom Kulen National Park.
Despite not being the capital or the biggest city of the country, Siem Reap is however the most visited city in Cambodia, especially thanks to the temples of Angkor. In 1992 UNESCO declared the archeological ruins of Angkor as a World Heritage Site, inserting it also on the list to become one of the seven wonders of the world.
The best time to visit Siem Reap, and Cambodia in general, is between October and March. During the rest of the year Southeast Asia is hit by monsoons and persistent rains that make life difficult for tourists, especially in less developed towns like Siem Reap, where there are unpaved roads and there are no storm drains!
The documents you'll need to get into Cambodia are a passport valid for at least 6 months, and a visa, which can be for tourism or business.
There are two ways to get a tourist visa: the first is the visa "on arrival", obtainable at every border control of the country, including the airport. The second instead can be obtained directly at one of the Cambodian embassies throughout the world.
My advice, if you're staying in Thailand, is to go in person to the Cambodian embassy in Bangkok, where you can get a visa in a few days, thereby avoiding wasting time at the border upon your arrival in Cambodia (especially if you arrive by bus or train).
Some important things to remember before leaving are:
Cambodian law requires anyone entering the country with a tourist visa to stay at least one night;
Even though Cambodia has an official currency (the Riel), in restaurants, bars, hotels, and even Angkor, you'll always be asked to pay in American Dollars. You can easily exchange them in any bank in the city, or get it from an ATM. I don't recommend that you use this last option, since as in Laos, in Cambodia too there are many scams against tourists known to clone their credit cards.
How to get to Siem Reap
Though Siem Reap is a city under constant development (I daresay that it has the largest urbanization in all of Cambodia, perhaps second to Phnom Penh), the airport is located a few kilometers from the city center and not sufficiently equipped to handle long distance flights, such as one from Europe.
From Thailand
By air
Getting to Siem Reap from Thailand (without a stop) is only possible from Bangkok. There are several airlines that offer this route; among which are low cost carriers like AirAsia, while from the central airport of Bangkok (Suvarnabhumi) there's Thai Airways and Cambodia Angkor Air.
Prices on the low cost carriers start from 120 USD for a round trip flight; they cost 250 USD if you decide to use Thai Airways instead. Both AirAsia and Thai Airways offer to daily connections to and from Siem Reap.
By bus
The distance between Bangkok and Siem Reap is 360 kilometers. The bus is an alternate form of transportation to the plane.
I have personally tried this type of trip at the end of November 2016, so I can describe it to you in detail.
Let's start by staying that direct buses headed to Seam Reap leave from the Mo Chit bus station (north of Bangkok), reachable by taking the Skytrain to the station with the same name, and the free shuttle-bus, or by taxi.
The cost of a ticket is about 800 THB a person (which can be purchased on 12go.asia) and the bus that you will take will have bathrooms and air conditioning; you will also be offered a bottle of water and a warm meal (rice with vegetables) a little before arriving at the border with Cambodia.
If you would rather get your tickets in person, then I recommend that you go to the ticket counter at the station a few days before departure, so as to reserve your tickets, since the Bangkok-Siem Reap route is very popular.
There are only two buses a day that go to Siem Reap, the first leaves at 8:00 and the second at 9:00. Both take around nine hours to reach the city.
Once you've got on the bus in Bangkok and put your bags in the hold (remember to always bring your valuables with you and also a long-sleeved sweatshirt since the bus always has the air conditioning turned down to polar temperatures), you can relax until the border.
Once you reach the Cambodian border at Poipet, the bus will stop in front of the Thai immigration office. The immigration building is on different floors, where you can follow the signs and instructions of the bus steward and go to the second floor.
At this point you can get in line in front of the Thai officials that will check your passport and visa, take your picture, will ask for the exit form (the white form you had to fill out before getting into Thailand, usually given to you on the plane) and finally stamp your exit visa.
At this point you can go down to the first floor again and walk toward the Cambodian border control. In this case too follow the signs or follow the crowds, because the situation will be rather Spartan: an unpaved road traveled by almost every form of transport possible and imaginable.
On your right you will see a little building with the sign "visa", that's the Cambodian immigration office. Enter the building and take one of the forms you'll be given by an agent, on which you'll have to write the usual information: name, surname, passport number, the hotel you're staying at, and your reason for entering Cambodia.
Once it is completed, attach a passport-sized photo and hand over your documents and form at one of the counters. Here you'll be asked to pay 1,000 THB or 30 USD for the price of a visa, and up until now there's nothing strange. But once the official calls your name to give you your passport with the Cambodian visa, you'll be asked to pay 100 THB "for administrative costs".
This extra expense isn't mentioned anywhere, and if you do research on the internet, you'll see that this is just a tactic to take money out of tourists' pockets. Even if you ask for an explanation or insist that there's nothing anywhere that says you have to pay those 100 THB, they'll insist you pay it; and only afterward will they give you back the passport.
After getting your passport back, leave the visa office, and walk straight to your right to the place where the bus you came in will be waiting for you.
At this point you will see another small metal building where you'll have to go in, get in line, and once you get to the counter they will take an imprint of all ten fingerprints, and you'll have your new Cambodian visa. Some people, mainly those of Indian nationality, were asked to pay 10 USD (always under the table) before getting their passport back.
At this point get back on the bus, which will start going again as soon as all passengers have gotten their visa. From the border to Siem Reap it takes about an hour.
The bus stop will stop at a tourist agency that will offer you a free tuk-tuk (along with trying to sell you every tour possible) that will bring you right to your hotel. As was mentioned, this trip from the agency to the hotel is free, but during the entire time the tuk-tuk driver will continue to ask you what you'll be doing the next few days and offer you a vast gamut of tours, especially to the ruins of Angkor.
The return trip is a little more difficult (unless you got a round-trip ticket before leaving).
In all hotels and guest houses you'll find tickets to return to Bangkok for a price of just 10 USD, and when you ask for information about the trip you'll be told that it's a direct trip to Bangkok, that you'll travel in a bus and not a minivan, and that you'll be served lunch; unfortunately they're all lies.
The morning of your departure a tuk-tuk will come to get you and bring you to the main road in Siem Reap. The bus that will be waiting for you will likely be old, with old and broken seats and without air conditioning.
Once you're on your way it will stop just about everywhere to take on Cambodians looking to go to a nearby village, as well as every possible gas station where you'll be pressured to buy food and cigarettes in exchange for freely using the toilets.
The final gem is when you stop at an old bus station (very close to the border with Thailand), where you'll be given the chance to buy lunch. On the bus I was on, nobody got something to eat, they were probably all shocked by the fact that they had to keep on stopping. The moral of the story: a trip that on arrival took an hour, on the return took a good five hours.
If you're "lucky" like me, the bus will start again in 10 minutes, and you can finally reach the border in the early afternoon. At this point you'll have to take the same trip as the before: they'll take your fingerprints again, you'll receive an exit stamp and have to get your entrance visa for Thailand – if you don't already have one.
Pay close attention to one thing: when you get off the bus at the border with Cambodia, you'll be given a colored carbon copy to attach to your shirt or backpack. Once you pass through the line of various immigration offices, you'll enter Thailand and there will be someone who works for the bus line waiting with a carbon copy of the same color. You should go to him in order to find the bus that will bring you to Bangkok, which lo and behold, won't be a bus, but rather a minivan.
A young man that was on my same bus from Siem Reap didn't realize that they were distributing the carbon copies, and once we arrived at the Thai border nobody would let him get on a connection to Bangkok (despite not having the bus ticket as proof). A surreal scene, but sadly not so rare in Thailand.
By train
From Hualamphong station in Bangkok one train a day leaves for Cambodia. Tickets cost 52 THB, and can be booked online on 12go.asia, or by going in person to one of the station's ticket counters. If you decide to take the second option, remember to bring your passport with you, since your information will be printed on the train ticket that you'll buy.
The train you'll take will not be going to Siem Reap, but rather to Aranyaprathet (a small town located 255 kilometers from Bangkok). the only train that runs this route is a third class convoy without air conditioning with wooden benches. The trip lasts about 5 and a half hours, with the departure at 5:55 arriving at 11:35.
To be honest, there is a second train that leaves Bangkok for the border; the problem is that it leaves the Thai capital at 17:35 and arrives in Aranyaprathet at 22:00. Since the border between Thailand and Cambodia is only open from 7:00 to 20:00, you'll have to spend the night in Poipet, something I sincerely don't recommend, since other than a few casinos, there's nothing to do in Poipet.
Once you get to Aranyaprathet, you'll have to take a bus or taxi to arrive at the border at Poipet, and follow the same procedure that you did when you took the bus from Bangkok, with the difference that you'll have to take another taxi which from Poipet will take you to Siem Reap.
Aranyaprathet and Poipet are just 6 kilometers apart, and once you get off the train you'll find lots of tuk-tuks ready to take tourists to the border. The price will usually be between 80 and 100 THB, depending on your negotiating skills. Be careful to not be ripped off by the tuk-tuk drivers, which will try to bring you to some local agency where they will try to pawn you off a Cambodian visa for more than 1,000 THB.
From China
If you're in China, your only option for getting to Siem Reap is to take a flight. Since China doesn't border Cambodia,there are no buses connecting the countries, also probably due to the interminable hours of travel, if not days, that it would take to get there.
Airlines connect Siem Reap from Chinese cities like Haikou, Shanghai, Kunming, Guangzhou and, since March 2017, even Shenzhen.
Where to stay in Siem Reap
The city of Siem Reap has about 700 hotels, guest houses, and hostels. My advice is to get a room in the middle of town so that at night you can get around freely on foot without depending too much on tuk-tuks.
The streets in the center are full of bars, restaurants, and various shops, where they also sell handicrafts produced by non-government organizations that give their proceeds to those in need.
What really struck me (or maybe after years in Bangkok I've honed my abilities!) is the wide margin in which you can negotiate prices, especially in places like the night market.
Unlike Thailand, where prices are always increasing and merchants aren't as willing to negotiate, in Cambodia you can haggle the price down to a discount of 70%-80% of the initial price.
A cute guest house right near the main street is Golden Papaya. Always book a room with air conditioning; humidity in the city can get to over 90%, and sleeping will be rather hard to do, especially during the most humid season from April to the end of October.
Where to eat in Siem Reap
The city offers a wide variety of foods. The main road in the center is also the most active at night where you can find a tuk-tuk to bring you to Angkor, and is full of restaurants of all sorts, including a good Cambodian fish buffet located at the end of the street on the western side.
An excellent restaurant with really low prices is Dakshin's. This club serves Indian food, and you'll need a reservation for dinner because the tables are few and it's a really popular restaurant.
If you'd rather have some good pizza, I recommend Il Forno. The restaurant is located right in the middle, inside a little covered market. Here too you should book in advance, since seats are limited and it's a restaurant that is particularly appreciated both by locals and foreign residents in Siem Reap.
The temples of Angkor
A little history
I left this section for last because it deserves more space.
The majority of tourists coming to Siem Reap do so to visit the archeological site of Angkor, and in particular its most famous building: Angkor Wat.
Considered one of the most important archeological sites in Southeast Asia (and certainly one of the most fascinating along with the enchanting valley of Bagan, in Myanmar), Angkor expands for 400 square kilometers, spread over mountainous zones, plains, forests and even a lake.
Its importance on a worldwide level, such as being inscribed as a UNESCO World Heritage Site in the 90's, is due to the fact that the archeological park contains Khmer temples and palaces from the period of 800 to 1400.
The three most impressive and important buildings in the park are Angkor Wat, Angkor Thom, and Bayon Temple. This last one was also the setting of the film "Lara Croft: Tomb Rider" with Angelina Jolie.
For hundreds of years Angkor was the center of the Khmer empire: a powerful kingdom from the IX and XV centuries, which conquered the territories that today correspond with Cambodia, Thailand (an example of Khmer architecture is the Wat Arun Temple in Bangkok), Laos, and Vietnam.
The importance of the ancient city of Angkor and the Khmer Empire in general, is also due to the extraordinary technological development in which they lived. An example is the advanced irrigation system, which is still visible along the roads between temples.
Angkor Wat, Angkor Thom, and Bayon
There are lots of temples and archeological structures to visit inside Angkor and all are extraordinary beautiful and suggestive. A book wouldn't be enough to describe them all; I'll limit myself to describe to you the four most important ones:
Angkor Wat is the ultimate temple, even being adopted by the Cambodian government as a symbol on their national flag. Angkor Wat is the only Buddhist temple inside the park that has never been abandoned, and after being the core building of the Khmer Empire, from 1.500 it became a Buddhist monastery.
Angkor Wat is surrounded by walls which in turn are circled by a moat. The entire building was considered to be the House of the Gods. More specifically, Angkor Wat is a representation of Mount Meru, where nobles lived in the highest areas while those of the lower social levels were on the ground floor.
The tallest tower of the five that make up the temple is even today open to tourists. It's 65 meters high and, like the entire temple, oriented toward the west (unlike the majority of temples, which are oriented to the east).
To see everything will take you a number of hours since it covers 820,000 square meters. Besides the interior, the exterior too offers an amazing view, especially near the little lake located at the entrance of the temple where you can admire lots of lotus flowers.
Another architectural marvel is Angkor Thom. Its name means "Great City", and it was built at the end of 1100 A.D. by King Jayavarman VII of the Khmer Empire.
The entire monument is an actual town, and King Jayavarnman decided to build a 10 meter tall wall around it to per protect it, which form a 3 kilometer square on each side.
Inside the 9 square kilometer perimeter of Angkor Thom is Bayon Temple, a most ancient Khmer construction famous the world over for its numerous (216) faces of Avalokiteshvara carved in the stone, which at any angle you observe them seem as if they're looking at you with an enigmatic smile.
After the empire's decline and the various sackings it received from the Thais and Burmese, the city of Angkor and its temples were abandoned to themselves, allowing the vegetation to grow all around the ruins. A good example of what nature can do is the Tha Prom temple.
Tha Prom too was built in the Bayon style, and inside you'll find immense cotton trees. Like Bayon, this temple too appeared in the film Tomb Raider; though not the original, but rather a replica built just for the shoot.
It is estimated that inside there are more than 600 rooms, and that it could host a population of 70,000 people. At the time of the Khmer Empire, Tha Prom is where the monks lived who held control over the production of jewels and gold.
Tha Prom, just like Angkor Thom, was the last capital before the fall of Khmer rule in the XIII century. The entire archeological site of Angkor was discovered in 1860 by the Frenchman Henri Mouhot and reconstruction work began right away by EFEO.
How to visit the park
The best option for getting to Angkor from the middle of Siem Reap is to take a tuk-tuk. The park is enormous and the sun is brutal; unless you're thinking about visiting it in a week and renting a bicycle or motorbike, I recommend that you rent a tuk-tuk.
You can find one just about anywhere, especially on the main roads inf the center, where there's stores and restaurants. The price you'll be asked is always around 14 USD for a tuk-tuk, and though you can choose the time and tour you want to do, the tuk-tuk will be behind you in Angkor, accompanying you from one monument to another for about 5-6 hours.
How to get in
Each morning at sunrise thousands of tourists enter Angkor so as to see the sun rise behind the ruins of Angkor Wat. To me this is the most classic (and crowed) tour; if you want to see the sun rise in another part of the park that is less popular yet still evocative there's the lake Srah Srang.
Many tuk-tuk drivers ask for a supplemental charge to get there at sunrise or watch the sunset towards 17:00. What I recommend is that you "rent" the same tuk-tuk for all the days you'll be visiting Angkor, so as to have more leeway in negotiating a price, thereby creating a bond with your "driver" who quite often (as was the case for me!) know more than many tourist guides.
Once you find your preferred means of getting to the entrance of the park, you have to buy a ticket. Prices at the end of 2016 were 20 USD for 1 day, 40 USD for 3 days, and 60 USD for 7 days. The days don't necessarily have to be consecutive, since every day you enter a dot will be made on your ticket corresponding to the number of times you have entered. The 3 day tickets can be used throughout a week while those for 7 days are good for a full month.
Starting in 2017 however prices have gone up: for 1 day you'll be asked to pay 37 USD, 62 for 3 days, and 72 for 7 days. Opening hours remain unchanged:
5:00-17:30 the times for watching the sunrise and sunset (Angkor Wat and lake Srah Srang);
5:00-19:00 for Phnom Bakheng and Pre Rup;
All other temples are open from 7:30 to 17:30, except for Phnom Kulen and Beng Mealea, where to enter you'll need an additional ticket.
Once you get in you'll have to get in line to buy a ticket in cash, you can't use credit cards; you can however withdraw Dollars from one of the ATMs located at the entrance.
At the ticket counter you will be asked for your first and last name, and they'll also take a digital picture for their computers. This way the ticket you are given will be exclusively for your use, and each time you enter the park you'll be checked by security.
Two important things:
In case you lose your pass you'll be asked 100 USD to reissue it; 200 for 3 day tickets, and 300 for week long tickets;
Since Angkor is also a religious site, remember to cover your shoulders and legs, otherwise you might be denied entry.
An interesting note
Since November 2016 Angkor Enterprise has stated that for each ticket bought 2 USD will be donated to the pediatric hospital Kantha Bopha, founded by Doctor Beat Richner. This Swiss doctor is responsible for the five children's hospitals in all of Cambodia, which today care for more than 85% of Cambodian children.
In just the month of December 2016 at Angkor 249,482 tickets were sold; each of which contributed 2 USD, raising half a million dollars in charity.
Photo Credits:

Cambodia – Angkor Wat – sunset by Harshil Shah