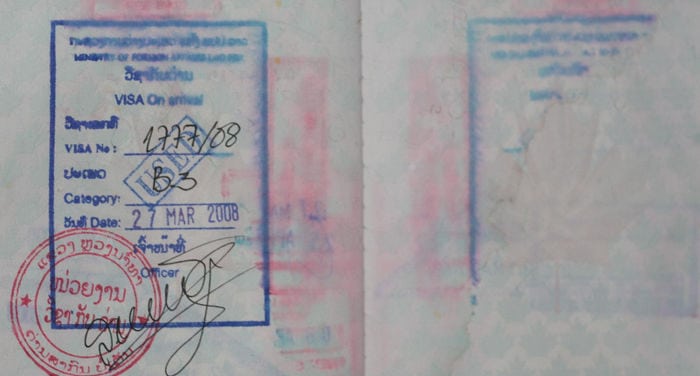 Do you need help to get your visa for Laos?
Click here to see the agencies that we recommend!
Laos is a "wild" country, representing a different way to travel and relate to nature. If you're about to depart for Laos, then you know that, despite having a rather wild reputation, you can easily get a visa directly on arrival at one of the land border posts, or upon arriving at the airport.
I'll say that this is the good news. If however you intend to stay in Laos for more than fifteen days, you'll need a tourist visa.
It is also important to know that there are only few diplomatic offices. The Laos embassy in US is in Washington.
Here is the address:
Embassy of Laos
Address: 2222 S street NW Washington D.C. 20008
Telephone: +1 (202) 328 – 9148
E-mail: [email protected]
Web site: http://www.laoembassy.com/
Tourist entry visa for Laos
To enter Laos with a tourist visa you'll need the following documents:
A passport with at least 6 months validity and a blank page for the stamp.
Two photos in passport format. I recommend that you bring a few more with you, since there will be several occasions where you might need to use them.
Visa application sheet. This is a form that you'll get right at the border, or you can download it from the Laos embassy web site.
A visa "on arrival" costs 30 American Dollars. Depending on which country you decide to cross the border from, you can either pay in Dollars or also in Baht, if for example, you're coming from Thailand, but not in Euros or by credit card.
Lastly, and very importantly, remember to save the slip that serves as an exit form, to be filled out and turned in upon leaving Laos.
To get an extension for your tourist visa, if you're already in the country just show up at one of the Immigration Offices in Luang Prabang or Vientiane.
The visa can be extended for 90 days. But in the event that you want to extend the visa for just a few days, the easiest thing to do is to go into Thailand, for example, and then re-enter.
The country's access points
There are different ways of entering and leaving Laos.
The country has land/river borders with Thailand, Vietnam, Cambodia, China and Myanmar. You can enter Laos and get a tourist visa through the land borders with these countries with the exception of Myanmar (ex Burma), despite the fact that there are negotiations to change things.
Below you'll find a list of border posts (check first that nothing has changed on the Lao embassy website before leaving):
To/from Thailand: Nong Kai – Vientiane, Chiang Khong – Huay Xaik.
To/from Cambodia: Veun Kham – Dom Kralor.
To/from Vietnam: Nam Phao – Cau Treo Aria.
If you decide to enter the country by air, here are the four international airports: Vientiane, Luang Prabang, Pakse, Savannakhet.
Although it isn't obligatory, a round trip air ticket and hotel reservation can help you get the visa.
Another way to get a Lao visa before arriving in Laos is to request it from one of the embassies of the surrounding countries: Thailand, Cambodia, Vietnam, China, Myanmar, depending on your travel itinerary.
Business visa for Laos
If you need to enter Laos for work or business, you can apply for a visa directly at the border or airport, or alternately, apply from the consulate or embassy. Those visas are good for 30 days.
Getting a business visa is a rather long process, usually taking from 1 to 3 months. So I recommend that you apply for it as soon as possible.
The needed documents are the same as for the tourist visa.
I recommend that you procure an invitation letter from the partner firm in Laos, and a sponsoring letter from the company represented by the applicant. These are two non-mandatory forms that can help facilitate your getting a visa.
Other types of visas for Laos
A transit visa (7 days, non-extendable) is issued if you're passing through Laos to a bordering country. You'll have to demonstrate that you will leave within 7 days, with a ticket or visa for another country.
A diplomatic visa (6-12 months, extendable) is exempt from taxes. The diplomatic visa will allow you to enter Laos, only if you are part of a diplomatic mission and other international organizations.
The official visa (6-12 months, extendable) is similar to the diplomatic one (exempt from paying taxes for a visit to Laos). Both these visas allow for multiple entries, that is that they can be renewed each year at the end of the mission.
A courtesy visa lasts from 6 to 12 months, moreover it can be extended and is exempt like the two previous ones. The courtesy visa is meant for foreign experts involved in bilateral projects or assistance programs for the government of Laos. It is a multiple entry visa that lasts for 6 months; it can be applied for and renewed every 6 months at the end of the mission.
Useful information
Something to remember when you're in Laos: if you want to save money, pay with the requested money, Dollars, Kip (the local currency) or Thai Baht, thereby avoiding the conversion of one currency into another. The same strategy can be used for paying for hotels, meals and stores even for considerable sums.
Do you need help to get your visa for Laos?
Click here to see the agencies that we recommend!
Photo Credits:

Laos visa by Houston Marsh