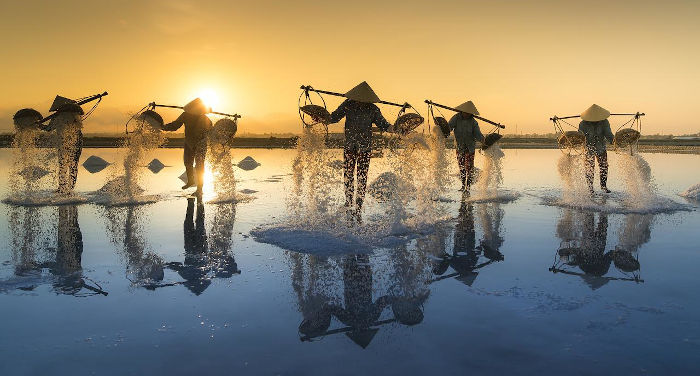 Requirements for entering Vietnam,
Since March 15, 2022, Vietnam has been allowing all types of travelers to enter the country without going through quarantine if they meet the following requirements:
Passport and visa (if necessary): The passport must have a minimum of six months' validity. For stays of 15 days and less, a visa is not usually required (see the next section).
A negative SARS-CoV-2 test: Anybody over the age of 2 years old must obtain a certificate demonstrating that they are negative for SARS-CoV-2 based on a RT-PCR/RT-LAMP test carried out a maximum of 72 hours prior to entering the country, or by means of a rapid antigen test within 24 hours prior.
No type of vaccination certificate is required.
Travel insurance: You must present proof of travel insurance covering at least 100,000 USD in medical treatment and potential admission due to COVID-19.
The PC-COVID App: You must download and install the PC-COVID App on an Android or iOS (Apple) device
10-day self-evaluation: During the 10 days subsequent to your entry into the country, you must self evaluate your health status in order to observe potential symptoms of COVID-19.
Important: Given that regulations can change suddenly, it's important to confirm these requirements on the website of your closest Vietnamese consulate or embassy.
Vietnam visas
If you plan on entering the country for reasons of tourism, intend to stay for less than 15 days and hold a passport of one of the countries listed here, then you won't need a visa; all you need is for your passport to be valid for at least another six months.
Note that visa exemption rules may change, thus we always suggest you to confirm them with the Vietnamese Consular Office in your country.
If instead, you intend on staying in Vietnam for more than 15 days, your country is not one of the ones listed in the above link, or you're visiting the country for the purpose of studying or working, then you'll have to apply for a visa. You can do so at the embassy or Vietnamese consulate in your country (here you'll find the web site Vietnamese Embassy in America).
If you're not currently in your country, it is also possible to obtain one at the Embassy of the consulate in the country where you are (like China, for example).
Here are the requirements for obtaining a visa for Vietnam:
Passport with at least six months of validity and two blank pages (for the visa and stamp);
Two passport-style photos;
Two copies of the application form completely filled out (the form can be downloaded on the embassy site);
Proof of payment, if paying in advance (it's often possible to apply for a visa online);
Invitation letter and authorization for the visa (these documents are only necessary if you are applying to study or work there, not for tourist visas);
The application form should contain information such as the city where you intend to arrive and depart from the country (this information is only necessary for those applying for work or study visas, and can be modified after receiving one).
In some cases, it is also possible to get a visa "On Arrival", at the airport.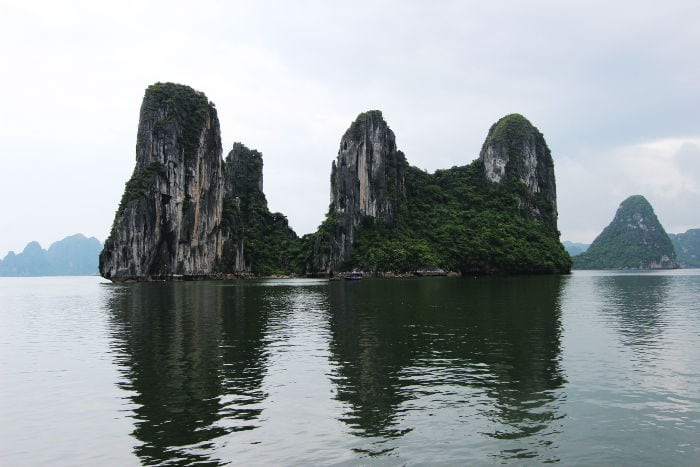 Halong Bay, in the north of the country
Tour operator or independent travel?
Vietnam is a relatively safe country, English is widely used and tourism is extremely developed as it represents an important part of the country's income. So, it's not absolutely necessary to take an organized tour.
If however you don't have the time or desire to choose your hotels and create an itinerary (as we'll see later on in this article the Vietnamese transportation system isn't exactly the best), then a tour just might be your best option.
Travel insurance for Vietnam
IMPORTANT: Since March 2022, having travel insurance is required in order to enter Vietnam.
As we often say, when traveling in Asia it is extremely important to take out a travel health insurance policy since you will not be covered by your country national medical coverage which is often free or low-cost.
In Asia, hospitals are all for profit, and if you should fall sick or have an accident (even a serious one), hospitals will refuse to treat you unless you can pay in advance or are covered by an adequate policy.
Since a good policy will cost only a few dollars a day, we strongly recommend that you get one for the entire length of your trip.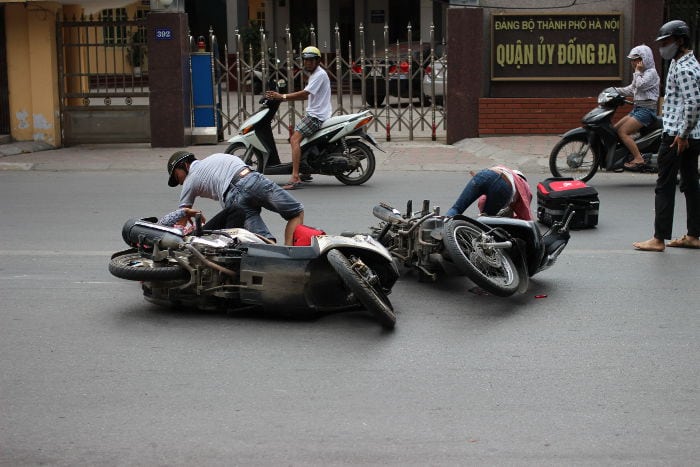 A typical road accident in Hanoi
Vaccines and medicines
The only mandatory vaccine for entering Vietnam is for yellow fever, and even then it's only for travelers greater than a year old who are coming from countries where there is a risk of contracting that illness.
Nevertheless, we recommend that you get – or update – your vaccines for diphtheria, whooping cough, tetanus, polio, typhoid, and Hepatitis A, and B.
In some parts of the country, especially during the rainy season, there's also a risk of contracting malaria or dengue fever. Since there aren't any effective vaccines for those illnesses, the best strategy is prevention. You'll find useful advice here.
In any event, before traveling to Asia you should consult with your family doctor who knows your medical history and can therefore recommend vaccines that are most appropriate to your specific case.
Personally, when I travel in Asia I always take the following medicines: aspirin, antibiotics, anti-inflammatories, and anti-diarrhea medicine; or the basic essentials in the event of a "surprise".
There are many reasons: the convenience of not having to go look for a pharmacy in a country you don't know (I can assure you that it isn't fun, especially when you're sick); the fact that many medicines in circulation in Asia are counterfeit and, lastly, the medicines you'll find in Asia are made for Asians, who have immune systems different than our own (for obvious reasons of Darwinian evolution).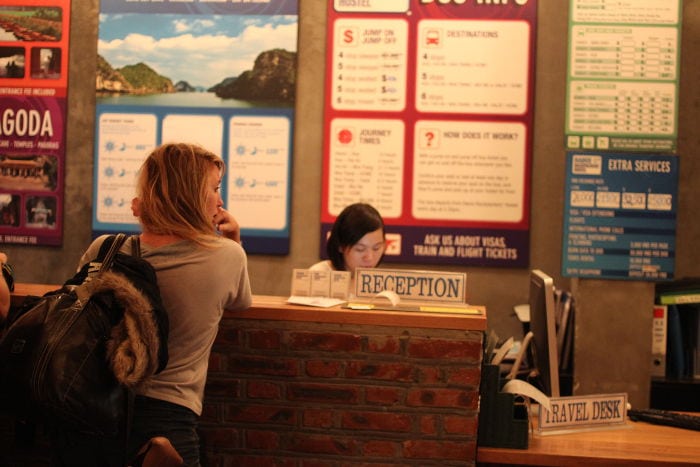 The hall of a hotel in Vietnam
Hotels and hostels in Vietnam
Hotels (and hostels) in Vietnam are rather cheap when compared to the prices you'd find in Europe or the US.
I don't have any specific advice other than paying particular attention to the location of the hotel (I personally prefer to stay in the city center), since the public transport system in Vietnam is lacking, and unless you want to adventure out in an overflowing bus, you'll almost always end up taking a taxi (keep reading to learn more about the transportation system in Vietnam).
Here at SDC, when it comes to booking a hotel in Asia we always recommend Agoda, since it is the supplier with the most choices and often offers the best prices on the market.
Getting to Vietnam (by air or land)
The most common way of getting to Vietnam is by air, and usually through the main international airports of Hanoi or Ho Chi Minh City (also known as Saigon). Click here to read our article on flights to China (the majority of what we say also applies to Vietnam).
It is also possible to enter Vietnam by land via Cambodia, Laos or China. For details on various border points where it is possible to cross by land, I send you back to this article.
Internet and telephone
Unless you've had your mobile phone for between 5-10 years, it should work just fine in Vietnam.
Before running out to buy a Vietnamese phone card, if you're visiting the country for just a few weeks, consider whether or not you really need one. In Vietnam, almost all hotels, bars and restaurants offer an internet connection, so unless you absolutely need to always be connected, you should be able to just use the internet connections offered at hotels and bars.
If instead, you want to have a data connection at all times, then I recommend that you get a phone card from one of the three main telecommunications companies, Viettel, Mobifone, and Vinaphone, which all offer similar prices: for about 120,000VND (keep reading for more on Vietnamese currency) you'll have access to 1.5GB of data (valid for a maximum of 30 days).
Personally, the last time I chose a sim card Mobifone (4GB of data for 200,000VDN, valid for a maximum of 30 days). You can buy the sim card directly at the airport, or in one of the many small shops that you'll find in pretty much every city.
Another option is to buy a SIM card before traveling on portals such as Amazon for approximately 15 – 30 USD.
Note that web sites such as Facebook, Twitter or Youtube are often blocked in Vietnam. If you want to be sure to be able to access those sites – and at the same time protect yourself from hackers who often take advantage of the open connections of hotels and restaurants, – the best option is to subscribe to a VPN (Virtual Private Network) before leaving.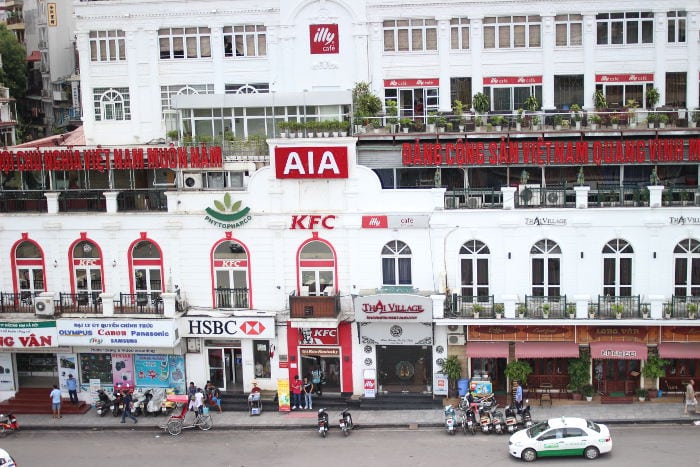 HSBC headquarters in the center of Hanoi
Money, ATMs and credit cards
Vietnamese currency is the Dong (VND). At the time of writing, 100,000VND equal about 4 Euro or 4.5 USD. To learn the exact value you can use the conversion table above.
Regarding ATMs, so long as you have a credit card that works on international networks, you shouldn't have any trouble making withdrawals from the machines. If the ATM gives you an error, don't despair, try at the next one.
I do recommend that you inform your bank before leaving since if you use your credit card in Vietnam (or another foreign country) it is possible that your bank will block your card without notice as a precaution against fraud.
In the unfortunate event that your bank should still block your credit card (it happened to me), call the dedicated security number of your bank circuit to get them to lift it.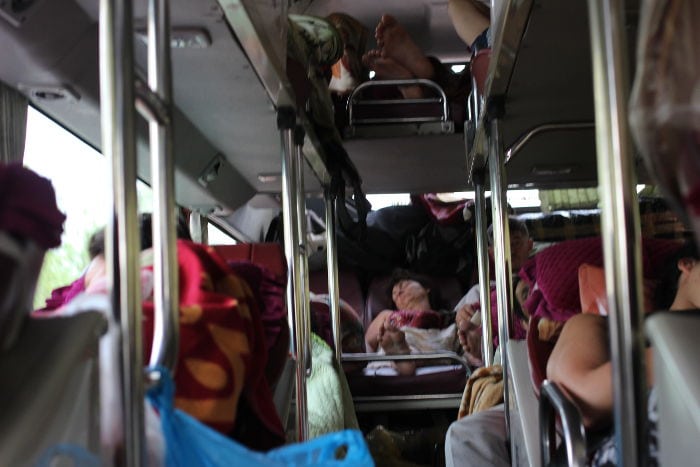 A typical long distance bus with reclining seats
Internal flights, trains, buses and taxis in Vietnam
To look for domestic flights in Vietnam, we recommend using the Baolau platform, which usually offers the best deals for Vietnam and other countries in Southeast Asia.
Internal flights in Vietnam
Considering the geographical configuration of the country (a strip of land marked by mountains in the west and the sea to the east), there are only two ways for crossing Vietnam: from north to south (or the capital Hanoi to Ho Chi Minh City) or the return route (from south to north).
If you arrive in Vietnam by air, you'll probably land and depart from Hanoi or Ho Chi Minh City. The majority of tourists opt for crossing the country by train or long-distance bus (with several intermediate stops, keep reading for the details) to then return to their starting point by air to leave from the same airport where they arrived.
Obviously, it is also possible to take a flight to cities located between Hanoi and Ho Chi Minh City, such as Hanoi to Hué. Here's a complete list of Vietnamese airports.
For airlines with local flights, the cheapest are usually with Vietjet and Jetstar Pacific, for which a flight (one way) Hanoi-Ho Chi Minh City costs about 90 USD .
Trains in Vietnam
The train is a great way for crossing Vietnam along the so-called "Reunification Line", which goes from Hanoi to Ho Chi Minh City with stops in Hué, Danang, and Nha Trang.
If you think that you'll save time by flying, think again: the night train from Hanoi-Hué, for example, leaves late in the evening and arrives early in the morning; so besides saving the 4-5 hours for the flight, you don't even have to pay for a hotel.
Note that, unlike long-distance buses, for which you can directly buy a ticket from Hanoi to Ho Chi Minh City and get off/on the bus at the intermediate stops (Hué, Nha Trang, etc – the so-called "hop on and off open ticket"), on trains this is not allowed: you would have to buy a separate ticket for each segment.
It is possible to both buy tickets online (such as on Baolau.vn, a site in English that accepts international credit card payments) and directly at the station.
Long distance buses in Vietnam
The other "classic" method for crossing Vietnam is with the "hop on & off open buses", or buses where you can buy a ticket from Hanoi to Ho Chi Minh City and get off and on as you please (although usually, you'll need to contact the tourist agency one day in advance) at all intermediate stops (usually Hué, Hoi An, Nha Trang, and Dalat, but the itinerary may vary depending on the tourist agency and bus company that you choose).
Before buying a ticket, make sure that the bus you're taking offers reclining seats (some segments, such as Hanoi-Hué, are very long and will take an entire night of driving) and a bathroom on board since not all tickets give you access to such "luxuries".
Regarding onboard toilets, even though you buy a ticket with that option, on occasion there won't be one. In any event, buses will stop every 3-4 hours, so as long as you don't drink too much water you should be able to make it through just fine!
When it comes to buying a ticket, I personally went through my hostel in Hanoi (yes, I traveled by bus). There are however many tourist agencies that offer this type of service in every city.
City buses in Vietnam
No Vietnamese city has a subway line. The buses are old, dirty and extremely crowded. Personally, I never took one, choosing to walk instead, and getting to and from the airport I took a taxi.
Here you'll find more information on the buses in Hanoi and Ho Chi Minh City, respectively.
Taxis in Vietnam
Taxis in Vietnam are cheap enough, so long as you always choose a taxi from the two main companies (Mai Linh and Vinasun), the drivers are honest and capable.
Do not trust the other companies, especially at the airport. To make sure that the taxi belongs to one of the two cited companies, click on the links above and memorize (or take a picture of) the company logos and only take taxis with that logo.
Note that drivers will not speak English so it's always best to have the address written down to show them once you get into the taxi.
Another option is Grab, an app very popular in Vietnam (it works pretty much like Uber). Personally, I used it often, obtaining almost always a price better than the price offered by the taxi drivers.
If you intend to use Grab, I suggest you buy a sim card with internet data (as you'll have to be able to use the app on the go).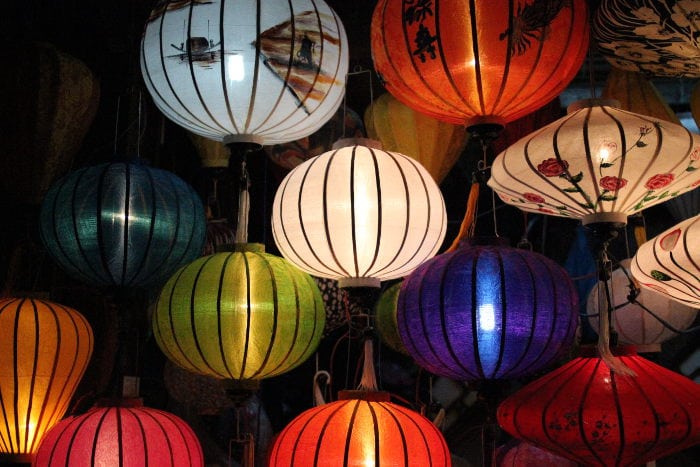 Lamps for sale in Hoi An
Tourist itineraries in Vietnam
As was already said, there are only two ways to cross Vietnam: from north to south, leaving from Hanoi and arriving in Ho Chi Minh, or south to north with the reverse itinerary.
The most common stops between the major cities are:
In addition, from Hanoi you can visit famous Halong Bay (to the east, on the coast) and the Sapa rice terraces (to the north near the border with China); while from Ho Chi Minh City you can visit the Mekong Delta and the Cu Chi tunnels (used by the Vietcong during the war in Vietnam).
Keep in mind that if you only have two weeks available it won't be possible to visit all the listed places. I personally opted for Hanoi, Halong Bay, Hué, Hoi An, Nha Trang, Dalat, and Ho Chi Minh City (with day trips to the Mekong Delta and Cu Chi tunnels). If I could go back though I would leave out Nha Trang and, with those two days take an excursion to Sapa or Ninh Binh.
Click here to read our article completely dedicated to design your itinerary in Vietnam.
What to bring?
Besides the medicines I've already mentioned, mosquito repellent, sunblock, and an electrical adapter, you won't necessarily need to bring anything else when going to Vietnam.
Here's a list of what I bring while traveling in Asia.
When to go to Vietnam?
Vietnam has a tropical monsoon climate, with two monsoons that hit the country during both the summer and winter.
That is why there is not one ideal season for visiting the whole country (even though Spring and autumn are probably the best times to go, like in many other countries).
The north of Vietnam is the only area with actual seasons, with a winter that lasts from December to March and a torrid summer where it gets up to 40 degrees. Remember that the summer coincides with the rainy season.
In the central region, the rainy season coincides with the winter. In summer the high temperatures will surpass 30 degrees.
In the south of the country, the temperature consistently stays between 20 and 40 degrees (the hottest months are in the Spring). There the rainy season goes from May to November.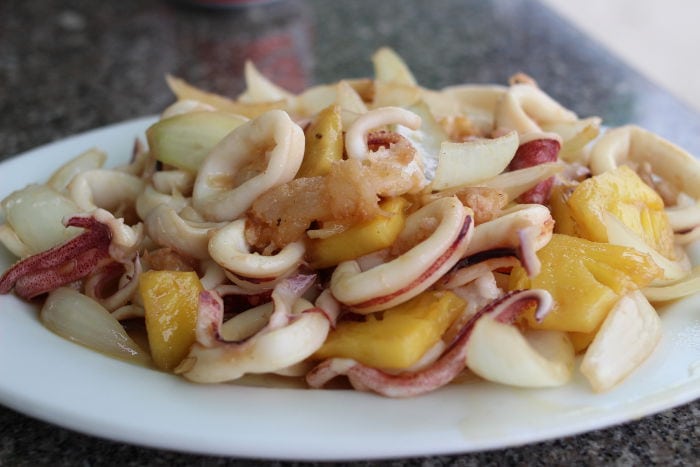 Seafood in Vietnam
Food and drink
Considering the more than reasonable prices, you'll probably eat out in restaurants for both lunch and dinner. In Vietnam, I personally almost always ate fresh fish (usually roasted or fried) and roasted meat. If you prefer rice, noodles, or soup, you'll have a wealth of choices.
When it comes to drinks, I recommend the shakes made from fresh fruit and the coffee, which in Vietnam is, to say the least, spectacular.
How to communicate in Vietnam
Vietnamese is a tonal language, like Chinese. They use our alphabet (even if the letters often contain symbols that we don't use for representing tones). In tourist areas, you can get along quite well with English.
If you're interested in learning Vietnamese, here's a short review of some of the best apps.
Frequently asked questions
Where should I go in Northern Vietnam?
Northern Vietnam has a breathtaking nature and the most memorable spots. Preferably, you should spend at least 10-14 days here and start your itinerary in Hanoi (if arriving by flight). Hanoi is (to many peoples' surprise) the capital with many cozy bar streets and historical sites. Look at it like Vietnam's equivalent of Beijing in China.
Spend a couple of nights in Hanoi and go to the old quarters, the Hoan Kiem Lake, and enjoy one of your best culinary experiences. From here, you'll reach some of the most beautiful places in the world, including: Sapa, Ha Giang, Ninh Binh, Cao Bang & the Ban Gioc Waterfall, and Halong Bay.
Where should I go in Central Vietnam?
The central part has a warmer climate and a flatter landscape along the shoreline. If you want to move along the coastline to visit the cities, you can start in Hué and move down to Da Nang.
Being the third biggest city in the country and one of the most developed, Da Nang has many resorts, beaches, and some of the best seafood restaurants (the lobsters are delicious and cost a fraction compared to Western countries).
Another reason to visit Da Nang is that it's just a 20-minute drive away from Hoi An. Being a UNESCO World Heritage site and one of the most visited places in Vietnam, Hoi An Ancient Town is full of colonial buildings and old wooden Chinese shophouses. It's a place you shouldn't miss during your stay.
If you're up to trekking and backpacking, you can skip Hue and Da Nang and visit the central highlands. You'll find astonishing sites like Phong Nha-Ke Bang National Park (another UNESCO World Heritage) and Hang Son Doong, the biggest cave in the world.
Set aside at least 5-10 days in the central parts.
Where should I go in Southern Vietnam?
Southern Vietnam is similar to the central part, having a warmer climate, and an even flatter landscape. Trekking won't be on your to-do-list.
If you land in Ho Chi Minh City, spend 2-4 nights and see how one of the fastest growing cities in the world evolves. Being the biggest and one of the most historical cities, you should visit the central districts and enjoy its local abundant cuisine and attractions.
District 1 is the most central district and also one of the smallest. You'll see that most backpackers and travelers hang around here and you can find sites like the Notre Dame Cathedral of Saigon, the historic Central Post Office, the Independence Palace, and the Bitexco Tower (Ho Chi Minh's financial district).
Other districts you should explore in Ho Chi Minh are:
District 2, Thao Dien (Saigon's expat district with posh restaurants and bars)
District 3 (a cozy area with many bars and restaurants)
District 4 (the old mafia district with many seafood restaurants)
District 5 (Saigon's Chinese district)
Are there any islands to visit in Southern Vietnam?
If you want a break from the hustle and bustle, you can go to the Con Dao island or Phu Quoc island. Phu Quoc is only a 20-30 minute flight away from Ho Chi Minh, located in the Gulf of Thailand. Interestingly, it's closer to Cambodia than Vietnam and good for snorkeling, sunbathing, and recharging your batteries.
Another option is Nha Trang, famous for its beautiful shoreline, tasty seafood, and spectacular coral reefs. From here, you'll reach Dalat within a 3-hour drive, one of the most visited provinces in Vietnam's Central Highlands.
Known as the "City of Eternal Spring", Dalat was used as a resort by the French a century back. Thanks to the high altitude, Dalat offers a comfortable climate and much of the local avocados and strawberries come from here.
How much time do I need in Vietnam?
It depends. If you're mainly into trekking, but still want to visit places like Hanoi, Hoi An, and Ho Chi Minh, you should set aside at least 3-4 weeks for the trip. You'll spend most of your time in the northern parts and in the central highlands while doing the trekking.
If you want to hang around in the main cities, spend a weekend in Phu Quoc and visit Hoi An, for example, set aside at least 2 weeks for the trip.
What budget do I need when travelling in Vietnam?
Vietnam is one of the poorest countries in Southeast Asia and still comparably cheap for travelers. Backpackers can survive with a budget of USD 20 – 40 per day, while a more luxurious experience can cost you USD 200 or more per day.
Is it safe to travel in Vietnam?
Yes, it's generally safe even if you can come across purse-snatchers and pickpockets in places like Ho Chi Minh City, Nha Trang, and Hanoi. One piece of advice is to not wave with your phone on busy roads and to use crossbody purses/bags or backpacks.
Sometimes, you come across people (like street vendors) who try to squeeze some extra money from you. It's a markup you simply need to add into the calculation and Vietnamese people get scammed from time to time as well.
Can I use US Dollars in Vietnam?
Less people use US Dollars in Vietnam nowadays, even if some shops and hotels accept it. Still, the general advice is to use Vietnamese Dong (VND, which is the official currency) when exploring the cities.
What can you not eat in Vietnam?
Raw blood pudding and living coconut worms speak for themselves. Also, try to avoid fresh vegetables and salad (like Roman salad), tap water, and roadside coffee (it can be toxic). You can find good sushi places in places like Ho Chi Minh City, but try to avoid raw meat and fish in any form.
Photo Credits: Cover Photo by Quangpraha on Pixabay
Photos by Sapore di Cina