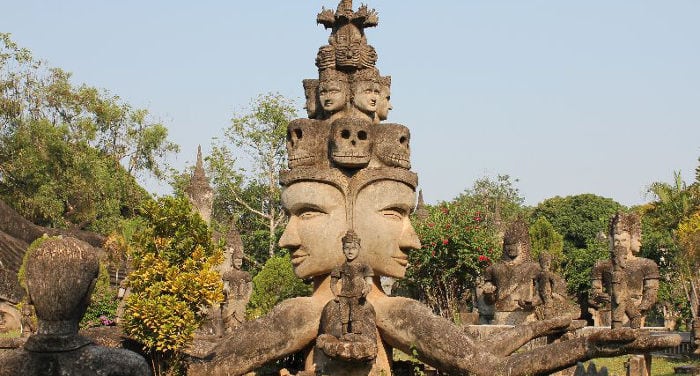 Laos is universally known as a safe country – even international standards such as the Peace Index list this country among the safest places in Southeast Asia. The population is hospitable and relaxed, the atmosphere is tranquil; truly a land that poses no problems for those hoping to visit.
Nevertheless, completely safe places don't exist, but in Laos so long as you follow the common standards of conduct dictated by good sense – such as not running through the streets waving brand new dollars and not treating people as if you were a colonial landowner visiting their holdings – and you'll see that your vacation will be exceedingly relaxing.
It is good to remember that as is often the case in Asia, Laoatian law carries the death penalty for certain crimes such as sexual assault and drug trafficking. Another crime carrying capital punishment is high treason, but here we won't go into your relationship with the communist party that governs Laos.
Infrastructure in Laos
The greatest problems are linked to the natural environment and infrastructure. The landscapes of Laos are splendid and wild, to use a more chic term. The fact that this is a relatively undeveloped country means that on one hand there's incredible natural beauty, and on the other that it's difficult to travel through certain regions. Many tourist love to visit the country by renting a car or motorbike, perhaps one of the best ways of discovering Laos. However the condition of the road network, especially in the north, require caution in view of the less than optimal road conditions.
Helmets are recommended and I strongly advise that you do not travel by night, avoiding even nighttime travel aboard public transport due to the elevated risk of serious accidents. Another element to keep in mind is the tragedy of unexploded ordinance, a macabre leftover from the Vietnam War. Even if the clearing of land mines is common, some areas outside of major tourist circuits present a high level of danger, so you are strongly advised not to wander in less-traveled zones without a local guide.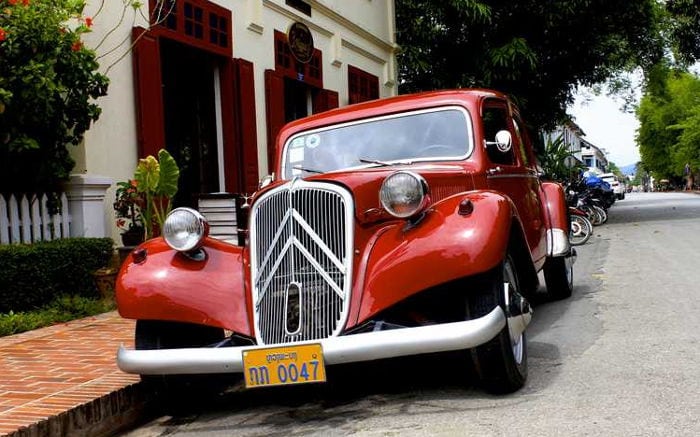 Driving and using the telephone in Laos
In the event that you wish to drive a car, you'll be happy to know that in Laos both types of international licenses are recognized: the 1949 Geneva and 1968 Vienna. Recent changes to automotive law, taken to conform to the ASEAN standards, left the foreign community in Laos feeling alarmed. Although it might be a rule from the far west of the past, it seems that driving in Laos can still be done without any problems. Whether you want to drive or not, during your stay in Laos you will most likely need a Laotian SIM card.
There are four current operators: BeeLine (ex Tigo), Unitel, Lao Telecom and ETL. Being state agencies or with government participation the differences in cost aren't much, but what's different is the area of coverage. In the capital you shouldn't encounter any problems, but in the rest of the country the operators might not all be available to the same extent, which makes getting a SIM card advisable if you wish to travel to the interior of Laos.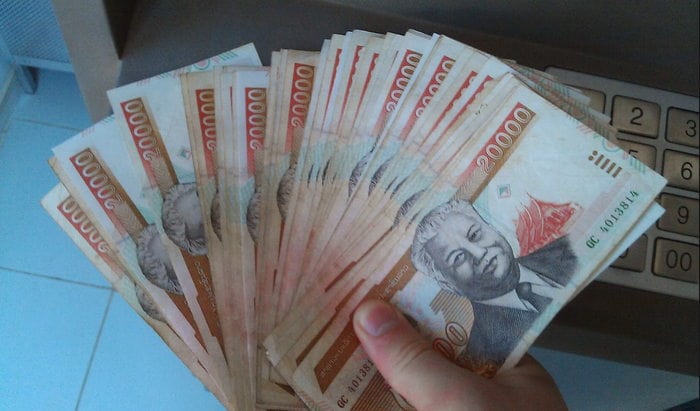 Currency and Laotian banks
Laos will enrapture you with its beauty, however certain mundane aspects of everyday life cannot be avoided: we're talking about managing money during your vacation. Laotian money is called Kip, actually Lao Kip (abbreviated LAK). Nevertheless you'll find it called many things, just remember that Laos has just opened to the world and some mechanisms are still getting worked out. The Kip cannot be changed outside of Laos – generally no one will take it, so when your vacation is on the homestretch take note of your funds so as to avoid a forced shopping spree at the end of your stay. In any case, in most of the country they will accept Thai Baht or the omnipresent Dollar.
In Laos you can easily use a cash card at one of the numerous ATMs.  Personally I only needed to use my card in dusty Champasak. When you have to withdraw from your account do continue living your Laotian dream, remember to look for ATMs with the abbreviation  BCEL, and avoid those that say JDB, whose commission rates are really expensive. The Australian bank ANZ allows a maximum withdrawal limit greater than other banks – about 2.000.000 Kip (around 250 USD) for each transaction; the daily limit is 8.000.000 Kip (about 1.000 USD).
Seasons to visit Laos
We've talked about many useful and interesting things but we haven't answered a fundamental question: when to go to Laos? Basically Laos has two seasons, a dry and a rainy one. The dry season runs from November to April and can be divided into two parts. The first, from November to February is cooler with comfortable temperatures, while it is hotter in the months of March and April up until almost the beginning of May.
The wet season lasts from May to October and is characterized by storms that last several hours with almost daily frequency. The high humidity makes the perceived temperature seem much higher than the real one, with highs up to 40° on the hottest days. On the coolest days of the year temperatures dip down to 15°, which would make having a light sweater in your suitcase advisable. Returning to the rainy season, it is said that this makes the air clean and fresh, giving the sky a brilliant blue color and offering a magnificent natural show thanks to rich vegetation that is often surpassed by spectacular rainbows.
Laos is not a difficult country to visit, so all that's left is for you to come!
South East Asia Tour Search
Select the country you want to travel to see the tours we recommend.

Multi-city tours in Cambodia
Adventure tours in Cambodia
City Tours in Cambodia
Thailand, Cambodia and Vietnam Tours
Other Tours
Custom Tours in China
Group Tours in China
City Tours in China
Adventure Tours in China
Other Tours in China
Multi-City Tours in Vietnam
Adventure Tours in Vietnam
City Tours in Vietnam
Vietnam and Cambodia Tours
Other Tours in Vietnam
Multi-City Tours in Thailand
City Tours in Thailand
Adventure Tours in Thailand
Beach Tours in Thailand
Other Tours in Thailand
Multi-City Tours in Laos
Adventure Tours in Laos
City Tours in Laos
Thailand and Laos Tours
Other Tours in Laos
Multi-City Tours in Indonesia
City Tours in Indonesia
Adventure Tours in Indonesia
Other Tours in Indonesia
Multi-City Tours in Malaysia
City Tours in Malaysia
Adventure Tours in Malaysia
Other Tours in Malaysia
Photo Credits: Photo by Pietro Acquistapace