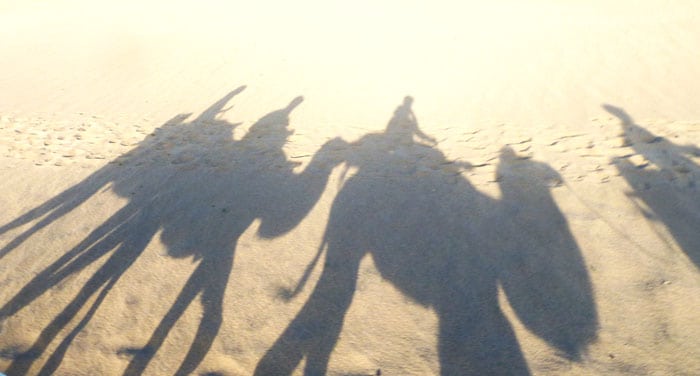 Camel trekking was one of my favourite activities in Gansu province
In this guide to travel in Gansu you will find:
For more general information about traveling in China such as visas, vaccinations, flights, food etc. be sure to check out this epic 4,000 word complete guide to traveling in China. Just skip to the sections you are most interested in!
p.s. Here you find our recommendations for hotels in Dunhuang and Lanzhou.
Why visit Gansu?
Rich culture and scenery
I am the type of traveller that always looks for the most remote and adventurous places to get lost in. This is how I fell in love with Gansu province.
Gansu is probably the most exciting province I have visited in China. Rich in Silk Road history, it is home to so many different cultures with strong Tibetan and Islamic influences in particular.
The province's scenery is just as eclectic as its people.
In your travels you might:
Wake up in a yurt surrounded by yaks as you enjoy the rolling grasslands of southern Gansu;
Head off into the sunset on camel back in the dunes of the Gobi desert in the northern part of the province;
Check out some of the province's World Heritage Sites such as Dunhuang's Mogao caves
Similarly, if you enjoy trying weird and wonderful food, Gansu will not disappoint. I definitely recommend sampling camel hump, yak burgers, and Lanzhou's famous beef noodles among other local dishes.
For all of these reasons, I firmly believe that Gansu should be on any intrepid traveller's to do list.
Adventure
Be warned, however: this region is not always the easiest to navigate for foreign travellers. When I visited, I found myself in confusing and sometimes absurd situations on a number of occasions, despite having lived in China a long time and speaking at least some Mandarin.
For example, travelling by car to Langmusi in southern Gansu with a local we had just met, we were forced to hike the last two miles of road into town because heavy rain and construction had turned the mud road into a giant swamp. I've since discovered this is (or at least was) quite a common problem.
This type of situation is not uncommon in Gansu, China's second poorest province and an area where many locals do not speak Mandarin as a first language.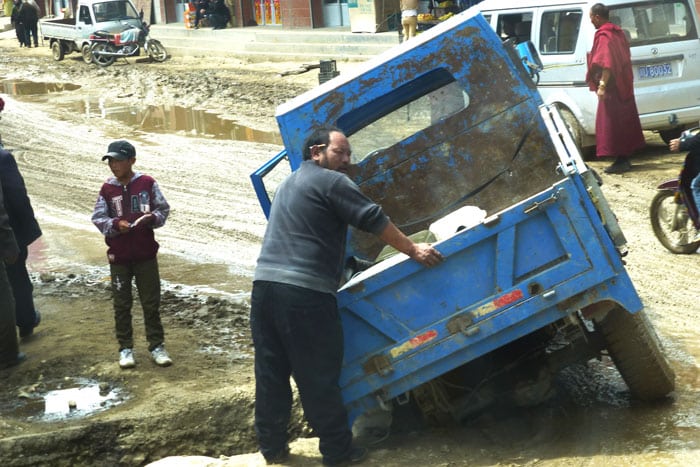 This is what happens when you have giant holes in your mud road!
However, I think this is part of Gansu's charm. Tourism has not yet reached many parts of the province, which means escaping the crowded and sometimes theme-park quality of some of China's top destinations. What's more, this is a place for spontaneous adventures… That same driver who hiked the two miles into Langmusi with us later ended up inviting us into his home for a delicious home-cooked meal of yak meat.
Making your own way vs. using an agency
To fully experience the randomness and excitement of this province, I recommend making your own way as much as possible instead of going with a tour company. People are friendly and always willing to help you get to where you need to go. Plus, with this guide you should have all the information you need to go out and explore!
However, I recognise that if you are short on time or travelling with young children, using a tour agency may be a better option.
You can also click here to read our general guide for China tours.
Recommended itinerary
Places to visit
There is a multitude of amazing places worth visiting in Gansu province and it would be impossible to list all the small towns and villages that make up the essence of the province.
If locals invite you to visit their hometowns or if you have the chance to make a pit stop in a smaller place, definitely take the chance! This guide gives recommendations on some of the larger must-see spots in Gansu but please explore beyond these.
I will be providing further advice on how best to travel by plane, train and bus to the following places:
Southern Gansu
Hexi Corridor
Lanzhou;
Zhangye;
Jiayuguan
Northern Gansu
Dunhuang;
Surrounding Gobi desert
By plane
If you are pressed for time and travelling from eastern China, flying to Gansu province is probably your best bet.
Lanzhou
Lanzhou is the easiest place to fly to from Beijing and Shanghai:
Flights from Beijing
More than 5 flights per day;
Flight takes approximately 2h30;
Main airlines: Air China, China Eastern
Flights from Shanghai
2 to 3 flights per day;
Flight takes approximately 3 hours;
Main airlines: Air China, China Eastern, Hainan Airlines
You should be able to get a return flight from both cities for about 1500 Yuan. You can check the prices with cTrip.com by clicking here.
Lanzhou Zhongchuan Airport is located approximately 70km from Lanzhou city centre and transport can be erratic depending on what time of day you are travelling.
I found this out the hard way when my taxi's tire exploded in the middle of the highway on the way to the airport at 4 am. Needless to say that helping my taxi driver change a tire in pitch black pouring rain whilst watching the likelihood of making my flight slowly evaporate is not my favorite memory of Gansu.
Moral of the story: give yourself a BIG time margin if you are trying to catch a flight from Lanzhou.
You have two options to get to and from the airport:
Taxi: this will cost you approximately 130 Yuan to Lanzhou's downtown area and 160 Yuan to Lanzhou train station;
Shuttle bus: you can catch the airport but for 30 Yuan to downtown Lanzhou (Tianshui Road). From there you can catch bus 1 to the train station for 1 Yuan
Dunhuang
Some travellers may wish to head directly to the north of the province by flying into Dunhuang. However this city is more difficult to access by flight from eastern China with no direct flights from Shanghai and only one daily flight from Beijing. You may wish to fly via Xian for more options.
However, flights to Dunhuang from both Beijing and Xian seem to be almost twice the price of flights to Lanzhou. For this reason it may be worth flying into Lanzhou and catching trains or buses from there.
There is also one China Eastern flight per day from Lanzhou to Dunhuang that takes approximately 1h45.
By train and bus
If you are lucky enough to have flexible travel plans and some time to spare, my number one recommendation is to access Gansu by land via northern Sichuan (or from Gansu to northern Sichuan if you are travelling from the west).
Why not visit the amazing Jiuzhaigou national park first before heading to Gansu? Fly into Chengdu or even directly into Jiuzhaigou if you are travelling from Beijing. Spending a few days in Jiuzhaigou will also help adjust to the region's high altitudes.
From Jiuzhaigou you will be able to access Langmusi, a small town on the Sichuan/Gansu border and the first stop on my recommended travel circuit.
From there I recommend the following itinerary:
Langmusi – Xiahe (by bus);
Xiahe – Lanzhou (by bus);
Lanzhou – Zhangye (by train);
Zhangye – Jiayuguan (by train);
Jiayuguan – Dunhuang (by train);
Dunhuang – ?
(Catch a flight or train to you next destination! Personally I caught a crazy 24 -hour train back to Xi'an. But why not travel onwards to Xinjiang)?
If you don't have time to travel from northern Sichuan and wish to use Lanzhou as a landing base for exploring Gansu, here is a really useful website with bus schedules to access Xiahe and Langmusi.
It is also possible to reach all of the above destinations by car either by hiring a local driver or going with a tour company.
Langmusi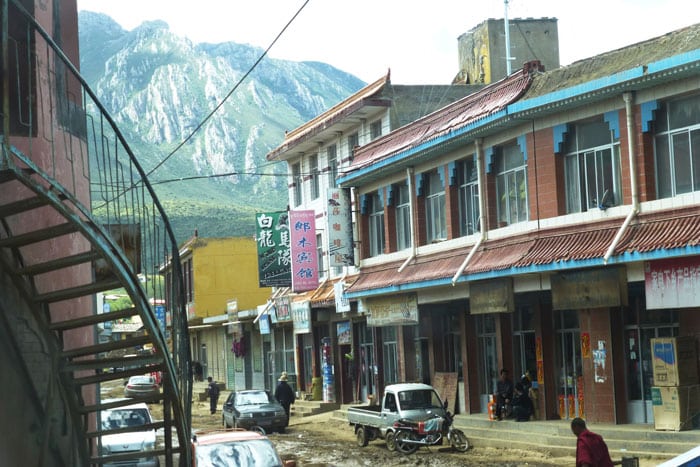 Langmusi is a rapidly expanding village but still has that rural feel
I visited Langmusi in the summer of 2012 and it was going through a full-on construction project to pave the town's dirt roads. Other travellers have also observed the town's rapid development and constant road works.
The last reports of construction date back to October 2013, making it difficult to assess whether these types of large-scale changes are still taking place. However, considering the rapidly evolving nature of the town, be prepared for a certain amount of unpredictability when visiting Langmusi.
Please also be aware that Langmusi can get very cold, even in the summer, so bring warm clothes. I also got pretty bad altitude sickness when I visited so give yourself enough time to recover from this before heading out on hikes and horse treks.
For a taste of Langmusi check out this article, especially the photos!
Getting there
There is only one bus from Jiuzhaigou to Langmusi and it leaves at 7am. This is actually the bus to Lanzhou that will drop you at the junction 3km outside of Langmusi, meaning you still need to walk or catch a lift into town. The journey takes 6h and cost 120 Yuan.
If you don't feel like waking up super early to catch the bus, it is also pretty easy to convince someone in Jiuzhaigou to drive you to Langmusi. When I asked about this at our hostel reception desk, the man working there immediately organized for his brother to drive us there the next day. Expect to pay between 800 Yuan and 1000 Yuan for this; cost-effective if you are travelling as a group, less so if you are travelling alone.
Prefer to have your transport sorted beforehand? This Langmusi-based company can organize a car from most destinations including Chengdu, but you will need to pay a deposit. This is the same company that organizes horse trekking from Langmusi and is worth remembering as a reliable source of travel advice when it comes to this part of Gansu.
Things do in Langmusi
Monasteries
As mentioned above, Langmusi is home to two Tibetan monasteries, Kirti Monastery on the Sichuan side and Sertri Monastery on the Gansu side. Kirti monastery is the larger of the two with 750 monks compared to Sertri's 350. Both monasteries cost 30 Yuan to visit.
If you have been a China a while, chances are you have seen A LOT of monasteries and temples. However these two are also worth the visit for their surrounding areas. Try hiking to the caves behind Kirti monastery or heading to the small Tibetan herder villages close to Sertri monastery.
For more on the monasteries history and highlights, be sure to check out this excellent article.
Horse trekking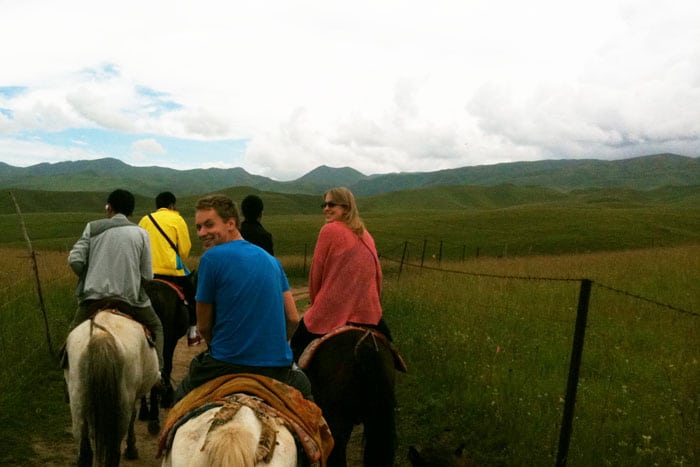 Looking happy and a bit scared to be on a horse
Horse trekking is the main reason most people visit Langmusi. The Langmusi Tibetan Horse Trekking Company has made a name for itself with its well-organised, unique tours and friendly guides.
Choose from a two to five day horse trek, complete with Tibetan homestay in the grasslands, yak herding, traditional Tibetan food and beautiful sunsets over the mountains. Personally, this is one of the best experiences I have had in China.
Prices range from 700 Yuan for a solo traveller and 500 Yuan per person for two or more travellers for two days to around 2500 Yuan for the five-day trip.
For those pressed on time, the company also offers a taster 1 day horse trek.
A few things to bear in mind about the horse trekking:
Most treks are available from April to November;
The horses are quite small and so are not able to accommodate people over 85kg. If you are really set on riding the horses but are over this weight, it is possible to pay extra to alternate between two horses;
It can get really cold on these treks so make sure you bring the right clothing.
Hiking and cycling
If riding horses doesn't sound like your thing, the Langmusi Tibetan Horse Trekking Company also offers hiking and cycling tours. Both the two-day cycling tour and the two or four day hiking tours provide the opportunity to stay in local Tibetan villages or homestays and experience the vast beauty of the mountains and grasslands.
The great thing about these tours is they can be tailored to be as challenging or relaxing as needed. Remember that the altitude may make you less functional than normal. However, if you are up for it, the four-day hike can include 10-11 hours per day of hiking, but the views will be worth it!
Sky burials
When visiting Langmusi, you may hear whispered stories of tourists witnessing Tibetan 'sky burials'. This ancient burial ceremony focuses on returning a deceased person's body to the heavens.
Bodies are taken out into the grasslands and fed to vultures to pay back their karmic debt of having eaten many animals throughout their lives. It is believed that the vultures are then able to fly high into the sky to carry the deceased's soul to the heavens.
Until recently, most Tibetans were happy to share their local customs and spirituality with tourists and would routinely invite tourists to attend the ceremony. See here one girl's fascinating account of witnessing a sky burial.
However, as more tourists have flocked to this part of the region, there have been problems with visitors not acting respectfully by taking photos of the ceremony or coming in large groups and scaring away the vultures. The fear is that if the vultures do not come, bodies would have to be buried, sending them to hell rather than heaven.
It is completely acceptable to be curious about sky burials and most Tibetans are happy to answer any questions you may have. But try to be respectful and stay away from the actual ceremonies.
One more thing
Traveling in June or July? Find out when the Home God festival is and try to visit Langmusi at this time!
Food and accommodation
Accommodation
When I visited Langmusi, I stayed at the Langmusi Binguan. The owner Kelsang is a friendly Tibetan guy who also happens to be part owner of the Tibetan Horse Trekking Company opposite which the hotel is located. Kelsang speaks English well, has a great sense of humour, and is always happy to provide travel recommendations.
The hotel itself is centrally located and one of the most affordable options in Langmusi. The bedrooms are fairly clean and comfortable. However I must admit that the bathroom situation is pretty terrible, with squat toilets that have no doors or privacy.
It is difficult to get information about accommodation in Langmusi beyond this, but most travellers recommend walking up and down the main street before settling on a place, as there are a lot of options available.
Food
A few quick recommendations:
Black Tent Café: next to Langmusi Binguan, this cozy café saved me from altitude sickness. They have an amazing selection of teas, cozy heaters and some pretty amazing yak pizza;
Lesha's: A Langmusi institution, everyone says try the apple pie. You should, its great;
Talo restaurant: a cozy Tibetan restaurant with good breakfast
Xiahe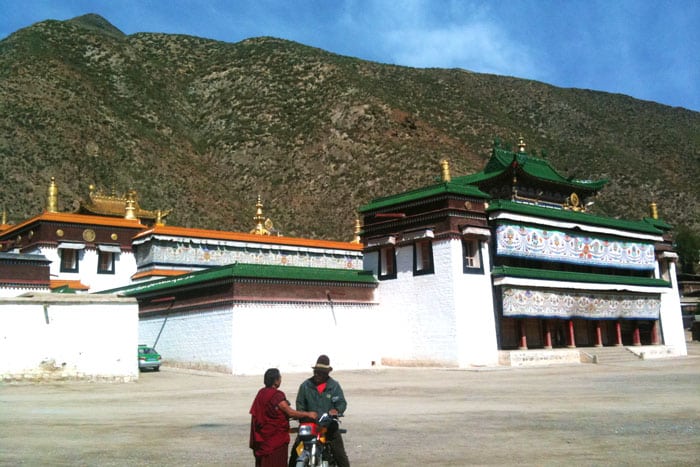 Xiahe is all monks, monasteries and motorbikes
Less remote than Langmusi, but nestled amidst mountains and grasslands all the same, Xiahe (Labrang in Tibetan) is most famous for its stunning Labrang monastery. As this is the largest Tibetan lamasery outside of Tibet, you will find Xiahe vibrant with Tibetan culture, artifacts and friendly monks.
Getting there
There is only one bus per day from Langmusi to Xiahe. This leaves at 2 pm roughly outside the Langmusi Binguan. I was very confused about this bus situation and where it would actually be leaving from, but the Tibetan Horse Trekking folks were able to point me in the right direction, so if you are unsure ask them.
The bus journey takes 4 hours and a ticket costs 70 Yuan.
Things to do in Xiahe
Labrang monastery
Founded in 1709, the Labrang monastery is currently home to about 1000 monks, compared to 4000 monks at its peak in the 1950s. One of the monastery's most distinctive features is the 3 km 'kora' (circumambulation or prayer walk) that Tibetan monks walk clockwise around the monastery.
Here you may see monks walking, chanting, using prayer beads and prostrating themselves. Colourful prayer wheels can also be found part of the way around this kora, adding to the beauty of the surroundings. I definitely recommend walking the kora at least once. Even if you are not a spiritual person, the peacefulness and reflectiveness of the walk are inspiring.
If you wish to visit the inside of the monastery you will need to purchase a ticket and go with a tour. English speaking tours leave around 10am and 3pm and will cost you 40 Yuan. Photographs will not be allowed within the monastery aside from in designated areas.
Bajiao city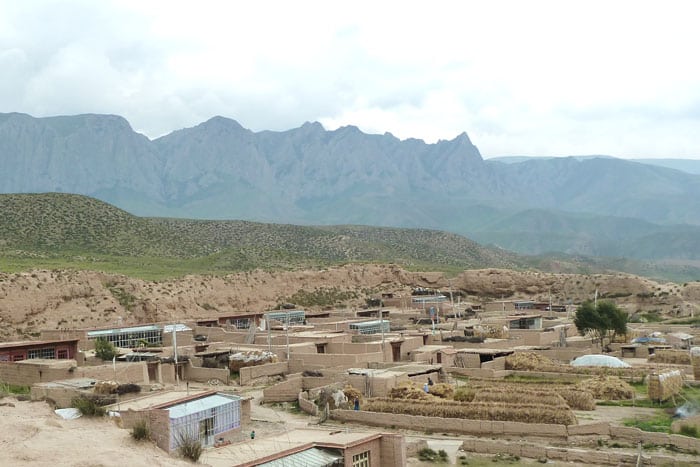 Beautiful views from the top of Bajiao City's outer wall
Once within Xiahe you will see many tours advertising Bajiao Ancient Town. This small ancient village, roughly 40 km from Xiahe, is known for its high wall surrounding it. Climb the wall and walk around the village for beautiful views of the grasslands. Entry to Bajiao will cost you 20 Yuan and whilst the village itself isn't much, walking around the wall is a pleasant way to spend an afternoon.
In my opinion, this is not a must-see sight but something to do if you have a day to spare in Xiahe.
One more thing
Xiahe has amazing souvenir shopping, making it possible to buy anything from monk garments to hand carved knives. However, it can be hard to know where to find good quality products at a fair price.
One traveller recommends Norlha, a shop that sells yak-wool clothing and accessories whilst focusing on environmental and cultural sustainability. I checked out their website and fell in love with their hats!
Watch out for: restrictions for foreign visitors
At the time of writing, Xiahe and Labrang monastery are open to tourists. However, political unrest has resulted in travel restrictions in the past so make sure to check the situation before you plan your trip.
Food and accommodation
Accommodation
During my time in Xiahe, I stayed at the Overseas Tibetan Hotel and was very happy with it. Their deluxe ensuite rooms come at a price of 300 Yuan. I did not get a chance to sample their dorms at 50 Yuan per night, but other travellers have rated them satisfactorily.
Tara guesthouse is also a popular traveller option with affordable, basic dorm rooms and a pleasant rooftop terrace.
Food
My favourite restaurant during my time in Xiahe was Nomad Restaurant, a popular choice amongst travellers. I particularly liked their 'momo', a type of Tibetan dumpling with yak meat inside.
Both the Overseas Tibetan Hotel's restaurant Everest Café and Tara Guesthouse's attached restaurant also offer some good dining options.
Not convinced by Langmusi and Xiahe yet? Take a look at these beautiful photos of both locations.
Lanzhou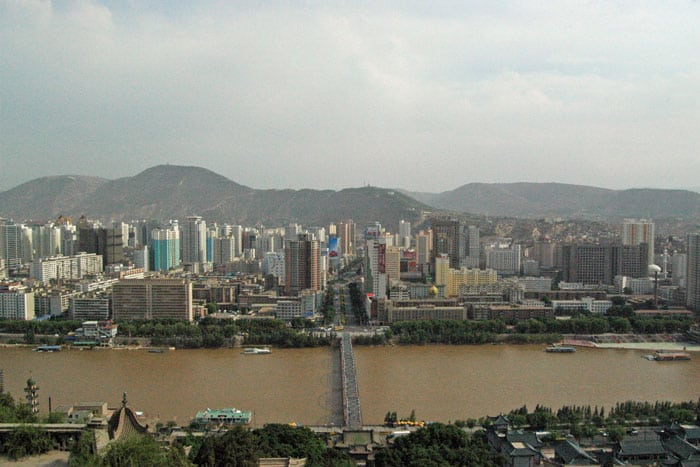 Give Lanzhou a chance… it may surprise you!
I feel a bit sorry for Lanzhou, Gansu's provincial capital. After reading up on it on my way there, I was genuinely expecting the worst. The common consensus is that Lanzhou is just a gateway to somewhere else and that it is best to get out as quickly as possible. Its title as most polluted city in China in 2012 does not help to sell it as a destination.
Whilst I'm not recommending spending a week there, I did find the city much more enticing than I expected when I visited. The city is predominantly Muslim and I found the transition from Tibetan culture in Xiahe to Islamic culture in Lanzhou really interesting.
What really gives a new dimension to the city, however, is the website 'Redefining Lanzhou'. It is one of the most comprehensive guides I have read to any city ever.
Getting there
There are five buses per day from Xiahe to Lanzhou: 6:30, 7:30, 8:30,14:00 and 14:30. The journey takes approximately 4 hours and costs 76 Yuan.
The bus drops you off in what feels like the middle of nowhere but is actually the West Long Distance Bus Station. From here, finding a legitimate taxi to take you to the city centre may prove challenging. Alternatively you can take bus 111 into the centre (around Linxia road) for 1 Yuan.
Things to do in Lanzhou
Gansu Provincial Museum
I have not yet visited this museum myself, but others swear it is a must-see. It re-opened in 2010 after a four-year renovation. Expect artifacts from the Silk Road, Neolithic pottery and Buddhist art amongst other things.
Yellow river
Another common Lanzhou recommendation is to walk along the yellow river banks. Once again, the website 'Redefining Lanzhou' takes this one step further by suggesting a number of different walking tours around the city. The half-day walking tour incorporates mosques, temples, cable cars and riverside beer gardens amongst other highlights.
Food and accommodation
I am no expert on sleeping and eating in Lanzhou. When I stayed there I stayed at a hotel next to the train station (decent) and ate a lot of beef noodle soup (delicious!).
For more sophisticated advice, I have to once again recommend the 'Redefining Lanzhou' website.
The website argues that staying a few minutes further away from the train station will get you a much better, cheaper hotel in a nicer area.
Similarly, the website recommends traditional dishes other than beef noodles and the best places to sample these.
Zhangye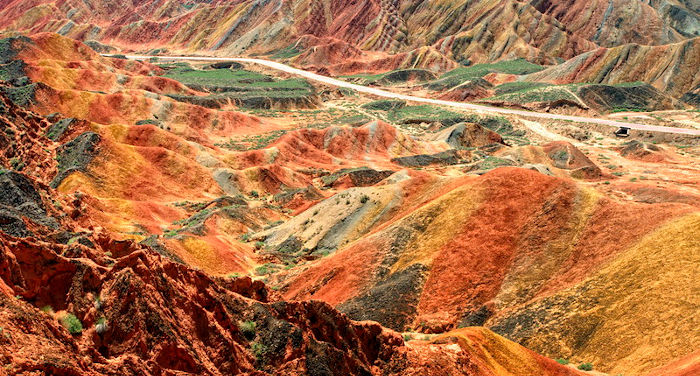 Use Zhangye as a platform to explore Mati Si and Danxia landforms
Zhangye in itself is not a popular tourist destination. However, most travellers use it as a platform to visit the Danxia landforms and Mati Si Temple. The town itself used to be a stronghold for Han forces during the Han dynasty and then a stronghold against Mongol raids during the Ming dynasty.
Getting there
I recommend travelling from Lanzhou to Zhangye by train, as this will be much faster than the 10 hours normally required if getting there by bus.
A regular train to Zhangye takes just over 6 hours and costs about 150 Yuan for a hard sleeper. There are frequent trains, which means you can be fairly flexible with your travel timing.
Zhangye station is about 13km from the centre of town. You can take bus 1 into town for 1.5 Yuan.
Since 2014, a high-speed train line as also opened which goes through Lanzhou West station and Zhangye West station. This fast train takes approximately 3 hours and also costs about 150 Yuan for a second-class seat.
Things to do in Zhangye
Great Buddha Temple
If you aren't sick of temples yet, the Giant Buddha Temple or Da Fo Si in Chinese is Zhangye's main attraction. It is home to China's largest indoor reclining Buddha and a complex of surrounding smaller buildings. If like me you did not know what a reclining Buddha was, it is basically a large Buddha lying on its side. Entry to the temple costs 41 Yuan.
Mati Si
Mati Si, translated as Horse's Hoof Temple, is a Buddhist temple that is completely carved into the cliff face. The temple is basically made up of caves, galleries and wooden pavilions fixed onto the rock face.
To visit Mati Si, you will need to purchase two sets of tickets, one to gain access to the scenic area and viewing platform, one to actually gain access to the inside of the temple. Both tickets cost 35 Yuan.
The nature around Mati Si is also very beautiful. There are a number of hikes in the area so if you want to do some exploring it is worth spending an entire day here. If hiking sounds too tedious, you can also opt to visit the area by horse. One traveller mentioned that this cost him 100 Yuan but he believes he could have got a cheaper deal if he had bargained.
There are three options to get to to get to Mati Si from Zhangye:
Catch a bus from Zhangye South Bus Station, but this will drop you off 7 km away from the actual site;
A better option in my opinion is to hire a taxi for the day, especially if you also plan to visit the Danxia landforms in the same trip. Different travellers report having paid between 200 Yuan and 500 Yuan for the day when visiting both sites. The journey from Zhangye to Mati Si takes 1.5 hours;
Most hotels and hostels in Zhangye can also organize tours to Mati Si for about 300 Yuan, but these leave less time for exploring. They include an English-speaking tour guide and lunch
There is some accommodation available near Mati Si, including the possibility of staying in an Uyghur tent for the night.
Danxia landforms
Locally known as the 'painted mountains', the Danxia landforms are famous in China for their incredible striped colours. The landforms have been listed a UNESCO World Heritage site since 2010. This article explains how these mountains have come to display these vivid colours.
Most people visit Danxia National Geological Park (also known as Linze Danxia Scenic Area) but do not miss the less well-known Sunan Danxia Scenic Area and Bingou Danxia Scenic Area.
Things to know about Danxia National Geological Park:
This is the place to see the famous painted mountains;
Entrance fee: 40 Yuan;
Pay an extra 20 Yuan to take the bus to the park's four viewing platforms. It is possible to walk to these platforms, but tourists are no longer able to stray from designated pathways (this damages the mountains) so the walk is not that interesting;
Power hang-gliders are available within the park if you are feeling adventurous;
Try to go at sunrise or sunset for even more stunning colours!;
The park is 40km from Zhangye. The best way to get there is to hire a taxi for the day (cost between 150 Yuan and 300 Yuan). It is also possible to get a bus from Zhangye West Bus Station to Sunan and take a taxi or another bus to the landforms from there;
Organised tours from Zhangye are also available
Things to know about Sunan Danxia Scenic Area:
Less busy than Danxia National Geological Park but with similar scenery;
Entrance fee: 40 Yuan;
The real appeal of this area is that you can explore the surroundings freely. This is a great place to hike and climb stuff. Just be careful that the floor can be treacherously crumbly;
This area can be reached in the same ways as Danxia National Geological Park
Things to know about Bingou Danxia Scenic Area:
This place has very little tourism;
No brightly coloured sand here but impressive rock formations including ones shaped like a camel or a palace;
Another great place to hike and explore!
I recommend dedicating one day to visiting all three areas and hiring a car for the day to transport you between them. Alternatively, you can stay at a hostel near Danxia National Geological Park if you wish to spend more time exploring.
Food and accommodation
Accommodation
A few recommendations:
Zhangye QiCai Danxia International Youth Hostel: Dorms start at 40 Yuan and travellers comment enthusiastically on the friendly and helpful English-speaking staff that go out of their way to help guests with travel plans and recommendations. This hostel also offers very affordable tours (50 Yuan – 100 Yuan) to Mati Si and Danxia landforms. However, some reviewers are not happy with the hostel's cleanliness or distance from the city centre;
Xinyuan Binguan: Located in the city centre and recommended by Lonely Planet, this hotel has affordable rooms for 120 Yuan. However, some travellers say that the hotel feels a little worn and that the staff is not so friendly;
Ganzhou hotel: These bloggers were very happy about this hotel, as it is centrally located and has rooms from 168 Yuan (including breakfast and internet access)
Food
Zhangye local dishes include preserved mutton, gray pea soup and a number of flour-based specialties. Read this article for a breakdown of what to eat in Zhangye.
These travellers recommend checking out Qing Ming street and the Xiaochichang market for some a good selection of restaurants and small eateries. They even provide you with a helpful map of how to get there!
Jiayuguan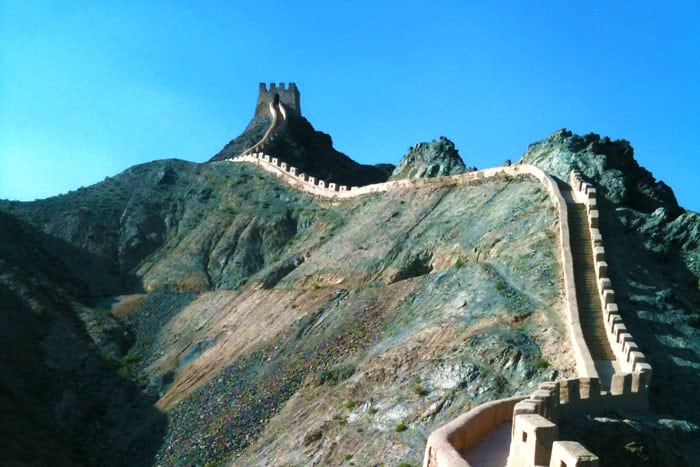 The end of the Great Wall at Jiayuguan
Jiayuguan is best known for marking the end of the Great Wall and symbolizing the start of the desertic West. Jiayuguan fort, a defining Silk Road landmark is often referred to the 'mouth' of China because of its strategic location at the head of the Hexi corridor.
The Great Wall and fort are the main attractions here as the city of Jiayuguan itself is only a modern construction with its straight roads and block buildings.
Getting there
The easiest way to get from Jiayuguan to Zhangye is to once again catch the train. This takes approximately 2h30 and costs 45 Yuan. Once in Jiayuguan, you can catch bus 1 from the train station to the city centre.
There are now also fast trains from Zhangye West Station to Jiayuguan South Station for 70 Yuan.
If you are looking to travel directly from Lanzhou, Xian or Beijing there is also an airport 12 km from Jiayuguan offering flights from these destinations.
Things to do in Jiayuguan
Great Wall and Jiayuguan Fort
In the past, Jiayuguan fort was considered as the last outpost of civilized China as it guarded the pass between the Qilan Shan and Hei Shan mountains.
Nowadays, although still an impressive piece of history, some travellers argue that the fort has become too commercialized with acrobatic shows and scammy tour guides.
That being said, I think it is worth visiting the fort if only for the amazing views of the surrounding mountains and scenery.
The price of the entrance ticket to the Jiayuguan Fort and surrounding Great Wall seems to be constantly changing. It is difficult to get an accurate estimate of the price but from what I gather this is approximately 100 Yuan in the high season (summer) and 60 Yuan in the low season.
This ticket gets you:
Entrance to the Jiayuguan Fort and neighbouring portion of the Great Wall;
Entrance to the Great Wall Museum which is an interesting place for Silk Road and Great Wall history and artifacts;
The Overhanging Wall which seems to be hanging over the mountain. This is 7 km away from Jiayuguan fort and can be reached either by foot or by taxi. Be ready to bargain heavily if getting a taxi as drivers will be looking to make some easy money here;
The first beacon of the Great Wall which some travellers report basically looks like a big block of wall. This can either be reached by taxi or by cable car from the fort for an additional cost
To get to Jiayuguan Fort from Jiayuguan city centre you can either catch bus 4 from the train station or hire a taxi for the day. I recommend the latter as you can then get the driver to drive you to the Overhanging Wall and first beacon. Other bloggers report having negotiated prices of between 80 Yuan and 200 Yuan for this service.
Wei Jin tombs
These tombs 20 km outside of Jiayuguan are worth seeing for the impressively well preserved and vividly coloured artwork on the bricks that house them. This art depicts scenes from everyday life like making tea, and sometimes dates back over 1700 years.
Although there are thousands of tombs in the area, only one is currently accessible to the public as many are still being excavated or restored.
Entrance to the tombs costs 31 Yuan and a taxi to get there will take about 30 minutes and cost you around 70 Yuan.
Food and accommodation
Accommodation
It is difficult to find any information about accommodation in Jiayuguan online though the common consensus seems to be that many hotels to not accept foreigners. You can check Agoda.com to find some of the few hotels that can host foreigners.
Food
Aside from a type of roasted cake called Shaokezi, local Jiayuguan dishes seem to revolve around camel hoof. Find more information (and pictures) of Jiayuguan delicacies here.
A good place to sample tasty cheap food is the night market just off the main street.
Dunhuang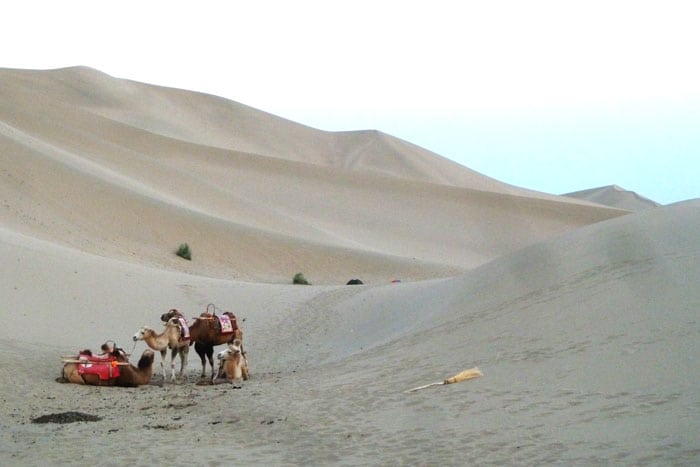 Camel trekking in the Gobi desert is one of Dunhuang's highlights along with the Mogao caves
An oasis in the Gobi desert, Dunhuang has long been popular with dusty Silk Road travellers. Although visitors of the past would stop here to swap their camels and restock on food and drink whilst visitors of today come for the stunning Mogao caves and to ride camels for the first time, Dunhuang has very much kept that old desert town feel.
With its tree-lined streets and laid-back feel, Dunhuang is a great place to relax, drink tea, shop for souvenirs and walk around bustling markets.
Getting there
There are four trains per day leaving from Jiayuguan to Dunhuang however these seem to be at really awkward times, with 3 of them leaving between 2am and 5 am. The journey takes 4 to 5 hours which means these do arrive in Dunhuang in time for a day of sightseeing.
If catching a train in the middle of the night doesn't appeal to you, there is also one leaving Jiayuguan at 8am but it is slightly slower with a journey time of 5h30, getting into Dunhuang in the early afternoon.
Prices for a hard sleeper tend to go for about 120 Yuan compared to 55 Yuan for a hard seat.
Things to do in Dunhuang
Mogao caves
A UNESCO World Heritage Site, the Mogao caves are one of the best archives of Buddhist art in the world, with the first caves dating back to 366 AD. Whilst these hundreds of manmade caves carved into the rock face started off as the home of Buddhist monks, it was wealthy traders and government officials that transformed it into an art hub.
Visiting the Mogao caves will set you back 240 Yuan during summer peak season and 130 Yuan in the winter. This includes access to the caves, to the site's newly completed Digital Exhibition Centre and to an English-speaking tour guide. It is not possible to visit the caves without joining a tour. If you are a student make sure to bring your student card, as this should get you a substantial discount.
Access to the caves has become increasingly restricted amidst fears that granting access to too many visitors could be damaging to the art. For this reason, most tours include only eight caves, which rotate fairly regularly from a larger pool of about 20. This makes it impossible to know which caves will be available on the day you go.
Afraid that the caves you want to see will be closed on the day you visit? Do not despair! The Digital Exhibition Centre showcases two stunning movies that grant more of an insight into some of the less accessible caves.
In another effort to control the influx of visitors, the number of tickets is restricted to maximum 6000 per day. Most travellers have no problem buying their tickets at the site but to avoid disappoint during peak periods try buying your tickets in advance somewhere in Dunhuang.
It is fairly easy to get to the Mogao caves from Dunhuang. A regular minibus picks up tourists from a number of spots in town including the railway station. The bus cost 8 Yuan and takes approximately 30 minutes.
It is also possible to negotiate a taxi to get to the caves. Expect to pay between 30 and 50 Yuan.
Mingsha Shan and Crescent Lake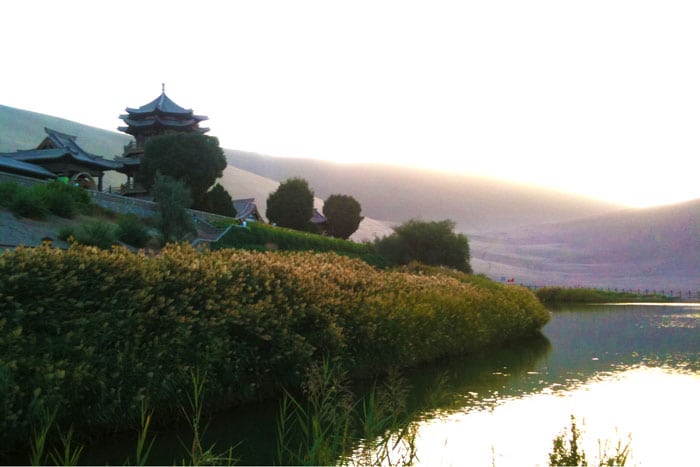 Many short camel treks will end up at crescent lake
One of Dunhuang's greatest appeals is its position as a gateway to the Gobi desert. Most travellers explore the desert at Minsha Shan (translated as Echoing Sand Mountain), a vast area of sand dunes that has been developed for tourism purposes.
Entrance to this portion of the desert will cost you 160 Yuan during peak season and 80 Yuan during low season. Inside, there are a number of activities such as dune buggy rides or sand sliding available at an additional cost. The set-up here is very similar to the touristic desert resorts of Inner Mongolia but Minsha Shan's scenery remains in my opinion more impressive.
One activity I would recommend if you have only limited time to spend in Dunhuang and Mingha Shan is the short camel trek to Crescent Lake. This journey to the small oasis shaped like a crescent moon gives a good taster of the desert. The trip takes about 1.5 hours and cost 100 Yuan (although prices seem to be constantly changing).
If you are looking for a more authentic desert experience try these options:
Charley Johng's Dune Guesthouse is the most popular place to stay by the sand dunes and with reason. This hostel is located right on Mingsha Shan's doorstep and offers excellent multi-day camel treks with overnight camping in the desert. This is a great way to experience the desert in a more intimate way, far from the crowds. This does come at a cost of 400 Yuan per night however, but I think it's worth it! Check out this article describing the experience;
Some people reckons you can access the dunes without the price tag or tourist attractions by walking to an unfenced area about 30 minutes walk from Charley's Guesthouse. Full disclosure: I haven't tried this and the article dates back to 2012, but the idea of having the dunes all to myself to watch the sunset certainly does sound appealing!
You can easily reach Mingsha Shan by bus (1 Yuan) or taxi (10–15 Yuan) from downtown Dunhuang.
Yadan national park
For something a bit different to do near Dunhuang, try this national park that has been described as a better version of the US's Monument Valley.
As it is quite far from Dunhuang (roughly a 2.5 hour drive), most travellers recommend hiring a private tour guide to avoid the lack of flexibility of an organized tour. Try checking out these tripadvisor reviews for some tour guide recommendations.
Food and accommodation
Accommodation
There are plenty of affordable, good-quality accommodation options in Dunhuang. As mentioned, Charley Johng's Dune Guesthouse would be my top pick both for its scenic location and great camel treks.
If you are looking for a place to stay that is more central, you can find plenty of options online. Try Hostelworld for Dunhuang's top budget accommodation or Agoda for getting the best deals in all range of accommodation.
Food
There is once again a strong camel theme in Dunhuang's local food scene. This time you might want to sample some deep-fried camel hump or camel hoof cooked with chicken for eight hours. Don't worry, the town also has excellent noodles if you aren't feeling adventurous. This article runs you what you should be eating in Dunhuang, complete with some helpful photos.
The best place to sample this local food is Dunhuang's night market (which ironically is also open in the day).
Travel tips
When to visit
The weather can vary considerably depending on where you go in Gansu. If you follow the itinerary in this article, you will go from experience chilly weather and high altitudes in Southern Gansu to the beating heat of the Gobi desert in Dunhuang.
I wouldn't recommend visiting Gansu in the winter as many activities and accommodation options will not be available, particularly in the south of the province. Similarly, visiting in the dead of summer would make for some very sweaty desert times.
In my opinion the best time to go for favorable weather in all parts of the province is May-July. Visiting in June or July would also enable you to witness the Home God festival in Langmusi.
You can also try visiting before April to get off-peak prices to the province's top sites.
What to pack
Once again, the weather disparity in the province means packing for versatility as much as possible. Try to bring lightweight but covering clothing as well as at least one warm jumper and a pair of wooly socks. Comfortable walking shoes are also a must as well as some sandals for the desert. Lastly, make sure to bring sunscreen as most of the stuff in China has whitening properties… counterproductive if you are trying to tan!
Things to look out for
Altitude sickness
When I visited Langmusi, I got really bad altitude sickness and was convinced there was something seriously wrong with me. Although medication against altitude sickness exists, I found this did nothing to alleviate my symptoms (picture a really bad hangover without the alcohol).
Unfortunately, I found that the only way to really get rid of altitude sickness is just to rest, give your body time to adjust and drink lots of fluids. This is definitely something to take into account when planning the timing of your trip.
If you think you might be prone to altitude sickness, you can reduce the risk by travelling to higher altitudes more gradually. For example, fly into Chengdu instead of Jiuzhaigou as getting to higher altitudes by road is much easier on your system.
ATMs
Some of the more remote places on this itinerary do not have ATMs that accept foreign credit cards. This is particularly an issue in Southern Gansu and perhaps in some places in the Hexi corridor. Although I wouldn't normally advise travelling with lots of cash, make sure you plan enough to get you to the next ATM!
Have I convinced you to check out Gansu? If you have any questions just leave a comment below!
Photo Credits: Photos by Vanessa Anderson


Lanzhou from the white pagoda, and the yellow river! not so yellow! by Richard Weil


Danxia landform in Zhangye,China by lwtt93