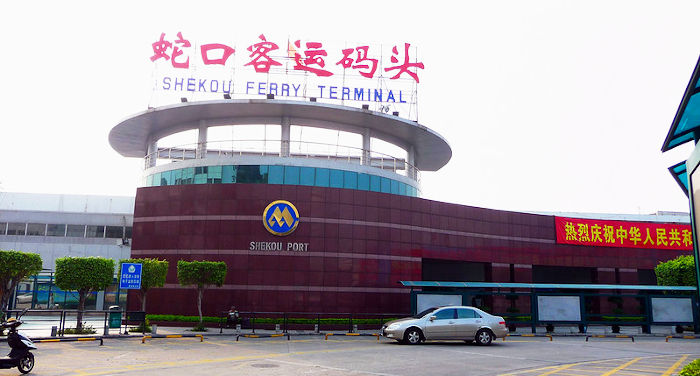 Shekou Ferry Terminal Shenzhen by Chris
At first glance, it's hard to believe that the Chinese city of Shenzhen, situated directly north of Hong Kong on mainland China, was nothing more than a sleepy fishing village back in 1979. This area became China's first, and one of its most successful, Special Economic Zones and is a thriving metropolis. In fact, Shenzhen is now considered one of the fastest-growing cities in the world.
The Brits may have handed Hong Kong back to China, but it still retains its status as a "Special Administrative Region of China". So don't expect to pop over to Shenzhen without a valid Chinese visa – all visitors to Shenzhen from Hong Kong have to pass through customs and immigration at any of the border crossings, regardless of their nationality!
Visitors to Shenzhen frequently fly into Hong Kong and then make the short hop over to the mainland. You can choose to take the short half-hour ferry service that delivers you to the suburb of Shekou, or you can go overland by bus, coach, taxi or metro. Whichever route you take be prepared to queue if you travel during business rush hour periods.
Many Chinese and Hong Kong citizens cross the borders daily to work in the busy commercial centers, both on the mainland and Hong Kong city. Rush hour takes on a new meaning as thousands of people make the cross-border journey to work!
For ease of travel, I would definitely recommend the ferry. The service runs every hour from either the airport or from Hong Kong Island. From the airport, it takes only 30 minutes into Shenzhen Shekou Ferry Terminal or 40 minutes to Shenzhen Fuyong (Bao'an Airport) Terminal, both on Shenzhen's west side. However, this is the more expensive option, with one-way tickets costing around 220 HKD. It's a tough buy when a less expensive bus option can cost just a fraction of this price.
If you want to visit Shenzhen's business center in the Futian district then consider one of the overland options. Bus, coach and taxi's cater for all budgets.
With so many choices it is best to make your transportation decision based on your final destination, available time and pre-arranged connections or meetings. But if you go with the flow and make sure you have the correct entry documents then a visit to Shenzhen shouldn't present you with too many problems. In fact, apart from the occasional traffic delays, I've found it easier to enter China than the USA!
P.s. Click here to read our recommendation on how to book your hotel in Hong Kong and here to read our recommendation on how to book your hotel in Shenzhen.
Shenzhen / Hong Kong Overland Border Crossings
There are four popular border crossings from Hong Kong to Shenzhen:
Luo Hu (pronounced LoHu) – Lo Wu on Hong Kong Side (6.30 to midnight)
Futian Border – Lok Ma Chao (6.30am – 10.30pm)
Huanggang Border (least convenient but open 24 hours)
Shenzhen Bay Border (6.30 – midnight)
2. Luo hu to Lo Wu Border
Luo hu border is located at Luo hu Train Station. It is here that the intercity, inter-province train, and the Shenzhen metro meet. It's a pedestrian crossing connecting Shenzhen with the Hong Kong New Territories.
This is probably the most popular crossing point for Hong Kong and Shenzhen residents alike. There's a well-established infrastructure with constant updates, even though it is an old border crossing point. From Shenzhen, you connect via metro station "Luo Hu" and from Hong Kong at "Lo Wu".
Lo Wu is also connected directly to the East Rail Line on the Hong Kong MTR which means you can travel effortlessly to Hong Kong Central. On the Shenzhen side, you will find both metro and bus stations for onward travel.
After passing through Chinese immigration on the Shenzhen side of the river you walk across the bridge – don't worry though, this is an air-conditioned walkway. Hong Kong immigration is at the end of the bridge and once you clear this you are on your way.
A warning to those on visa runs – I've been told that if you cross here you have to take the train to Sheng Shui before returning into Shenzhen. I haven't tried this personally so I can't validate its accuracy – but it might be worth double-checking if you are planning an immediate out and back journey – just in case!
1. Futian to Lok Ma Chao Border
The Futian border point is very similar to Luo Hu, but it is a newer facility accessed from the Kou'an Metro Station. It's used extensively by travelers visiting or working in Shenzhen's city and financial district, so it's best to avoid morning and evening rush hours.
Its disadvantage is that it closes promptly at 10.30 pm. No late nights out in Coco Park with a quick hop back to Hong Kong – you'll have to consider other options for this!
As with Luo Hu, you cross the river by walking across the air-conditioned walkway to Hong Kong immigration. Once clear you can buy your Octopus Card for the HK Metro at Lok Ma Chao. However, unlike Luo Hu, when you cross at Futian, you can exit the building and re-enter immediately back into Shenzhen – a great cheap, and efficient option for visa runs.
3. Huanggang Border
This is the main vehicle border crossing point and it has the advantage of being open 24 hours. Most of the buses running to Hong Kong Central and the airport utilize this crossing. If you are transiting in a shuttle bus, the doors are opened for a quick visual inspection of your documents.
However, this crossing is not well designed for pedestrians and there is no easy access by public transport. There are no nearby subways and you'll have to take a bus or taxi between the Hong Kong and Shenzhen borders.
4. Shenzhen Bay Border
I live in Shekou and can see the new bridge from Shenzhen Bay to Hong Kong from my balcony, so it's my crossing of choice. It's a little more difficult to access as the closest subway is Wanxia on the orange Shekou line. It's easier to take a bus or taxi, both of which are plentiful in the area. Both will deposit you in the immigration area and then it is just a short walk into the building where you'll pass through border control – all of which takes place on the Shenzhen side of the river.
There's another bus station once you pass through immigration and you can pick up buses or coaches to any number of Hong Kong locations, or transfer to the MTR along the way. If you plan to travel by coach you need to purchase your ticket before passing through immigration – you can't buy tickets on the Hong Kong side.
I usually take the B3X bus which runs pretty non-stop through Tuen Mun Town Centre, where I transfer to the MTR.
From Shenzhen to Kowloon or Hong Kong Central
From the border catch the B2P bus and get off at Tin Shui Wai Station, a short 15-minute ride costing 8.50 HKD. Cross the pedestrian bridge and enter the railway station for the West Rail Line. Take a train to Hung Hom Station (about 40 mins – 19HKD).
For Hong Kong Central, transfer to the Tsuen Wan line at Mei Foo – there are other options which you can find on the MTR Journey Planner.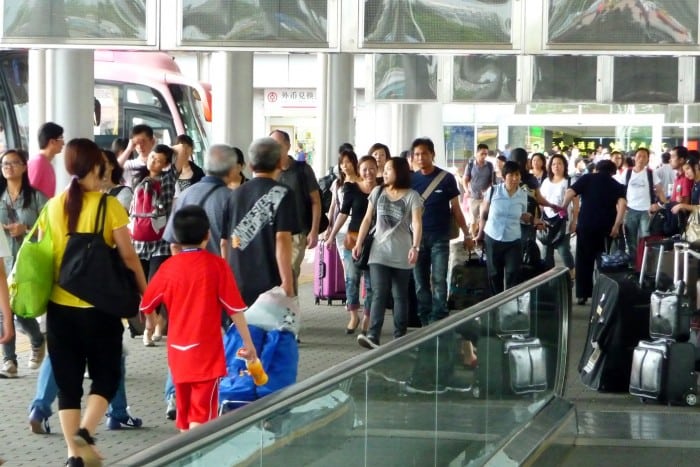 Shenzhen Bay Border crossing China by Chris
Best times to cross
There are some obvious times to avoid crossing the borders – namely rush hour, holidays, and around special events. Chinese New Year can be particularly tiresome, especially during the first few days of the holidays when the mass exodus commences!
Morning rush hour starts at about 8.30 am and continues until 10.00 am. Evening rush hour starts from around 4.00 pm through to about 8.30 pm.
Weekends are a little unpredictable – you can be lucky and arrive when the queues are fairly light, or you might end up waiting for a tedious 30 to 40 minutes in line to pass through customs. It seems now that both Hong Kong and Shenzhen residents all love to shop endlessly and travel to their respective borders for shopping trips clog the system, especially on Saturday mornings.
Getting from Hong Kong to Shenzhen
There are many ways to travel between Hong Kong and Shenzhen. You can choose from the MTR train service, ferry, bus, or taxi. Here are details for some of the more popular options, with handy links to sites that will provide detailed timetables.
Hong Kong to Shenzhen via Train
This is a relatively easy and straightforward way to negotiate the border crossing, especially from Kowloon. It's an inexpensive and popular way to connect between the two cities.
Hong Kong Airport to Shenzhen
This involves four-line changes to get to the East Rail Line that connects with the Shenzhen border at Wo Lu/Luo Hu and it costs around 100 HKD. Here is the step-by-step process:
from Hong Kong Airport take the Airport Express to Tsing Yi Station
transfer to the MTR
take a train to Lai King station and change
take a train to Prince Edward Station and change
take a train to Kowloon Tong where you transfer to the East Rail Line
catch a train to Wo Lu/Luo Hu border
Alternatively, you can catch the A43 bus at the airport to Sheung Shui (stop #3) where you will transfer to the East Rail Line. This line goes to both Futian and Lao Hu border crossings. The bus costs about 30 HKD and takes a little under 90 minutes. The bus runs from 7.00 am until midnight.
Click here for the Kowloon Motor Bus Company website  for routes, fares and a handy journey planner. Alternatively click here for the Citybus timetables.
The East Rail Line to Shenzhen
The East Rail Line takes you to either Lo Wu or Lok Ma Chau. When it gets to Sheun Shui station they will announce which border the train is headed for. If it's the wrong one simply get off and wait until the correct train arrives on the same line. The transfer takes around 15 minutes and costs about 20 HKD.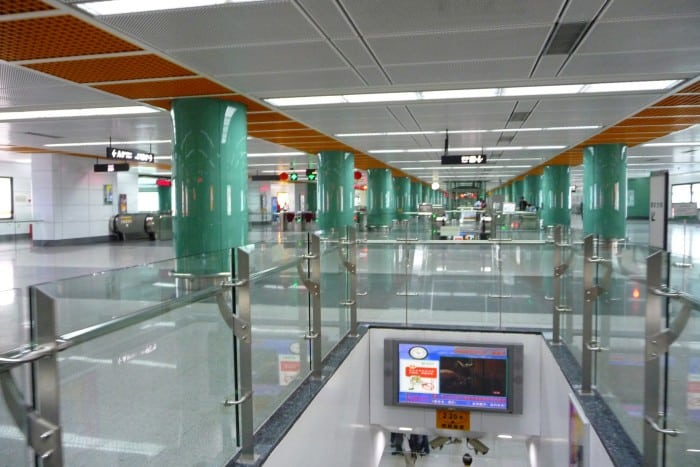 Luo Hu MTR Station Shenzhen China by Chris
Hong Kong Airport to Shenzhen via Sky Pier Ferry
Sky Pier ferry terminal is inside Hong Kong International Airport and allows arriving passengers to transfer to various cities within the Pearl River Delta and to Macau. There are two routes to Shenzhen, one to Shekou (pronounced "Sherko") Ferry Terminal and the other to Fuyong Ferry Terminal which is connected to Shenzhen Bao'an (pronounced Bow-an) Airport.
Notice that the SkyPier ferry service is for transfer passengers only. It cannot be accessed for passengers originating in Hong Kong.
If you are transferring to Shenzhen using the airport ferry service you do not need to pass through Hong Kong immigration. Neither do you need to collect your baggage. Simply follow the signs to "Transfer Area E2" or "Ferries to Mainland", where you will find counters to purchase ferry tickets from the CKS company.
After purchasing your ticket, simply give the staff your airline baggage tags – this convenient service means they will collect your baggage and place it on board the ferry on your behalf.
You can currently expect to pay 220 HKD for a one-way adult fare to Shekou Terminal (30 minutes), or 295 HKD Fuyong Terminal (40 minutes).
Ferries run pretty much hourly to Skekou from 9:00 am through to 21:45 pm. There are however only four ferries each day to Fuyong, at 10:15, 14:30, 16:50, and 20:00.
It's important to note that you'll have to purchase your ticket one hour before departure from the ferry, so factor this in to your travel time.
This ferry service is convenient if your final destination is Shekou, Nanshan, or Bao'an Airport, and if you want to avoid clearing Hong Kong immigration. If you need to get to the city center or financial district of Futian, then an overland option is preferable.
Shekou Ferry Terminal isn't big, nor does it get too busy. When you leave the ferry simply follow instructions through the small border checkpoint. Remember you will need your passport, your Chinese visa and your entry card. Outside you will find both the bus terminal and a metro station for onward travel. There is also an official taxi station for quick transfers.
Hong Kong Macau Ferry Terminal at Central to Shenzhen
This terminal is situated at Sheung Wan, northwest Hong Kong Island and the ferry leaves for Shekou Terminal on the mainland at regular intervals (not for Macau as the name suggests). It is a comfortable ride offering standard and first-class tickets and costs from 130 Yuan. You can buy discounted return tickets.
Hong Kong Airport to Shenzhen by Bus
This is the least expensive option but will involve a number of changes, so take this into consideration if you have a lot of luggage!
After clearing customs you should take Exit B (Arrival Hall B). Walk straight ahead and exit the airport via the ramp. Turn immediately right after leaving the building and you will see the airport public bus terminal.
As you walk down the ramp and approach the bottom, look back to the left – you will see the ticket offices, where you can buy your bus ticket from any of the three bus operators. Then you can board your bus for onward travel.
Both Luo Hu and Futian border crossings are in the New Territories, and this area is serviced by five Airbus routes. They are A31, A33, A41, A41P, and A43. These are high-quality, double-deck buses with air-conditioning and luggage racks.
The bus stop is situated outside the arrivals hall on the right. The distance is around 60km with a travel time of around 90 minutes, depending on traffic conditions. Buses run from 7.00 am to midnight and arrive at the airport every 15 to 30 minutes, again depending on traffic conditions. The adult fare is around 30 HKD, and tickets can be bought at the ticket office in advance. If you pay on the bus you have to have the exact fare.
So, you've successfully negotiated your cross-border crossing and you've arrived at your destination in Shenzhen. You now have a myriad of options available to you to negotiate your way around this sprawling city.
I'll talk about getting around Shenzhen in my next article!