Are you traveling to Yangshuo? Choosing a good hotel in this town can be a difficult due to the large number of hotels that exist and because in Yangshuo, many of the hotels are of doubtful quality. In this article, you will find a review of the best hotels in town, whatever your budget may be. Just enjoy your Li River cruise!
If you are interested in the general idea of how to book hotels in China, you can read our recommendations here.
Reviews of Luxury Hotels (5 Star) in Yangshuo
Yangshuo Resort Hotel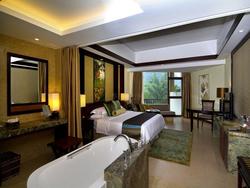 The Yangshuo Resort Hotel is located in the Dragon River District, which is a great place to enjoy the beauty of Yangshuo as it is in close proximity with the Darongshu Scenic Area. The hotel is also close to the Jianshan Temple and Butterfly Spring. It is 70 km from Guilin Railway Station, 72 km from Guilin Coach Station and 95 km from Guilin Liangjiang International Airport. All the 234 rooms and public areas have free Wi-Fi facility and the hotel is equipped with luxurious amenities like a fitness center, outdoor pool, sauna and spa, and massage center. The hotel does not have many people speaking English; however, there are a few staff members that can converse in English. The hotel also provides airport transfer, shuttle service and free private on-site parking.
Yangshuo Greenlotus Hotel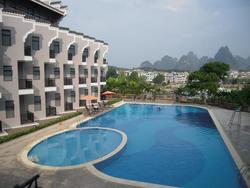 The Yangshuo Greenlotus Hotel is the perfect accommodation option to explore Yangshuo. This hotel is situated close to many sites that the city is proud of, including West Street, Impression Sanjie Liu, and the Yangshuo Park. This luxurious hotel is full of facilities and amenities that will make your stay enjoyable. From fitness center to free Wi-Fi across the hotel, the hotel is equipped with spa and sauna, massage center, a garden, restaurant, and special facilities for disable guests. The hotel is well situated, has clean and comfy rooms and offers services like airport transfer, currency exchange and bike rental. The only shortcoming is that it lacks English speaking staff members. If you plan to stay at this hotel, make sure you know common phrases in Chinese.
Yangshuo Tea Cozy Hotel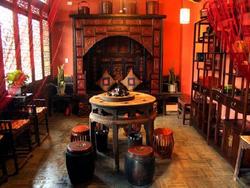 The Yangshuo Tea Cozy Hotel is a compact hotel with 12 rooms, located 1.5 hours away from the Guiling Liangjiang Airport and the Guiling Railway Station. This luxury hotel is a perfect retreat from the hectic schedule of a fast-paced life. The staff is very helpful, speaks English and organizes camping, cycling and kayaking trips on your demand. The hotel offers free wireless internet service and has special arrangements for disabled guests. In addition, you will find amenities like salon, currency exchange, poolside bar, valet parking, an executive floor, BBQ facilities and much more to make your stay worth remembering. The restaurant offers western and Chinese cuisine. You can enjoy visits to the Moon Hill, Yulong River Scenic Area and Baisha Reservoir, which are all located close to the hotel.
Banyan Tree Yangshuo Hotel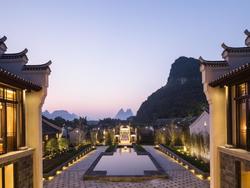 The Banyan Tree Yangshuo Hotel is situated in the Fuli Town and provides hassle-free access to must-visit locations of the city. It is located in near proximity of the Impression Liu Sanjie and the Yangshuo West Street and is 70 km away from the Guilin Liangjiang International Airport. The hotel offers free Wi-Fi throughout its premises and has an array of facilities to ensure you enjoy a comfortable and relaxing stay. Some of the amenities include a spa, fitness center, outdoor pool and restaurant. The staff arranges outdoor expeditions and speaks enough English to understand your needs.
Reviews of Mid-range hotels in Yangshuo
Yangshuo Zen Valley Hotel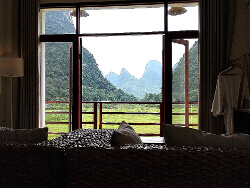 The Yangshuo Zen Valley Hotel was opened in August 2014 and is one of the best alternatives if you want to enjoy a calm and pleasant stay in Yangshuo. This hotel is located in a small village only 4 km from Yangshuo's city center and features five big and tastefully designed rooms equipped with high-quality mattress. All rooms have a terrace from where you can enjoy the views of the mountains and rice fields while you eat the breakfast served in your room. The small size of the hotel all allows its staff to take good care of the guests and satisfy all they needs. The friendly staff speak fluent English and will be happy to help you in anything you need, information, organize activities and tours, book tickets or arrange transportation. Some of the features of this hotel include reliable free Wi-Fi all over the hotel, airport pick up and bicycle rental. Most guests agree that this hotel is is one of the highlights of their trip in Yangshuo, so make sure to book it well in advance if you want to get a room.
Yangshuo Moondance Hotel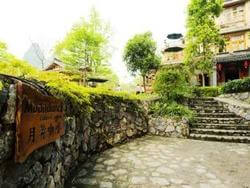 The Yangshuo Moondance Hotel is one of the recently renovated hotels located in the Dragon River District. It is strategically located only 9 km away from the city center and offers its guests easy access to city's must-see sights. The hotel is only a 1-hour expressway drive from the Guilin airport and merely 15-minutes away from the Darongshu, Moon Mountain and Yangshuo Coach Terminal. The hotel provides free Wi-Fi in all the rooms and public area. It offers many corporate facilities like a business center, meeting rooms, luggage storage and more. The staff speaks excellent English and is dedicated to make their guests enjoy a comfortable and convenient stay.
Bamboo House Resort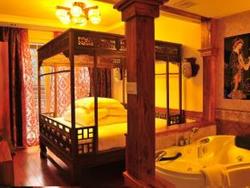 The Bamboo House Resort is a mid budget hotel with twelve rooms, spread over four levels. The hotel is located in the heart of Yangshuo, close to West Street. The rooms are big, comfortable, and clean and the hotel provides you with free Wi-Fi in the rooms and in public areas. It also offers car park with airport transfer, a smoking area, coffee shop, a restaurant and bar, and business center. The hotel staff speaks English and is friendly and go out of their way to help guests. The hotel also offers bicycle rental and tours to nearby attractions. Sometimes, it gets noisy because of its location on the street. It is a good hotel for solo travelers and business travelers; however, it is not very suitable for families and elderly as it does not have an elevator.
Yangshuo C.Source West Street Residence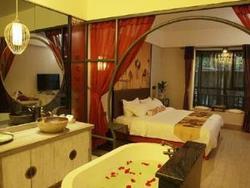 The Yangshuo C.Source West Street Residence is an ideally located hotel on the West Street, 5 minutes away from Li River and just 500 meters from the Yangshuo Bus Station. The hotel has Chinese décor with 30 well-equipped rooms. You will get free Wi-Fi in all the rooms and public areas with free onsite parking. It also features a large terrace that allows you to relax outdoors. The hotel offers many services to guests including car hire, currency exchange, laundry, fax/photocopying, meeting and banquet facilities, ticket service, massage, and bicycle rental. The staff of the hotel is gentle, warm, and speaks English. There is no restaurant at the hotel; however, there are plenty of eateries and restaurants on the street serving local cuisine to international cuisine.
Yangshuo Mountain Nest Boutique Hotel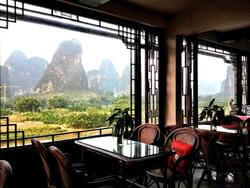 The Yangshuo Mountain Nest Boutique Hotel is a mid budget hotel with 15 well decorated, clean, and comfortable rooms. The rooms come with facilities like minibar, kettle, private bathroom with free toiletries and balcony offering beautiful mountain views. The hotel is located only 4.1 km from Yangshuo South Bus Station, while the Darongshu Scenic Area and Yangshuo West Street within 5 km. The hotel offers airport shuttle, babysitting services, car hire, a gift shop, bicycle rental, games room, and much more to make your stay comfortable. The hotel's owner is very helpful, speaks English and offers personal service to make your stay truly enjoyable. The public areas and rooms of the hotel have free Wi-Fi.
Reviews of Budget hotels in Yangshuo
Yangshuo Hidden Dragon Villa Hotel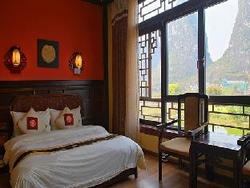 The Yangshuo Hidden Dragon Villa Hotel is a small, clean, and welcoming hotel that offers free Wi-Fi in its rooms and public areas. The rooms are beautifully decked up in Ming and Qing Dynasty décor. It also offers free car park, airport transfer, massage, laundry services, a restaurant, and coffee shop. The staff also helps in arranging tours to nearby attractions. The hotel provides easy access to the Guilin Liangjiang International Airport as it is located only 1.5 km away from the highway that leads guests to the airport. The Yangshuo Town is only 5 km from the hotel. While the hotel is good overall, the only low is that it does not have a lift that makes shifting luggage to higher floors difficult.
Yangshuo Magnolia Hotel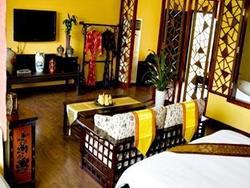 The Yangshuo Magnolia Hotel is another budget hotel, well located in the center of Yangshuo County. It features well-equipped rooms with free Wi-Fi. The closest attraction, Shanshui Park is within 100 meters. Yangshuo West Street is 250 m away, while the Yangshuo Renmin Government is 150 m away from the hotel. The hotel staff speaks English and arranges day trips to nearby attractions. The tour desk also provides the guests with car rentals and ticket bookings. For your convenience, the hotel offers airport shuttle, express check in and check-out, a library, restaurant, and sun terrace.
Yangshuo Lucy Hotel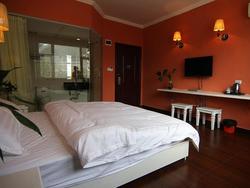 The Yangshuo Lucy Hotel provides its guests with cozy and comfortable accommodation at an affordable price. Situated by the side of Li River, the Wall Street is just a 10-minute walk away. It takes 1 hour and 30 minutes on road to reach the Guilin Liangjiang International Airport and 15 minutes to reach the bus terminal. Hardworking staff members speak fluent English and treat you like their family members to ensure you have a wonderful stay. Free Wi-Fi in public areas makes things all the more interesting for social bugs.
Yangshuo Travelling With Hostel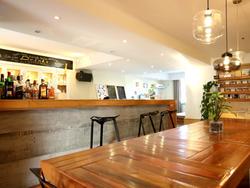 The Yangshuo Travelling With Hostel is a great place to stay and explore the city in budget. The hotel is nearby West Street, Yangshuo Park and Yangshuo People's Hospital and is merely an 8-minute walk away from the Yangshuo Bus Station. Even though it is a budget hotel, it offers an array of luxurious facilities that include, free wireless internet all over the vicinity, car park and a staff that is willing to make your stay a comfortable and relaxing one. The hotel also makes arrangements for sightseeing trips for its guests and provides an option of renting a car and exploring the city and surrounding areas. The staff speaks English and can converse easily with their guests.
Yangshuo Huanggong Garden Hotel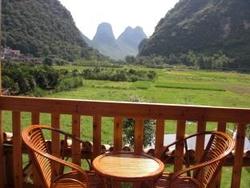 The Yangshuo Huanggong Garden Hotel is a conveniently located hotel that offers luxurious amenities and an unmatchable standard of comfort. Located in the Yangshuo Jima Village, this hotel is in close reach with major tourist attractions like Moon Hill and Yangshuo Park. The Huanggong Garden Hotel offers free Wi-Fi in all the rooms and public areas around the hotel premises. Other facilities include bike rental, water sports, laundry and arrangement of tours around the city. The hotel staff is extremely helpful and speaks descent English to understand their guest's needs.

Hotel Photos on Agoda.com