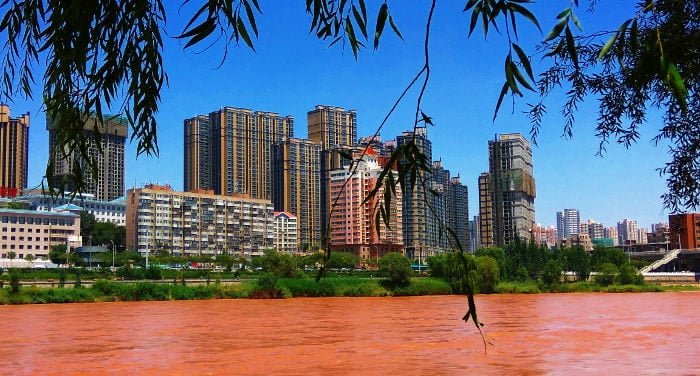 Lanzhou, the capital of the Chinese province of Gansu, as opposed to what many guide books say, is actually a city that is worth visiting. Lanzhou is a modern, clean, and peaceful city filled with history.
In addition, even what many reputed websites and guides say (like Wikipedia), Lanzhou is no longer the industrial city with horrible air quality that it was in past years. In recent years, its statistics have even been a lot better than cities such as Qingdao or Hangzhou, which benefit from a good reputation in this aspect.
When to go to Lanzhou
Lanzhou is located in a valley at around 1,600 meters altitude. Its climate is semi-arid and continental. Due to its elevation, the best time to visit Lanzhou is definitely between the months of May and October, during which temperatures are usually pleasant and the climate isn't so dry. In fact, Lanzhou is an excellent destination to escape from the suffocating summer heat in the eastern part of the country.
Nonetheless, keep in mind that temperatures may drop significantly during the night, especially during the months of May, June, September, and October, which means that it's a good idea to bring warm clothes just in case.
Winters in Lanzhou are long, cold, and extremely dry, making them not a very recommendable time to visit the city. Just like in many parts of the northern region of the country, in Lanzhou, spring and fall are practically non-existent.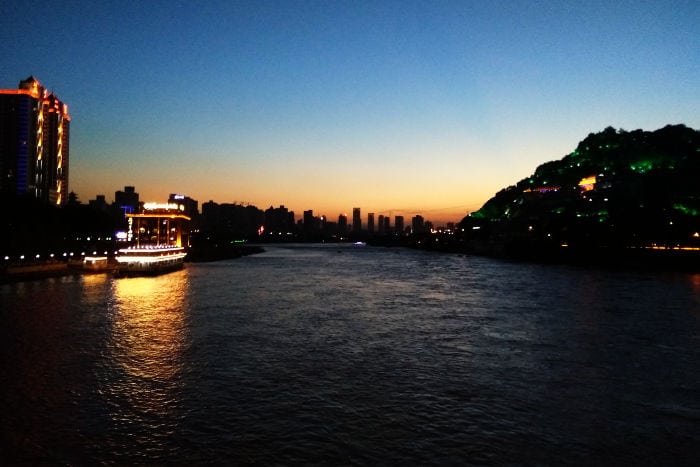 How to get to Lanzhou
As the capital of the Gansu province, Lanzhou has a good transportation network. If you don't have a lot of time, the best way to get there is by plane, although my recommendation is that you take the K-class train that connects it with Xi'an, as it gives some spectacular views of the Yellow River winding through the mountains.
A recommendation if you visiting during the sumer: Torrential rain is frequent both in the south and north of the country. Because of this, if you want to go by train, pay close attention to the origin of the train. Trains that leave from the southern part of the country (like from Shanghai or Guangzhou, for example) may be delayed due to the rain (in my case, I had to wait 10 hours at the station).
Plane
Zhongchuan Airport (兰州中川国际机场): Zhongchuan Airport is located 70 kilometers from downtown Lanzhou and receives daily flights from the main cities in the country. In addition, it has some international flights connecting it with neighboring countries such as Japan, Korea, and Malaysia.
The airport has three shuttle bus lines that connect it with the downtown center, and tickets cost 30 Yuan. You can also take a train (40-50 minutes) to get to the two main stations in Lanzhou, which costs around 20 Yuan. A taxi to downtown tends to cost a little less than 150 Yuan.
Click here to read our guide on domestic flights in China
Train
There currently exist two train stations:
Lanzhou Railway Station (兰州站): This station, located in the Chengguan district, is where slow trains arrive (K class) from the main cities in the country. This station is relatively old and tends to be filled with people, making it somewhat chaotic.
Lanzhou West Railway Station (兰州西站): This is a newly-built station located in the outskirts of the city in the Qilihe district (when I went, it wasn't completely finished yet). This modern station is where the high-speed trains connecting Lanzhou with different cities leave, heading to western cities in the provinces of Gansu, Qinghai, and Xinjiang, such as Xining, Zhangye, Turpan, and Urumqi.
Click here to read our guide to trains in China
Buses
In Lanzhou, there exist four long-distance bus stations: East Bus Station (兰州汽车东站), West Bus Station (兰州汽车西站), South Bus Station (兰州汽车南站), and Tianshui Lu Bus Station (天水路车站), which connect the city with a multitude of destinations such as Xining, Chengdu, Xi'an, Dunhuang, and Tianshui. The East Station is the largest and has the most destinations.
Where to stay in Lanzhou
Lanzhou is not usually a popular destination among international travelers, which means that its offering of accommodations for non-Chinese citizens tends to be rather limited (the majority of hotels don't accept foreigners), and in general, prices aren't exactly cheap.
In addition, if you travel during the summer, you should keep in mind hat Lanzhou has become quite a popular tourist destination among Chinese tourists (and especially students), which makes it a good idea to book your accommodations in advance.
Personally, I recommend staying in the Chengguan district as close to the Yellow River as possible, as that way you can get to the majority of the tourist attractions on foot.
For more information on where to stay in Lanzhou click here to see what hotels we recommend.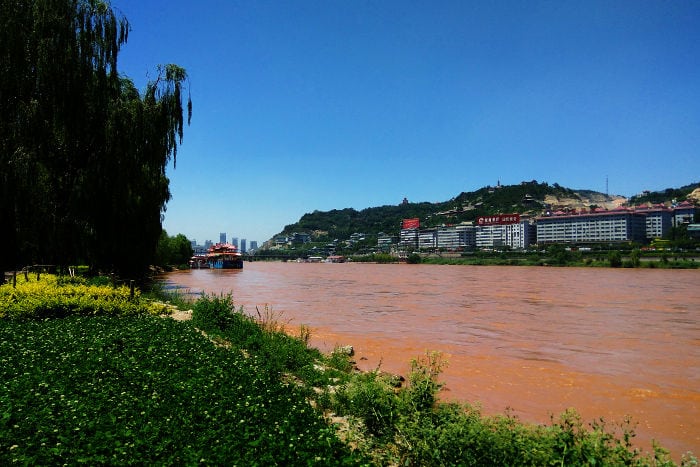 Park on the southern shore of the Yellow River
What to see and do in Lanzhou
Below is a non-exhaustive list of places to see and recommended activities in the city:
The Gansu Provincial Museum (甘肃省博物馆)
The Gansu Provincial Museum, despite not being very large, is home to interesting exhibits on the Gansu province, which span from prehistory up until the peak of the Silk Road. Given the importance of the Gansu province for the Silk Road, this museum is a must-see for people interested in the subject. Among the artifacts on display at the museum, it's worth mentioning the "Gansu Flying Horse" which is undoubtedly the prize piece of the collection, although personally I like the selection of prehistoric ceramics. The museum is also suitable for families, as it has sections intended for the youngest visitors.
Address: 3, Xinjin Xi Road, Lanzhou (兰州市西津西路3号)
Price: Free upon presentation of passport
Hours of operation: From 9:00 a.m. to 5:00 p.m.
Night market (兰州夜市)
Every day, from dusk until midnight on Zhengning Road (镇宁路), a street food night market is held. Despite being somewhat touristy and having somewhat high prices (compared to the prices in the city), it's worth visiting.
Don't expect to see much of a difference with the other night markets of Chinese cities. However, because of the gastronomical culture of the region, the market is a good place to discover and taste some of the typical dishes from Gansu.
Walking along the shores of the Yellow River
Without a doubt, one of the main tourist attractions in Lanzhou is the Yellow River. It's worthwhile to visit the park and to go for a long walk along the shores of the river, both during the daytime and the nighttime.
Another thing beside the river is the Waterwheel Garden (水车博览园), a small park (now free) with various replicas of the old waterwheels that were previously found in the city.
Drink tea on the shores of the Yellow River
If you visit Lanzhou in the summer, it's almost a must-do to rest at one of the small tea houses that are found in the park on the shores of the Yellow River.
Take at least one hour to sit on a deck chair and drink typical tea from the region called Babao (八寶茶), which translates as "tea of the eight treasures." This tea is a mixture of green tea with gogi berries, dried lychee, jujube, and multiple types of flowers, and which is sweetened with crystallized sugar. Yes, they also serve beer.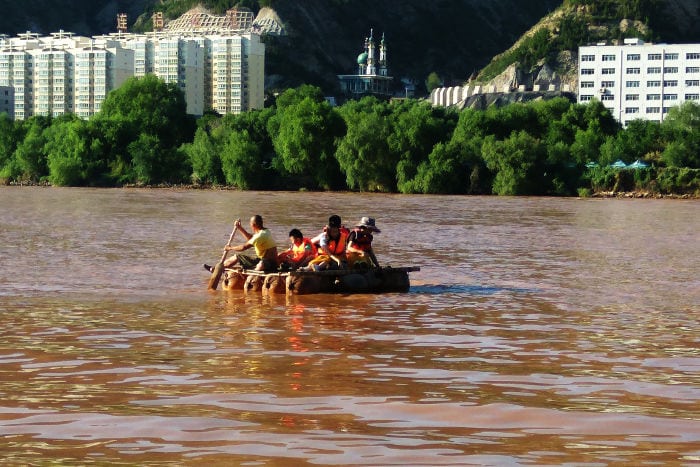 Tourists onboard a traditional boat from Lanzhou
Sailing the river on a traditional boat
Like any Chinese city, in Lanzhou there are multiple aquatic activities. Maybe one of the most interesting ones is to sail on one of the rafts that replicate traditional boats. These rafts are made from a wooden platform on top of a base of floats made from lamb skin.
Bingling Temple Grottoes (炳灵寺石窟)
50 kilometers southwest of the city in the mountains alongside the Yellow River are the Bingling Grottoes, in which Buddhist statues and murals are found. While these caves might not be as spectacular as those of Longmen in Luoyang or Mogao in Dunhuang, they are still worth visiting.
Mount Gaolan (皋兰山)
Located in the southern part of the city, Mount Gaolan (the peak of which is at an altitude of 2,000 meters), has a nice park around it called Wuquanshan (五泉山公园), with a multitude of pavilions and spectacular city views. This is definitely an excellent plan if you have time in the city.
Temples and Mosques
There are various temples and mosques in Lanzhou. Some of the most popular are:
Temples: the Baiyun Temple (白云观), Mount Baolong (抱龙山), and Baitashan Park (白塔山公园).
Mosques: Lingmingtang Mosque (灵明堂拱北), Shuishang Mosque (水上清真寺), Xujiwancun area (徐家湾村)
Go out to drink with the new upper class
Downtown Lanzhou is filled with bars, KTV (karaoke) and night life spots which each night are frequented by the new rich Chinese, or better said, their children (commonly known as fuerdai). Although many of these places have exorbitant prices and their concept is very different from in the West, if you've never gone out like this, it's a show worth seeing and you can have a lot of fun (be careful with the KTV girls).
There are cheaper places which are somewhat similar to Western nightclubs, such as the Kui Livehouse (where independent bands play), but if you want nightlife which is the same as in the West, Langzhou might not be the best place. If that's what you want, you would be better off in international cities such as Beijing, Shenzen, Guangzhou, and most of all Shanghai.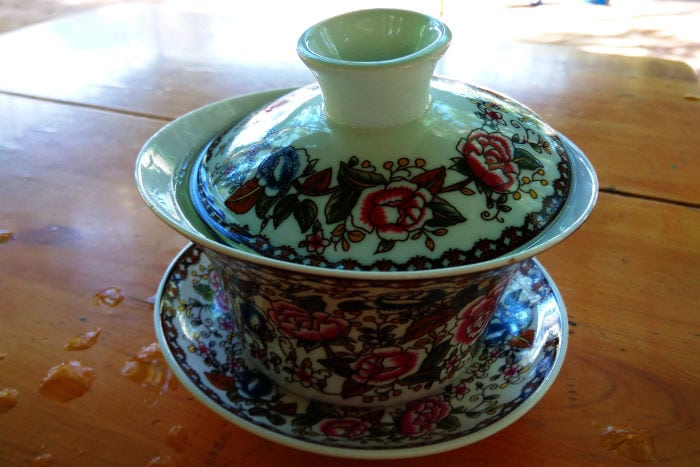 Babao Cha (tea of the eight treasures)
Food
Lanzhou is famous for its cuisine, which is strongly influenced by the Hui ethnic minority. Below are some of the dishes that you can't miss:
Lanzhou noodles: Although this isn't one specific dish, noodles from Lanzhou are famous across the country. In any city in China, you can find thousands of restaurants with the symbol 兰州拉面 (which literally means Lanzhou noodles). It is definitely a good idea to try the different ways of preparing noodles in Lanzhou.
Beef noodle soup (牛肉面): This is the most famous noodle dish from Lanzhou. There is even a large school for training cooks to prepare the dish. It basically consists of a hot beef soup with noodles.
Cold noodles or Niangpi (酿皮): This dish consists of noodles made of gluten separated from the wheat flour, which are served cold and with a sauce mainly made from sesame paste.
Lamb skewers (羊肉串): Although this isn't a typical dish from Gansu, the skewers here are worth trying, as the quality of the meat is much better than in the eastern part of the country.
Chinese hamburgers (肉夹馍): What are typically called "Chinese hamburgers" are a dish made from slow-cooked shredded pork meat, which is served on a special type of bread. Despite being a famous dish in Xi'an, in Lanzhou, there are thousands of varieties of this dish (with different names) which are worth trying. I recommend the Hui lamb version.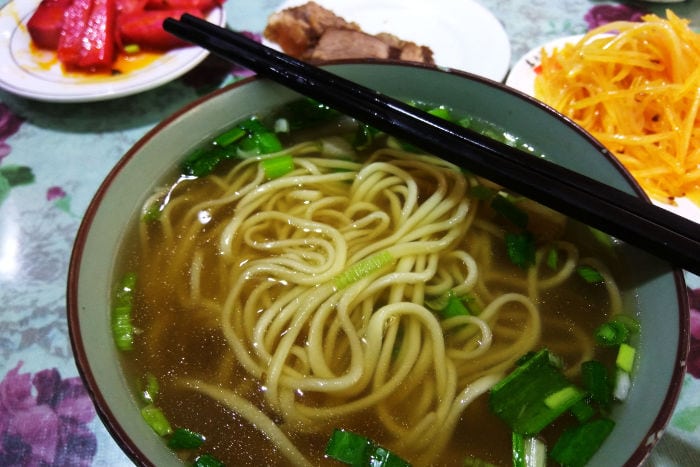 Beef noodle soup (Niurou Mian)
Recommendations and cultural aspects
As I mentioned at the beginning, due to its geography, the temperature difference between the day and night can be significant, so it's a good idea to bring a jacket for the nighttime, even during summer, just in case.
If you want to visit Lanzhou in the summer, plan your trip well in advance. During the past years, many Chinese tourists, and in particular students, have been traveling to the western part of the country, where there are a lot less people and temperatures tend to be more pleasant. As Lanzhou is an important connection point for the provinces of Gansu, Xinjiang, Qinghai and Sichuan, train tickets and hotel rooms tend to get booked up quickly.
Lanzhou has a significant Muslim community, the majority of whom are of Hui ethnicity. Many of them are in the restaurant business, and they are easily recognizable by their dress. However, the majority of them are usually not strictly religious, and it is common for them to sell alcohol at their restaurants (most of all in tourist areas). Try to be respectful if they don't sell it. If you want to drink alcohol, ask in advance if possible. More than once I've seen groups of tourists take their own bottles of beer to the restaurant and only for the owner have to ask them to take them off of the table.
Photo Credits: Photos by Sapore di Cina