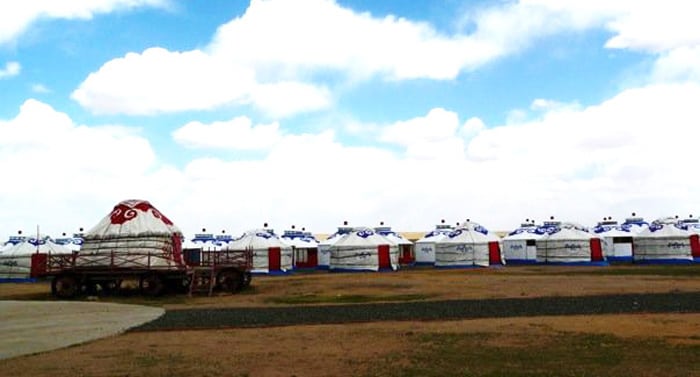 Rows of yurts in Xilamuren grasslands
In this guide to travel in Inner Mongolia you will find:
As Inner Mongolia is very big, this guide aims to introduce you to some of the region's key sights and attractions to help you best plan your trip. If you would like more details about a particular place, please comment below.
For more general information about traveling in China such as visas, vaccinations, flights, food etc. be sure to check out this epic 4,000 word complete guide to traveling in China. Just skip to the sections you are most interested in!

Before you book your trip: agency vs. your own way
Agencies
The first time I traveled to Inner Mongolia I booked myself onto an organized agency tour. My reasoning behind it was this:
I had very little time to organize my trip;
I only had a week off and wanted to see as much of Inner Mongolia as possible;
I had not been in China very long and was not confident in my ability to get by on my own or to communicate in Mandarin;
I was traveling alone and wanted to meet other people;
The agency sorted out everything including my travel from Beijing: easy life!
Although I fell in love with Inner Mongolia on that trip, my experience with this agency was very mixed. Here are the pros and cons that I experienced with a Beijing-based agency organizing Inner Mongolia tours:
Pros
Everything was organized for me which meant very little planning aside from what to pack;
I was able to discover some of Inner Mongolia's culture and history through our very knowledgeable guide;
I made some really awesome friends on the tour.
Cons
It was a much more expensive option than organizing everything myself;
We were always taken to the most touristy sites at the most touristy times which made it difficult to experience authentic Inner Mongolia;
A lot of the tour (as can often happen in China) was based around getting us to buy stuff or paying extra for activities. For example, a lot of Inner Mongolia tours will claim that horse-riding is included in the package but will in fact make you pay more for this when you get there;
Lack of flexibility to do any of my own exploring;
My biggest issue with the tour was how much time we had to spend in transport vs. how much time we actually got to see stuff.
My advice
If you have limited time to travel to Inner Mongolia and limited time to organize your trip, booking through a tour agency may be a good choice. However, I recommend not booking a tour that is too ambitious with its itinerary or you will spend your entire trip on a bus… Inner Mongolia is a huge region!
I also recommend booking a local tour from Hohhot rather than booking one with a large tour operator from Beijing or Shanghai like I did. The reasons for this are:
You will get better value for your money;
Tours will be smaller and more flexible. You can also book several short tours instead of one long one to experience more of the diversity Inner Mongolia has to offer;
You are guaranteed guides with strong local knowledge;
You are supporting the local economy.
Some of the best tours I've experienced and heard great feedback about are those organized by Anda's guesthouse. This family-run hostel offers a good variety of tours at one of the most cost effective prices in Hohhot. The staff and guides are very friendly and are also always happy to help you with your own travel plans.
Making Your Own Way
The second time I visited Inner Mongolia, I was determined to go beyond the beaten path and make my own way through the region as much as possible. I was not disappointed! I got to discover the Inner Mongolia of my imagination with lush rolling grasslands and sunsets over the desert.
That being said, I was fortunate enough to be able to travel this way because:
I had plenty of time to spare and was flexible about how long I could stay in the region;
I had a good travel companion;
By this point, I could speak enough Mandarin to get by.
If you are in a situation similar to the one above, I definitely recommend making your own way as much as possible. Inner Mongolians are very helpful and you should easily be able to convince a taxi driver to help you organize a homestay in a yurt or negotiate the bus system to get to the more remote parts of the region.
My advice
Go north and go west! These parts of the region are more remote but boast some of the most beautiful scenic spots in China. Be warned that some areas of the far West region of Inner Mongolia require travel permits, meaning that using a local tour company to obtain these is inevitable.
If you don't speak Mandarin but still want to escape the tourist track do not despair! Friendly hostels in cities like Hohhot can help you plan and organize expeditions to more remote areas. You can also ask them to write down any Mandarin characters (for example asking for a bus ticket to a place) you might need on your travels.
Where to go in Inner Mongolia
Cities
When it comes to cities in Inner Mongolia, perhaps this article says it best, describing the regions largest cities Hohhot – which by the way is the capital of the Province – and Baotou as having that 'on-the-brink-of-something-big' feel. That is to say they are not particularly beautiful cities but they have a certain excitement and charm, and business is booming!
Although Inner Mongolia's main charm comes from its natural scenery, the cities also hold some attractions well worth a visit.
Here are my top recommendations for things to do in Hohhot and Baotou:
Hohhot
Dazhao temple: This colourful temple is Hohhot's oldest temple built in the 16th century. It contains a 2.5m silver Sakyamuni Buddha statue and is worth the visit for those interested in sampling one of China's more impressive temples.
Five-Pagoda Temple: This temple is renowned in China for being the only Indian style Chinese temple. It holds an amazing 1,500 frescoes of Buddha and is covered in Mongolian and Tibetan script.
Inner Mongolia Museum: I am admittedly not a museum person, so I was surprised to find myself enjoying the eclectic collection of dinosaur fossils, ancient nomadic artifacts, exhibits showcasing local fauna and flora and even a section dedicated to Chinese space exploration!
Walk around in the Old Town: Hohhot is a great place to simply wander around. A portion of Tongdao Road, also referred to as 'Islam style street' on TripAdvisor, boasts beautiful Muslim architecture and some really tasty Halal restaurants.
Baotou
Admittedly, there is not much to do within Baotou itself. However, the city is a good base to visit the following destinations:
Genghis Kahn Mausoleum: The world famous Mongolian hero's mausoleum is close to the city of Ordos, 115 km from Baotou. History buffs love the mausoleum whilst others argue it is not worth the long trip. The mausoleum can be reached by bus from Baotou.
Wudangzhao Monastery: One of the most impressive Tibetan Buddhist lamaseries outside of Tibet, this destination is fairly off the beaten track. Monks are very friendly but not many of them speak English. The monastery is approximately 70 km Northeast of Baotou.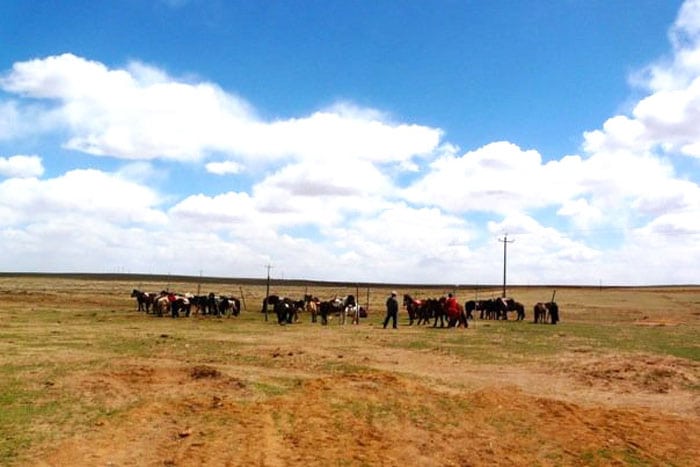 Horses in Xilamuren grasslands in Inner Mongolia
Grasslands
Near Hohhot
There are three grasslands close enough to Hohhot for short trips:
Xilamuren grasslands: Closest to Hohhot (90 Km) and the first grasslands to be developed as a tourist attraction, these tend to be overcrowded and packed with tourist buses in peak seasons. More worryingly, over-grazing and tourism in recent years have affected the grass leaving it sparse and browning in certain areas. Although these grasslands are host to a number of activities such as horseriding, I would recommend avoiding them if you have other options.
Gegentala grasslands: These grasslands are roughly a two and a half hour drive from Hohhot. Although they are not yet showing signs of desertification like Xilamuren, they remain equally as tourist-oriented. Gengentala is home to rows and rows of yurts serving as accommodation. They do have the plus side of being equipped with modern comforts such as toilets and as they cater to the Chinese tourist you will even find a nightclub or two! That being said, Gegentala is a good option for those who cannot travel too far outside of Hohhot and offers a range of activities from horseriding to wrestling to traditional mutton banquets held in yurts.
Huitengxile grasslands: If you have a bit more time, these grasslands lay a three and a half hour drive from Hohhot. There you will find a very similar set up as Gegentala in terms of accommodation and activities, but less busy. Be warned however that some travelers complain the grass here is not as lush and green as they had hoped.
Further away: Hulunbuir grasslands
If you want to visit one of the most beautiful grasslands in China, this is the place. This is where you experience luxuriant green plains, crystal blue lakes, roaming horses and all those things you imagine Mongolia to be.
Found in Northeastern Inner Mongolia, Hulunbuir is over 2,000 km from Hohhot so more of a mission to access. The closest airport is Hailaer, only 7 km from Hulunbuir. A flight from Hohhot takes just over two hours. The closest train station is also Hailaer station. You can get a sleeper train from Hohhot for a tenth of the price of a flight but it will take you 40 hours. It is actually faster to get a train from Beijing (30 hours) so you may consider doing this if you want to visit this area specifically.
In Hulunbuir, you will find similar tourist activities as in the other grasslands but will also have opportunities to discover the environment in a more intimate way. Hire a local driver, get involved in a horse-riding tour that spans over several days or simply go hiking. There is so much to do here! It is quite hard to find information on activities here beyond the organized tours that leave from Beijing so I recommend reading TripAdvisor or Lonely Planet forums for other traveler tips or simply waiting till you get there to plan your time there.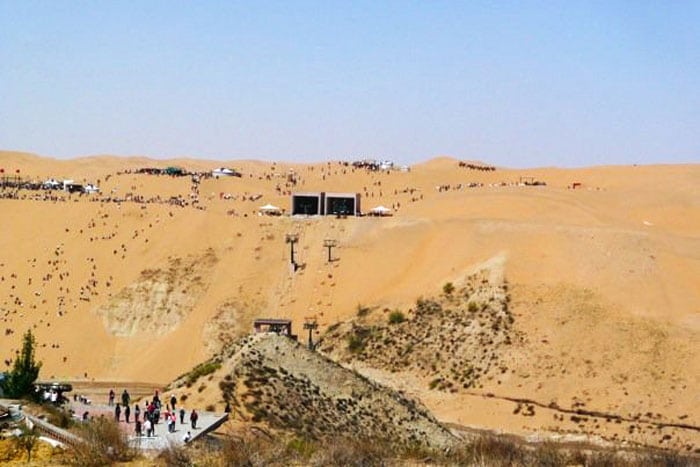 Desert resort in Inner Mongolia
Desert
Near Baotou: Resonant Sand Gorge (or Singing Sand Ravine)
The Resonant Sand Gorge, known in Chinese as Xiang Sha Wan is an area of the Kubuqi Desert about one hour's drive from Baotou. It gets its name from the reported 'singing sands' that can be heard there, making a noise some describe as similar to that of an airplane. However, travelers remain divided on whether such a noise can actually be heard there. Personally, I heard nothing.
The Resonant Sand Gorge has become increasingly popular in recent years and has been developed to cater specifically to tourists. Think camel rides, dune buggies, sand sleds and a plethora of other sand-based activities.
Despite the undeniably touristy aspect of this experience, the scenery is admittedly still breathtaking and the rides are actually good fun. For someone who had never experienced a desert (such as myself), this is still a great experience.
A few recommendations:
Pay more and get the chairlift: this is about an extra 40 Yuan but it is worth avoiding having to climb sand dunes in boiling hot sand. The view is much nicer from the top anyway;
Get the shoe covers: these are an extra 10 Yuan but will ensure you don't burn your feet of find sand in your shoes for days;
Try the sand sled: it is one of the cheaper activities and sledding down the sand dunes is more exhilarating than any roller coaster!
The camel riding is one of the more expensive activities (around 180 Yuan for one hour) but will enable you to see more of the desert.
Before paying for an activity, find out how much time it lasts. Some are very expensive and only last 5 minutes!
Further away: Tengger desert and Badain Jaran desert
These deserts can be found to the West of Inner Mongolia and are much more difficult to access from Baotou or Hohhot. They almost warrant a trip in themselves, as they are more remote and difficult to organize travel in.
Here are a few key facts about both:
Tengger Desert:
Fourth largest desert in China;
Borders with Ningxia Province;
Visit: Moon lake and Swan Lake;
Good for: camel-riding;
Access from: Yingchuan City.
Badain Jaran Desert:
3rd largest sand dune on earth;
Borders with Gansu Province;
Visit: many lakes and dunes;
Good for: hiking (especially up the tallest dune);
Access from: Jinchang (in Gansu Province).
How much does a trip to Inner Mongolia cost?
Transport to Inner Mongolia
Unless traveling to more distant locations such as Hulubuir or Badain Jaran desert, most travelers will start their trip in Hohhot.
To reach Hohhot:
By train: A train from Beijing to Hohhot takes between 6 ½ and 11 hours and costs about 150 Yuan for a hard sleeper. Click here to read our complete guide for traveling in China by train.
By bus: The long-distance bus from Beijing Liuliqiao Station (A1, Liuliqiao Nan Li, Fengtai District) to Hohhot takes 8 hours and costs 150 Yuan.
Find out more about how to get to Hohhot here.
Traveling to Baotou? Read this excellent article on how to get there.
Transport within Inner Mongolia
The easiest way to travel between cities in Inner Mongolia is by bus. Some travelers also choose to hire a driver to get to Inner Mongolia's main attractions. Most hotels or hostels should be able to help you do this.
It is also possible to travel by train between Hohhot and Baotou. The journey takes one hour and twenty minutes and costs about 25 Yuan on a hard seat.
Accommodation
Accommodation options in Hohhot and Baotou are largely made up of hotels. Besides Anda's Guesthouse in Hohhot, there is little in the way of hostels in these cities.
This article gives a good summary of Hohhot and Baotou's more upscale hotels. You can check them on Agoda.com:
For more budget options check Lonely Planet's budget hotel section or, again, Agoda.com.
Accommodation choices for more remote areas will be limited so be sure to check ahead for availability.
Activities
The table below gives you an idea of the price of some of Inner Mongolia's top sites and activities. Be aware that the prices are subject to change as these have already increased dramatically in recent years.
| City | Activity | Price |
| --- | --- | --- |
| Hohhot | Dazhao Temple | 35 Yuan |
| Hohhot | Five-Pagoda Temple | 35 Yuan |
| Hohhot | Inner Mongolia Museum | Free |
| Baotou | Genghis Kahn Mausoleum | 120 Yuan for resort entry + 110 Yuan for mausoleum |
| Baotou | Wudangzhao Monastery | 60 Yuan |
| Grasslands | Xilamuren | 60 Yuan |
| Grasslands | Gegentala | 60 Yuan |
| Grasslands | Hulunbuir | 20 Yuan |
| Grasslands | Horse riding | Around 120 Yuan/hour |
| Desert | Resonant Sand Gorge | 80 Yuan |
| Desert | Chair lift | 40 Yuan |
| Desert | Shoes cover | 10 Yuan |
| Desert | Camel ride | Around 180 Yuan/hour |
Planning your trip to Inner Mongolia
The best time to visit
Inner Mongolia can get very cold in the winter and travel plans can be affected by snow or blizzards so avoid this period if you can help it.
It is widely accepted that the best time to visit Inner Mongolia is in the summer between May and August. Visit in July if you wish to witness the region's Naadam festival commemorating the 1921 Mongolian revolution. During this time athletes will compete in wrestling, archery and horse racing in grasslands across the region.
What to bring
The region's proximity to the desert means it can be very warm during the day but become very cold at night and in the early morning. Bring a good mix of clothing for this range of temperatures.
You will experience a lot of direct sunlight in Inner Mongolia's vast expanses so don't forget sunscreen, sunglasses, a hat and some lip balm as it can get very dry!
Lastly, a good pair of trainers will go a long way in your grassland and desert adventures.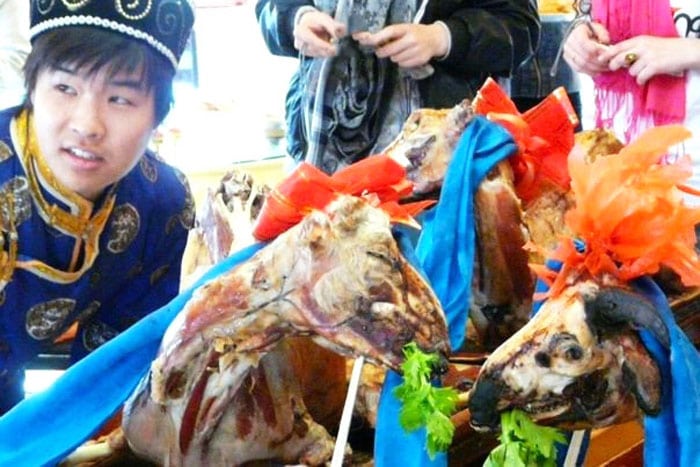 Eating mutton in Inner Mongolian yurt
Travel tips
Local customs
Inner Mongolia has a lot of traditions and customs specific to the region, which may be useful to know if visiting a Mongolian family. Most guides will explain these to you once you are there but here are a few to look out for:
Do not walk through a flock or herd in the grasslands (walk around) as this is considered an offense to their owner;
It is customary for Mongolian families to serve visitors a bowl of milk tea. Accept this with both hands and knock your bowl with your spoon if you do not want a refill;
It is also custom for families to serve local liquor to their guests in welcome and to offer a toast. It is polite to accept the drink and thank the host even if you are not actually planning on drinking it;
Mongolian families will present guests with a hada (piece of silk) and sing a song of blessing as a sign of welcome. It is tradition to accept the hada with both hands and to thank the host by crossing your arms across your chest.
Food
Be prepared to eat A LOT of mutton in Inner Mongolia. Some typical dishes to try: Roasted whole sheep, Roasted gigot, Mutton hotpot and Handlebar mutton.
Want a break from all the mutton? Try these delicious buckwheat noodles in Hohhot.
In terms of drinks, the salty milk tea is a definite staple. Or try the local beer Xai Bei.
Shopping
For some good old-fashioned souvenir shopping try Lao Jie (Old Street) in Hohhot. Some traditional Mongolian souvenirs include Mongolian silverware, Mongolian carpets, Mongolian knives with a sculpted blade, ox horn handicrafts and cashmere.
Are you ready to travel to Inner Mongolia? If you have any questions just leave a comment below!
Photo Credits: Photos by Marie Pilaud