The Gansu province is one of the most remote and poor areas in China, so finding a quality accommodation isn't easy. However, Gansu offers some of the most beautiful landscapes in China, thus it is an important touristic destination. In order to help you to save some time, here you'll find a selection of the best hotels in two of the most important cities, Lanzhou, the capital of the Province, and Dunhuang, the major touristic city.
If you want to know more about booking hotels in China, you can also check out this article.
Reviews of Luxury Hotels (5 Star) in Lanzhou
Crowne Plaza Lanzhou Hotel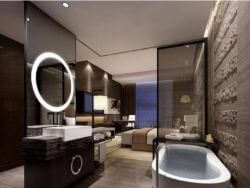 The Crowne Plaza Lanzhou Hotel is a luxurious hotel with 440 guestrooms offering modern facilities and views of the yellow river. At the hotel, you will find services and facilities like karaoke, massages and treatments, car park, 24 hour room service, indoor pool, BBQ facilities, terrace, currency exchange, and facilities for disabled guests. Enjoy a wide range of Cantonese dishes at the Chinatown Chinese restaurant or indulge in Halal foods of the West China region at the Persia specialty restaurant. River Café offers all day dining with International cuisine. You get free access to Wi-Fi in public areas only. Be aware that here the English between the staff isn't a must.
Wanda Vista Lanzhou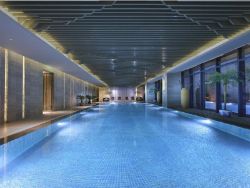 The Wanda Vista Lanzhou is a luxury hotel in the Lanzhou area, close to Wanda Plaza. The hotel offers 303 well decorated and comfortable guestrooms catering to smaller families to larger families. It features an indoor pool, a fitness center, billiards table, shared lounge, salon, on-site shops, ATM along with services like currency exchange, facilities for disabled, car parking, car rental, free Wi-Fi in rooms and public areas. The staff speaks fluent English and goes out of the way to help you with your inquiries. Have delicious local food at its local restaurant or indulge in Chinese and western dishes at its other two restaurants. The Lanzhou Zhongchuan Airport is located at a distance of 54.7 km from the hotel while the Lanzhou Railway Station is 3.5 km away. Although the personnel need a bit more training to the international standards, considering where this hotel is located the service provided is excellent.
Reviews of mid-range hotels in Lanzou
Hotel Ibis Lanzhou Zhangye Road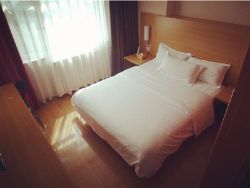 The Hotel Ibis Lanzhou Zhangye Road features 150 guestrooms including business king, deluxe king, deluxe twin, and premier king bed. Whether you are a business traveler or on a family vacation, you can get all the facilities and services to fulfill your specific needs. The rooms are well-equipped with AC, phone, safe deposit, high speed Wi-Fi, and en suite bathroom with hairdryer and shower. Enjoy buffet spread with western and Chinese delicacies at the breakfast. The restaurant Momento serves international cuisine and classic Lanzhou dishes during the lunch hours. The Lobby Bar features a wide range of alcoholic and non-alcoholic drinks. The hotel provides you with services and facilities like meeting facilities, car park, organizing of tours, laundry service, coffee shop, and Wi-Fi in public areas. Some of the rooms have free Wi-Fi while for some it is paid. If you are looking for airy and spacious rooms, then you may want to look for another hotel as the hotel's rooms are quite small and do not give you enough space to move around. Get a taxi in the area can be sometimes difficult so you rather ask the staff to get one for you.
Lanzhou Hualian Hotel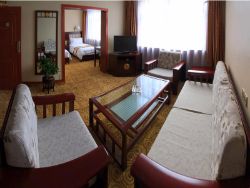 The Lanzhou Hualian Hotel is ideally located in the heart of the tourist area of Lanzhou that features tastefully decorated 400 guestrooms. The rooms are well equipped with modern facilities and feature private bathrooms. Because of the hotel's ideal location, you can easily get to the Lanzhou Railway Station, which is just 100 meters away. At the hotel, you will find a salon, restaurant, business center, shared lounge, ATM machine, and shops. The hotel also provides you with car park, valet parking, Wi-Fi in public areas, meeting facilities, arrangement of tours, and 24 hour room service. Since the staff speaks broken English, you may have difficulty in conversing with the staff members.
Lanzhou airport HNA Express hotel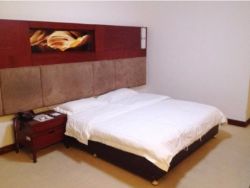 The Lanzhou airport HNA Express hotel is 8 km away from the Lanzhou Airport and features comfortable rooms with modern facilities. The rooms include cable TV, private bathroom with hairdryer and shower. By staying at the hotel you will get services like luggage storage, free airport pick up, meeting rooms, free parking, room service, and free Wi-Fi in lobby. While the hotel offers modern amenities, it does lack in maintaining the hotel well. The rooms may be dirty and additional cleaning before checking in will be a good idea. The restaurant operates till 9 pm only and this may require you to eat by that time or get some stuff packed for late night hunger. The hotel is a good choice for a layover.
Reviews of budget hotels in Lanzhou
Hippo Park Youth Hostel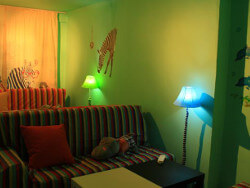 The Hippo Park Youth Hostel is an economical accommodation option that offers 35 rooms that include dormitories and tent rooms. The hostel provides easy access to the Lanzhou Railway Station and Zhenging Road Nigh Market via bus. Take a bus and get to Gansu Provincial Museum and High Speed West Railway Station in about 20 to 30 minutes. Cook your favorite meals in the shared kitchen or order Chinese dishes from the on-site restaurant. The bar at the hostel also offers some munchies for snacking. There are plenty of recreational activities to keep you active and entertained, including games room, hiking, cycling, library, and darts. Free Wi-Fi is provided in all the public areas and rooms.
Lanzhou No. 66 Youth Hostel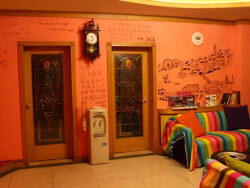 The Lanzhou No. 66 Youth Hostel makes you feel at home by providing you with 22 comfy rooms and home-like ambiance. The hotel features female and male dormitory rooms with brightly colored walls, equipped with work desk, washing machine and shared kitchen. The shared bathrooms feature shower, hairdryer, and slippers. Throughout the hotel, you will find free access to Wi-Fi, including rooms along with drinks and snacks vending machine. Your loyal friends (pets) are also welcomed by the hotel. Attractions like Iron Bridge of Yellow River, and Wuqun Mountain Park are reachable via bus in 15 minutes, while the Shuiche Expo Garden is 15 minute away on foot. Take a short walk and visit eateries and restaurants, serving myriad of cuisines to cater to different tastes.
Reviews of Luxury Hotels (5 Star) in Dunhuang
The Silk Road Dunhuang Hotel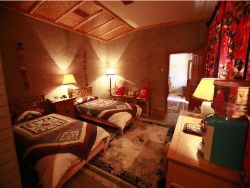 The The Silk Road Dunhuang Hotel is a beautifully constructed hotel located near the Crescent Lake and Minsha Hills. This hotel is merely a 20-minute drive from the Dunhuang Airport or the railway station. The architecture of the hotel is inspired by the Tang Dynasty and boasts beautifully decorated rooms. The famous night-market is just a 10-minute drive, while the Mogao Caves are 25 km away. The hotel offers free Wi-Fi connectivity in all rooms and public area. Staff members speak excellent English and are very helpful. The hotel offers a wide array of other facilities that include valet parking, laundry service, fitness center and much more.
Dunhuang Grand Soluxe Hotel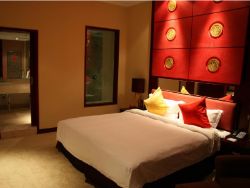 The Dunhuang Grand Soluxe Hotel is of the best hotels to enjoy a pleasant and relaxing stay in the city. With the Dunhuang Railway Station 12 km away and the Dunhuang Airport 14 km, this hotel is very easy to reach. It is located just 12 km from the city center and 25 km from the Mogao Caves Scenic Area. The Mingsha Mountain and Crescent Moon Spring are just 5 km away. The hotel offers wired internet connection in the rooms and wireless internet in public areas. Guests can enjoy the warm hospitality of the hotel with a helpful staff that speaks good English, alluring surrounding and a wide range of facilities.
Reviews of mid-range hotels in Dunhunag
Tianrun International Hotel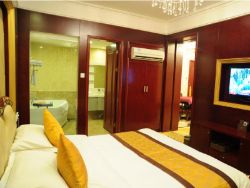 The Tianrun International Hotel is a cleverly located hotel that is in close proximity with the city center. It offers quick access to city's must-visit places and allows its guests to relish the best the city has to offer – from Chinese traditions to nightlife. The variety of services this hotel offers include free internet access in rooms and public areas, fitness center, safety deposit boxes, airport transfer, etc. The only problem that one can face in this hotel is communicating with the staff. The members are not very fluent in English and hence, it sometimes becomes difficult to get things done.
Gansu Dunhuang Hotel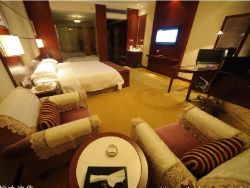 The Gansu Dunhuang Hotel is the perfect place to enjoy the sights and sounds of the city. The hotel's convenient location makes it very easy for guests to visit the popular places of the city. The Dunhuang Airport is just a 20-minute drive from the hotel and is easily accessible. The hotel offers a wide range of amenities and services that guarantee a pleasant stay for all kinds of travelers. From the fitness center to a massage center, all are designed to ensure a relaxing and rejuvenating stay. It offers Wi-Fi connectivity in all public areas and guest rooms. The staff speaks excellent English and is willing to go out of their way to help the guests, which makes the stay all the more comfortable and enjoyable.
Reviews of budget hotels in Dunhunag
Dunhuang Ancient Path Hostel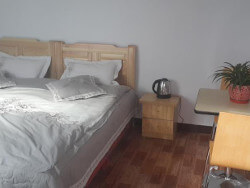 The Dunhuang Ancient Path Hostel is a budget stay option, which caters to solo travelers to families. The hostel features 13 rooms that include dormitory rooms, queen and twin rooms. The hotel not just offers value-for-money accommodation but also offers easy access to close by attractions like Crescent Lake, Mingsha Shan, and Leiyin Temple. The Dunhuang Coach Terminal is a 5 minute drive away while it takes 10 to 15 minutes to reach Dunhuang Airport and Dunhuang Railway station via bus. You will find free Wi-Fi across the property with other services and facilities like BBQ facilities, library, shared kitchen, car parking, and garden. You can also bring your fuzzy pals with you as the hostel warmly welcomes them at no cost. English speaking staff at the hostel makes communication effective.
Dunhuang Tianyuan Youth Hostel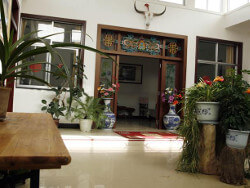 The Dunhuang Tianyuan Youth Hostel is a short walk away from Dunhuang Museum and a 10 minute walk from Dunhuang Leiyin Temple. Crescent Spring and Mingshashan Hill can be reached within 5 minutes on foot. It features 37 rooms with garden views and also provides free Wi-Fi access. The staff speaks fluent English and helps you with your inquiries related to car hire, trip planning, bicycle rental and much more. At the hostel, enjoy games in the games room or enjoy outdoors at the terrace or garden. The hostel allows pets at no cost and also provides facilities like lockers, shops, smoking area, BBQ facilities, valet parking, luggage storage, and room service.

Hotel Photos on Agoda.com