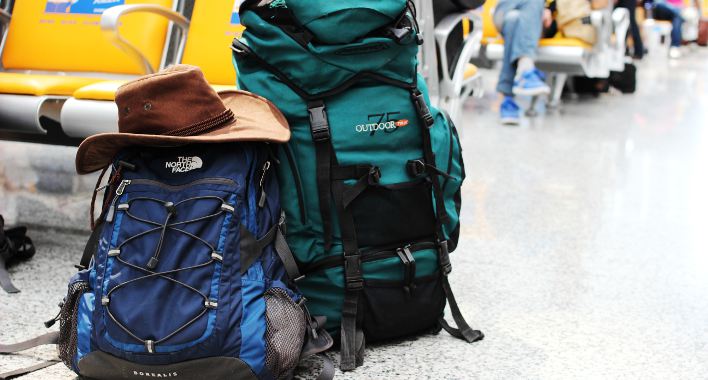 My luggage during my three weeks in Xinjang.
One of the questions that I receive from the readers that are coming to China is:
"What the hell should I put on my backpack?"
My answer usually is:
"Unless you are planning to climb the Everest, the same things that you would bring to any other place. Just remember that the Chinese winter is cold, so bring a couple of warm clothes."
Today I want to share what I bring when I travel around China or South East Asia and how I organize my stuff.
p.s. This is also what I would bring to America, Africa or Oceania.
How do I travel?
I always travel with a 70 liters Ferrino backpack ( the grand-parent of this one) that I bought in 2000 (yes, it's indestructible!) and a smaller backpack North Face that I bought in 2011.
In the sequel I will call the North Face "frontpack" (maybe a neologism?) for distinguishing the two of them.
Why frontpack? Because I usually carry it on my front side while I wear the backpack on my shoulders (see photo below).
My frontpack contains electronics (laptop, camera, lens and so on) and documents. It always travels with me.
When I say "always," I mean it. I bring it to the toilet and, when I sleep, I use it as a pillow (unless I'm in a private room).
The backpack contains clothes, toiletries and random stuff (such a tripod that I often bring and never use).
I could maybe buy a bigger backpack (100 liters) and avoid to carry two items all the time. However I like this set up (backpack + frontback) for a simple reason:
Every time I need to leave my backpack (as when I take a plane or a bus) I don't have to worry for my stuff (basically laptop and camera) or lose time for taking off a smaller bag from my huge backpack.
I just put the backpack – which only contains cheap stuff as underwear or the tripod – on the trunk and keep my frontpack – which carries all the important things – with me.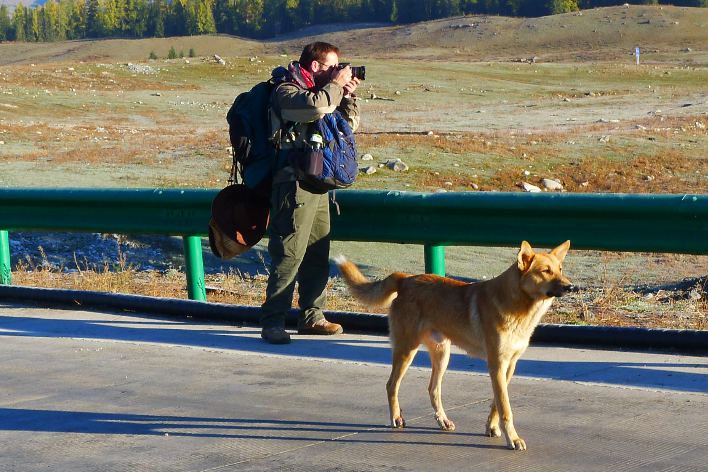 See? I can take photos while carrying ALL my stuff
Backpack versus suitcase
If you are just taking a plane and then staying at the same hotel for your whole vacation, I don't see any difference. I may even argue that a suitcase is better as it doesn't crumple your clothes.
Also, maybe you are forced to bring a suitcase because you have some physical problems.
In all the other cases, the advantages of a backpack are obvious.
Look at the photo above. I can carry my whole luggage for kilometers in whatever ground I want (try to bring a suitcase up to a mountain). Also, I keep my hands free so that I can take photos or eat the fruit that I find on the road without changing set up.
There are people that hate backpacks and prefer travel with a suitcase because "backpacks are too heavy."
I know only three reasons for which your backpack is too heavy:
You bought a backpack that hasn't decent rigid support/waist belt and doesn't allocate the weight in the right way. Trash it and buy a Ferrino! Also, try to put the heaviest stuff – such a the trekking shoes or liquids – at the bottom. In this way they won't push on your shoulders.
You brought too much stuff. Unless you are bringing technical equipment (such as a professional camera) or you are heading to the South Pole, if your backpack weighs more than 15 Kg it's because you are bringing useless stuff like your Teddy bear or whatever animal you like to hug at night.
You are a lazy pig. You are probably one of those people that travels only for complaining against everything and counting the days to be back home for watching Grey's Anatomy or Youporn. There is nothing wrong with it, but good luck with your trip through Laos and Xishuangbanna : P
How much weighs my luggage?
My frontpack weighs about 8 Kg as I always bring my laptop, my camera and a couple of lens.
However, if you have a point and shoot camera and don't need your laptop, you can keep the weight under 4 Kg.
The weight of my backpack may vary a lot. When I went to Vietnam I had about 8 Kg as I only brought summer clothes. Conversely, when I went to Tibet or Xinjiang I was carrying about 14 Kg as I brought trekking shoes and winter clothes. I would say that 14 Kg is the worst case.
What there is on my frontpack?
An Amazon Kindle reader.
A laptop Sony Vaio E11 11.6 inch.
A DSLR camera Canon Rebel T3i.
A prime lens Canon EF 35mm f/2.
A lens Canon EF-S 10-22mm f/3.5-4.5 USM (wide angle).
A lens Canon EF 70-200mm f/4L USM (zoom).
2 memory cards (16 Gbyte each), 2 batteries, 2 cases for protecting the lens that are not mounted on the camera and 3 UV filters (one per lens).
A point and shot camera Canon PowerShot SX 210 IS 14x. This is my backup camera in the case the DSLR stops to work or gets stolen.
The chargers for the laptop and the cameras.
A Portable External Hard Drive Western Digital My Passport Essential SE 1 TB USB 3.0.
My agenda/diary/whatever you want to call it.
A pencil, a black and a red pen.
A smartphone Samsung Galaxy and its charger.
An iPod Shuffle.
A USB memory stick.
A small flashlight.
Napkins.
Two pairs of underwear (hence in the case I lose my backpack I can still travel with clean underwear).
A 0,7 liters plastic flask with filter that I can use to drink water or prepare my green tea anytime I find hot water (in hostels, trains, airports or airplanes).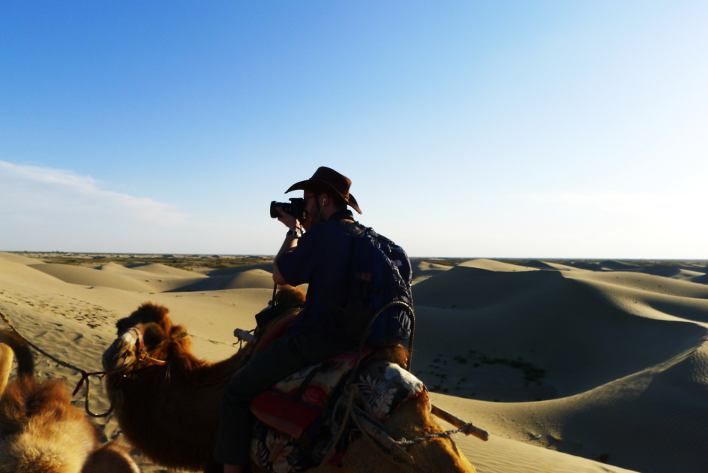 With my camera and frontpack (I let my backpack at the hostel when I can).
What there is on my backpack?
As I already said, the things that I put on my backpack vary with the place and the season.
Here I'll describe the worst case (when I need both winter and summer clothes as in a long trip):
A box of Longjing green tea.
A tripod that I always bring and never use.
Medicines: aspirin, antibiotics, anti-inflammatory, anti-diarrhea and calendula (so far the best remedy that I've found against burns and insects bites). I used to bring more stuff but right now this is all I have.
Sun protection cream (I'm a poor white guy who gets sunburn way too easily).
Wash-bag: I limit it to a minimum: toothbrush, toothpaste, a soap, a cologne, condoms, a razor that I barely use, scissors and a nail-clipping. After reading showering without soap or shampoo by Niall Doherty I'm experimenting to live without shower gel and shampoo. It could be a major improvement as shampoo bottles tend to open while I'm traveling and make a mess into my backpack.
Black garbage bags.
Washing power (to wash clothes on the road).
A rope (in order to dry the clothes).
An umbrella.
A silk sleeping bag (fantastic when you are in a dirty hostel full of bugs and your sheets look like someone just used them to clean the bathroom). I must thank Dave from The Longest Way Home to let me know – trough his blog – the existence of such a wonderful object.
A towel 100×50 cm and one 50×25.
Trekking shoes. At the moment I'm using a pair of Chinese shoes (the ones I wear on the photo with the dog) that I bought in 2010 to go to Tibet. They are doing surprisingly well!
Plastic flip flops. I often need them to take a shower as I usually stay in cheap hostel of shady hygiene.
Everyday shoes. At the moment I wear a pair of Geox.
Five pair of underwear, five pair of cotton socks and one pair of thick wool socks (which I wear up the cotton socks when I use the trekking shoes).
Five colorful cotton t-shirts that I can use in both summer and winter (under a pull-over).
A shirt.
A swimsuit, which I can also use as short trousers.
A pair of short trousers.
Two pairs of long trousers.
Two pull-overs.
A waterproof jacket.
My beloved cowboy hat.
What I would like to ad to my equipment
With the years I've reached a good equilibrium between comfort and weight.
The major improvements of 2012 were the Amazon Kindle reader (before I used to carry three or four books with me) and a very light laptop (my Sony Vaio is under two Kg with the battery).
My only "luxury" (with respect to the weight) are my laptop and camera. However I need to carry them if I want to document my trips and work while I travel.
Also, I carry things like towels, flip flops, silk sleep bag or washing powder because I expect to sleep in shitty hostels and have to wash my clothes by myself. If I was staying at the Hilton I would travel much more lighter.
I guess the only place in the world where I wouldn't feel comfortable with my present equipment would be the Himalaya (up to 6,000 meters as I've been around 5,300 meters in Tibet and I was ok) or the Antarctica, for which I would need better winter clothes.
Also, you may need some special equipments while visiting tropical zones, such a net against mosquitoes.
Anyway, here some objects I would like to buy soon:
A knife as I lost mine in Vietnam.
A cover to protect my backpack from the rain and the dust.
A head torch that would be especially useful when you arrive late at night in a village in the middle of nowhere or when you need to leave a shared hostel room very early in the morning. In this case you can't switch on the light, so a head torch lets your hands free to pack much faster.
What would you put on your backpack?
Photo Credits: Photos by Sapore di Cina