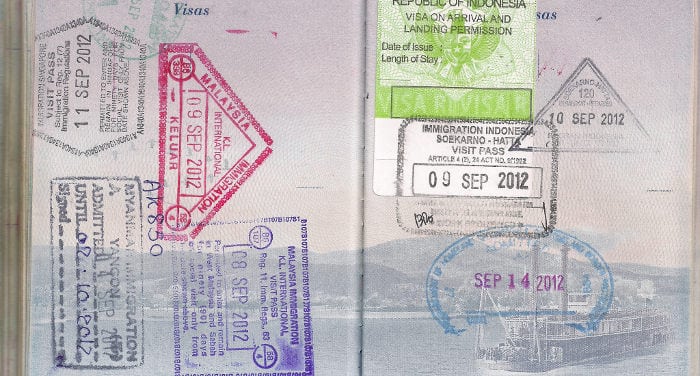 Do you need help to get your visa for Myanmar?
Click here to see the agencies that we recommend!
If you're planning a trip to Myanmar, remember to find out about visa requirements. In fact, unlike other countries in Southeast Asia (where for brief stays you won't need a visa at times), if you're planning a stay, whether it be for work or tourism, in ex Burma you'll need to apply for a visa ahead of time.
Only with a passport from one of the eight nearby countries, (which you'll find on this page), can you freely enter the country for 14 or 30 days, without needing to apply for a visa.
What is required for a Burmese visa?
 
As I said, Myanmar is the only country in Southeast Asia to require a mandatory visa as soon as you enter. This is also due to the recent opening of the country to tourism, late compared to the others, which are already ahead in the "Westernization" process.
Online procedure for getting a visa for Myanmar
 
In this section of the article I will explain in detail the online procedure, where you can apply for two types of visas. In the event you have to go to the Embassy, the procedure is similar (but in this case you can apply for all types of visas).
There are numerous accredited agencies for issuing a computerized visa, but I invite you to use the official site of the government of Myanmar, immigration section, to be more secure and avoid running into scams.
 
Types of visas obtainable online and the necessary requirements
Whatever the reason for you trip, the first thing you need is to have a regular passport valid for at least 6 months. Once you get your visa, it will last for three months.
There are two types of visas available online: tourist and business.
Tourist Visa
A tourist visa costs 50 Dollars and allows you to stay in the country for a maximum of 28 days. So if you arrive on a Thursday, your visa will last until the fourth Thursday.
This is the type of visa suitable for those who intend to stay in Myanmar for a few weeks, usually on vacation.
You'll be required to enter your nationality and choose your entry checkpoint, your personal information as indicated in your passport, as well as the address of where you will stay in the country (hostel, hotel, guest house, inn, resort).
While filling out the online form you'll have to provide a recent passport photo in digital format 38cm x 48cm  (you can use the "resize" function directly on the site), while on the last page you'll have to enter your credit card information to approve payment.
Business Visa
For this type of visa, besides your personal information you'll be ask to insert an invitation letter from a local company in the country with whom you wish to collaborate (NGO's are not accepted).
In the first part of the computerized application you'll have to enter the name and contact information of the company, the reason for your visit, the type of work and other basic information to justify a visa for doing business in Myanmar. Without a letter you absolutely cannot apply for an e-visa and enter Myanmar.
This is the only legal way to work in the country, whether it be for paid or volunteer work.
Specific types of visas (to apply for at the Embassy) or re-entry
There is next another series of entrance visas that you can apply for at an Embassy, and three re-entry visas to apply for directly onsite.
Special visas
There are 8 types of visas in this category: social visa, religious visa, study visa, journalism visa, private flight crew visa, seminar/conference/research visa and transit visa.
The religious and study visas last for 70 days while all the others, like the tourist visa, have a length of 28 days.
Take note that the three visas for: seminars, private flight crews and 24 hour transit can be issued directly upon arrival at the international airports of Yangon, Mandalay and Nay Pyi Tarv.
Re-entry visas
If you need a visa to extend your stay, you can go right to the Residence Permit Section of the Office for Foreign Citizen Affairs at number 122 Pansodan Street, in Yangon, to apply for a special re-entry visa for the country.
How long does it take to get a Burmese visa?
The necessary timetable for the issuing procedure is about 3 business days, so rather short.
If you don't receive an approval notice in the next few days, you can just check the application status just by entering the passport number or request number.
When you receive your electronic visa via email, you just need to print it and present it upon arrival at the border of Myanmar – either land or air according to what you put on your application.
The electronic visa is valid for 90 days from the date of issue, and it's important to apply for it no more than 60 days before the date of your arrival.
When the 90 day visa expires without your having already used it, it becomes unusable and you'll have to apply for another. If instead you decide to prolong your stay for another 30 days, you'll have to go to the appropriate office right onsite.
How much does a visa for Myanmar cost?
The cost depends on the type of visa you apply for. The cheapest is the tourist visa for 28 days, which costs 40 USD.
Where can I apply for a visa?
You can apply for a visa online, (as I explained above) or directly at the Embassy or Consulate nearer to your place of residence. In this last case, however, the procedure is a little longer, and the documents to attach are different. So I recommend that you follow the computerized procedure and save the trouble and energy for your trip, unless you need a special visa.
What are the required documents?
To apply for a visa you must have a passport that is valid for at least 6 months and have free pages to attach a visa and entry and exit stamps.
Moreover, if you choose the consular or embassy option, you'll also have to fill out a form, different than the visa application.
Besides these documents, once your visa is approved you'll be required to show proof of financial self-sufficiency capable of covering your entire stay in the country.
In addition, you'll also be required to show a departure ticket out of the country (air ticket or another proof) within the days you applied for.
What happens if I stay in Myanmar after my visa expires?
Staying in the country with an expired visa is punished with heavy sanctions. I recommend that you respect this marvelous people and the rules imposed by their institutions.
There aren't many family-run operations compared to other countries in Southeast Asia where there are innumerable guesthouses, so you'll need to look for an appropriate registered option, even just to put it on your visa application. This is because the government prohibits the population from mixing excessively with tourists.
Ex Burma drags behind it a legacy of closure to tourism and the world that lasted more than seventy years. But this is another story of which I'll tell you about in another article.
Do you need help to get your visa for Myanmar?
Click here to see the agencies that we recommend!
Photo Credits:

US Passport: Myanmar, Malaysia, Singapore, Indonesia, Indonesian Visa, US by dcgreer