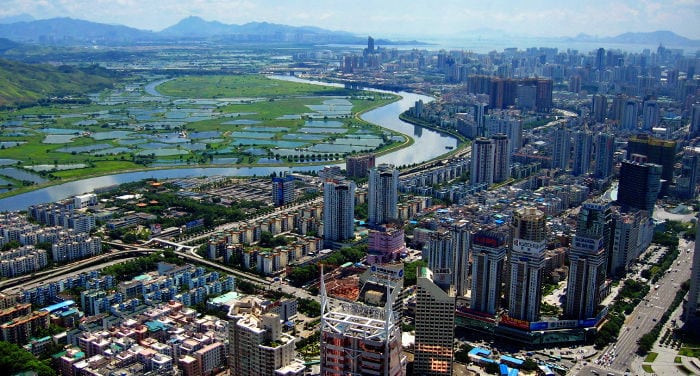 Before you begin
Just across the border from Hong Kong on the Chinese mainland, lies the first tier city of Shenzhen, where around 15 million people live, work and entertain themselves.
Whether visiting or living in Shenzhen, this article will introduce some of the better scenic spots, historic sites and themed attractions. Shenzhen is a sprawling city covering ten districts, so you'll need to plan carefully to make the most of your time – places to see are listed by district to make this easier.
Depending on your expectations, you may find some attractions quite touristy and possibly even tacky – but that's the nature of Chinese entertainment. Take time to look beyond this, and you are likely to have some great experiences and get to sample the unique and wonderful culture that China offers.
Getting around Shenzhen
The well developed public transport system is both efficient and inexpensive. Choose from taxis, private drivers, buses and the ever-expanding metro. Check out Getting around Shenzhen and Hong Kong Border Crossings, for more detailed information. There are also handy maps on most street corners, that although in Chinese will give you a good sense of your location and direction.
Tip: if you have a VPN, Google Maps shows streets in both English and Chinese. It's a great resource for showing taxi drivers where you want to go and for finding your way around.
Finally, here you find the reviews of the best hotels in Shenzhen.
When to visit Shenzhen
Any time of the year is good for a visit to Shenzhen. The climate is the same as subtropical Hong Kong – mild winters and hot and humid summers. Shopping malls and larger restaurants are all air-conditioned, but a mountain hike in 30 degrees might be better attempted in the cooler months.
It rains more in the summer months between May and September, but you'll also experience days of clear blue skies to make the most of your visit. You certainly won't experience the pollution of cities like Beijing and Shanghai, but the skies are hazier in the cloudier, winter months.
Plan your visit carefully around the times of Chinese festivals. Whilst many Chinese citizens leave Shenzhen to return to their home towns, you may find travel arrangements difficult. Hong Kong / Shenzhen borders are crowded and can be painfully slow to cross. Public transport is busy and sometimes even unattainable.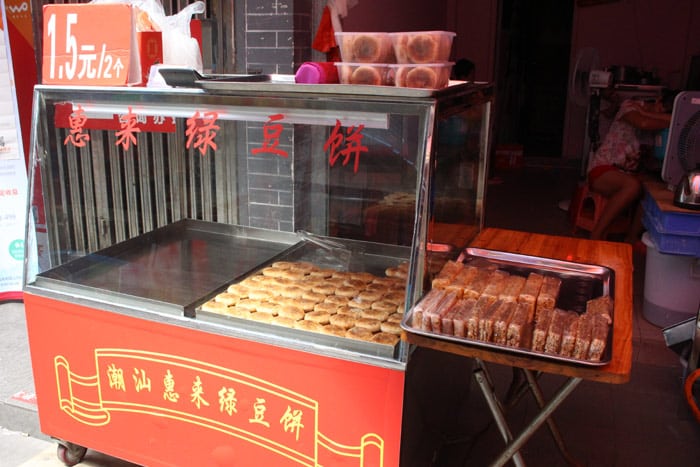 Street food in Shenzhen
How long to stay in Shenzhen
For short visits from Hong Kong, a couple of days will certainly give you a taste of the city. If you want to visit two or three different districts then you'll struggle to see everything in a week.
If you have a full tourist visa, you might be better spending a few days in Shenzhen followed by a trip into the neighboring provinces to see the "real" China. Travel in China is relatively cheap, and high-speed trains, buses, and internal flights can whisk you inland quickly to more rural scenic areas of natural beauty.
A word on visas
You will need a valid visa to enter Shenzhen or be eligible for a five day VOA (visa on arrival) which can be obtained at the border. For more information on visas check out our comprehensive guide here – Chinese Visa Applications
Nanshan District
Nanshan is in the southwestern area of Shenzhen and is home to many of the city's attractions, as well as many of the technology businesses that have made the city famous. You could easily spend two or three days here if you enjoy theme parks, shopping, food, and drink. The most popular attractions are listed below, but other options include the Shenzhen Safari Park, Shenzhen Bay Boulevard and Nantou Ancient Town Museum (currently closed for renovations).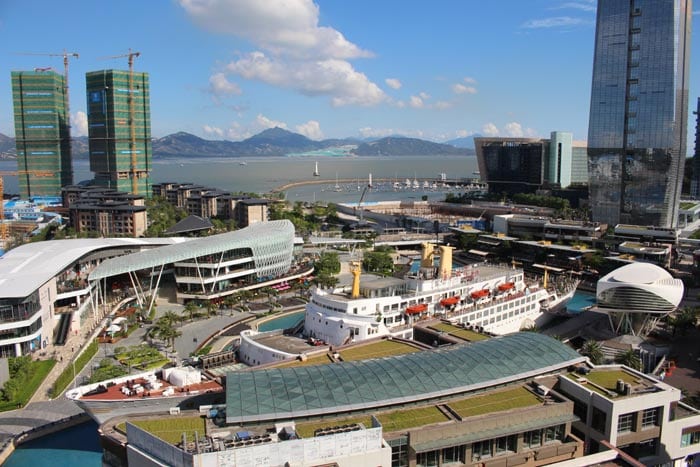 Sea World
1. Sea World
In the quieter suburb of Shekou, you'll find Sea World – a popular plaza – not an aquarium as the name suggests. There are a lot of western and European style restaurants, cafes and clubs. It's also popular for its imported German and Irish beers, and you'll maybe feel at home in bars like McCawleys, The Tavern and the more upmarket Terrace – all catering for both the Chinese and the large expat community living in this area.
Central to Sea World is The Minghua, originally an ocean-going liner, built by the French in 1962. It's been remodeled into a hotel, with a large outdoor bar area and restaurants. Each evening at 7.00 pm and 8.00 pm you can watch a short, ten-minute water fountain display, set to music with the ship as a backdrop. There's an additional display at 9.00 pm on the weekends. It's a bustling area in the evenings with occasional live music. However, other than food, drink and promenading there isn't much else to do here.
There's a lot of development underway and a new luxury shopping mall, an arts center and an iMax cinema are all due for completion by 2016. You can stroll along the seafront facing Hong Kong and there's access to the newly constructed Hilton Hotel. If your budget is limited, there are a number of smaller Chinese hotels close by. I particularly like No. 6 Crystal Garden – a lovely boutique hotel on a quiet back street between Shekou Port and Sea World.
Getting there
Metro: Shekou Line 2 (Orange) to Sea World – Exit A directly into Sea World Plaza.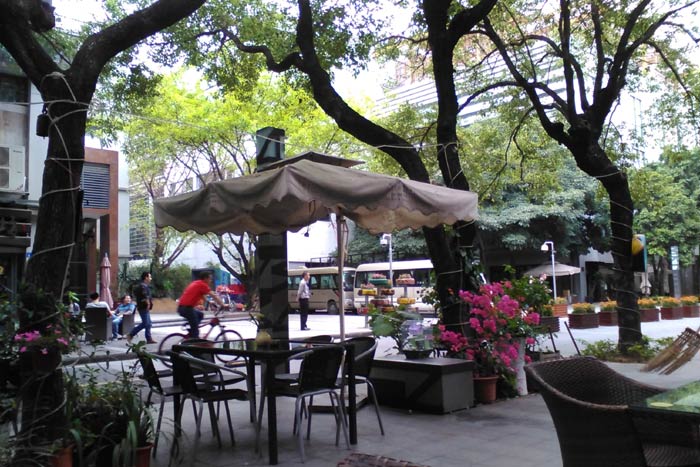 Nanhai E-Cool
2. Nanhai E-Cool
Just a short walk along XingHua Road from Sea World, you'll find Nanhai E-Cool. This is the old Sanyo factory that has been redeveloped into more than 100 small creative enterprises.
If coffee is your thing then you won't be disappointed. There are lots of small cafes serving excellent coffee, cakes, and snacks. It's a great place to lunch, away from the larger western chains in neighboring Sea World. You'll also find restaurants, wine bars, design shops, clothes, and the occasional creative art installation. It's beautifully shady too on a hot day as the small streets are lined with leafy trees.
If you enjoy street walking, you'll have a more authentic experience if you venture just a little further west, past Nanhai E Cool continuing along Xinghua Road, and into Haicheng Street. You'll find yourself very suddenly in the thriving Chinese community at Shuiwan. There are many small Chinese stores and restaurants serving good seafood, hotpot and Beijing duck. At night this area comes alive with street sellers and you'll find good street food if you want a cheap "on the go" bite to eat. You can access this area from either Sea World or Shuiwan metro stations.
In my experience, you can wander quite safely here and explore the shops selling cheap trainers, t-shirts and bags. In Shangle Street which runs parallel to Haicheng Street, you can haggle in the small shops and get some good deals. There are also a few smaller Chinese supermarkets if you need to stock up on supplies.
Getting there:
Metro: Shekou Line 2 (Orange) to Sea World Exit A – follow directions for walking above.
Walking from Sea World Entrance – walk east along Xinghua Road, past Starbucks on the corner and turn left by Baking Workers.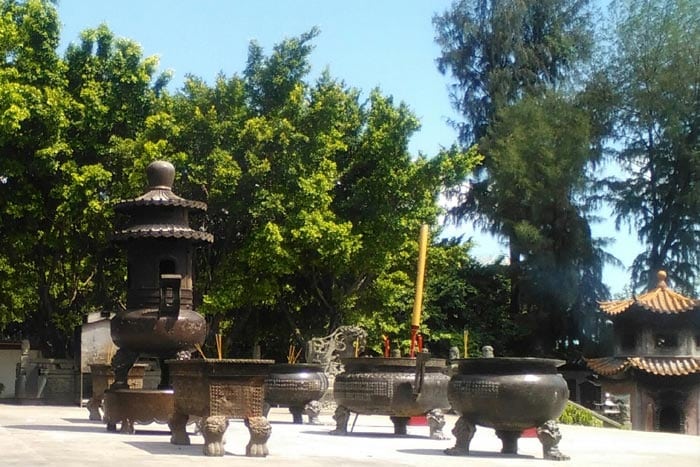 Tian Hou temple grounds
3. Tien Hou Temple, Chiwan
Built originally in the Song Dynasty, the Tien Hou Temple has been destroyed and rebuilt several times. But by Shenzhen standards, it appears old and is constructed in a traditional style. It's not far from Sea World and you can take a taxi, metro or bus.
The temple is still in use and some of the buildings are being renovated to provide a small museum of the temple's history. For a 15 Yuan entrance fee, you can walk wherever you want, climb three levels of buildings, explore the Drum Tower, take photographs and enjoy the pungent smell of incense. The temple is beautifully decorated, although a little worn at the edges, but it feels authentic and un-touristy.
There's an incense burning area in front of a central hall where Tian Hou, goddess of the sea, dominates the lesser god of wealth, Caishen and the bodhisattva of compassion, Guanyin.
Find out more about the history of the temple here: The Goddess of Tianhou Temple
Getting there:
Metro – Shekou Line 2 (Orange) to Chiwan Exit C. Turn right – walk approx 10 minutes along the road.
Bus – M371 or 226 from outside Sea World Metro Exit C. Stops directly outside the temple.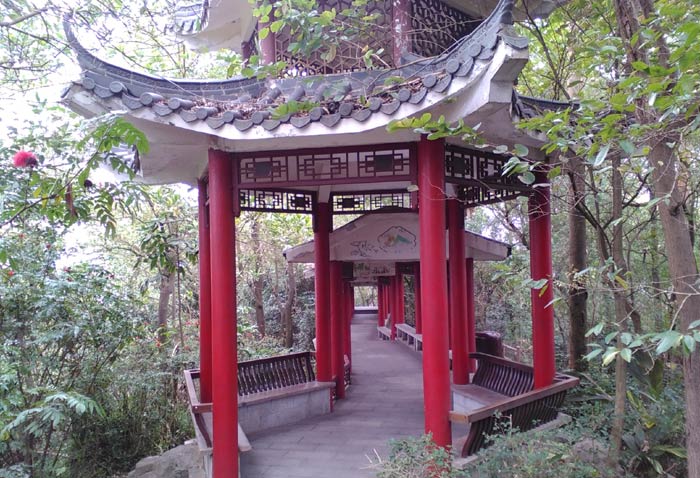 Nanshan Mountain
4. Nanshan Mountain
Stand in the entrance to Sea World and look inland – you'll see the lush green hills that makeup Nanshan Mountain. This is a challenging hike, either up and down or on a circular walk. I say challenging, if you aren't super fit, because it comprises over 700 neatly concreted steps to the top, generating far more of a burn on the calf muscles than a natural climb. Allow 1 to 1.5 hours for the up and down hike, or twice as long if you take the circular route. Look out for the map of the area on the left as you approach the entrance.
There's no entry charge and the mountain is open from 6.00 am – 9.00 pm every day, although we've never seen it gated outside these hours. There are usually food sellers with fruit and water both on the way to the entrance and at the top of the mountain. There are also squat toilets at the top, but remember to take your own toilet paper!
On the way to the mountain, you'll pass the International Conference Centre on the left. In the basement of this building is a bowling alley with ping-pong tables. All equipment can be hired. It's open between 3.00 and 10.30 pm.
Getting there:
By Metro: Shekou Line 2 (Orange) to Sea World Exit D. Turn right out of the metro and walk to Minghua Road. Turn right into Minghua Road and walk ahead to NanHai Blvd. Cross the road and turn left, then immediately right into Yanshan Road. You'll pass a 7/11 store – cross to the other side of the road, continue past the Convention Centre until the road branches 3 ways. Yanshan Road continues left – follow this shaded road to the start of the walks. There are two routes up – lookout for wooden signage on the way to the entrance that have maps detailing your options.
By Bus: To Haiyang Building (Haiyang Dasha)
From the West, alight from the bus and turn right to the corner of Minghua Road. Follow the instructions above for Metro. From East, alight from the bus and turn left until you reach Yanshan Road. Turn right, follow the instructions above.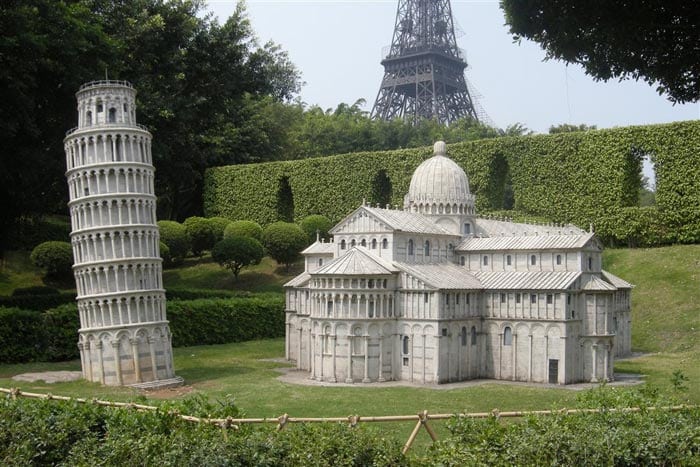 Window of the World
5. Window of the World
Window of the World is a large theme park (tacky alert!) providing the chance to stroll around miniature replicas of 130 of some of the most famous sights in the world. All of the continents are represented and you can visit the Sydney Opera House, The Palace of Versailles, Mount Rushmore and even journey by raft through the Grand Canyon.
The park provides plenty of interest if you have kids, although those "well-traveled" might find this a little less exciting than the real thing! As well as the monuments, there's a cable car, an indoor ski slope, and an archery field. Nighttime entertainment and firework displays take place at the weekends.
Tickets (2015 Prices): Adults 160 Yuan, Children over 1.2m 80 Yuan. Children under 1.2m and seniors over 70 can enter free of charge. Evening performances are extra.
Opening hours: 9.00 am to 22.30 pm
Getting there:
Metro: Take Shekou Line 2 (Orange) to Window of the World station. Take exit J and the ticket office is directly ahead of you.
6. Happy Valley
Next to Window of the World you will find the Happy Valley Theme Park. This park is divided into nine themed areas such as Cartoon City and Gold Mine Town. There's also a water park that is open in the afternoons between May and October.
The park covers a large area (85 acres) so be prepared for lots of walking. Unfortunately, it seems that some of the rides are closed more often than they are open, and the lines are quite lengthy. This may be because people don't always realize that the ride opening times are staggered. That said there are a lot of options here so if you enjoy thrill rides and the theme park atmosphere then you'll probably have a great day.
Check out Travel China's page here for all the directions, current admission prices, general opening hours and ride opening times. China Travel – Happy Valley
Getting there
Metro: Take LuoBao Line 1 (Green) to Window of the World station. Take Exit A and walk left to Qiacheng West Street, turn left and walk until you reach the entrance to Happy Valley.
7. Splendid China Folk Village
There are two sections to this park. Splendid China is made up of China's most important historical sites in miniature (a common theme among Shenzhen's theme parks). They've also replicated some of the more scenic sites. It provides a pleasant walk through the park, but if you've visited Window of the World, you might find yourself overdosing on miniatures!
China Folk Culture Village provides more of an interest. You can walk through 26 miniature villages and the 56 ethnic groups that make up China's heritage. There are live performances, craft exhibitions and also gala parties at popular times of the year. You'll learn a lot about the different cultures that exist within China and it provides a more educational day out if you have children. Ticket price is 150 Yuan.
Getting there:
Metro: Take LuoBao Line 1 (Green) to OCT station. Take Exit D turn right along Shennan Avenue until you reach Splendid China on this side of the road.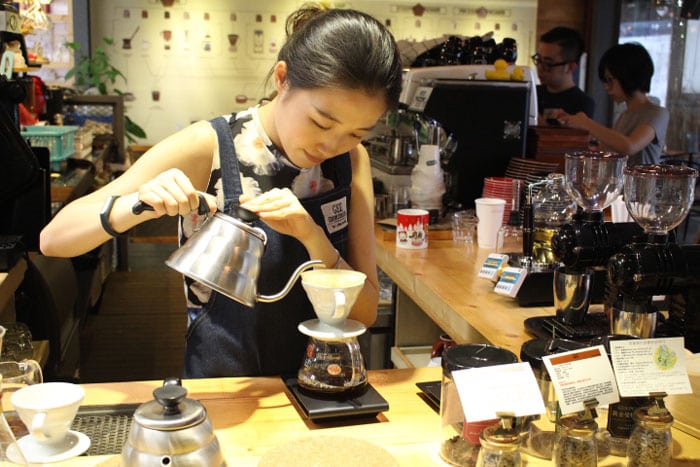 Coffee in Gee Rosters, OCT Loft
8. OCT Loft & O-CAT (Contemporary Art Terminal)
OCT Loft is located in the old eastern industry park and is a much larger version of Nanhei E-Cool. The International Youth Hostel is located here, as well as many trendy design shops, galleries, cafes, and restaurants.
For a great "cold drip" coffee experience, try GEE Coffee Roasters – they also have art exhibitions at the back of the cafe. La Patisserie is in the northern sector of the Loft area, and provides a beautiful shaded garden for lunch or snacks, transporting you far beyond the city to a peaceful calm oasis.
Check out OCAT, a converted 2-storey warehouse with a large art space used for temporary exhibitions and thematic art installations. Entry is free but it is closed on Mondays.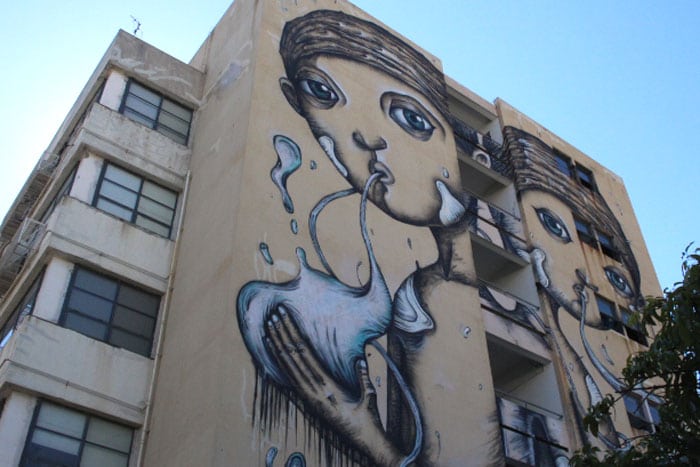 Wall art at OCT Loft
OCT Loft area is a cool creative space where you can hang out for a morning, afternoon, or even longer if you visit the monthly creative market. This venue is held on the first and third weekends of each month and if you have an interest in art and design you will thoroughly enjoy your time here! It's one of my favorite places.
Getting there:
Metro: Take LuoBao Line 1 (Green) to Qiaocheng East – Exit A. Turn right and walk along Shennan Avenue to Enping Street. There's a large petrol station on the corner. Walk along Enping Street for 5 minutes until you reach Jingxiu North Street. OCT Loft is straight ahead of you.
9. HeXiangning Art Gallery
This gallery is named after He Xiangning (1878-1972), a painter and social activist and it displays a permanent collection of his work. It is also a major influence in the support of the contemporary art scene in China. Unfortunately, it is now closed for renovations until 2016, but when it reopens I would definitely recommend a visit. Situated between Window of the World and Splendid China Folk Village, it provides a welcome reprieve from theme parks! Check the website for reopening times.
Getting there:
Metro: Take LuoBao Line 1 (Green) to OCT Station – Exit A.
By bus to HeXiangning Art Gallery Bus Station
Futian District
Futian is the administrative, business and financial center of Shenzhen's Special Economic Zone. It connects to Hong Kong via the Huanggang and Futian border crossings.
This is a busy commercial district and a shoppers paradise, so be prepared for more crowded streets. But it's here amongst many of the city's five-star hotels, that you'll find the Exhibition Centre, The Civic Centre, Shenzhen Museum, the Central Book Mall, Library, Concert Hall and Guan Shanyue Art Gallery. You'll also find green spaces, mangroves, and popular Coco Park which combines upmarket shopping with eating and drinking in some of the city's trendiest bars and restaurants.
10. Huaqiangbei District
This is a much-frequented area of Futian as it houses the largest electronics market in China. From the smallest technological component to computers, cameras, mobile phones, drones, and techno-gadgets – you'll find them all here. Some will be genuine, many will not. I haven't yet been able to find a computer that displays in English – and the validity of Apple products depends on whether they have been smuggled across the border from Hong Kong. I did, however, buy a Canon camera that seems to be the genuine article!
The three most popular markets are SEG Electronics, Huaqiang Electronics, and Cyber. There are hundreds of shops and booths, spread across many floors and buildings. I find it useful to memorize some landmarks – these places are like rabbit warrens and once in, it's sometimes tricky to find your way back to your original entrance.
Shop wisely and use your common sense here. If it's too good to be true as they say, it probably is! And if it's a camera or more expensive item, make sure you see it in its original unopened box before handing over your money. They will sometimes try and palm you off with an unpackaged demo product.
Getting there:
Metro – Luobao Line 1 (Green) to Huanqian Road Exit A or Shekou Line 2 (Orange) to Huaqian North.
11. Shenzhen Museum, Fuzhong 3rd Road
No city trip should be without a visit to a free museum! Shenzhen Museum was opened in 1988 and it contains a mix of historical heirlooms, cultural relics and archaeological finds. There are a number of permanent exhibitions showing the history of China and Shenzhen, and a popular children's room with interactive games. You can easily spend a couple of hours here exploring and as an extension to your visit you could walk to nearby Lianhuashan Park.
Opening hours are 10:00 to 18:00 but it's closed on Mondays. The Shenzhen Museum Website is available in English so you can check out temporary exhibitions and directions.
Getting there:
Metro: Longhua Line 4 (Red) to Civic Centre Station.
12. Mangrove Seashore Ecology Park
This is China's smallest national park facing Hong Kong's Mai Po Marshes – a bird watchers paradise. Throughout the year around 200 different birds migrate to Mai Po and also to the Shenzhen mangroves, some from Siberia. You'll enjoy this relaxing green area if you're a nature enthusiast, but it's a beautiful park in its own right.
There's access to the Shenzhen Bay area and you can enjoy shaded walks, cycling (there's talk of bikes for hire but I haven't seen them yet), or you can just sit and enjoy the views across to Hong Kong. It's a popular place for Shenzhen families to relax at the weekends.
Getting there:
Taxi is probably easiest as there isn't a metro close by. Alternatively, catch a bus to Mangrove Forest Bus Station.
13. Coco Park
If your trip to Shenzhen is for shopping, wining, dining and entertainment, then Coco Park is a good choice. In a modern mall, over five floors, you'll find more than 200 Chinese and international brands, although if you're traveling from Hong Kong, you'll experience higher prices. You can eat Chinese and western-style foods in a wide range of restaurants and bars. Coco Park really comes alive at night, when the central plaza heaves with both Westerners and Chinese. There's also a cinema if you want to catch up on a movie.
If you like things a little more sophisticated then it's likely you'll find something to suit you at Coco Park. Just don't leave your credit card at home!
Getting there:
Metro: Luobao Line 1 (Green) or Longhua Line 3 (Blue) to Shopping Park Station.
Luohu District
Luohu was one of the first areas of Shenzhen to be developed and the streets feel more typically Chinese, reminiscent of some parts of Beijing. It's a thriving commercial zone more densely populated by shopping malls than other districts in Shenzhen. You'll find MIXc, KK Mall, King Glory Plaza, and popular Dongmen Commercial Street. If you're shopping for gold or pearl jewelry, then Suibei and King Living International Jewellery Exchange Centres should be high on your itinerary.
Accessibility is a little more difficult but there is a new metro (line 8) which should be completed by 2016 – making this more scenic area much easier to travel to.
14. Wutong Shan Mountain Area
Opened in 1989 Wutong Mountain overlooks the coast and is a natural area for hiking. If you're heading to Dameisha Beach or the Dapeng Penninsula, this would be a good overnight stopping point along the way. It's a popular hiking spot for Shenzhen citizens and has some outstanding views from the top. At 943m it's the highest accessible point along this stretch of Shenzhen's coastline.
You'll never be able to compare Shenzhen's hiking with the wilderness areas of Europe or the USA, but on a clear day, this does provide a welcome respite from the city. There are rivers, waterfalls, and forests as well as some protected wildlife, such as boas, kites, and pangolins.
There's an easy paved route or you can take a more nature route to the top. Check out this guide for more information: Every Trail – Wutong Mountain
Depending on the route and your fitness levels you should allow 3-4 hours to get to the top, and 2 hours to get back down. You don't usually need to carry much, as at weekends and busier times of the year you'll find food and beverages for sale along the way.
To make the most of this trip, you can stay overnight in Wutongshan Village where you'll find inexpensive guesthouses and a laid back atmosphere. There are a few shops and some nice restaurants with river views.
Getting there
Metro & Bus: Metro: Luobao Line 1 (Green) to Luohu Station, then pick up the 211 bus which will take you to the bus terminus at Wutongshan Village.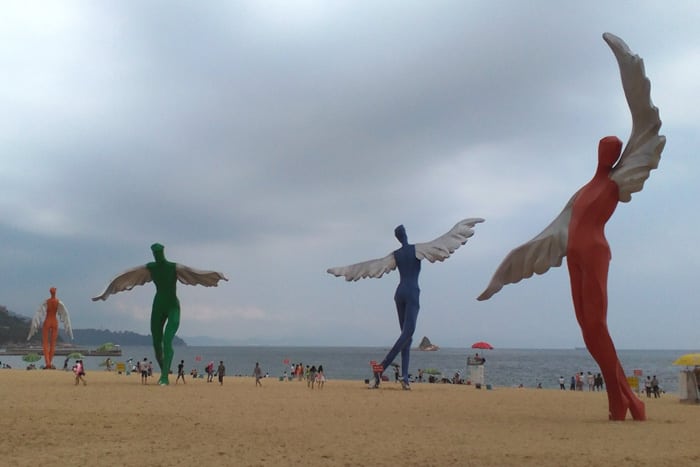 Dameisha Beach angel sculptures
15. Dameisha & Xiaomeisha Beaches
Dameisha is a fairly large coastal town. There's a typical Chinese area to the west but if you walk along the beach to the east you can exit into a modern mall and an equally modern marina. Here you'll find some larger hotels, including a Sheraton resort-style property. There are also many seafood restaurants providing live fish and seafood. You can make your choice from the small aquariums lined up outside the restaurants and have it cooked while you sample the local Tsingtao Chinese beer!
Dameisha Beach is the first long stretch of fine sand that you will find in the Yantian District. It's often snubbed by the local Chinese because it can be incredibly busy on summer weekends and at festival times. If you avoid these times and visit during the week, it isn't so bad. This is a free beach and there are a number of activities such as diving, paragliding and we even saw jet skis for hire.
Read about my day out in Dameisha here: A day out at Dameisha Beach
Smaller and less busy Xiaomeisha Beach is a little further along the coast and you will need to pay an entrance fee of 30 Yuan. There's a hiking/biking trail between the two beaches or you can catch a local bus or get a taxi. This is a popular camping spot and throughout the summer weekends you'll see many tents (rent or take your own) pitched up, literally side by side, on the sand. You can also visit Xiaomeisha Ocean World, a huge aquarium that is popular with families.
Getting there
Dameisha – Buses: J1, N21, M207.
You could get the metro to Luohu Train Station and catch the train to Dameisha which takes around 40 minutes.
16. OCT East Park
OCT East is set on the mountainside behind Dameisha town you can easily spend a day wandering around this large scenic theme park. There are six resort hotels, the Dahuaxing Buddhist Temple, two 18-hole golf courses (one for members only), a hot springs spa, a water park, themed rides and a beautiful tea plantation, which for me is one of the highlights. This is a huge country park that is nicely landscaped and away from the bustling city that offers a variety of activities for all the family.
Open daily 09:30 to 17:30 – there are a variety of ticket prices depending on what your stay involves – they start at 160 Yuan.
Getting there:
Taxis from Futian will cost around 100 Yuan each way or bus 239, J1 or Airport No 6 to OCT East Bus Station.
Longgang District
Longgang is located in the North East of the city and as well as the city's main reservoir, the Qinglingjing Forest Park and the Longgang Public Golf Course, you will also find two of the best-preserved Hakka "enclosed residences" in Shenzhen – Hehu Zinju and Maosheng Shiju.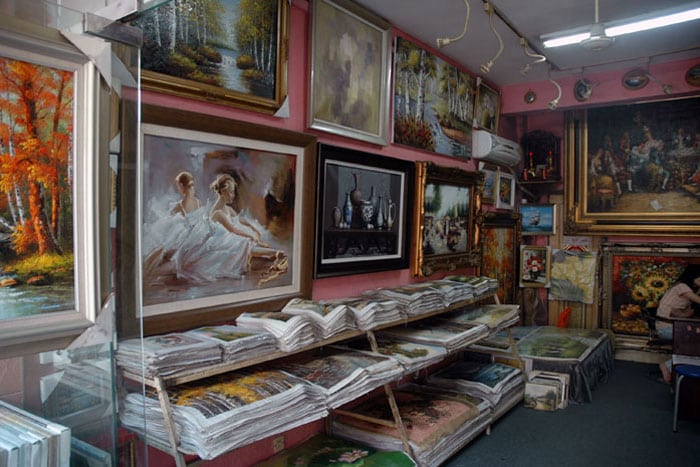 Dafen oil painting village
17. Dafen Oil Painting Village
Dafen Village is one of Shenzhen's top attractions, and one of the first suggested to me when I arrived to live in the city. It's the largest producer of oil paintings in the world and home to thousands of artists who paint and sell cheap copies of famous western art pieces. You can take a picture of any piece of art and you will find any number of artists who will transfer it skilfully and inexpensively onto a canvas in whatever size and style you desire.
Dafen is just a short stroll from the main road. It's impossible to miss as you will quickly encounter a mass of oil paintings hanging floor to ceiling in every shop throughout the alleyways that make up the village. You won't be overwhelmed by people – instead it is a very pleasant area to wander leisurely whilst browsing. You can bargain for your art, but if you're not looking for a Mona Lisa replica, you'll also find modern galleries, calligraphy, sculptures, handicrafts and lots of small boutique cafes to make this a worthwhile visit.
Getting there:
Metro: Longgang Line (blue) to Dafen Metro Station, Exit A1. Walk straight ahead for 5-10 minutes until you reach Walmart. Then follow the crowds to the entrance gate!
By bus to Dafen Village Bus Station.
Pingshan District
Pingshan is the major industrial area in the east of Shenzhen city. Still inhabited by many Hakka people, you can learn much about their culture and folk traditions by visiting the enclosed villages in this district. With 156 basketball courts, it is also known locally as the "town of basketball". The Pinghan River runs through the district and its geographic environment has seen the formation of a number of ecological parks such as Jingui (where you can walk the ancient trade path), Julonghshan, Yanzilinng and Biling.
18. Hakka Villages
There are around twenty or so Hakka walled villages remaining in Shenzhen, and three are available to visit in Pingshan – each worth a visit if you enjoy historical buildings:
a) Longtian Shiju;
b) Dawen Shiju;
c) Fengtian Shiju.
Longtian Shiju is the best-preserved Hakka village in Pingshan. Built-in the Qing Dynasty, it's surrounded on three sides by water and on the fourth by a high wall enclosure, making its style a little different to other Hakka villages.
Getting there:
Longtian Shiju by bus to Kengzhi Market Station. Dawen Shiju can be accessed via bus to BYD Maintenance Centre Bus Station, and Fentian Shiju by bus to Lexing Furniture Square Bus Station.
Longhua District
This is one of the newest districts in Shenzhen and it's the main hub for the high-speed railway connecting the city with Southern China and beyond. The now highly rated Mission Hills Golf Club is located here but the main attraction is Guanian Ancient Town.
19. Guanian Ancient Town
I haven't yet visited this area but it's high on my list. The Shenzhen Travel Guide indicates that Guanian Old Street comprises dozens of lanes that provide a living museum of Hakka history. This was originally the transfer station between China and foreign countries and was known as the "The Little Hong Kong". Now there are fifteen remaining watch towers, as well as folk dwellings and shops.
Getting there:
Guanlan Ancient Town, Xinlan Community: By bus to Guanlan Central Primary School.
Quanlan Watchtower: By bus to Zhangkengjing Shangwei.
Guanlan Guihutang Old Walled Village: By bus to Gangtou Village Bus Station.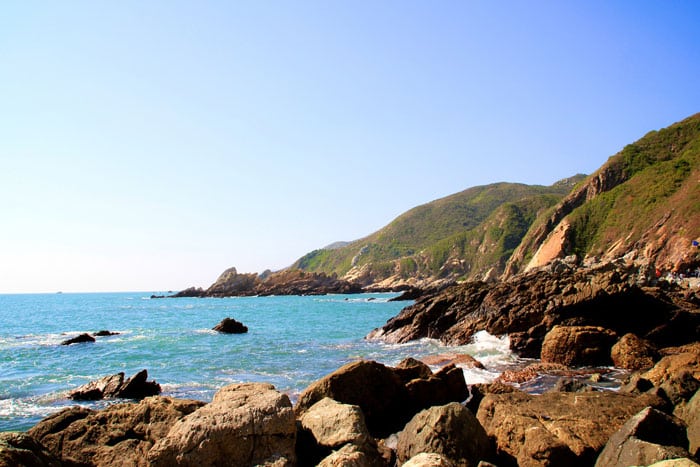 Dapeng Coastline
Dapeng Penninsula
Dapeng New District is to the southeast of Shenzhen, surrounded by sea on three sides and facing Hong Kong's New Territories. It's mountainous, forested and is trying to reinvent itself as an "ecological tourism resort".
It's a stunning coastal area and a proper escape from the city, although difficult to access by public transport.
It's well worth a visit, and if you have time, stay a few days in Jiaochangwei Village to really explore the coastal landscape. In Dapeng you will also find Xichong Beach, claimed to be one of the eight most beautiful beaches in China!
Keep an eye out for my guide to visiting the Dapeng Penninsula in the coming months!
20. Dapeng Fortress
Dapeng Fortress was built in 1394 to defend the mainland from Japanese pirates and later in the 19th century to ward off the British in the Opium Wars. It's well preserved and work is underway to restore it further.
Take a wander around the streets, where amazingly you will that find people still live. Along the main street you will find street sellers with jellies of all kinds, but to really experience the history of this fortress, take time to walk off into the many lanes away from the main through road.
Close by is Jiaochangwei Village which was formally home to the local fishermen and farmers. The buildings have now mostly been transformed into trendy boutique guest houses. Many are owned by young affluent Chinese who have a love of culture and art. There are plenty of restaurants in the area to choose from as well.
The more popular guest houses tend to get booked quickly at weekends, but you'll find rooms available on quieter week days. Some of these properties have started to appear on popular hotel booking sites.
Getting there:
A taxi or private driver is probably the easiest way to get here from Shenzhen, although you'll find some taxi drivers obviously reluctant to travel this far out of town. You can take bus M362 from Zhu Zi Lin bus station in Futian and get off at the very last stop. From here you can either take a 10 min taxi to Dapeng Fort or take the 928 from Dapeng bus station. The E11 will also take you back to the city from here.
Frequently asked questions
What is Shenzhen known for?
Shenzhen is famous for transforming from a village into a booming metropolis within just a few decades. It was the first city to get preferential policies to attract foreign investment.
Nowadays, Shenzhen is referred to as "The Silicon Valley of China" and attracts much foreign investment. Shenzhen is also known for its open and welcoming culture as many of the people come from other cities and provinces.
What is the province of Shenzhen?
Shenzhen belongs to Guangdong province
, one of the biggest and most popular provinces in China. It also contributes much to China's economic output. There are other major cities in the province, including Guangzhou, Zhuhai, Hong Kong SAR, and Dongguan.
Is Shenzhen in mainland China?
Yes, Shenzhen is located in Guangdong province which belongs to mainland China.
Is Shenzhen dangerous?
No, Shenzhen is safe compared to other international metropolises. Assaults and robberies are extremely rare. You won't experience petty-crimes often either, such as theft. In general, all of the big cities in China are considered safe.
Do they speak English in Shenzhen?
Even if some people claim that you can get around by speaking English in Shenzhen, it's not really the case. Locals speak either Mandarin or Cantonese. That said, you can still get around in Shenzhen without the need of speaking Chinese. The signs are written in both Chinese and English, for example, and you can order food without a problem.
Do I need a visa for Shenzhen?
You need a visa for Shenzhen if you don't come from a country that has reached a visa waiver agreement with China or can't receive the 24-hour visa-free transit. With that said, many nationalities can apply for a visa on arrival when arriving in Shenzhen. This visa allows you to stay in Shenzhen for up to 5 days, but you cannot leave the city.
What is the best way to go from Shenzhen to Hong Kong?
The fastest and cheapest way of traveling from Shenzhen to Hong Kong is to take the MTR.
How far is Shenzhen from Hong Kong?
Shenzhen is located 27.4 kilometers away from Hong Kong and it takes you around 15 minutes to reach the city by bullet train. If you take the bus, it will take you around 1 hour and 45 minutes to reach Hong Kong.
Conclusion
Hopefully, this article gives you some inspiration for experiencing Shenzhen beyond shopping and cafes. Please check buses as these can change from time to time, and if you have any questions I'd be happy to answer you.
Enjoy Shenzhen!
Photo Credits: Photos by Vanessa Anderson


Shenzhen River by Ken Neoh


Shenzhen River by yuan2003