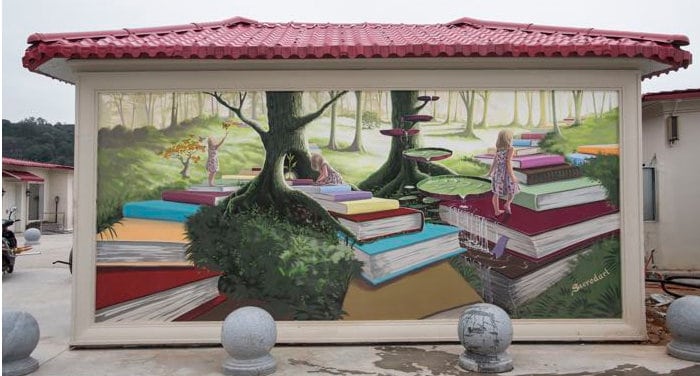 We receive and publish this article from Andrew, how works at the Hua Quan Village. You can find more information on their website or Facebook page.
Hua Quan Village is an art and cultural village located in Mount Longhu, south of Yingtan, in Jiangxi Province. The famous Dragon Tiger Mountain is one of China's many UNESCO World Heritage Sites and the birthplace of Taoism.
The village was created as a place to reconnect with nature, pursue personal exploration, and preserve and educate visitors about aspects of old Chinese culture. The village houses over 100 local artists. It provides a rare opportunity to explore a beautiful national park, numerous galleries, over 100 murals created by famous artists from around the world, art museums, cultural museums, and numerous art and cultural classes catered to the individual's needs and interests.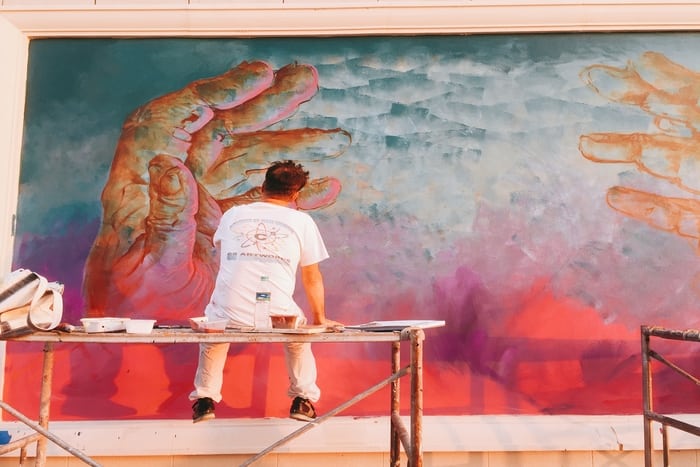 How to get to Huashan Village
The closest major city to Hua Quan Village is Yingtan City, and from there it is a 20-minute cab ride to reach the village. The easiest way to get to Yingtan City is a high-speed rail train either from Nanchang or Shanghai to Yingtan North Station. Tickets should be purchased before you travel.
From Nanchang
Nanchang Changbei International Airport (KHN) is arguably the quickest way to get to the village, but the airport is small and thus has fewer international flights and options. Once arriving at Nanchang Changbei International Airport, the drive to Yingtan takes around 2 hours. However, there is also a high-speed train, which goes to Yingtan City and is a 30 minute taxi ride from the airport. The address of the train station is "南昌西 China, Nanchang Shi, Xinjian Qu".
From Shanghai
Shanghai has Pudong International Airport (PVG) and Hongqiao International Airport (SHA). Hongqiao International Airport is the most convenient airport to fly into since the high-speed rail is located near Hongqiao Railway Station, which is a 5 minute walk from this airport. You can either take a bus from the airport or a taxi. The bus may add 10-15 minutes to your trip to the train. The high speed rail train takes just over three hours to reach Yingtan City.
If you fly to Pudong, you should leave at least two hours between the flight and the train. The airport is an hour away from the train station, but during rush hour, the trip can take close to an hour and a half to two hours. You can take a cab, subway, or bus to the train station. The bus is the cheapest option, with a price of 30 Yuan.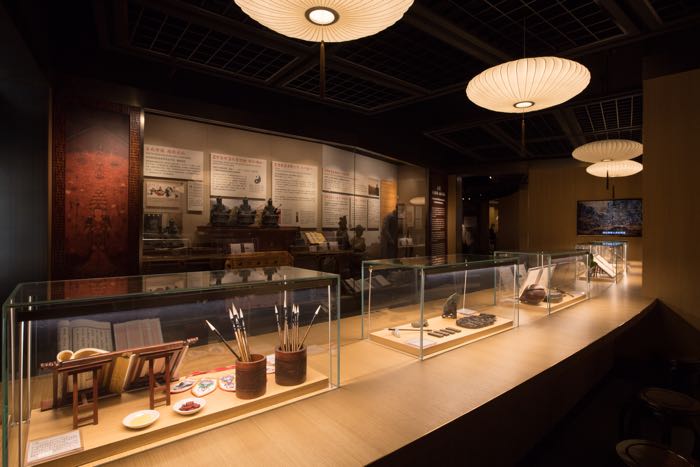 What to do at Hua Quan Village
Visit the Art and Cultural Museums
Hua Quan Village has 4 museums, over 100 art galleries as well as multiple art exhibitions in collaboration with the Chinese and Russian Art Organization.
The Chinese Cultural Museum is an interactive museum and it provides a great background of Chinese culture. The museum covers a wide range of topics including calligraphy, architecture, philosophy, religion, and various forms of dance and art.
The Chinese Art Museum contains a collection of contemporary Chinese oil paintings donated by collectors.
The Precious Porcelain Museum exhibits pieces from some of China's most renowned porcelain artists.
The International Art Museum contains numerous works of art from famous Russian and Asian painters.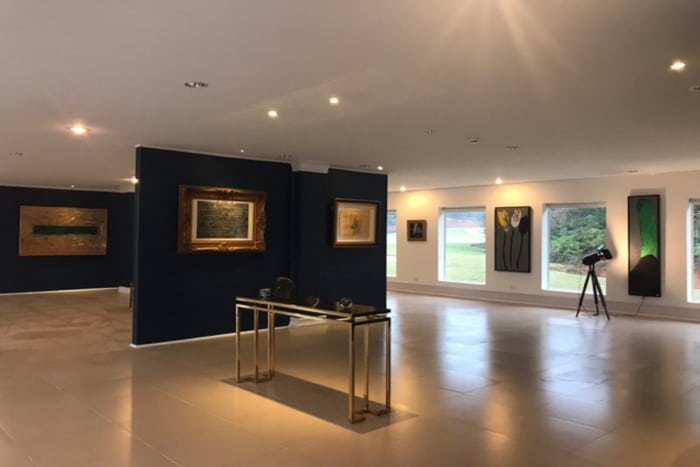 Finally, there are art exhibitions and galleries that include works such as a North Korean realism collection that was originally displayed in Beijing, as well as numerous globally recognized artists such as Wei Li Gang.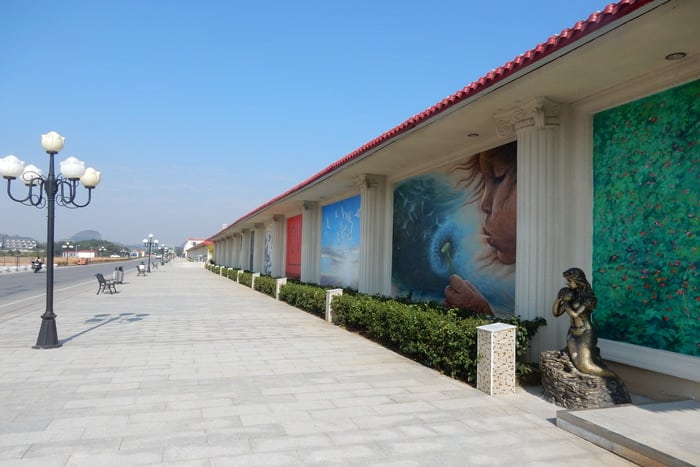 Discover the mural paintings across the village
The village spans across 41 acres (165,000 square meters). Hua Quan Village is most well known for "The Miracle Project". This is a collection of over 100 mural paintings from international artists throughout the village making the village itself a work of art. The murals can be seen by a 1 hour stroll throughout the village.
The village houses over 100 different artists and craftsmen each with its own gallery. The shops are spread across three long avenues. Visitors are welcome to visit the shops, talk and interact with the artists, and admire or even buy their pieces.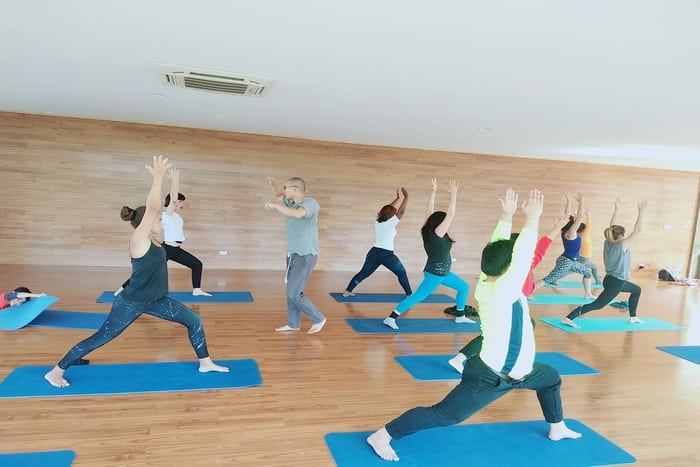 Take a class
The village has over 21 classrooms in its art and cultural center. Visitors can take kung fu, yoga, music vocal training, calligraphy, Chinese painting, watercolor, oil painting, ceramics, tea ceremony, pencil sketching, and many other classes. These classes can be arranged upon arrival and can be taken privately or in groups.
There is a Chinese medicine practice where visitors can come and learn about acupuncture, Chinese herbs, pressure point massages, chiropactoring, and body realignment. Visitors can also reserve appointments for treatment.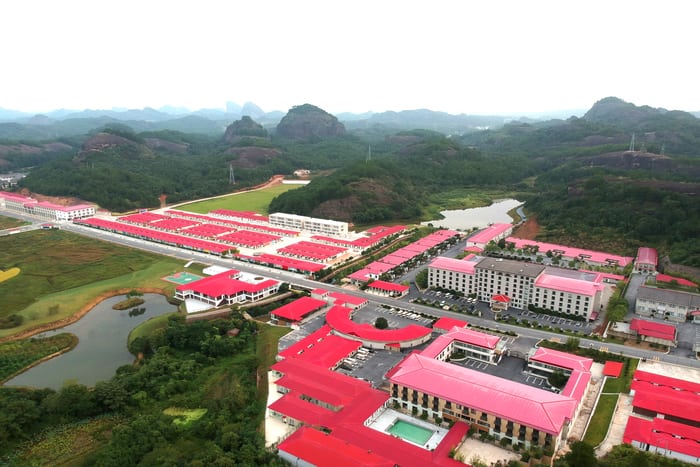 Visit Longhu Shan
The village is located in the scenic and cultural UNESCO World Heritage Site, Mount Longhu, and has buses running regularly from the village to the mountains. Mount Longhu is known as the birthplace of Taoism and has numerous temples to visit. Additionally, there are 99 peaks, 24 cliffs, 108 natural and cultural scenic spots, and over 20 wells and pools.
Additionally there are numerous springs and waterfalls are scattered to explore. Four prime attractions are the raft ride down the Luxi River, the Cliff Tomb show, the cultural show at night, and the Taoist temples.
The price of entry to the heritage site includes the bamboo ride and the Cliff Tomb show (260 Yuan). The raft ride provides a beautiful view of the mountains, and passes by numerous famous formations that resemble animals such as a turtle, a dragon, a tiger, etcetera.

Typically one raft carries 8 passengers and the ride lasts for approximately 20 minutes. Along the way there are great views of the Cliff Tombs. The Cliff Tombs are caskets that are lodged into the crevices found on the face of the mountains and date back 2,600 years.

The Tombs are a natural archaeological museum, which is very rare and thus has attained worldwide fame. The raft ride ends at a location where you are able to watch a 30-minute show, which involves monks climbing down the face of these cliffs in order to show the audience how the tombs arrived in these crevices.

The night show is a beautiful light show that includes numerous cultural dances as well as a boat ride down the river. The show lasts one and a half hours and incorporates the culture of the region into a dance and light show. The show involves walking through around 1 km path and stopping 4-5 times to see various productions and dances.

Finally, there are buses that can take you around to visit the numerous Taoist temples. Many of these temples are still active. It is best to find a tour with an English translator since the temples all have a great back-story, and the typical tour provides a rich history of the development of Taoism in China. A full tour of the temples can last 1 to 2 hours.

Lodging and food

Hua Quan Village has a beautiful hotel on-premise. The hotel offers standard queen and king-size rooms starting from 680 Yuan a night. The rooms can be booked directly on the main village website.

There are 4 restaurants in the village. The hotel has a large selection of traditional Chinese cuisine including numerous local dishes, which tend to be on the spicier side. There is a restaurant that has western food options such as burgers, pizza, pasta, and more. Within the village, there are 2 locations serving quicker local Chinese options such as beef noodle soup.

The village has a bar with internationally imported beverages, live music, and karaoke. This is where the majority of visitors and residing artists congregate at night.

Photo Credits: Photos by Andrew from the Hua Quan Village