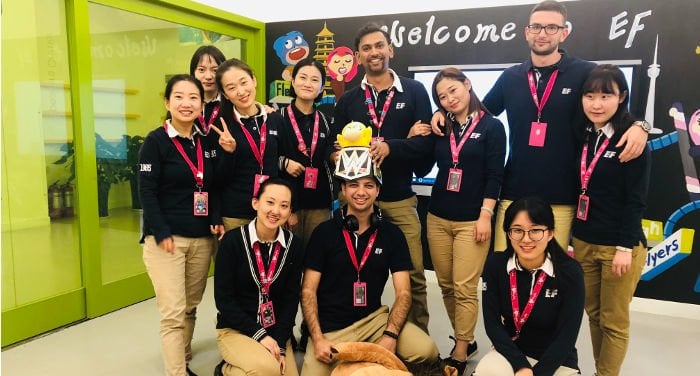 Today we're interviewing Luca Stanga, who has a rather interesting story to tell us since he teaches English in China on a work visa, which shows that such an objective is not impossible for those who aren't born into an English-speaking country so long as they have the right skills!
Luca, what work do you do in China and when did you get there?
I work at an English private school for children in Xi'an. The school is a franchise run by the company Education First. I work in the afternoons and on weekends since in the mornings the students attend public school. My work can be subdivided into three areas: lesson planning, teaching and extra activities to promote the institute.
Planning lessons takes time and imagination, but supplementary material is provided and you can always ask for advice from colleagues or the director of studies. There are about 12 to 14 students in a class, and in my case, the ages vary between 3 and 10 years old. Since the students are so young, each class is assigned a Chinese national teacher who gives support.
I've been working here for six months and am very happy with the professional experience that I'm developing, also thanks to the fact both the director and vice-director are professionals in their field and know their trade well. My contract expires in September but I'm thinking about signing on for another year because there are many elements of this company that I consider to be positive.
How did you find this job, and what is your educational background?
Before saying how I found a job in an English school in China, I just want to remind everyone of the requirements asked for by the majority of employers, which are:
For me specifically, I worked as an English teacher for two years with another franchise called Pingu's English, in my home city of Desenzano del Garda, in Italy.
I completed my three-year degree in motor science in 2018 (as I said before, the subject doesn't matter).
In July of 2018 I attended a full-time course for teaching the English language. The course is called TESOL and is certified by Trinity College London which is recognized by the British Council.
In bureaucratic terms it has the same value as a 120 hour TEFL certificate. In addition, I also got an online TEFL certificate for 30 hours specifically for teaching young children. Regarding the criminal record and good health, I'll talk more on that later.
In order to find work as an English teacher in China I looked through postings on the internet. In particular the listing by the company that I work for now on the site www.tefl.org.uk. Here's another three very interesting web sites: www.teachaway.com, www.teachingnomad.com and www.gooverseas.com.
Note though that there are dozens online.
Is it harder to find a job as an English teacher in China if it's not your mother tongue?
Yes, English teachers who are not native speakers will find it harder to find a job. Many employers use your passport as the standard, so they'll only consider holders of UK, Ireland, US, Canadian, New Zealand, Australia and South African passports as being native speakers.
Since the job market follows the same rules as any other market, these days employers have adopted more stringent hiring criteria because the number of available native speaking teachers willing to go to China is greater.
Despite this, there are less famous and international cities, like Xi'an, where the market is anything but saturated, so employers can overlook the fact that the candidate is not a native speaker since they really need someone to fill the job.
In short, in view of my experience I would say that finding a job as an English teacher in China as a non-native speaker is possible, but will require more effort to find companies located in secondary or tertiary cities (though this doesn't necessarily mean less developed), where the director considers it more important to hire new teachers than to choose only native speaking candidates.
Personally I did everything possible to find a job in China. I prepared a well-written email to send to all school contacts that I found. I re-wrote my resume and adjusted the layout. I recorded a brief presentation video (about a minute) in which I explained who I was and why I wanted to work in China.
I prepared a presentation letter with a professional photo to attach to each email that I sent along with the resume and video. Then I started searching. Eventually I had an Excel file to keep track of all the emails and the links with job listings that I responded to.
After a little bit I got my first offers and my first interviews via Skype. I had a total of six interviews before making a decision.
To briefly go back to the possibility of teaching English in China even if it's not your mother tongue, I know from personal experience that mine is not an isolated case. I have a colleague that's Brazilian, one that's French and another that's Italian. Additionally, the company I work for has a total of eight schools in Xi'an and I know that many of their teachers are not native speakers, with some of these being other Italians.
I must say though that on average they all are more qualified than the native speaking teachers, since they have for example an English language degree, TEFL certification, years of teaching experience and the like. That's not even taking into account the most important requirement: an excellent level of English, C1 to be specific.
How did you determine if the salary you were offered would be enough to live in China?
Compensation is a very important consideration. In order to determine how much you want to be paid you need to consider three factors: the salary, the cost of living and accommodations. For salary you need to use websites that will tell you more or less how much a particular job pays in a certain city.
For cost of living I used www.numbeo.com but there are others you can choose from. Lodging is a benefit provided by many employers in China, especially in cities besides Shanghai, Beijing and Hong Kong.
I recommend that you carefully evaluate these three factors and decide BEFORE your interview how much you want to ask for in terms of salary and benefits. First of all because it shows your seriousness and awareness of your own profile as a candidate. Secondly because when negotiating salary, everyone (rightly) is looking out for themselves. You're not doing anyone a favor by accepting less than what you think you're worth.
Many ask about how to get a work visa for China. Can you describe for us the procedure you had to go through to get one?
I have to specify that when you're preparing documents for bureaucratic purposes, it's always best to draft a list with the information provided by qualified people such as those who work at the ministerial offices or a future employer. In my case, to get a work visa I had to provide:
My diploma;
A criminal record certificate;
A scan of my TESOL and TEFL certificates;
Medical exam certifications.
The process sounds complex but if you clarify the different steps it's not so hard.
In summary you need to prepare a series of documents that are legalized by your country's authorities, which will then be recognized by the Chinese authorities at their consulate in your country. Once the documents are stamped and signed by both, they'll send a scan to your employer in China, who will request a work permit and draft up an invitation letter for you.
At this point you can go to the visa office and request a work visa.
In detail:
For my diploma, I requested a copy in English from the secretary at my university. Next I made a color photocopy of my parchment diploma in Italian which I had authorized by the town marked with a stamp and signed by the town official. Then I had to go to the prefecture to authorize the document, and lastly I went to the Chinese consulate to have them add their stamp. However I had to return to the consulate a second time because they don't review your documents right away.
For the criminal record I requested it from the Public Prosecutor's Office and then had them authorize it. Lastly, as with my diploma, I went to the Chinese consulate.
For the TEFL certificate I didn't have to go to any offices.
For medical documents I didn't need any stamps or signatures but I had to get a bunch of exams: chest X rays, electrocardiograms, and blood tests screening for things provided by the employer as required by Chinese law. It's interesting to note that once I got to China they made me repeat all of them and even added a few. That's just to give you an idea as to how seriously they take immigration.

As a precaution I also went to a travel clinic on my own to get the recommended vaccinations. The same doctor told me that there was nothing to be worried about but since I was going to the other side of the world I preferred to do all I could to protect myself.
Furio's note: When in 2010 I required a Z visa I had the same experience with the medical exams: chest X rays, blood tests (including those for infectious diseases). Once I got to China they had me redo all of them (excluding the X rays, since they accepted what I had done in Europe).
I'll add that I had employers propose that I come to China on a tourist visa and work illegally. I feel compelled to strongly discourage this option and say that you should refuse any such offers, since China, as was mentioned earlier, is a country where they take immigration seriously.
Furio's note: We say it all the time but it doesn't hurt to repeat it. Never go to China to work without the proper visa, as you risk being hit by a steep fine, being expelled from the country, and in more serious cases, imprisonment.
The timetables are long. The fact that you have to go to so many different offices delays things. This doesn't take into consideration the inefficiencies and inconvenient hours. Personally I had to go back more than once to the same office because I didn't have clear in mind what I had to do or because the line was so long that the offices closed before it was my turn.
I suggest that you be patient during the waiting period and determined when your time comes. Don't move a step until they give you the answer you want. You need to consider the necessary time to go to the university, the town, the prefecture, the prosecutor's office and Chinese consulate.
Furio's note: There are also agencies that offer this service so that you don't have to go to all the offices, but they are rather pricey (I paid 200 Euro for the agency service just the month before, since I didn't want to go back to Italy for just one document, plus the charges for the stamp and consular fees that you'll still have to pay).
Next you'll need to wait for the work permit and invitation letter (in my case that took three weeks). Then you need to go to the visa office, present your documents, then wait a week or two until you can finally pick up your visa.
To give you an idea I started the process in February so as to get to China on September 4th. Some of my colleagues took a similar amount of time, some less. But I would say it takes at least two or three months. I started moving far in advance because the position in play was so high that I preferred to do things calmly so as to be sure that I did all I could so that everything could go smoothly.
Once I arrived in China it was very easy since the company, as they promised in the interview, took care of all bureaucratic procedures. I was accompanied by a Chinese interpreter to the police station (PSB) the same day that I arrived and converted my visa into a temporary resident permit.
After a few weeks I once again went with the interpreter to another office to request a year-long resident permit.
At the same time I was helped to open a bank account, get a phone plan and internet service. I should say though that during the interview it's important to ask for this type of support from the employer.
What are your colleagues nationalities? Did you have trouble getting used to things?
I have one French, one Brazilian, one English, one Australian, one Lithuanian and two American international colleagues. And then there are all the other teachers and members of the Chinese staff. Personally it wasn't too hard to get used to life in China and the new job. Perhaps it was because I was so convinced in my decision. I can say though that I've established different types of relationships with various colleagues.
Those who are native English speakers not only share a language, but a culture. You see it in little things that are similar even if they come from very distant places like America and Australia. Then there are those who are not native speakers, who share the experience of having developed a passion for English for so many years and what it means to study and learn a foreign language and culture.
Lastly there are my Chinese colleagues who are always very polite and curious to learn about people from other countries. At the same time I noticed that on both sides there's an effort to communicate but the language obstacle remains. My Chinese colleagues' English level isn't very high, so they prefer to speak Chinese when they can. For them speaking in English is still a mental effort since they're unable to freely express themselves in English.
In addition they come from a very different culture, and while they can enjoy the newness and exotic appearance of foreigners, at the end of the day they prefer to spend their free time on activities that are more in line with their customs. At the same time foreigners in China struggle to get used to a way of living that isn't Western and there are few who take on learning Chinese.
The net result is that China still remains an isolated country. On one hand the Chinese aren't truly interested in the outside, and on the other, foreigners don't want accept China for what it is and to learn from it.
I would also add that you can't completely fault anyone because after all, one's own culture is what creates a sense of identity and it's easy to feel lost when looking at a different reality.
What moved you to choose China instead of another country?
Initially I wanted to go to France since I studied French in school, but then I thought it wasn't an ambitious enough adventure to go to such a nearby country. Then I thought about going to Russia since I took a Russian course, but salaries in Russia are extremely low. Lastly I looked at Asia: China, Japan and South Korea.
I knew that if I moved to one of these countries I would have to learn another language, which didn't bother me, but I know how much work and consistency it takes and I wanted to be sure that I wouldn't regret it down the road. I thought things over and decided that China is such a vast and growing country, not just economically, which would be a missed opportunity if I didn't go.
This is without considering the fascination of writing that uses ideograms instead of letters. And so I decided to throw myself into the books to learn Chinese and began looking for jobs in China.
Other than English, do you think that's it's possible for an Italian to find work as an Italian teacher, or is there no need?
Frankly I don't exactly know how to respond. I know that there are native-speaking Italian teachers at universities and no doubt in a country with more than a billion people there are opportunities. At the same time I have to admit that English is the most important language since the people in China don't speak anything but Chinese.
People here associate English with everything outside of China, even though as in my case, I'm not a native speaker and don't come from the UK or United States. It's different for us from Italy because we have cultural influence from all over Europe as well as the United States (Indian films, Turkish kebobs and restaurants and Brazilian music comes to mind).
In Italy there are many foreigners but here it's different. There are so few foreigners (in proportion to the local population) that not only do people stare at me on the street, but I noticed that I too am amazed when I see a non-Chinese person somewhere. The internet is censured and people don't know how to speak other languages. They even ask me what language we speak in Italy because they don't know.
They are so challenged in geography (since they prefer to study math) that they confuse Brazil with Australia. For this reason English is seen as the key to opening a new world. To tell the truth I would be curious to know what opportunities there are.
What's your advice for someone who wants to move to China for work?
First of all you need to have a deep respect for the language and culture of the country that's hosting you. Without this prerequisite your experience in China could be quite troublesome. Sadly I sometimes see that foreigners criticize or deride the Chinese way of doing things. I personally think that one should have a great sense of gratitude if accepted into a foreign country, because you are a guest there and if you don't like the Chinese customs you can always go back home.
That said, I would say that you'll need to download the app Wechat, because it's not only used to send messages and make calls in China, but it's especially used to make payments, from restaurants to hotels. Even the ladies at the market have signs with a QR code to pay for fruit and vegetables with Wechat.
Do some research, even just on Wikipedia, on average temperatures and precipitation throughout the year to know what to bring in your suitcase.
I recommend that you learn Chinese using materials from the language certification exam known as the HSK. I personally use an app called HSK online, which provides all the listening and writing exercises in the exam for all levels, along with old tests.
For a beginner I would recommend that you learn well the tones, pinyin, and 150 characters from the first level of HSK. It took me a few months but it's worth the trouble because you strengthen a very solid basis to continue your studies.
The last piece of advice I want to share is to look for a job with a large company that has an important international component when it comes to staff. This is because, as I said before, China is an ethnically homogenous country and there are moments where you could use the support from people with a Western culture. If nothing else, you can share your experiences with people who have taken the same path.
What's your favorite Chinese dish?
There are lots of them. For me it's noodles – whether cold or fried. Here in Xi'an the food is almost always spicy. I also like hot pot and barbecue. My only condition is that there's no cilantro – I can't stand it.
As for the rest I like a little of everything, but if I had to choose one dish I would say xihongshijidanmian, which are noodles in broth with tomato, egg and bok choy.
Luca, thanks for sharing your experience with our readers. I'm sure many will find it useful! P.s. All you cilantro haters, for us parsley eaters we'll never get used to it : )
Photo Credits: Photos by Luca Stanga