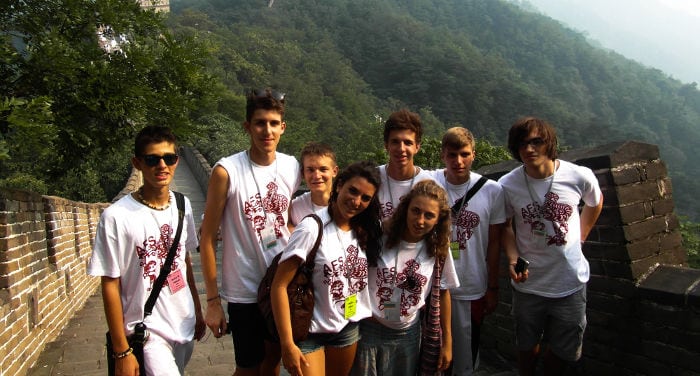 At the Chinese Great Wall (Marta is on the right side, in the foreground).
Anatomy of an interview
At the end of November I received the following email:
Hey,
I'm Marta, I'm almost seventeen and this year I live in Nanjing, I study in a Chinese high-school, I have a Chinese mom and sister (I mean, they host me at their house), I live the life and follow the rules of a traditional Chinese adolescent.
When I arrived here I thought that I knew everything about China. But after only a week I understood how wrong I was.
So I began to read a lot, till I also found your blog. Now I'm trying to open myself to all these new experiences and forget what I knew about China from Italy.
My answer was quite predictable:
Ciao Marta,
Thank you for your beautiful email. I think you are a lucky girl.
So young and already in China!
If you have time I would like to interview you.
Marta answered:
"So young and already in China!" I like your comment, finally someone that doesn't tell me something on the line "Oh my God, why are you doing this?"
In Italy I used to play in a theater for hobby. I'm not really shy. So yes, let's do this interview.
Here my interview to Marta, a sixteen year old in China!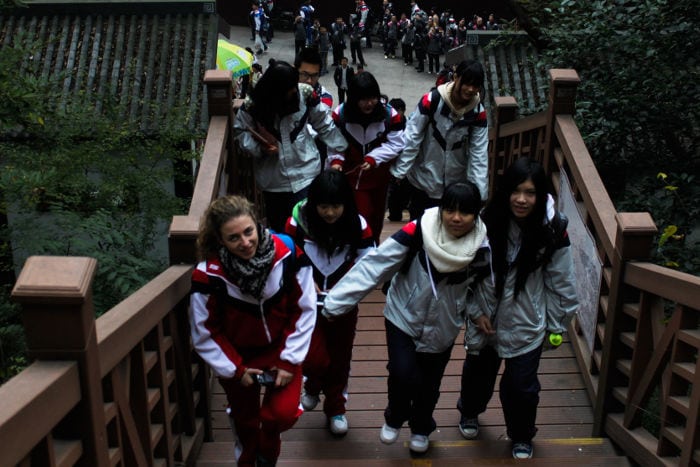 Climbing the Mount Xixia.
Dreaming of Beijing
How did you arrive to China?
I won a scholarship with AFS, a non-profit organization that promotes the mobility of the students through associations displaced in every continent.
Why did you choose China?
During my first year of high-school I had the possibility to participate to an experimental Chinese course. Keep in mind that till three years ago it was impossible to even find a textbook in Italian to study Chinese. But it worked and after two years we moved from two hours per week to five hours per week.
After two years of study I won a small scholarship through the HSK exam and I went ten days to Beiijng. And I loved it.
Since I already had the idea to do a year of high-school abroad, I reconsidered my priorities. Before I was thinking about Costa Rica, Chile, Ecuador, Argentina or Honduras.
Now I wanted to come back to China!
At the end I got a scholarship from the AFS program and here I am, in Nanjing, China.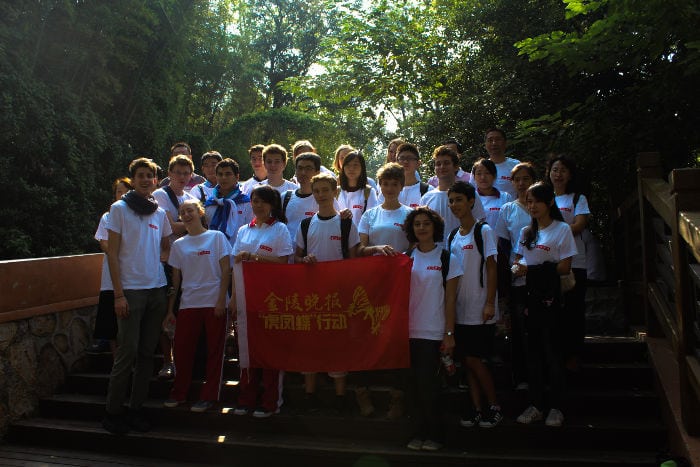 In Nanjing.
When did you land to China?
The stamp on my passport says 2012-08-24.
It was difficult to get used to the new situation?
From a practical point of view I did have some problems as "it's midnight, I had dinner at five and now I'm starving."
Also, at the beginning it was difficult to keep listening endless discussions that I couldn't understand. You never know if you should insist with 没听懂 (I don't understand),再说一遍 (Could you please repeat it?) or just nod and smile.
The other difficult part was to survive to the Saturday nights at home while I knew that all my friends in Italy were out partying. Those were the moments where I asked myself:
"Why the hell did I come here?"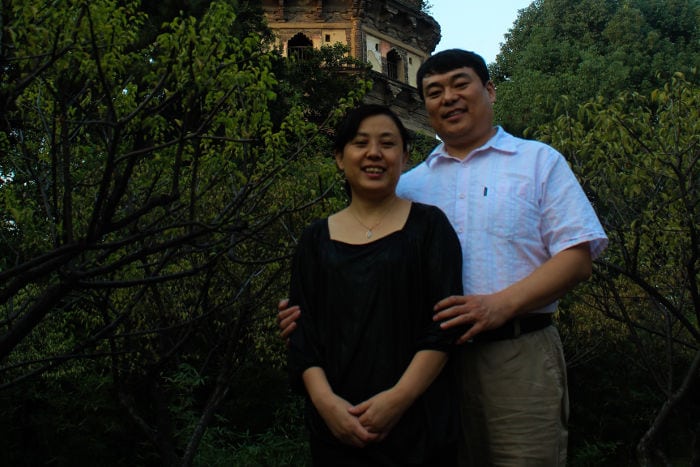 Marta is living with a Chinese family.
How is going now?
It's getting better and better. I like my life here, maybe especially because I'm really living as a Chinese adolescent does (with the difference that they already speak Mandarin).
I would be hypocrite to say that everything is perfect. But I learned to think about the reasons for which I'm happy here and the bad moments go away quite fast.
[Furio: I agree. It's a shame it took me 29 years to understand it and there are still so many people that don't get it and keep complaining for every little problem].
How is living with a Chinese family? Any problem of communication? What about the food?
I never had all these attention. In China the mothers live to satisfy the necessities of their children. Even if my "sister" comes before than me, I still feel that I get more attention here than in Italy.
The problems arise when I try to live a bit more as a Western, when I can't stay at home anymore and I try to go out. I must say that lately I'm getting used to it. On Saturday the curfew is still 9pm.
The biggest problem is my sister. We weren't able to connect and she ignored me since day one. I learned to do the same with her.
Communication has never been a big problem. At the beginning my sister was helping me (she speaks decent English) while right now my Chinese got better and I can discuss in Mandarin with my mother.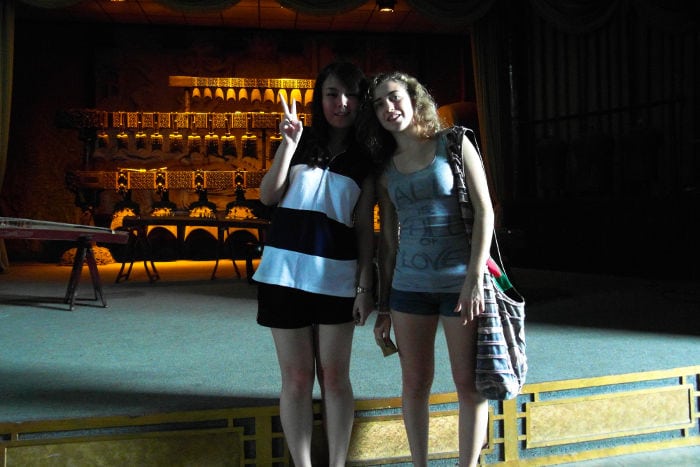 Marta with her "sister."
I don't have any problem with food. Up to know nobody treated me dog meat but I would like to try it. I'm curious!
How is the rapport with your classmates?
The first day of school, September the first, I felt as my classmates were interested but at the same time afraid by me. A bit as if they found a tiger in the classroom. They took a lot of photos but nobody came to talk with me.
However with the time things got better, they started to ask me a lot of questions. They all asked the same stuff but I was ok with that.
Nowadays I have a lot of friends and everybody is willing to show me around the town, teach me Chinese and so on.
A couple of days ago a girl told me "我不要让你回家" (I don't want you to go back home), which made me think that right now I have a lot of friends here but next June I'll have to leave China anyway. And I'll miss them.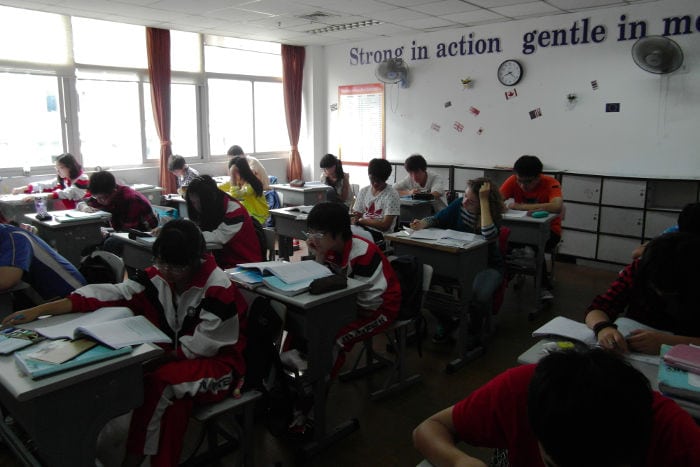 In the classroom.
What's your favorite Chinese dish?
The 饺子 (jiaozi, the Chinese dumplings) made by my 妈妈 (mama). I must say that I also like the Beijing duck (北京烤鸭).
Do you like more Italian or Chinese guys?
Haha this is a difficult question!
I would say that "handsome" Chinese guys are more handsome than "handsome" Italian guys, if you get what I mean. However finding a handsome Chinese guy is much more difficult. In average I would say that I prefer Italian guys.
Moreover, the problem with Chinese people of my age is that for "love relationship" they just intend take each other hand in presence of other friends. They wouldn't dare to go out alone because of the fear or getting caught.
Also, Chinese guys are too afraid to lose face with a Western girl. Hence they wouldn't never ask me out. Even if the QQ zones (one of the Chinese "Facebook") are full of my photos with a lot of sweet comments and it seems that two guys fought for my "love" (I wasn't there though).
[Furio: Yup, it's always a "face" problem].
Studying at the Chinese high-school
What's your experience with the Chinese scholar system?
The scholar system here doesn't allow students to express themselves. I'm not talking about becoming an artist or so. I refer to basic stuff. Since I'm here I've never heard a teacher asking "What do you think about that?" or "In your opinion this is right or wrong?" There is no way to express your opinion…
Click here to read the second part of the interview. Marta will share her experience about the Chinese school, will tell us how is the typical day of a Chinese student, what are the punishments for being a "bad" student and much more.