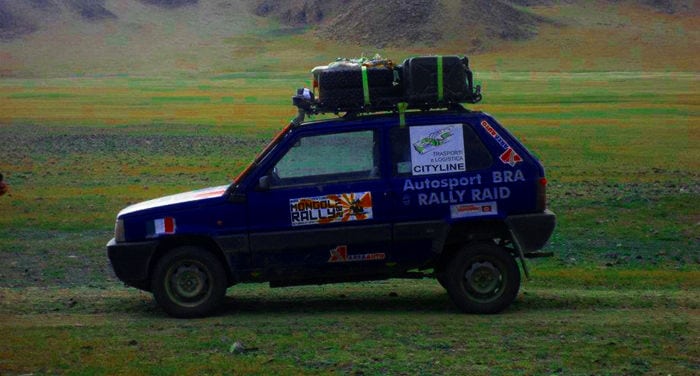 The heroine of this adventure.
Today we republish this old, great interview!
Pietro contacted me a couple of weeks ago because he's playing with the idea of moving to China. In one of the emails that we exchanged he told me that last year he traveled from Italy to Mongolia by Fiat Panda.
Wait, wait…
…in Mongolia with a Panda?
I got curious and asked him some more questions. He even wrote a short book about its adventure (you can download the pdf of the book here but is only in Italian).
This interview is the result of our discussion (don't blame Pietro for the English, I translated from Italian both my question and his answers).
Organizing a travel to Mongolia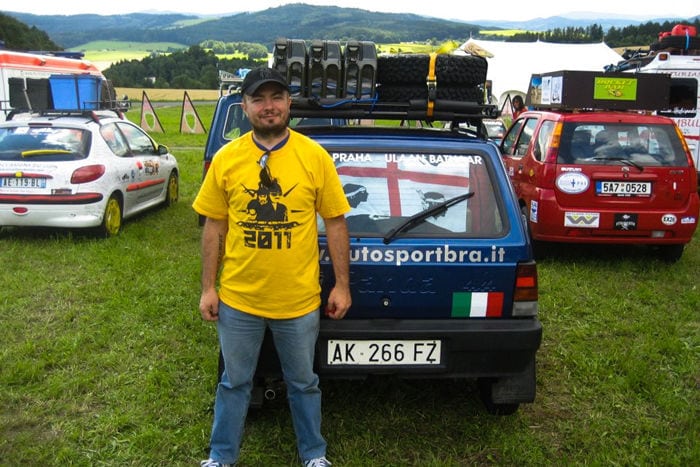 Pietro at the departure.
Pietro, you and your friend Matteo crossed the sixteen thousand kilometers that separate Italy from Mongolia in the context of the Mongolrally. Can you explain to us how this competition works and what are its goals?
First at all thank you for your interest and for contributing to spread the madness in the world.
The Mongolrally is organized by an English association, The Adventurist, that also promotes other relaxing adventures as the rickshaw's run in Indonesia and the horse race in Mongolia. The goal is to rise some founds to help Mongolia, a difficult country (especially if you travel by Panda).
The mechanism is simple. You enroll in, understand that you did a foolish act and decide to keep going. The guys from the organization are quite helpful but during the race the support is minimum and limited to Mongolia. You don't even have an established path, each team can choose which countries to cross and how to reach Mongolia.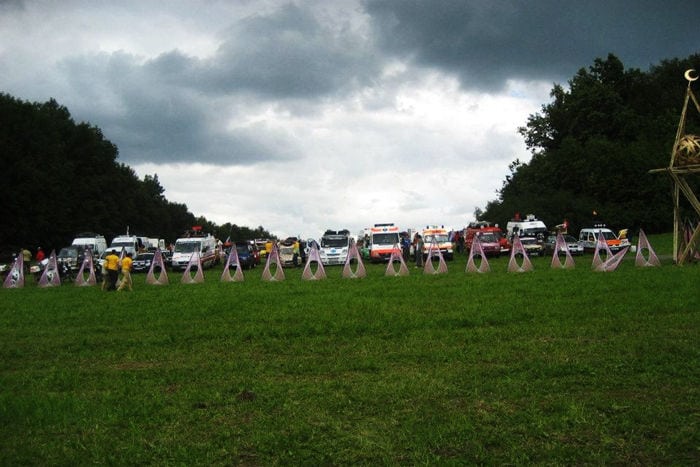 The departure.
What are the major challenges for organizing a trip like that?
The most undervalued difficulty is to understand what you are doing. This is not exactly as going to Rome without booking your hotel.
Personally I spent a lot of time gathering information. The first obstacle is to get all the Visa. We were planning to cross more than ten borders and each country has its rules. You go from the Kyrgyz Visa, which is very easy to obtain, to the Turkmen one, which is more difficult to get than an American green card.
Then you have to choose the car. In order to save money, a lot of teams start the race with a wreck that will never make it to Turkey, let's forget about Mongolia.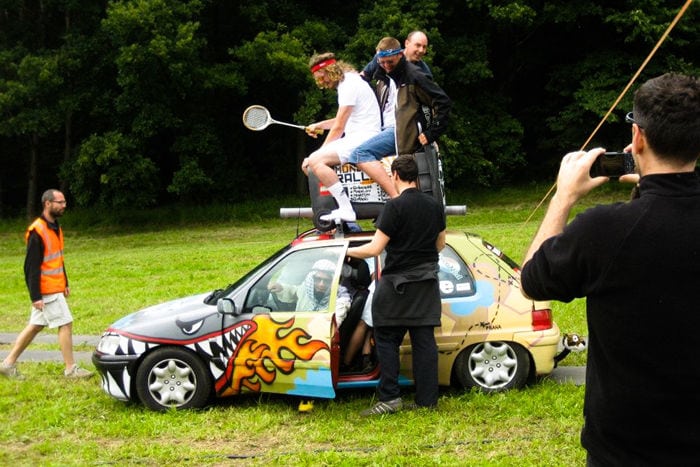 In your opinion they made it to Mongolia?
Choose the right travel companion is another key point. In such a travel you are forced to push your limits and it's easy to go nuts. I met Matteo online and we both have a "difficult" character. But even if we had several problems we managed to work as a team. I like to think that none of us couldn't have succeed by himself.
How long it took to arrive to Mongolia and how much did you spend?
The travel lasted around forty days. The expenses may vary a lot. There are teams that only sleep on a tenth and other that behave as tourists. Also, if you choose the north route (Ukraine and Russia) it becomes much cheaper. We spent around four thousands Euro each, including one thousand Euro for the Visa and the money necessary to repair the Panda along the way.
Luckily the car was sponsored by a customer of Matteo and re-adapted for our mission by Sergio, a mechanic that specializes on rally's cars.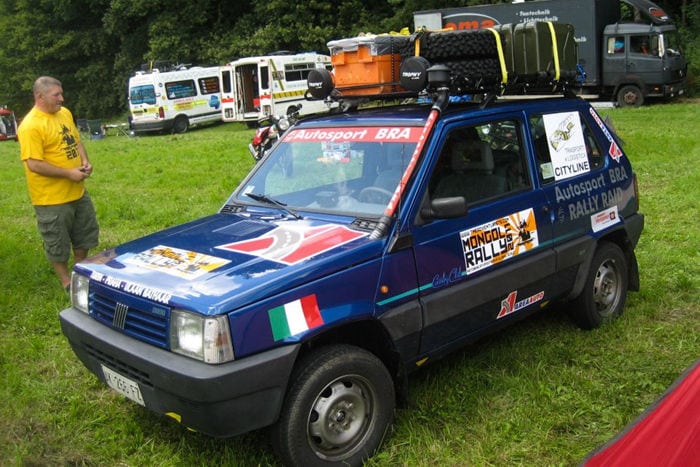 Matteo observes the Panda before the departure.
What are your suggestions to someone that is thinking to cross all Central Asia with a private car?
To make your will? No, just joking! I suggest to gather as many information as you can so that you can understand where you are going.
Traveling through the Eurasia
You told me that both Turkey and Iran surprised you, even if in a different way. Can you explain it to us?
Because of the news that we hear on the West, I thought that traveling across Iran could be difficult. But even if we crossed the country during the ramadam, the religion didn't condition our travel at all.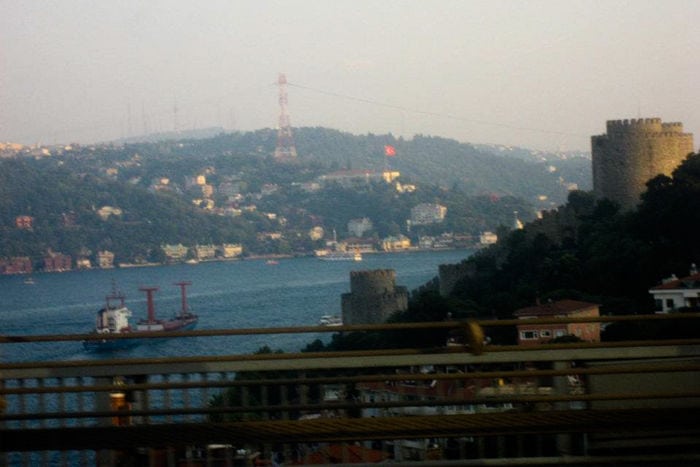 Istanbul.
In Turkey I had the opposite feeling. I wasn't expecting a country so devoted to Islam. From Ankara till the East border it's difficult to find a beer, the girls wear a veil (more than in Iran for what I saw) and it's here that I found the only muezzin that woke me up during the whole travel.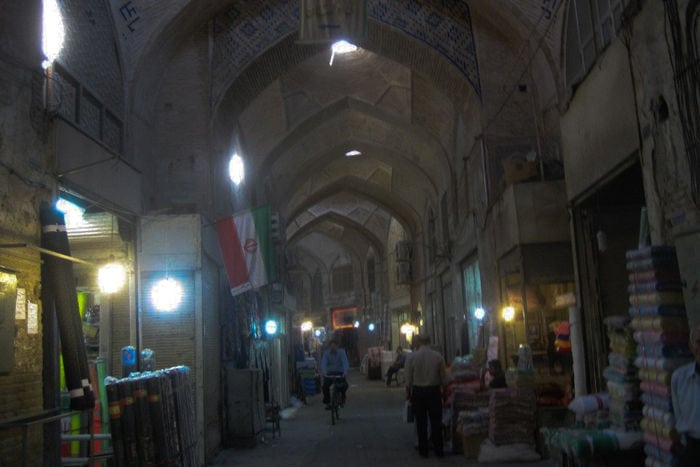 A Bazaar in Isfahan, Iran.
What about Iranian women?
Wow! At the border between Turkey and Iran I had ten minutes of hormonal confusion. Iranian women are beautiful and coquettes. They look at you and smile in a way that I can only describe with a word: temptation. These are the women for which a man could even lose his head (I mean, literally!).
Talking with you I learned that one of the most touristic spots of Turkmenistan is a crater that is burning since decades. How is this famous crater?
Turkmenistan is a touristic attraction by itself. A crazy country, with crazy laws and a crazy capital that looks like Gotham City. There is marble everywhere and the monuments change color at night. The ex-president even built a statue of himself that turns with the sun.
The crater is on the middle of the desert. And it's big, with plenty of blazes that you can see from kilometers. However it's not easy to find it and we got lost several time before to arrive there.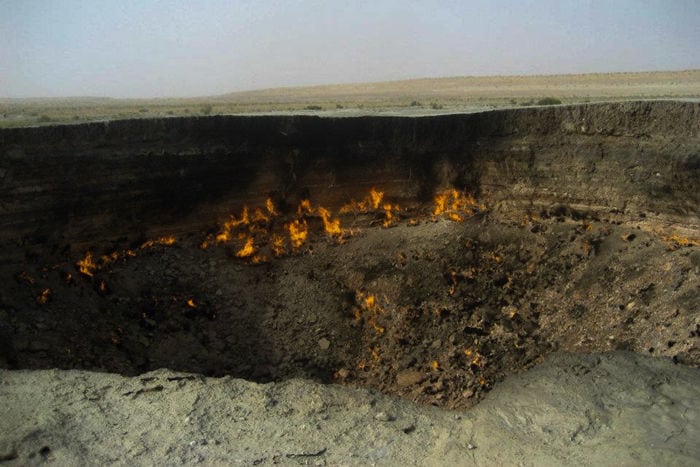 The main touristic attraction of Turkmenistan.
Within the countries that you crossed with the Panda, which one has the worst roads?
Beside Mongolia, where there are roads only close to the capital Ulaan Bataar, I would say Tajikistan. At some point we arrived to a dark and flood gallery under construction. There were few times in my life that I felt such a uneasiness. In Europe there is not competition: Bulgarian streets are the worst.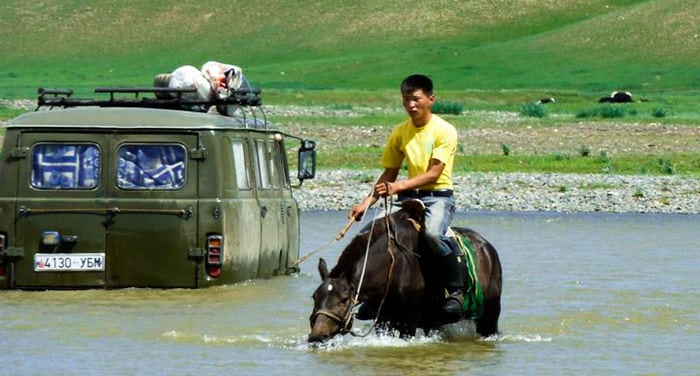 A wading in Mongolia.
Mongolia and China
Mongolia is often described as a "very poor" country. What's your take on this subject?
The word "poor" has a western connotation. The Mongolian population that doesn't live in Ulaan Baator (the capital of the country) is simply nomad. We think that they are poor because their difficult life conditions are completely out our standards.
Poverty as we intend it is increasing because of all the people that are moving to Ulaan Baator giving life to whole neighborhoods of gher (the nomad tenths). Now that the nomads left their natural environment we can define them as "poor," but only in a urban context.
I'm not claiming that life in the Mongolian countryside is easy. Monasteries play a key role in helping the local people, especially the kids. Also, there are different projects that try to help the Mongolian population. I personally volunteer for Soyombo.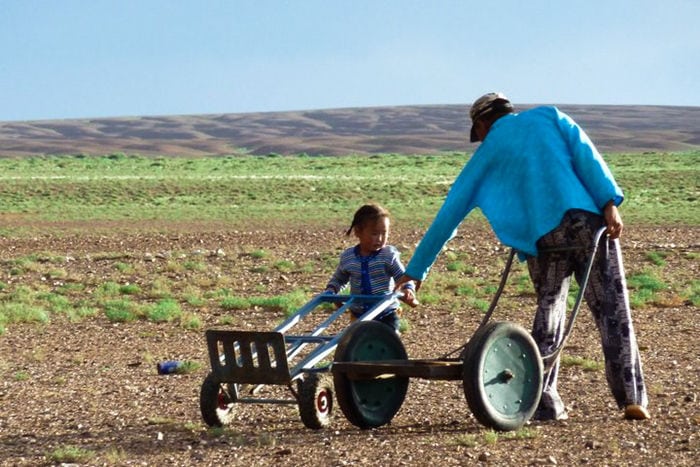 I report a sentence you wrote to me in an email: "After I arrived to Mongolia I didn't have nothing to do and I went to China… and I felt in love!" Can you explain to us why, after you traveled around all Central Asia, you felt in love with China?
It's not easy to rationalize a feeling. A entered China in Erlian, Inner Mongolia. I was stricken by something that I cannot really define. I guess it was the sensation of being in a reality completely different, something I didn't feel on the other countries that I crossed.
But the real love started in Beijing, with its pagodas and its mosques (I visited several mosques in China). Probably are the parks the part that I liked more. I arrived in town at five a.m. and it was so difficult to even understand where I was. Let's no mention the roads invaded by a swarm of people driving any vehicles you can imagine. Finally, I love pandas and I went to see them twice in Chendgu.
Also, I was able to quickly establish social relationship with Chinese people. Let's say that in China I felt at home and, when the day before my flight back to Italy I was visiting the Summer Palace, I thought to stay in Beijing. But I wasn't brave enough.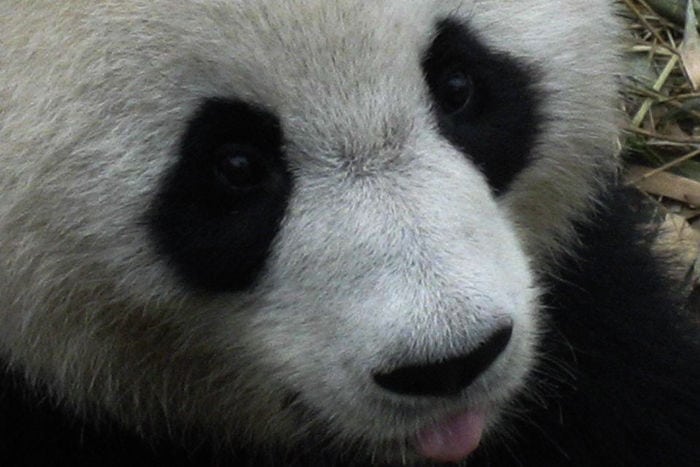 A classical question here at Sapore di Cina: what's your favorite Chinese dish?
Gongbao Jiding (Chicken with peanuts and vegetables). Also, I love everything that comes from Xinjiang.
Beside China, which is the country that impressed you the most?
Tajikistan: a country very poor but at the same time very proud. I especially appreciated the fact that they didn't try to rip off the travelers as much as in Kyrgyzstan or in Uzbekistan. Let's say they rip you off with style.
Tajikistan has an average altitude of 3,000 meters and in the autonomous region of Gorno-Badakhshan they don't even have gasoline (they make it themselves at home). The Panda stopped to work in a plateau from which we could see the Hindu Kush range. It was difficult to find a better place for waiting someone to save us.
The border between Tajikistan and Afghanistan.
Borders
You told me that from the frequency and accuracy of the panels to reach the border between two countries you can understand a lot about the relationships between these countries. What do you mean?
If two countries have a good relationship then they will tend to facilitate the exchanges of people and goods. However, when the relationship is not that good then signaling the border is not a priority anymore.
As an example I can think about the border between Rumania and Bulgaria. Another border very difficult to find is the one between Uzbekistan and Tajikistan, two countries that were never able to establish a friendship.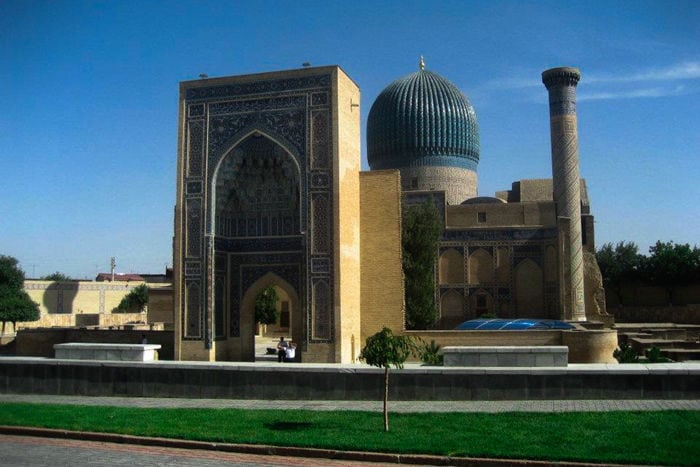 Samarcanda, Uzbekistan.
More in general, which was the most difficult border to cross?
Maybe entering Uzbekistan was the most difficult part because there are plenty of corrupt policemen. If we talk about roads, I would say that the worst one is the road between Tajikistan and Kyrgyzstan, but you have to keep in mind that is above 4,000 meters of altitude. Finally, in Kazakhstan we spent a lot of time to have our travel approved by a bunch of soldiers with a balaclava and a knife on their hand.
Beside the borders, which was the most difficult moment of your travel?
I would say the second time our Panda stopped to work, in Russia. We were very tired and I fought with Matteo. If we talk about driving conditions, Mongolia is unbeatable.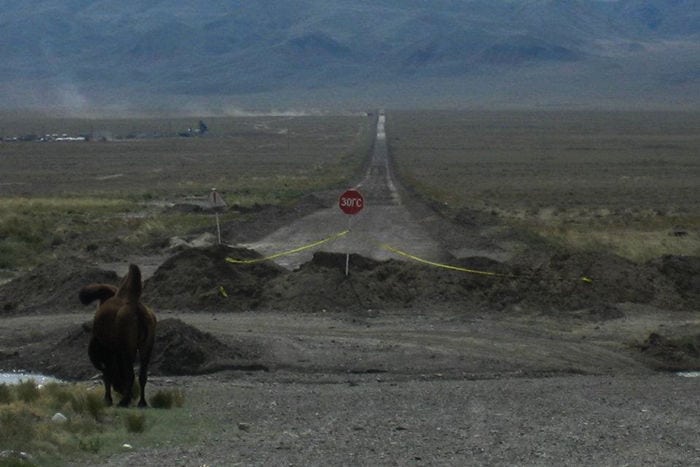 A Mongolian "road."
In Kazakhstan, after you heard that the life of another competitor was in danger after he felt off a window while he was drunk, you asked yourself whether the Mongolrally had a sense or not. What's the meaning of this adventure for you?
Maybe there is no meaning. I can tell you that for me it was more about visiting places that, in other circumstances, it would have been hard to see. A race like the Mongolrally is difficult. I saw too many people that were fulfilled by running from a border to the other, totally unaware of the places that they were crossing or the population that they were meeting.
Sometimes I really felt the need to dissociate myself by some other competitors, their rudeness and their lack of sensibility.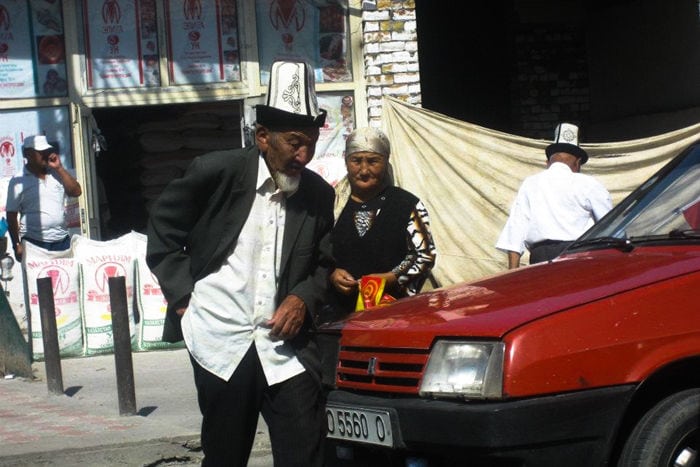 Discovering the Kyrgyzistan…
You can travel too
There are many people that write to me stuff like "You are lucky because you can travel." I think that today traveling is fairly easy and almost everybody can do so. I believe that many people don't travel because of their fears and their unwillingness to step outside their comfort zone, and not because they lack money or time. Can you help me to debunk the legend that traveling is dangerous?
In my opinion the main reason for which many people say "I would love to but I can't travel" is that we are not able anymore to be autonomous, to dare. This is why everyday I feel a bit further from the society where I grew up.
Many people say that you need a lot of money for traveling, but this is a myth as long as you drop out the superfluous.
Finally, I don't think there are places more dangerous than others (unless there is a war in the country that you want to visit). There are only places where we feel safer because we understand the no-written rules and places where we feel more in danger because we don't understand them yet.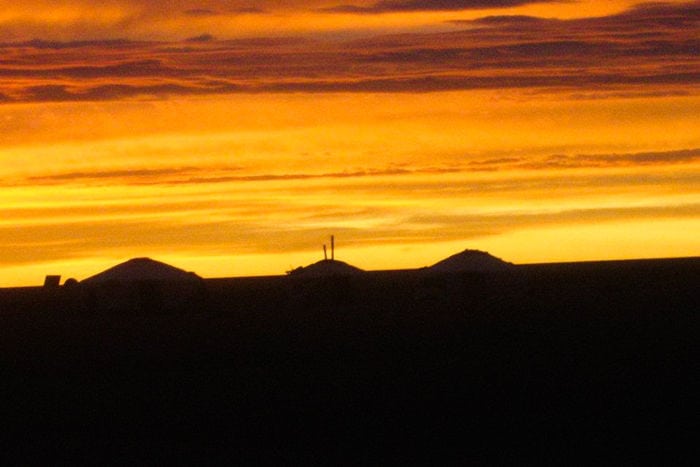 The sky of Mongolia.
When you were thirty four years old you left everything for traveling to Mongolia. What was your job before? Where did you find the motivation to cross all Asia by Panda?
I used to work for a good company, Telecom Italia. So it wasn't easy for me to leave the job and start this adventure. But I was thinking about participating to the Mongolrally since longtime and at the end I did it.
How does this travel changed you?
After the rally I'm even less keen to accept the society and its rules (Furio: I love this sentence!). I hope that this is only the beginning. I cannot stay in an office all life, I want to see the world.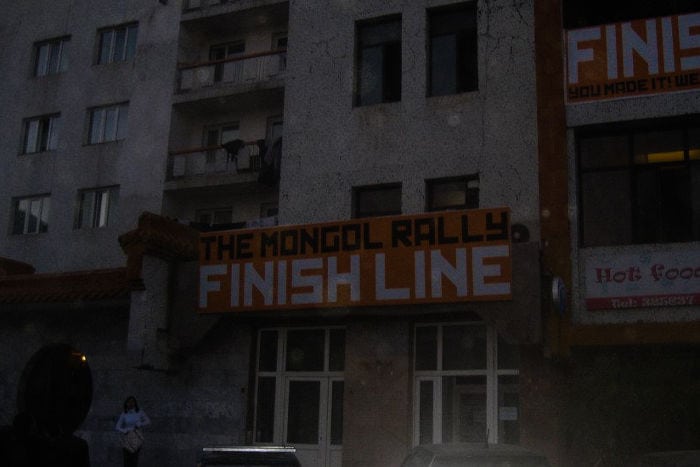 The gloomy arrival of the Mongolrally.
You could travel backward on time, would you do the Mongolrally again?
I don't think so. I would do the same travel but taking my time, one year or so.
Pietro, thank you for your time and see you soon in Bangkok ; )
Yeah, next destination South East Asia! Thank you to you all the readers!
p.s. You can contact Pietro through his blog (in Italian) or his Facebook page dedicated to Mongolia and Central Asia.
[Photo Credits: All the photos are taken by Pietro. The only exception is represented by the first two photos (the wading and the Mongolian kid with her mother) for which we thank Sara Cavatorta.]