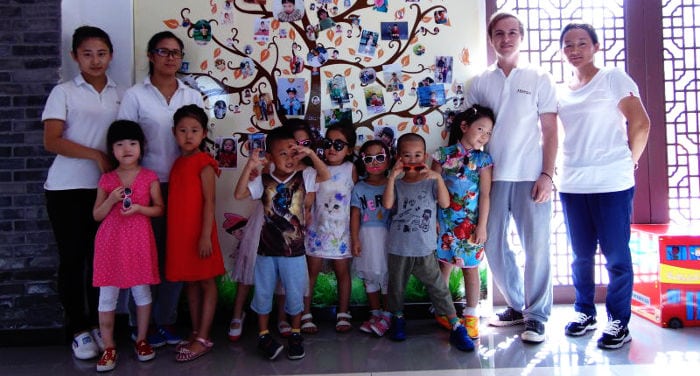 This excellent article has been written by Casey form Talking Mandarin, Enjoy!
China is becoming an ever-popular destination for people to go teach English. And rightly so. The demand for English teachers is higher than ever, meaning there are plenty of jobs available, and the pay is generally pretty good!
If you've decided you want to go over to China to teach English, your next decision will have to be which age group to teach. You might have the option to teach kindergarten, primary school, high school and even university, depending on your qualifications.
After making up my mind to go teach English in China, I was adamant that I DID NOT want to teach young kids. I had it in my mind that young kids would be annoying, hard to discipline and far too energy consuming. On top of that, I had absolutely NO experience teaching/caring for young children.
After having decided I wanted to teach older children, the strangest thing happened… I became a kindergarten teacher!

What can I say?
I found the children's energy infectious and the satisfaction and joy I felt on a daily basis was my driving force for creativity and motivation.
In this post, I am going to outline exactly what it's like being a kindergarten teacher in China. Starting with…
Working with young children
The prospect of having to teach English to young children who can't understand a word you're saying is definitely a daunting one.
I don't want to get too deep into teaching methods and what works/what doesn't work when teaching English to young children. These are things you will learn as you go.
For now, there are just three core principles I want you to remember about being a kindergarten teacher:
Being a kindergarten teacher is less about being a 'teacher' and more about being a role model.
Children learn at their own pace. You can't force them to learn something they're not ready to learn yet. Patience and encouragement are key.
Children learn best when they're having fun!
Remembering and implementing these three core principles, is the first step to becoming a great kindergarten teacher.
Building relationships with the kids
Before you're able to really engage with the children and get them to listen to you, you have to build up a relationship with them.
Remember, you're a new and unfamiliar person entering their lives. They are going to be wary and shy of you at first. But when you show them you are friendly, trustworthy and fun, they will, undoubtedly, start to open up.
With some children this is as easy as smiling, picking up a few toys and playing with them for five minutes. With others, however, it takes more time and more effort. Don't be discouraged if, after days of trying, some children still won't engage with you.
It took weeks for one of the little girls in my class to even speak to me! Eventually, however, my hard work paid off and she became incredibly talkative and sweet.
Now I want to shift focus a bit and talk about…
How kindergartens in China typically operate
Bear in mind that I can only speak from personal experience here. So take what I'm about to say with a pinch of salt.
Typically, though, when it comes to foreign teachers, they are usually employed in one of two capacities:
Full-time class teacher
You'll work full-time hours, but you will stay with one class of children the whole day. This is how the wealthier kindergartens operate, having one foreign teacher in each class.
This usually involves teaching one English class (of around 30-40 minutes) in the morning, overseeing playtime in the classroom as well as outside (you'll likely have to lead some games/activities with the children), watching the children during other classes and of course, making sure they are safe at all times.
Depending on the kindergarten, you may also have to teach other classes such as art, cooking, and gym. At my kindergarten, this was the case.
So, as you can see, the day is relatively chilled!
Classes take up the least amount of your time. Most of your time will be spent looking after the kids, playing with them and ensuring their safety.
Your day will likely start between 7:30 and 8:30 am and you'll end work between 5 and 5:30 pm. The children take a nap during your lunch time so you'll typically get a nice, long lunch break (ours was two and a half hours!). Some of this time will be for office work, though (in other words, writing lesson plans).
Kindergartens typically provide breakfast and lunch for all of the teachers. The food is usually pretty basic. Expect to get rice every day with one veg and one meat dish. Fresh fruit is usually provided, too. All the teachers bring their own '饭盒' or lunch box, to dish up their food into. This is then washed and set aside for use the next day.
Part/full-time English teacher
Your time will be spread across multiple classes and you will teach multiple English classes throughout the course of the day.
Some people prefer this kind of role. Firstly, because you'll purely be teaching. You likely won't have to look after children or engage with them in other activities. Your job is simple: You're the English teacher.
This kind of job can be quite taxing, though. You'll be teaching English classes back to back. You may even have to teach up to five classes a day. That means preparing five different lessons!
At some kindergartens, the English teacher will come in the morning, teach all their classes and then leave. At others, you might have to stay the full day. It just depends on what they expect from you.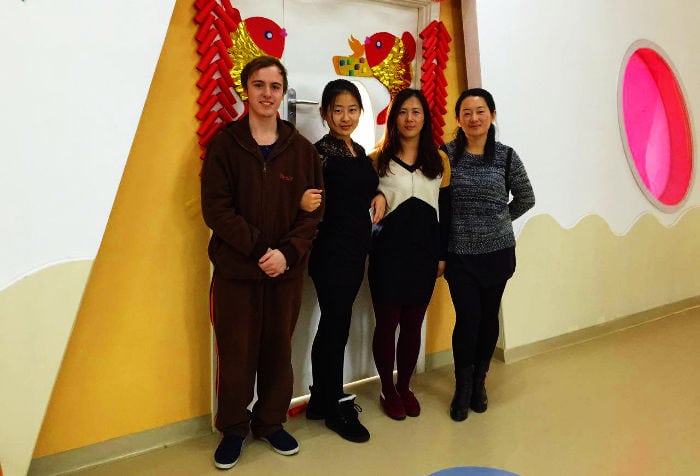 Classroom structure and co-teachers
You might be relieved to know that you won't be alone in the classroom with a bunch of naughty children you can't understand you.
You will work as part of a 'team' of teachers (the others being Chinese). Typically, you will have two to three co-teachers in the classroom with you at all times. These include the lead Chinese teacher, the trainee teacher and the 'life' teacher.
The lead Chinese teacher is essentially your Chinese equivalent. The trainee teacher is usually a young teacher-in-training who's just there to learn and help out with the children and the 'life' teacher takes care of things like cleaning the classroom, fetching the children's food and putting the children to bed.
During your English classes, the other co-teachers will help you to control and discipline the children (at least they will at first. As time goes on, you likely won't need their help. You'll be able to handle them yourself).
The only advice I can give you about working with your co-teachers is to be nice to them and pull your weight in the classroom. You will be spending an awful lot of time with them so it's going to make your job a lot easier if you all get along.
Language barrier problems
As a kindergarten teacher, being able to speak/understand a bit of Chinese can make your life a lot easier!
You won't be allowed to communicate with the children in Chinese (as you're there to teach them English) but being able to understand what they're saying back to you will help a lot.
Also, being able to chat to your co-teachers (who may or may not speak English) is a real advantage.
If, however, you can't speak Chinese at all, don't worry! All is not lost.
You'll likely find that at least one of your co-teachers will be able to speak a bit of English and that's usually enough for you all to get on the same page about the day's events.
I would still recommend making the effort to learn some Chinese, though. Your co-teachers will respect you for your efforts and it will make your life in the classroom a lot easier and less confusing.
I remember starting my first kindergarten job, with a very basic level of Chinese. Nonetheless, I did my best to engage with my co-teachers in Chinese as best as I could. They respected me for my efforts and this helped us to form a good friendship.
Preparing your classes
Kindergarten English classes typically run for between 20-40 minutes (depending on the age of your children) and follow this general structure:
1. Greeting – Say good morning to all the children and get them to greet you back.
2. Warm up – Sing a song and/or do a dance (hokey pokey, Mary had a little lamb etc).
3. Review – Review the words and phrases learned the previous day.
4. Introduction – Introduce and drill the new topic/words/phrases that you plan to teach. Using flash cards is the most common method of introducing new words.
5. Activity/game – Play a game or do an activity with the children involving the new words you've taught them.
6. Say goodbye – Sing a goodbye song or simply come up with your own creative way of letting the children know that the lesson is finished.
Be prepared, you will generally have to write up all of your lesson plans. Which brings me to my next topic…
Lesson plans
It's important to develop thorough and creative lessons plans for each day. In fact, most kindergartens will request a copy of your lesson plans (whether they actually read them, that's another question).
Alternatively, you may just be asked to create a weekly plan.
In other words, an overview of what you're teaching that week. This would usually be one or two pages describing the topic you're currently covering, which new vocabulary words you're learning and what activities/games you're going to do each day.
You will also need to include a section on why you have chosen those specific games and songs.
Lessons plans are not only important for the kindergarten to know that you're doing your job but they are also important for keeping yourself on track!
Trust me, 30 minutes doesn't seem like a long time but if you're winging it, 30 minutes can seem like an eternity when teaching little children.
Dealing with Chinese parents
Firstly, it's important to realize that all Chinese parents want their children to be as successful as possible. Often parents have dreams of sending their children to school/university in America or the UK.
For this to become a reality, however, their child needs to first learn English.
That's where you come in!
So, yes. Chinese parents will have high hopes for their children and for you. This translates to a little bit of pressure on your side but in reality – there's only so much you can do and they know that.
Parents won't expect you to make their children fluent in English but they will expect their child's English to improve.
To keep parents happy, the Kindergarten will usually organize a few different English performances/activities/demo classes each year where the parents are invited to watch and witness their child speaking English.
On top of this, it's also a good idea to teach your children some English songs that they can sing at home.
You could ask each child's parents to bring a USB drive to school so you can put some English songs on for them to take home. When their parents hear their child singing along, they'll be very impressed.
Another thing you can do is teach your children some basic English phrases like 'mummy, I love you', and ask them to say it to their parents.
Little things like this will let the parents know that their child's English skills are improving and thus they won't give you a hard time.
Kindergarten teacher salaries
Working as a full-time kindergarten teacher in China, you can expect to earn between 10-16 thousand RMB per month.
All schools are different and your salary will be determined by the location of your school, your qualifications, whether or not you're a native speaker, your level of experience and your working hours.
Conclusion
So, the million dollar question – would I recommend teaching kindergarten in China? Yes! Absolutely. While working with young children can be a challenge, it's also incredibly rewarding.
Being a kindergarten teacher, you will develop patience and understanding – two key skills that can help you in many areas of your life.
I feel that I have so much more to share about being a kindergarten teacher in China but I'm confident that I've at least covered the most important aspects of the job in this article.
I hope you have enjoyed reading along!
About Casey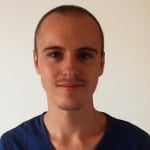 Casey is originally from Cape Town, South Africa. After succumbing to a burning desire to visit the Far East, he spent three years in Beijing teaching and learning Mandarin. He runs his own website about China and learning Mandarin at Talking Mandarin.
Photo Credits: Photos by Casey form Talking Mandarin