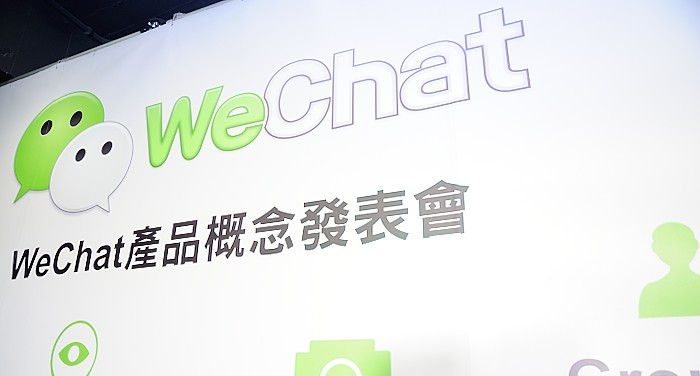 1. WeChat
WeChat was launched by Tencent in 2011, one of China's biggest IT companies. It initially started as a messaging app but has added many functions since and is now referred to as a "multi-purpose" app.
Being used by more than 1 billion people, it's the third most downloaded application in the world, just behind Facebook Messenger and WhatsApp. It's kind of self-explanatory why this application deserves a spot on this list.
Messaging
WeChat is still mainly used for social interactions between individuals and groups in private chat windows. Here, you can send text messages, voice messages, stickers and GIFs, have video calls, play games, and share photographs.
With that said, it's not only used for casual messaging between friends, but is also a perfect tool if you want to talk with business partners or prospective clients.
You'll also find a separate interface called 'Moments', which is similar to the feed you see on Facebook. 'Moments' allows users can post videos, photos, share links and text messages, visible to all your WeChat contacts.
WeChat also allows 'Moments' to be used for marketing purposes, where companies can post ads and links, similar to the ads you see in the Facebook feed.
Payments
Thanks to WeChat Pay, users can transfer money between accounts and pay for everything from taxi rides, meals, hair cuts, flight tickets, there's no real limit.
Being integrated with Didi Chuxing, you book taxis within the application (similar to Uber or Grab). If you go to restaurants and stores, on the other hand, you can simply scan QR codes at the counters through WeChat and your account is charged accordingly.
WeChat is inevitably helping China to become a cashless society.
On top of the above-mentioned features, WeChat now also has around 600,000 mini-programs, which are referred to as "apps within the app". You're also able to use its internal search engine.
Summary
Functions: Multi-purpose (messaging, payments, online browsing)
Users: 1+ billion
Launched: 2011
2. Sina Weibo (新浪微博)
Sina Weibo was launched in 2010 and is China's biggest micro-blogging website. You can look at it like China's equivalent of Twitter. At the end of 2018, the website had more than 500 million registered users, so it's one of the most used social platforms in the world.
Here, users open accounts where they upload text messages, videos, and pictures. Other users can then comment or re-share these posts, which creates interaction within the community.
You can also hold live-streaming sessions and upload Weibo Stories, the same as Instagram stories. These are visible for 24 hours and up to 15 seconds long.
Nowadays, Sina Weibo is widely used among celebrities, business organizations and government authorities as well, something that will be indicated by different colors of the accounts.
It's also become a huge market for overseas companies that promote their brands and products through the application.
Big brands like Olay, Garnier, L'oreal, Coca Cola are just the tip of the iceberg of foreign brands that are engaged on the website.
Is Weibo still popular in China?
Weibo faces challenges due to increased competition from other similar websites like Toutiao and Zhihu. This has resulted in slower growth and the stock value fell as much as 10% at the beginning of 2018.
As a result, many ask whether Weibo is still popular in China. Well, Weibo has lost attention from the public, but continues to be a useful tool for companies and individual users.
It continues to come up with new innovative ideas and has even become bigger than Twitter, in terms of registered users.
Summary
Function: Micro-blogging
Users: 500 million
Launched: 2010
3. Douyin (抖音)
Douyin is app that allows you to create and share short music and lip-sync videos for both Android and iOS devices. It was launched by ByteDance for the Chinese market in 2016, and for the international market in 2017, under the name TikTok.
Even though Douyin and TikTok are essentially the same app, they run on completely different servers. Hence, Douyin is only available in China, while TikTok is only available outside China.
If you already have a TikTok account and you're moving to China, here you find some tips on how to access your TikTok account from China.
In October 2018, the app became the most downloaded app in the United States, and it's now available in over 150 countries, and in 75 languages.
Summary
Function: Video sharing
Users: 800+ million
Launched: 2016
4. QQ
QQ, sometimes referred to as Tencent QQ, was launched as early as 1999 and is an instant messaging application. As of 2019, the application had more than 709 million monthly active users.
It brings many similarities to MSN Messenger and ICQ. In fact, QQ was even in an IP conflict some years back, as it was originally called OICQ (Open ICQ). They later changed the name to QQ, which implies the name of "cute".
QQ was the biggest messaging application for a very long time, just until some years back, when WeChat took over the number one spot.
If you lived in China between 1999 and 2011, you'd notice that QQ was one of a few instant messaging options available in China (yes, smartphones weren't big back then).
QQ vs WeChat
For the record, QQ was the first product released by Tencent, the creator of WeChat. As QQ is used for desktops primarily, Tencent decided to create WeChat, which is more useful on cellphones and tablets. So you can look at WeChat like QQ 2.0.
Nowadays, QQ is widely used among young people (born after 1995) and in companies where employees handle daily communication and file transfers via desktops.
WeChat gains more attention than QQ for sure and is popular among all ages. Yet, some claim that WeChat has a more professional touche and used not only for private purposes, but for business purposes.
Summary
Function: Instant-messaging, file sharing
Users: 700+ million
Launched: 1999
5. Youku (优酷)
Youku was launched by Alibaba Group in 2006 and is a video hosting website.
In 2012, Youku acquired Tudou, another big video hosting website at that time, and changed its name to Youku Tudou Inc. Yet, it's still mainly referred to as Youku.
By checking its name, it doesn't take a long time to realize that the website took inspiration from YouTube, as China didn't have a similar website at that time.
As of 2019, the website has 580 million monthly unique visitors and continues to be one of the most popular Chinese websites to watch videos, re-broadcasts, and movies.
The website has also become highly popular among local and foreign brands to advertise products.
Since its inception, Youku has partnered up with over 900 brands that have advertised their products on the website, including General Motors, Procter & Gamble, Coca-Cola, Apple, Lenovo, and Samsung.
Summary
Function: Video hosting website
Users: 580 million
Launched: 2006

6. Douban (豆瓣)

Douban was launched in 2005 and is one of the biggest Chinese social media platforms. The website has around 60 million registered users and 150 million unregistered frequent visitors every month.

It comes in a forum-style format and can be seen as a hybrid between Spotify, IMDB, Pinterest, Twitter, Reddit, and Medium.

Here, users can share content, write blogs, rate books, and share ideas on topics they're interested in. They can also share product reviews, where they mostly rate clothes, shoes, and furniture.

What separates Douban from other Chinese social media platforms is that users are often scholars, academics and writers who are interested in movies, history, art, politics, and similar intellectual subjects.

The website is famous for attracting people who are intellectual with a piece of well-rounded knowledge, and that are keen to make their voices heard.

As such, Douban has gained much attention and received bad publicity as it's under the "censorship-radar". Once a big news story is released, might it be in China or overseas, users flock to Douban to discuss that particular issue.

It's also widely followed among journalists who want to understand how the Chinese look at foreign matters, and to get in-depth information about things that are happening in China.

Summary

Function: Social media platforms
Users: 60 million registered users
Launched: 2005

7. Zhihu (知乎)

Zhihu was launched in 2011 and is a question-and-answer website, it brings similarities to Quora that we use in the West.

Having around 200 million users and more than 26 million users spend an hour on average on the site daily, it's the biggest knowledge-sharing website in China at the moment.

Zhihu and Douban are similar as 80% of Zhihu's registered users have a Bachelor's degree or above, according to iResearch. They also earn more than the national average internet users.

Compared to QQ, the user base is rather old, with almost 80% born before 1995. According to the website, a great majority of the users seek professional knowledge and self-improvement.

Since 2017, Zhihu offers services for paid content, mainly used for professionals that want to enhance their professional development and further their careers. The website makes money from podcasts, interactive online Q&As, pay-per-view live-streamed talks, paid consulting, podcasts and e-books.

Summary

Function: Question-and-answer website
Users: 200 million
Launched: 2011

8. Tencent Video (腾讯视频)

Tencent Video was launched in 2011 and is a video streaming website, having over 900 million mobile monthly active users. On top of that, they have 89 million paying subscribers.

Tencent Video is now bigger than Youku and earns tens of billions of dollars in annual revenues from advertising and its paying subscribers.

The website mainly focuses on creating original content and to support other original programs, but also displays sports, TV shows, news, drama, and movies.

As some movies are copyright-protected, overseas Chinese people often download VPNs to get access to the content on the website.

Summary

Function: Video streaming website
Users: 900 million / month
Launched: 2011

9. Xiaohongshu (小红书)

Xiaohongshu, called "Little Red Book" in Chinese, started as a blog platform in 2013 but has evolved to become a hybrid with B2C eCommerce.

It's currently one of the fastest-growing eCommerce platforms, having around 200 million registered users, where most are females aged 18 – 35.

Here, users can post lengthy posts and videos where they display and rate local and foreign products, for other users to see. You can also upload photos and videos being posted on travel and lifestyle blogs.

Even if you find many big international brands, like Nike, on Xiaohongshu, they mostly use the website to promote their brands, while the actual sales are made on other pure eCommerce marketplaces, like Tmall.

One of Xiaohongshu's key concepts is to attract users by letting Key Opinion Leaders (KOLs), such as celebrities and fashion models, to review brands on the website.

By using KOLs, foreign brands can also influence users buying decisions and enhance their overall brand conception.

Summary

Function: Blog platform / eCommerce website
Users: 200 million registered users
Launched: 2013

10. Meituan-Dianping (美团点评)

Meituan was founded in 2010 and is a group buying website for food delivery services, retail services, and consumer products. In 2015, the website merged with Dianping (founded in 2003), a website that displays reviews of restaurant visits.

Meituan-Dianping has been claimed to be one of the most innovative companies in China, thanks to its merger.

At the same time as Meituan focused on group buying and was big in mainly big in tier 1 cities, Dianping focused on restaurant reviews and was big in tier 2 and tier 3 cities. It couldn't be a better match, despite their rivalry.

Now, you can see Meituan-Dianping as a mix between Tripadvisor, Yelp! and Groupon. Many of its users are attracted by the vouchers offered for entertainment and food services.

Over the years, Meituan-Dianping has partnered with hundreds of thousands of companies, serving clients in 2,800 cities, and with a turnover of almost 34 billion US dollars in 2018.

You'll also find apps with listings and reviews on Meituan-Dianping for other services, including services for travel & lifestyle and leisure products.

Summary

Function: Restaurant reviews / Group buying
Users: 600 million registered users (2018)
Launched: 2015 (merger)

11. Momo

Momo was founded in 2011 and is officially a mobile social networking platform, but started as a dating app. In late 2015, it shifted its focus to video as the younger generations prefer to use video when sharing content and socializing.

It also wanted to remove its reputation of being a pure dating app.

Now, Momo gets more than 80% of its revenues from live video, reaching more than 400 million US million dollars in the second quarter of 2018.

It has more than 100 million registered users and continues to grow at a steady pace, 18% from 2017 to 2018, for example.

Here, users can chat and interact with friends and strangers who are nearby and within a certain radius. You can also play mini-games and join different groups, created by the users.

Not to forget, the app has plenty of foreign users overseas and you can use it in many other countries around the world.

Summary

Function: Social networking platform / Dating app
Users: 100 million registered users
Launched: 2011

12. iQiyi (爱奇艺)

iQiyi, previously called Qiyi, was launched by Baidu in 2010 and is an online video platform. Two of its main competitors are Youku Tudou and Tencent Video (see above).

With over 500 million active users, it used to be called the "Netflix of China" and its one of the biggest online video platforms nationally.

Being backed by Baidu, iQiyi has experienced financial losses recently and does it utmost to expand operations to generate more revenue.

Some of the new services that iQiyi plans to launch include its own online games, movies, ebook stores (similar to Kindle), and more. This is mainly to keep existing users and to attract more paying subscribers.

The website had 96.8 million paying subscribers at the beginning of 2019, as such, it's even bigger than Tencent Videos in terms of paying subscribers.

Summary

Function: Online video platform
Users: 500 million active users
Launched: 2010

Photo Credits: wechat by Sinchen.Lin