If you don't use DiDi you could have some problems in China. Sure you could always wave your hand at the side of the road and a taxi will still stop. But if it's bad weather or rush hour, there's no longer any hope of finding a taxi without this new app.
DiDi dache or DiDi chuxing (滴滴打车 or 滴滴出行) is the name of a cell phone app which makes it possible to contact both taxis and private cars with professional drivers.
In other words it's like a local Uber. DiDi is not the only one on the market, but it's certainly the most widespread and above all it has a convenient version in English.
There are two ways to use DiDi:
the first is to access the WeChat "wallet" section, and choose Ride Hailing. But here you won't be able to use the app in English, even if your Wechat is installed in English.

The convenience is that direct payment is connected to Wechat and you don't have to set up a new profile. Moreover, in the Chinese version of DiDi there are many more functions available than in the English version. But let's say that the basic product, which is passenger transport, is fully functional in the English version.
So, if as is the case with many, the Chinese app alienates you, then download the English version Didi Greater China (Currently not available in the AppStore or Google Play)
I recommend that you install DiDi and practice using it even for brief stays in China.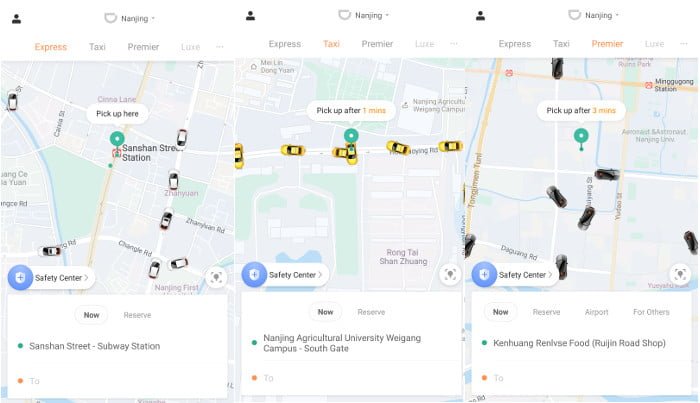 How DiDi works
If you've already used Uber, DiDi won't be difficult for you. You'll have to enter your pick up location that corresponds to where the GPS shows your position (but always check, every so often the App has no references and places you near the nearest known point), or different choices. In the English App you can enter your location in both English and Chinese, but you can't enter a shared location received via Wechat.
Next, insert your destination, again using the address in either English or Chinese characters, and then choose your type of course. Be careful when typing in the address in English because the translations are still a bit imaginative: at times it will say Zhong Shan Lu, sometimes Zhong Shan Road, and sometimes Middle Shan Road! So try a few times if your first attempt doesn't produce any results.
With the exception of calling a taxi, it will always calculate the estimated trip cost, though it doesn't include unexpected diversions or excessive delays due to traffic. But this will definitely help you to figure out if the driver is cheating you, also because once the trip has begun, on your App a navigation mode is activated that will show you the same road that DiDi is suggesting to the driver at the same time. With superior category cars, you can also see in detail how the fare is calculated.
This is all general information. Now let's see the specifics on how to install it and how make a call.
What you need to install Didi
First of all you'll need a Chinese cell phone number, which must be active and works. In fact the drivers will identify you by the last four digits of your cell number, and will call you if they have any doubt. Don't worry, you can always fake that you don't hear your phone…
The drivers can also contact you through DiDi's own messaging system: there are a series precomposed messages so that you can have an easy exchange without falling into a lost in translation situation.
Moreover, the recent security system activated by Didi, the so-called DiDi Safeguard, makes a direct call to the closest police center and automatically notifies the emergency number you've inserted with a quick click. So your cell phone will be useful even if you run into an emergency situation.
Secondly, you need to enter a method of payment that is one of the ones listed on DiDi. Some have told me that a foreign credit or debit card will work, but I don't have any direct experience with that. The other forms of payment, are all tied to a Chinese card or an Alipay or Wechat account connected to a Chinese card.
I'll give you a little tip: think opening an account in China is crazy? If you already have a friend that lives there, they'll surely already have everything necessary for managing money: Alipay, Wechat and a bank account. You can opt for a transfer from your Wechat wallet, which you can connect with DiDi. This means that you can use Wechat's debit function to pay for your DiDi rides.
Obviously DiDi works on smartphones with a GPS system without a hitch.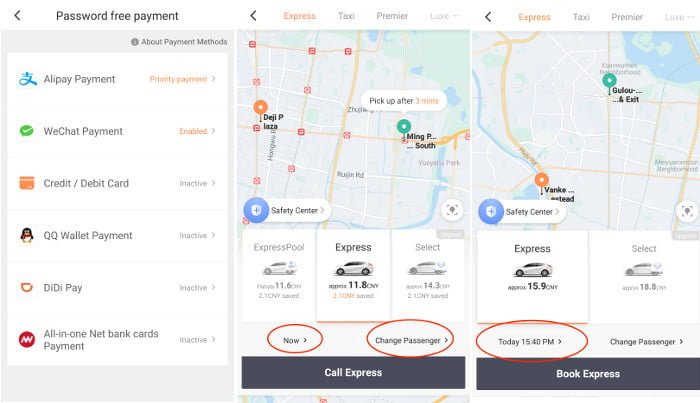 How to install DiDi on your cell phone
Once you download the App you'll have to enter your cell number (which is your identity!) and a method of payment. If for some reason while downloading the App it doesn't download immediately in English, click on the little flower symbol for settings and choose the second heading in the menu, where you'll find English.
Follow the instructions in the installation guide.
You can additionally enter your preferred addresses right away, which for now is really just two choices, Home and Company. You can change them as much as you want, so if you're traveling no one will keep you from adding your hotel address for every stay.
I also recommend that you quickly take care of the safety settings so that you don't have to deal with the thousands of notifications from DiDi which will advise you to add emergency contacts or to enable trip registration.
At this point you're actually able to fully use the App and its functions. The important thing is that the payment method is correctly installed. If you've decided to use Wechat or Alipay, check to see if you've adjusted the settings for automatic payment on the respective Apps: if not, it means that you'll have to approve payment at the end of every trip.
This isn't a problem, but if you're too late to pay because you forget, the drivers will start giving you a low score (of course, users too receive feedback in stars) and your search on DiDi in times of greatest need will become increasingly arduous since your score lowers you in the classification of clients.
It's the same thing for drivers, and I recommend that you always grade them carefully and honestly. If you're not satisfied with your trip, you can even avoid using the same driver in the future by clicking on the option that's on the bottom of the screen.
The type of rides that DiDi offers
Express: in a few words these are private cars that offer transportation services. They are divided into ExpressPoll, Express and Select. The first is a ride shared with other passengers that "should" be on the same road as your destination, or a reasonable distance away, or are headed beyond your destination. The price is the lowest you can find on DiDi, other than special offers, which they have once in a while; but the savings isn't always worth sharing the ride or taking a longer one.

With Express it indicates a ride from a private driver where you're the only passenger and there are no intermediate stops before your destination.

The car Select is a very popular service that is vaguely similar to the other categories, yet still served by private drivers. They could be drivers with very high ratings or those who have made many trips and offer a higher category car. Obviously the price is higher than the Express.
Premier: just to be clear this is the option for a private professional driver. They present themselves much better than the Express drivers and should guarantee you a more comfortable drive and a more popular service. These are usually the choice for even long distance work trips and are in cars that are preferably booked in advance. On board you'll find water, battery chargers, an umbrella, tissues, etc. You can also choose the type of car: Comfort, Business Van (six seats) or Executive Class. The price doubles from the first to the third type, and the service becomes even more refined. There's no guarantee that if you decide to use a Premier car for your trip that it will be immediately available since there aren't many of them; this is why I said that it's best to book them in advance for planned trips.
Luxe: DiDi Luxe is a service that at the moment is only available in Beijing, Shanghai, Shenzhen and Guangzhou. This is a top notch car with professional drivers that will greet you in a uniform and white gloves.
Taxi: returning among common people, DiDi has a big advantage in that you can also call for taxis, which remain the primary means of subsistence in certain cities. DiDi doesn't calculate the hypothetical expense in advance, but sends you the meter at the end of the ride; nevertheless, the rides with private drivers will generally be cheaper. Taxis can also be paid with cash as long as it was called via DiDi, and you have the advantage of being able to get a paper receipt immediately after the end of the ride.
What is the difference between Taxi and Express
Taxi cars are generally much more rickety and less clean than those of private cars; but taxi drivers are great experts on traffic, so if you don't fear the fictional Chinese driver but you need to swiftly reach your destination, I recommend a taxi.
This is also because DiDi drivers tend to stick to the route suggested by the DiDi navigator, even when these are jammed with traffic or less convenient, whereas a taxi driver will more easily take you on an alternate road.
An annoying detail that I noted when taking taxis and Express is that often these vehicles hide the seat belts in the back seats behind the seats themselves, or under the seat covers, or that they're so old that they're useless. Traveling often with my daughter, it's been a problem for me: in fact in China car seats are not obligatory and you won't find one available, even when booking the car in advance. A seat belt therefore remains the only form of security for babies.
The Chinese usually prefer to travel with Express or even ExpressPoll because they can save a little bit. But all things considered, for long trips, choosing a Premiere is maybe just another 5 € more for a service and driver that is much better.
How to book a car with DiDi
The typical situation is: I have to take a train or flight or I arrive at the airport – even at unfortunate times. No problem: choose which category of car you want to use and click on "reserve".
With this function you can change the date and time of your ride. If you opt for a Premier, there's already an airport option from the list on the menu, including the flight number in case the driver has to come get you upon arrival. Or enter the destination that you're interested in and reserve.
Drivers like to give you a call to confirm, especially if you go to the airport or are waiting for a long drive. Now you know…
In addition, you have the chance to use all of DiDi's functions, even for a friend, changing the passenger name: click on "for others" or "change passenger". Fill out the required data and the charge will be made on your phone.
Quick guide on how to take a trip in ten steps
Insert your starting point or confirm your location on DiDi through GPS
Insert your destination in Chinese characters or in English
Choose the type of car you want to use and how many seats you'll need if you choose ExpressPoll
Wait for the car assignment: at times, in the most crowded period, you'll be shown your position in line and an estimated wait time; you can count on these not being overly precise…
Check if the driver has sent you a message in the "message" section, which is also in English (I usually ignore it and have never been left to go on foot)
If you've changed your mind, cancel within two minutes of an assignment
Confirm payment only once you've arrived at your destination and check that the driver ends the ride on his App
More information about DiDi
Founded in 2012, DiDi Chuxing has transformed the Chinese taxi system by allowing persons to instantly book a taxi with just a click. The word DiDi is the equivalent to the words of "Beep Beep" when honking a car, which many are aware of.
The creator of the company, Cheng Wei, previously worked at Alibaba with sales and saw the demand for the service. The president of the company, Jean Liu, has an impressive track record and has both studied Computer Science at Harvard and worked at Goldman Sachs for 12 years.
She's one of the masterminds behind the successful growth of DiDi since she started working for the company. As early as 2014, she became the COO of the company and then president.
The company is currently headquartered in Beijing and has expanded to various other countries and regions over the years, including Mexico, Australia, Japan, Brazil, Colombia, Chile, and more.
In the past years, the company has also invested in various other large-sized companies, including Grab, Lyft, and Ola. The company has also partnered up with SoftBank in Japan to launch its services in the country.
With almost 12,000 employees worldwide, DiDi is now one of the leading mobile transportation globally and caters to more than 550 million in the Asia Pacific, Russia, and Latin America. In addition to its taxi-hailing services, it now also offers services with buses, bikes & e-bikes, P2P rideshares, designated driving, automobile solutions, logistics, and financial services.
The company has won many awards in the previous years, including:
Fast Company- Top 10 Most Innovative Companies in China
Cleantech Group-Global CleanTech 100
CNBC-CNBC Disruptor 50
Fortune-Change The World
Google Play Best of 2018-Best Hidden Gem for Mexico
With that said, the company has struggled with profitability issues and the COVID-19 pandemic in 2020 didn't make the situation better. Despite receiving large-sized investments from 18 investors, including China Life Insurance, Apple, Toyota, and SoftBank, the company is not yet profitable.
With that said, it's by far the biggest taxi-hailing company, especially since it merged with Kuaidi a few years back.
Finally, even if the company is privately owned and not profitable as of the moment I'm writing this article, the company targets a valuation of around USD 60 billion by its IPO. Some analysts also believe that the valuation can rise due to DiDi's international expansion.
The company also has vast plans for automation and aims to have one million robot taxis in the coming years. With Uber and Grab out of the market, DiDi has a competitive advantage to further expand in the Chinese market as well.
Frequently asked questions
Can you use cash for DiDi?
Yes, as mentioned above, you can use cash if the car was booked via Didi.
Does Uber work in China?
No, Uber decided to pull out from the Asian market, due to too high competition from other companies like Grab (the most popular taxi hailing app in Southeast Asia) and Didi.
Is it safe to travel with Didi in China?
Yes, it's considered safe to travel with Didi, even if there's been some incidents in the past. As China is such a big country, it's unavoidable.
Do you tip taxis in Shanghai?
No, you don't need to tip
taxis in China
, the drivers don't expect any tip.
Can I use LYFT in China?
No, LYFT does not operate in China and Didi is basically your only option, if you want to book a car via an app.
Did Didi buy Uber?
Yes, Didi decided to buy Uber's China Business for around 35 billion US dollars. The Uber Chief Executive of Uber China at that time decided to join the board of Didi.
How much is Didi Chuxing worth?
Didi Chuxing was worth 7.95 billion US dollars at the end of 2018. The value of the company has increased much in the past years and was valued at 5.97 billion US dollars at the end of 2017.
How many DiDi drivers does China have?
When was DiDi founded?
Didi was founded in June 2012.
How many customers does DiDi serve in China?
DiDi serves around 550 million customers in China.
How many employees does DiDi have?
DiDi has around 10,000 employees working at its headquarters in Beijing.
Who's the founder of DiDi?
DiDi was founded by three Chinese nationals, namely: Cheng Wei, Zhang Bo, Wu Rui. Cheng Wei is the most prominent person, previously working at Alibaba Group in China. He currently has a net worth of 1.2 billion US dollars.