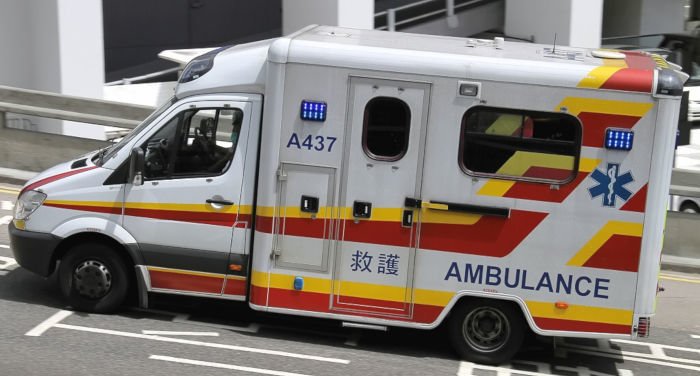 Note: If you are only interested on getting a free quotation for a travel insurance, then we recommend World Nomads (click here to get your free quotation).
Why do I need health insurance when traveling to Hong Kong?
Travelers are not required to have a health or travel assistance insurance when going to Hong Kong. That's the standard in most Asian countries, including China, Vietnam and Thailand.
With that said, I would never visit Hong Kong without proper insurance. Sure, Hong Kong has some of the best healthcare systems in the world, but it's also one of the most expensive, only second after the US.
So if you think that medical fees are high in the US, then remember that Hong Kong follows just shortly behind.
We've read about horror stories about how travelers suddenly get ill in Hong Kong, for example from appendix infections, and have to pay thousands of dollars for medical treatment.
According to the Hong Kong Hospital Authority's website, intensive care ward can cost you as much as 24,400 Hong Kong dollars per day, which equals to around USD 3,100. Then imagine if you have to stay there for several days or a week.
Even if Hong Kong is developed with low crime rates and good medical care, it's also one of the most crowded places in the world, having hectic traffic and narrow streets. Walking in Hong Kong can be a bit of a challenge and they paint "Look to the right / left" at pedestrian crossings for a reason.
In 2019, we also saw major disruptions due to massive protests among locals, something that resulted in foreign insurance companies cutting travel assistance cover. Thus, it's important that you confirm with your travel insurance company what you're covered for beforehand.
The healthcare system in Hong Kong
As mentioned, Hong Kong offers some of the best healthcare systems in the world. This is a reason why it has exceptionally high life expectancy rates, 81.87 years for men and 87.65 years for women.
However, Hong Kong also faces many challenges as the demand for health services increases. Some of the main reasons are staff shortages, its aging population, and an underdeveloped healthcare system in the primary sector.
Not to forget, the public healthcare system is mainly to cater to its residents and travelers are not eligible for government-subsidized medical care. It's only available to permanent residents (PRs), citizens, and persons who reside in Hong Kong with a valid work visa, for example.
If you fall into the category of being a non-eligible person, the fees to visit public and private hospitals are very similar.
Looking at the number of hospitals available, in 2019 there were 43 public hospitals, 49 specialist out-patient clinics and 73 general out-patient clinics in Hong Kong. Many are located in Kowloon district.
There were also 12 private hospitals available according to Hong Kong's Department of Health.
Hospitals in Hong Kong
In Hong Kong, like in many other Asian regions and countries, there are two main types of hospitals:
Public hospitals
When compared to countries like Thailand, there's a smaller difference between public and private hospitals. Truth be told, both options should be adequate to the medical services we can expect in places like the UK, the US, and Australia.
It's often said that private hospitals are a luxury-option for those who want superior medical care.
However, many Hongkongers suffer from increased prices and abnormally high price-to-income ratios, which has left locals with public medical care as their only option. In 2016, less than 40% of local residents had health insurance policies and the public healthcare system was almost at a breaking point.
It's well-known that waiting times are extremely long and foreigners face problems with communication issues. In some hospitals, you need to wait for months just to get a CT scan.
We've also explained about the lack of privacy in hospitals in mainland China, which can be found in Hong Kong as well. Some hospitals can have 10 people per room, at the same time as you're assisted by students, these are referred to as "teaching hospitals".
With the increased demand for public hospital treatments and growing problems with underfinancing of the public health sector, you shouldn't neglect private hospitals as an option.
If you want to see a list of public hospitals available, you can check this page.
Private international hospitals
On the contrary to the public healthcare system, private hospitals aren't financed by taxes, but by paying clients. As such, private hospitals have a greater incentive to provide good customer service, short wait times, and a high quality of care.
The rooms are more comfortable and you'll also be able to communicate in English, which is not always the case in public hospitals.
It's predicted that medical fees will increase in Hong Kong over the years, mainly due to a higher demand. We'll also see more technically advanced facilities and advancement in new cutting edge technologies.
This will inevitably increase costs and entice more foreigners to buy travel insurance before visiting Hong Kong, especially if you visit private international hospitals.
List of private international hospitals
Canossa Hospital
Gleneagles Hong Kong Hospital
Hong Kong Adventist Hospital – Tsuen Wan
Hong Kong Sanatorium & Hospital
Precious Blood Hospital
St. Teresa's Hospital
Evangel Hospital
Hong Kong Adventist Hospital – Stubbs Road
Hong Kong Baptist Hospital
Matilda International Hospital
St. Paul's Hospital
Union Hospital
What insurance do we recommend?
If you go to Hong Kong for traveling short-term, we recommend World Nomads, mainly thanks to its flexibility (customers can simply fill in the duration of the itinerary and the destinations) and the international coverage (you'll not only be covered in Hong Kong but in other countries).
Another benefit is that you can purchase insurance after you departed for Hong Kong (which many other insurance companies don't allow). You can also buy insurance if you're not a resident in your home country, again, not frequently covered by insurance companies.
With that said, we don't recommend World Nomads for expats (without health coverage). The reason is that they normally send you back to your home country, where you're covered from the national health coverage.
The prices might be a bit higher when opting-in for World Nomads (around 66 euros instead of 55 euros). But, thanks to its flexibility and preferably policies, many clients are more than happy to choose a bit more expensive option. At the end of the day, the difference is only 10 euros.
What should a good health insurance policy cover?
A good insurance should cover emergency transportation, medication, repatriation, and medical costs (including hospitalization, tests, surgery, and visits).
Preferably, you should be covered for civil liability, which means that you don't have to cover costs if you cause material or personal damage. Yet be sure to read the fine print as you might not be covered if you're intoxicated of alcohol, for example. The insurance company will review the circumstances surrounding the accident.
Insurance companies also offer add-on features where you can be covered for injuries that occurred when you participated in extreme sports, for example. Confirm with your insurance company how they define "extreme sports" (can be bungee jumping, go-karting, driving jet skis, etc.).
On top of that, you sometimes have the option to get covered in case your flight gets canceled or if there are other interruptions, like if you lose a luggage or experience delays. Even if Hong Kong is considered safe, you should also consider to choose coverage in the event of loss or theft of your personal belongings.
When you look for insurance online, be sure to read the policies and what coverage you'll get, taking your medical history into consideration, if you'll get covered while you're intoxicated of alcohol, and more. Don't hesitate to contact the support team to further clarify what option is best for you.
What to do if you need medical attention?
[Disclaimer: We don't work for an insurance company. The advice in his article is purely based on personal experience. You are advised to talk to an insurance agent of the company you choose so that you know the best way to act in the event of need].
Before you depart, you should prepare a copy of your passport being kept in your wallet or pocket and a personal insurance card provided by the company. If a card cannot be provided, you should at least write down the emergency number and your policy number. You should also include a text saying "ICE Health Insurance", where ICE stands for "In Case of Emergency".
If you're involved in an accident and become unconscious or unable to communicate, it's important that the paramedics can assure that you're covered by insurance. Normally they will check your pockets and wallet for any information that proves you have insurance, and to confirm your identity.
When they've found the contact details to your insurance provider and your policy number, they will contact the company to inform about the accident and make sure that you get medical treatment. In a worst-case scenario, the hospital might refuse to treat you, if they can't assure that they will get reimbursed for the costs.
If you're able to call your insurance company in the event of an incident or sickness, be sure to call the number provided, which should be written on your insurance card (if they provide one). The reason is that insurance companies have agreements with selected hospitals and they will inform which hospital you should go to. If you go to a hospital that your insurance doesn't collaborate with, you'll face risks that the insurance company won't reimburse you.
If you need help from the police, the fire services department, or an ambulance in Hong Kong, the emergency number is 999. The Hong Kong Fire service's objective is to have an ambulance at the scene of an emergency within 12 minutes of receiving the information, 24/7. The success rate is more than 93%, which proves that the services are efficient.
With that said, you can also call international hospitals to provide medical assistance on the spot. If your conditions are not severe, you can also take a taxi to a hospital confirmed by the insurance company.
*For Canadian and US residents, unfortunately due to financial services laws, World Nomads cannot provide a discount. This promotional code cannot be used with any other discount offer, including World Nomads Members' discount for travel insurance policy holders.
Photo Credits:

Hong Kong Fire Services 消防處 by Christian Junker | Photography