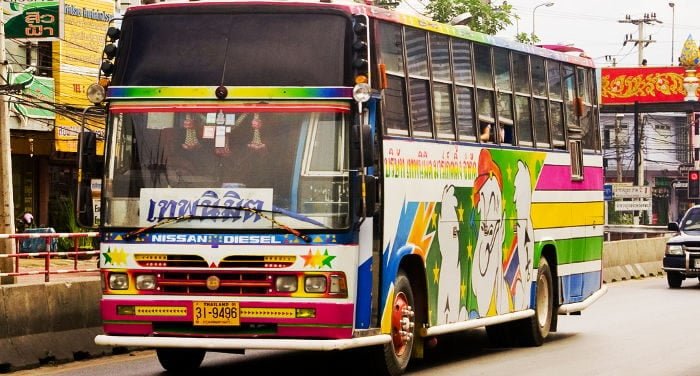 Why travel by bus? The advantages
Traveling by bus in Thailand is very convenient, both in terms of savings and comfort. Bangkok represents the country's major transportation center; in fact, from the capital it is possible to reach practically every city in Thailand, and even cities in neighboring countries, such as Myanmar, Laos, Cambodia, and even Malaysia.
Besides cheap prices and excellent connections, traveling by bus in Thailand is a relatively comfortable experience. The vehicles used by various transportation companies are almost all new and equipped with every comfort.
Their are daily buses that offer services such as television, some snacks, and a few even have Wifi connections. Night buses will welcome you with reclining seats, covers and the classic midnight snack!
Buying tickets is simple and intuitive. You can show up in person at various bus stations, or buy them online and show your ticket directly from your smartphone. There are many websites where you can buy tickets and are often run by specific companies.
On the site 12go.asia, after entering your departure and destination cities, you'll find an exhaustive list of all companies that run that route. The advantage of this site is that it shows the prices for each company, so you can also do a search on the basis of the cheapest ticket.
One of the benefits of choosing buses as the principal means of transport for tourists and locals alike, is the extremely low cost of tickets. Routes of hundreds of kilometers, as would be the case between the capital and cities in the north of the country, cost no more than 20 USD per person, including luggage!
Prices are also low for short to mid-range range. If you want to spend a weekend at the beach, or simply go to another city that isn't Bangkok, for just 90 THB you can take a bus from the East Station in Bangkok and get to Pattaya in 2 hours. If you'd rather relax on paradise-like white sand beaches like those on Koh Samet then your 3 hour trip will cost about 150 THB.
When traveling on a continent like Asia, one of the most fascinating things for a tourist is definitely seeing the locals way of life. Traveling by bus you'll have the chance to meet local people, get to know the customs and even admire the splendid landscapes that characterize the country.
The disadvantages of traveling by bus in Thailand
Obviously there's no disadvantage when it comes to buying tickets online, but there are disadvantages in having to communicate with the Thai people in a foreign language like English.
Despite the fact that in Thailand English is taught in practically (almost!) all schools, the Thai population still remains in the lowest classification when it comes to understanding English.
So if you decide to buy a bus ticket in person, or ask specific questions of the bus staff, arm yourself with lots of patience and a sense of interpretation!
Generally in bus stations, both drivers and hostesses are able to provide basic information in the English language. A great idea is to always write the name of your destination in Thai. Obviously this won't be a problem if your objective is a city like Phuket, or Chiang Mai, but it would be useful for lesser known destinations less visited by tourists.
Another disadvantage of traveling by bus, compared to other forms of transport like by air for example, is travel times. Even though the country's roads are for the most part suitable for high speed driving, the Kingdom of Thailand extends for many kilometers, making itineraries like Bangkok–Phuket or Bangkok–Chiang Mai interminable trips of over 12 hours.
Minivan: a variation on the bus
One version of buses in Thailand,are the minivans. These little vans have 12–15 places, plus a small trunk where you can put your luggage. Unlike buses which are larger, minivans are smaller; this offers two advantages and two disadvantages.
The first is in the fact that being smaller, there's less spaces, and consequently less comfort. In addition if you're traveling with particularly large bags, you'll be asked to pay for a supplementary ticket to be able to place your bag on a seat. So it's not the best transport option if you have to travel far or with large luggage.
An advantage of the minivans (which is also a disadvantage!) is that being smaller than buses they can travel faster. Sadly this characteristic combined with the Thai style of driving makes this form of transport more like little unstable missiles.
In recent years, many people have lost their lives on the country's highways because they decided to travel by minivan. Drivers are often at the wheel for over 12 hours, going at speeds of 140 km (and more!) on the highway, often gambling on improbable maneuvers. The chance of getting into an accident with, or because of, this type of transport, is quite high.
Bus or train?
In Thailand the bus is generally the preferred means of transport over the train, simply because they offer more connections, and it's (almost always!) cheaper. Train rides though are not to be undervalued either.
An essential difference between the two means of transport is in the fact that if you decide to travel by train you can choose the class that you prefer. On night trains that leave from the central station in Bangkok arriving at Chiang Mai for example, you can choose between third, second, or even the comfort of first class.
By train moreover, you can admire the country's beauty, passing through areas that the bus doesn't travel simply because there are natural areas where there are no paved roads.
Bus stations
The largest bus stations, for obvious reasons are found in the capital. Nevertheless, besides Bangkok other cities with high numbers of tourists now have stations of respectable dimensions.
In Pattaya for example, just a few years ago the new bus station was inaugurated just 3 kilometers from the center.
All stations offer more or less the same services: ticket office, waiting room, restrooms, little shops where you can buy drinks and snacks, a timetable with departure times, and an area reserved for taxis.
Often the stations, located outside the city center and far from other means of transport, arrange for a taxi service to bring you to your hotel. Make sure that the meter is turned on when you get into the car, otherwise you might be cheated.
Sadly in cities like Phuket finding a taxi driver that works "legally" is practically impossible. In this case I recommend that you negotiate the price before getting in the car. Bear in mind that prices start at a minimum of 500 THB a ride.
In stations like Pattaya , they offer a local taxi service, where the price of the ticket is fixed at 100 THB a person.
In Bangkok the taxi service functions well, like all the other transport networks in the city. Once you get to one of the main bus stations, such as Ekkamai (East) and Morchit (North), you can directly take the Sky Train in the case of Ekkamai, or a free bus or taxi in the case of Morchit.
Traveling by bus within cities
Up til now we've only spoken about mid to long range buses, or those connecting cities. In this section of the article I'll explain how to get around a city by using local buses.
The most developed city in urban terms is Bangkok, which offers every type of bus imaginable or possible.
The main hub, when it comes to transport, is Victory Monument, a large roundabout with an imposing monument dedicated to warriors from the Second World War.
Up until last year it was actually from Victory Monument that all minivans departed for various destinations in Thailand and that's not all. Starting from last winter however the Thai government decided to "clean up" the area, moving the minivans to stations to the east and north of the city.
Taking a bus from Victory Monument can be a truly difficult task. All buses in the city pass through this roundabout more or less frequently.
Let's start right off by saying that there are no timetables, nor departure times, and not many ticket offices. Once you decide where you want to go, head to Victory Monument and, if you follow a little advice, you'll see that you can manage to handle it without any particular problems.
Once you decide on your destination, you need to find out what number bus you need to take. For this operation you need to check with the Thai transportation site, which will tell you exactly which number/s will work for you.
Once you have your number, you need to know which direction your bus will take. Arriving at the Victory Monument BTS, more specifically walking on the elevated overpass, you'll arrive at a fork: left or right?
If you want to go to the north of the city, go down the stairs on the left and you'll find bays with all the buses going north or west. If instead your intention is to go south or east, then take the stairs on the right.
Here's a practical example to show you how important it is to know the number and direction of your bus. Bus number 29 goes to both the north and south of the city. From the counters located on the left of the roundabout, bus 29 goes towards the province of Pathum Thani, passing by JJ Market. On the right of the roundabout, bus number 29 heads to China Town.
Once you have your direction and bus number, the trip can begin! When you see the bus you want pulling up, wave your hand to let the driver know that you want to get on the bus and he'll let you on.
Payment for tickets takes place right on the bus without automatic ticket machines. The only way to pay is to give your money directly to the conductor who will pass through looking for payment.
Obviously you're not forced to leave from Victory Monument if you know which bus stop you're interested in. Starting at Victory Monument makes things a little easier especially if you're new to the city.
Timetables
There are no timetables for the city bus lines even though the first runs start from around 5 in the morning with the last at around midnight. In the city of Bangkok there are a few bus lines to that run 24 hours a day; to learn more check with the official site of the Thai government.
There are instead specific timetables for buses traveling between one city and another. Timetables can be checked directly on the companies' sites or at the bus stations. Even in this case, the first runs (same goes for the minivans) leave from around 5.30 with the last going deep into the night.
Types of buses
As I said before, there are basically two types of buses, of which can be divided into sub-categories.
The first category is buses that make rather long runs. An example are those that in 5 hours leave from Bangkok for Siam Reap in Cambodia. In this category we can also include minivans, which make shorter runs than the buses, and don't travel by night, but still cover an important part of the country's urban network.
The second category are the local buses, which only travel within the cities. This distinction is divided in turn into two types of buses:
Red buses, without air conditioning, often free or at a fixed cost for all (regardless of the stop) of 6.50 THB.
The small orange buses, without air conditioning but with fans. Even for these buses tickets have a fixed cost (7 THB), regardless of the stop.
Blue buses, with air conditioning. The cost is the same no matter what your route or stop: 9 THB.
Yellow buses: you'll notice right away that they're newer; the cost of a ticket varies between 13 THB and 21 THB, depending on your stop.
A few final suggestions
Traveling by bus in Thailand, and in southeast Asia in general, is simple and cheap. There are however a few common sense matters to always keep in mind. An example is to always keep an eye on your bags in case you decide to travel by bus at night, or when requested to leave your luggage in the cargo hold, keep your valuables, including your travel documents, with you.
The majority of buses and minivans make intermediate stops to get gas, or let people use the facilities. In any case I recommend that you bring something to eat and drink with you, since it is often at the discretion of the driver whether to stop or not.
Personally I traveled from Koh Samet to Bangkok in a minivan where the driver never stopped in over 5 hours of driving.
Frequently asked questions
Is it safe to travel by bus in Thailand?
Not really. Thailand has one of the highest rates of road fatalities in the world and governments often advise foreign travelers to not take overnight buses. There are no specific regulations saying how much truck and bus drivers need to sleep at night, drug abuse is fairly common and people drive fast in general. As such, you should not try to save money by choosing the cheapest bus company, but try to find a reputable company with a good record and reviews. If you don't want to travel by bus, you might have the option to go by train or by plane.
Do buses have air conditioners in Thailand?
Yes, you have the option to go with buses that have air conditioners (which is highly recommended, of course). The fees are somewhat higher though, but to travel far distances without an AC is a big no.
Can I travel all of Thailand with bus?
If you combine bus rides with taxi rides, you'll be able to get pretty much anywhere. If you plan to travel in the countryside, it can be worthy to rent a motorcycle or a scooter, for example.
Are there toilets on Thai buses?
You can find toilets on VIP buses, even if some travelers prefer to wait until they stop at gas stations, as the toilets can be cleaner. You can also buy food, beverages and even beer at some gas stations.
What are the different classes of buses in Thailand?
According to 12Go's website, you can find the following classes of buses in Thailand:
Local buses
Express buses
VIP & VIP24 buses
Tourist charter buses
Combo tickets with the ferry connection
International buses and border crossing
What are the courtesy rules when traveling by bus in Thailand?
Don't participate in excessive drinking
Don't become angry
Sit close to a monk (especially if you're a girl
Complain about noisy music or chatting
What's the cheapest option to leave Thailand?
Going by bus from Phuket to Hat Yai and then taking a bus to the Malaysian border, or a flight to Kuala Lumpur, is one of your cheapest options.
Photo Credits:

Nissan Tour Bus in Chonburi, Thailand by Ian Fuller