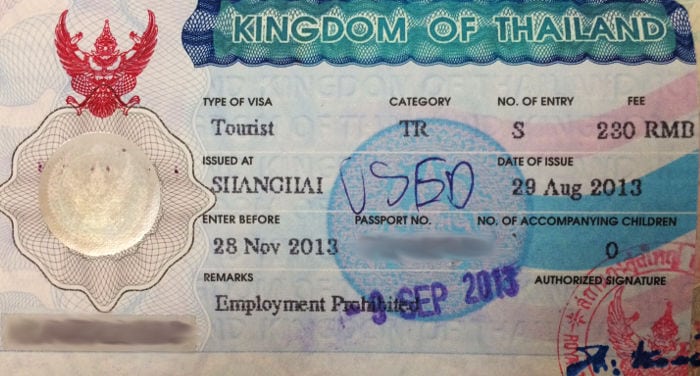 Important: Starting as of November 2021, it is necessary to get a Thailand Pass in advance to enter Thailand (click here for more details).
The matter of visas takes the most time and research for those planning a mid to long-term stay in Thailand.
First of all, if you want to vacation in Thailand for less than 30 days, have a passport valid for at least six months issued by one of the countries on this list (Australia, Canada, US and UK are on it) and a ticket to leave the country (within 30 days from the date of arrival), then you won't need a visa.
If instead, you want to stay longer, you first need to understand why you need a Thai visa and what type of visa you need to apply for.
Why you need a Thai visa
Just as in (almost!) all Asian countries, also in Thailand, you need a visa for longer stays. The purpose is to allow you to stay in the country legally so as to also allow the Thai government to monitor those staying in their territory.
No foreigner, unless at least one parent is a Thai national, can ever apply for citizenship and a Thai passport, for any reason – not even in the case of marriage!
Citizens of the land of smiles are characterized by a protectionist culture, not only regarding acquiring citizenship, but also concerning owning land and other goods.
By law, in fact, no portion of territory within the borders of Thailand may ever belong to a foreigner. This law has more than a little effect on the real estate market: as a foreigner, you can buy a house, but not the land it is built on.
What is a Thailand Pass and how do I get one?
A Thailand Pass is a free online system designed to allow travelers to easily and efficiently upload all documentation necessary to enter Thailand.
This system was developed to facilitate the entry of foreign travelers into the country while maintaining certain COVID-19 prevention measures.
To obtain a Thailand Pass, you must provide the following documentation (in English):
Pasaport
Visa (if necessary)
Certificate of vaccination
Health or travel insurance policy
Booking for an ASQ or SHA+ Hotel
Return-trip plane ticket
Once you have uploaded all documents to the system, it takes up to 7 days for your Thailand Pass to be approved. You can access the system using this link.
Below is a summary of each document necessary:
Passport and visa
Your passport must have a minimum of 6 months of remaining validity.
You need a valid visa or you must meet the visa exemption requirements:
Be a citizen of one of the countries on this list (which includes Australia, Canada, UK and US) and remain in the country for less than 30 days
Be a citizen of Argentina, Brazil, Chile, or Peru and remain in Thailand for less than 90 days
Be a citizen of Cambodia or Myanmar and remain in the country for less than 14 days
Certificate of vaccination
Anybody over the age of 12 must complete an obligatory quarantine period of 14 days unless they present a certificate of vaccination with one of the COVID-19 vaccines accepted by the Thai government:
CoronaVac
AstraZeneca
Pfizer-BioNTECH COVID-19 vaccine
Janssen
Moderna
Sinopharm Vaccine / COVILO
SputnikV
Covaxin
In order for the certificate to be valid, it must comply with the following requirements:
The vaccination certificate must be in English or contain a translation into English
The vaccination cycle must have been completed (2 doses, except for Janssen) at least 14 days prior to leaving
If you have overcome infection with COVID-19, you must include a medical certificate of recovery and a certificate of vaccination with 1 dose of vaccine within the 3 months subsequent to infection, and no less than 14 days prior to your departure.
Travel insurance or health insurance
People who are not Thai citizens must present a valid travel insurance policy covering their stay (in English), which must include:
Minimum of 50,000 USD in medical assistance in Thailand
Coverage for medical assistance in the event of hospitalization due to COVID-19 during your stay in Thailand
Hotel booking
At a minimum, your first night in Thailand must take place at an Alternative Quarantine accommodation certified by the Thai government. In the case of hotels, these centers are called AQ or SHA+ Hotels.
To get a Thailand Pass, you must show a booking at an AQ or SHA+ Hotel for however many nights you are required to quarantine, or for the first night in the case that you meet the requirements of the Test & Go program.
The hotel booking must include the following services at a minimum:
Transfer from the airport
COVID-19 tests (PCR and rapid antigen)
Plane tickets
To get a Thailand Pass, you must present a plane ticket, and unless you have a visa, you must present a return ticket as well.
If you enter by sea or land, you must quarantine.
In order to be exempt from quarantine, the itinerary must comply with the following requirements:
Originate in one of the countries on this list
You must have stayed in the country of origin for at least 21 consecutive days
You must have a direct flight or remain in a transit area for a maximum of 12 hours
Additional requirements for entering Thailand
In addition to the Thailand Pass QR code, to enter Thailand, you will need:
The Morchana app installed on your telephone
A T8 entry form duly filled out (obtained on the plane)
A medical certificate in English showing a negative result for COVID-19 done via RT-PCR test. The certificate must have been issued no more than 72 hours prior to traveling.
Types of visas and necessary requirements
There are five types of visas, each of which refers to a specific situation.
Tourist visa for Thailand
The least complicated visa to get (and also the cheapest), is the Tourist Visa. The tourist visa is divided in turn into 3 categories:
30 day tourist visa (Visa on Arrival)
This type of visa lasts for 4 weeks: if you arrive on Friday your visa will last until the four Fridays later.
This is the best type of visa for those intending to stay in Thailand, usually on vacation.
With an Italian passport, the tourist visa is easily obtained directly at the airport in Bangkok, for free. Unlike other types of visas, they are issued directly on Thai soil upon landing in any airport in the country.
If after a 30 day stay you decide to extend your vacation, by going to one of the various immigration offices found in the major cities, you can extend the validity of your visa for another 30 days, paying 1,900 THB.
A really important thing to keep in mind is that no visa (obviously excluding the Business Visa, of which I'll speak later on), but especially not a tourist visa, will allow you to work on Thai soil; an activity that is even considered illegal and punishable by a fine, prison, and deportation with a prohibition to re-enter the country for very many years.
Tourist visa valid for 90 days (with a maximum stay of 60 days during the first entry in the country)
This type of authorization can be obtained in any Thai foreign embassy. It isn't possible to get this type of visa on Thai soil. If you really need it, I recommend that you leave Thailand and go to one of the Thai embassies in one of the surrounding countries, such as Laos.
One of the peculiarities is in the fact that the visa you'll be issued is valid for 60 days, after which you are can get an extension for the other 30 days.
With the death of the Thai king in the autumn of 2016, the kingdom suffered a drastic drop in tourists, who, frightened by the cancellation of events and closure of tourist activities, canceled their flights and hotel bookings. To give incentive for people to return to the land of smiles, the Thai government in December 2016 decided to offer tourist visas for free.
Tourist visa valid for 180 days (with maximum stay of 60 days for each entry)
Apparently, this is the most difficult visa to get, among tourist visas. Its issue is at the discretion of the embassy itself, but theoretically, if you have all your documents in order, it usually shouldn't be too complicated to get one.
The procedure for getting one is similar to the 60 days visa, this means that after paying for the initial visa which will allow you to stay on Thai soil for 180 months, every 60 days you'll have to leave the country to then re-enter, and so on.
Student visas for Thailand (Non Immigrant Visa – ED)
Here you'll find our article dedicated to student visas in Thailand.
Summary: the student visa is issued to those who intend to come to Thailand to study, whether at a university or a school to learn Thai.
The difference between these two types of students are minimal; the visas issued by a university last for a year without any type of extension, its cost is cheaper than those who want to attend a Thai school, who are obligated to pay 1,900 THB every 2 months to renew their visa.
Another possibility (much more expensive), is to enroll in a school of Thai martial arts, the so-called Muai Thai School. This category of institutes also offers visas from 6 to 12 months, with the obligation of renewal every 2 months.
If you'd like to come to Thailand for volunteer activities, an internship, or to meet up with your wife or husband, you'll be required to apply for a specific visa, classified under the category Non-Immigrant ED.
Retirement visas for Thailand (Non Immigrant Visa – O)
As the name says, this type of visa is for those who are retired. The Thailand government considers retired those over the age of 50 years. The visa is good for a year.
On the list of O category visas, there are also visas for those who come to Thailand for medical reasons, such as plastic surgery, something quite popular in Bangkok's international hospitals.
Work visa for Thailand (Non Immigrant – B – Business Visa)
This is one of the most difficult visas to get.
Let's start by saying that this is the only type of visa that allows you to legally work in Thailand.
Despite the conflicting opinions going around the Web, only with a work visa can you carry on a for-profit business in Thai territory, it doesn't matter whether you work part-time, from home, or as a volunteer, you'll need a "business visa".
But why is it the most difficult visa to get?
There are many reasons:
First of all, you need to be aware that if you want to move to work (legally) in Thailand, you need to be considered a person that can bring a skill to the country that is not found among the Thai people. This means that a company will hire and sponsor your work visa (spending quite a bit of money) only if you can bring an added value not found in other Thai candidates. This is one of the reasons why the majority of foreigners in Thailand teach English.
Another important characteristic is the fact that many types of work are forbidden for foreigners, to protect local workers. Some examples are working as an architect, clerk, waiter, hairdresser, and many other jobs. Here you'll find an exhaustive list.

Besides the innumerable documents that a person deciding to open a business in Thailand will have to provide to the immigration office to get a work visa (including photos of all hired staff, with official uniforms and intent to carry out the duties for which they're being paid), the main problem is in finding a Thai partner to go into business with you.

In fact, according to the law, no foreigner can possess more than 49% of a for-profit business inside the kingdom. This means that if you want to open up a restaurant for example, not only do you have to find a Thai partner that owns 51% of your business, but also four employees with a Thai passport for every foreigner you hire. If therefore you decide to open a business with your Italian friend or relative, the minimum number of Thai employees you'll have to hire and pay dues for is eight people.
Permanent Resident Visa
The last option is the so-called Permanent Resident Visa or a visa for those seeking permanent residence.
This type of visa is issued to those who have lived for 3 consecutive years in Thailand, carrying an annual visa (usually a work or retirement visa). Another criteria to respect is a minimum monthly salary of 30,000 THB if you're married to a Thai national for at least 5 years or 80,000 THB.
How long does it take to get a Thai visa?
The timeline for getting a visa is rather short. If there's no snag within one or two weeks, your visa will be ready for use within 3 months time. After 3 months the visa becomes unusable and you'll have to apply for a new one.
How much does a Thai visa cost?
The cost depends on the type of visa you apply for.
Starting from the least expensive, there's the 30-day tourist visa, which is free; which has to request a tourist visa in one of the Thai embassies (before arriving in Thailand), to get a 30-day tourist visa.
A 60 days tourist visa costs 40 USD.
Student visas cost 80 USD, with an obligatory extension every 2 months of 1,900 THB, for a total of about 300 USD a year. If you decide to attend a university, the visa will only have the initial cost of 1,900 THB, without needing to extend it every 2 months and without having to leave the country at the end of the first year.
A retirement visa costs 80 USD, and gives those over 50 years old the possibility to leave and enter Thailand without needing to pay 1,900 THB each time.
The price of a business visa is 80 USD for three months, with the usual renewal cost of 1,900 THB.
Where do I apply for a Thai visa?
Visas are issued exclusively at Thai embassies and consulates (if you're abroad) or from the immigration office (if you're already in Thailand and looking to renew your visa). You can search for the embassy or consulate closest to you in this webpage.
Concerning the US in particular, the Thai embassy is located in Washington, while various consulates are spread around the country: Boston, Chicago, L.A., and New York.
What documents are necessary?
Depending on the type of visa you apply for, you'll be asked to attach different documents (more or less the same for all visas), besides the classic form with your personal information.
In particular, you'll have to provide a passport valid for at least 6 months, a photocopy of it, 2 passport photos, your flight itinerary (not the ticket) and a confirmed hotel reservation.
Besides these documents, you're required to show proof of enough financial means to cover your entire stay in the country. Specifically, you'll be required to show a minimum of 700 USD for a 60 days tourist visa, retirement visa and student visa, or 25,000 USD for a yearly retirement visa.
The list of documents grows if we look closer at student visas, work visas, and even those for retirees.
For the student visa, for example, you'll be asked for an official letter from the school you're enrolled in, your certificate showing your status as a student and your weekly schedule of classes you're participating in.
For work visas, it is necessary to show documentation issued from your employer that attests that you're working for them for a certain time and also your yearly salary.
For those over 50 years old, you'll be required to present a health certificate showing that you are in good health and your criminal history that certifies that the person applying for the visa has not been accused of a crime.
How to apply for a multiple entry visa
Something also important to add is that student, work and even retirement visas offer two choices upon being issued.
The first is to apply for a single entry visa, this means that your visa will last a full year (with renewal every 2-3 months, depending on the visa, without leaving the country). If however, you wish to leave Thailand for any reason, you'll have to apply for a visa that allows you to leave without your annual visa being annulled.
The single entry visa is convenient for those who are already traveling or foresee not leaving the borders of Thailand more than four times a year.
For what reason? The simple reason is that you can also get a multiple entry visa. In this case, the initial cost for the visa will be higher, but you'll be allowed to travel without limit outside the country without paying anything extra or needing to apply for another entrance visa.
The cost for this visa is 3,800 THB a year (or 200 USD), so if we calculate the cost of an entrance visa at 1,000 THB each time, we see that you can recover the cost of a multiple entry visa starting with the fourth time onward.
It's a bit of a paradoxical situation; to keep your visa you have to pay to get one that allows you to leave without your initial visa being annulled!
This type of "permission" can be obtained both with immigration offices in the various cities, and directly at the airports. The cost is 1,000 THB an exit, but if you decided to get a multiple one, you can do so for a sum of 3,800 THB.
Besides payment you'll be asked to fill out a form called TM8, attach 2 passport-size photos and also a copy of your passport.
How to extend your visa and the 90 days report
For everyone residing in Thailand for more than 90 interrupted days, you're required to fill out a 90 days report. This form is nothing more than a declaration of your address in the country. Whether you change your address or not, every 3 months you must report (with a penalty of 500 THB for every day you're late) at the immigration office in the city in which you are staying, and hand over your passport and required form.
On the official page of the Bangkok immigration office you can find all the various documents to print and fill out. Note that the visa may also be extended in other cities, not only in Bangkok.
Unlike a visa, the 90 days report is free.
Once you first arrive in Thailand and report at the immigration office after the customary 3 months to renew your visa, a small sheet of paper will be attached to your passport, on which will be written that within 90 days you'll have to report again to the immigration office to notify them of your stay in the country.
If instead, you leave the borders of Thailand within 90 days, it isn't necessary to notify them of your home address, but the count of 90 days starts when you re-enter Thailand, regardless of what is written on your card.
If for example, you enter Thailand on October 7th, renew your visa January 7th, and your 90 days report is set for April 7th, but on April 6th you leave Thailand and return July 12th, then the start of your 90 days report will automatically be postponed (by you yourself) to July 12th and no longer April 7th.
What happens if I stay in Thailand after my visa expires?
Immigration laws in Thailand are becoming increasingly severe, especially when the military took power in 2014, and the death of the king in the winter of 2016. I recommend that you review which visa suits you best and strictly respect the rules imposed by the Thai government, especially regarding laws against illegal employment (very widespread), and failing to renew a visa or 90 days report.
In the majority of cases, when failing to show for the 90 days report you'll simply be asked to pay a sum that won't exceed 5,000 THB on the spot.
The failure to renew a visa is different. Once you leave the country and pass through an immigration office whether at the airport or on land, your passport will be checked and your stay without a visa could cost you the payment of a fine, imprisonment, and even deportation with the prohibition to enter the country for 5 years or more.
Frequently asked questions
How much is Thai Visa on Arrival (VoA)?
The processing fee is THB 1,000 (USD 35). Keep in mind that many nationalities don't need any Visa on Arrival (VoA).
Is there a retirement visa in Thailand?
Yes, Thailand has a retirement visa referred to as the Non-Immigrant O-A Long-stay visa. It's renewable and allows retirees to stay in Thailand indefinitely. To get the visa, you have to meet the financial and age requirements stipulated:
Deposit THB 800,000 in a local bank account
Medical certificate
Have a pension or income of a minimum THB 65,000 per month. You have to prove this with an affidavit that is issued by your embassy or consulate in Thailand
Have an income and deposited amount that totals of at least THB 800,000 annually
A clean criminal record, both in Thailand and your home country
Is there an investment visa in Thailand?
Yes, the Thai Investment Visa has been one of the most popular long-term visas for foreigners. To get the visa, you have to invest or deposit at least THB 10 million (ca USD 305,000) in any of the below assets:
Newly built condos (minimum THB 3 million)
Government or state-enterprise bonds
Deposit money into a Thai bank account
Prior to 2006, foreigners could get the visa by simply investing THB 3 million into any of the above asset types.
What is the Thailand Elite Visa?
The Elite Visa, referred to as the Privilege Entry Visa, is a visa that foreigners can buy that gives you the right to stay in Thailand for up to 20 years. The visa comes in different forms and costs between THB 500,000 – THB 2,000,000.
If you go for the Thailand Elite Visa, you'll also get access to private airport service, airport lounge, discounts, short-haul transfer service on international flights, call centers, and concierges.
How long does it take to get a Thai visa?
First of all, it depends on the visa type. Looking at tourist visas, it takes up to 3 days for your embassy to process it. For the retirement visa, you have to be in Thailand for at least 60 days, or within the last 30 days of your current visa stamp expiry, before you can submit your retirement visa application.
How many times can I enter Thailand without a visa?
You can stay in Thailand for up to 182 days a year. Thus, you're allowed to enter the country 6 times per calendar year.
Do EU citizens need a visa for Thailand?
Citizens of 48 countries, including most countries in Europe, the US, and Canada, don't need any visa to visit Thailand as tourists.
Do you need help to get your visa for Thailand?
Click here to see the agencies that we recommend!
Photo Credits: Photos by Sapore di Cina