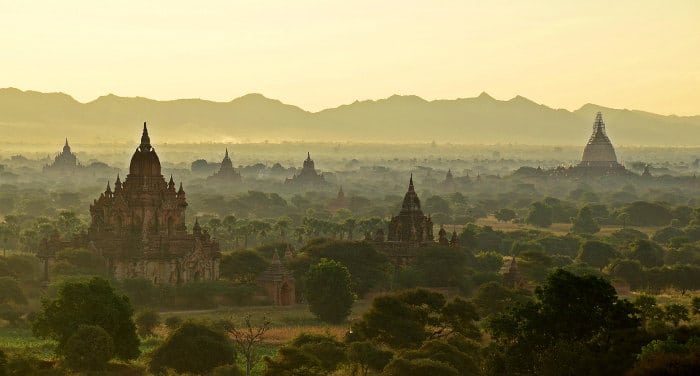 Myanmar is a country that has never come out from dictatorship, but still resists and maintains that spiritual and mystic aura that I haven't found in nearby territories that I've explored.
If there's a place in ex Burma that transmits that sensation, it's Bagan, the ancient kingdom of Pagan, the largest concentration of sacred buildings in the world: more than 2,000 Buddhist temples, stupas, and pagodas.
The history of Bagan
Bagan was the capital of the Kingdom of Pagan between the 9th and 13th century, in the period between 1047 and 1287 where the sovereigns of Bagan ordered the construction of more than 10,000 temples; the result was a plain full of pagodas and stupas spread out as far as the eye can see over a territory of 15 square kilometers.
During the invasion of Mongol troops, however, many buildings were destroyed, while others were lost in time, both from indifference and abandonment as well as due to various earthquakes (the last one, which was disastrous, in 2016) and other weather issues.
Today about 2,500 temples have remained more or less intact, a daily pilgrimage for Buddhists and the Burmese themselves on tourist visits.
How to get to Bagan?
Bagan is located in the western part of Myanmar, and being one of the country's most visited destinations it can be comfortably reached from everywhere in the country both by land via local buses and night trains, as well as water by boat from Mandalay.
If you arrive on a night bus you likely won't even be asked to pay the entrance fee to the temples. Yes, to get into Bagan you'll need to buy an entrance ticket for 25,000 Kyat, which is valid for 5 days. If though you're looking to avoid the most crowded temples and go off to discover lesser visited Bagan, you can avoid the tax.
Where to stay in Bagan?
There are three locations that have developed around the plain: Old Bagan, New Bagan and the village of Nyaung U. I chose the latter, both because it is cheaper, but also because it allows the chance to stay among local people, meet countless monks with their amaranth tunics who start their litanies and rites every morning while it's still dark, and for the varied local cuisine.
In the New Bagan area, you'll find more Western hostels and restaurants, with slightly higher prices but the chance of meeting many adventurers that search through the region to discover unforgettable places that are as isolated as possible.
In fact, in Bagan, considering the vastness of the place, you'll have the good fortune to enjoy sunrises and sunsets in practical solitude. It is a unique experience.
Click here to find a hotel or hostel in Bagan.
How to explore the ancient temples
Each temple is unique and worthy of being visited. However not all are open to the public and additionally, for a few years now climbing them is prohibited.
First of all set your alarm for 4 in the morning to get to a few stupas and enjoy an exclusive sunrise on the plain. You can't miss such magnificence and you'll have the good fortune to see the sun rise over a magical place in silence, while the morning haze slowly fades over the low vegetation, various pagodas and hot air balloons rise into the air.
As Terzani wrote in his captivating book "In Asia":
"There are views in this world in front of which you feel proud to belong to the human race. Bagan at sunrise is one of these. In the immense plain, marked only by the silver flickering of the great Irrawadi River, the clear silhouettes of hundreds of pagodas slowly appear from the dark and fog: elegant, light; each like a delicate hymn to Buddha."
From the top of Ananda Temple you can hear roosters crow and horses shuffle along the still graveled streets. It is as if some sort of magic stopped this valley in a moment of its past greatness.
So find a local guide or ask travelers you meet for advice on which place to choose, like I did, or choose a place to enjoy the sunrise from the first row, or also sunset, when the sun is fiery as I've only seen in Myanmar and goes down among the temples, like a rite, but special each day.
Which temples should not be missed?
Since you won't be able to visit all of the more than 2,000 temples, I'll suggest a few that are truly worth visiting:
The Shwezigon Pagoda: the first to be built in typical Burmese style in 1090. The stupa is 49 meters high, formed of three terraces, one smaller than the other, with staircases that bring you to the main part of the stupa with a large bell in its middle. On the terraces the history of the Buddha's past lives is narrated on clay plaques.
The Shwesandaw Pagoda: built in 1057, has a pyramid shape and depicts Ganesha, the Hindu elephant god. The pagoda is located outside the walls of the city and has the role of providing spiritual protection for the entire kingdom. This shouldn't be missed at sunset for the beautiful reflections on the white.
The Ananda temple: the most impressive of all, built around 1090 by King Kyanzittha. At the four corners of the main square there are arches that give it the form of a Greek cross that allow passage to the interior of the temple, and in each corner there's a 10 meter high statue depicting the four Buddhas up until our time.
Outside of the city, you can look for pagodas with beautiful, well-preserved interiors and even a fantastic view of the river without tourists around.
Personally, I preferred to lose myself in the minor temples that were equally spectacular and mystical, but less visited by tourists. But this all depends on you!
What transportation can be used to visit Bagan?
Bagan is immense, and to visit it all you'll have to stay a few days. I was there for only two hays and the visit was exhausting enough. To explore the area well there are various possibilities.
Rent a bike for 2,000 Kyat (about 1.5 American Dollars), or an electric motorbike for 8,000 Kyat a day, which you can easily find in various specialty stores or even the hostel or guest house where you're staying. In fact almost all of them offer these two services for affordable prices. Tourists aren't allowed to use automatic motorbikes or those with gears, but only electric ones which have a maximum speed of 40 kilometers an hour.
Negotiate with a horseman for a horse-drawn carriage and roam around the plain as if in a fairy tale.
Alternately, you can buy a hot air balloon tour where you can enjoy an exceptional view over the entire kingdom, especially at sunrise. Prices start at around 260,000 Kyat (about 200 American Dollars).
What is there to do around Bagan?
To get more information and better know the past, there's a collection of regional artifacts at the Bagan Archeological Museum, which is found just off the main road near the river in Old Bagan. An entrance ticket costs 7,000 Kyat.
Moreover, 50 kilometers southeast of the ancient town is Mount Popa, a 1,500 meter high volcanic peak topped by a Buddhist monastery and many spirits: creatures that linger in other dimensions, which are venerated throughout Myanmar and are given tribute here by pilgrims' offerings.
To reach the summit there are 777 steps. I recommend a half day tour. Be careful of the curious monkeys that are numerous in these parts.
Bagan is the most intense place that I've ever seen, and I hope that this guide has helped stoke your curiosity and move you to visit this place with the same enthusiasm.
Photo Credits:

Sunrise in Bagan by Jennifer Stahn