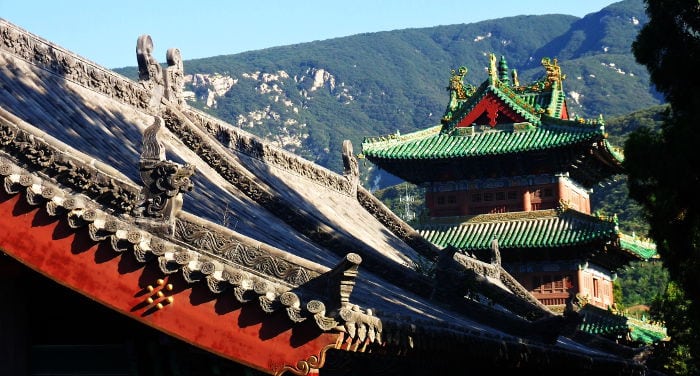 This article is a practical travel guide to visit Henan, the birthplace of Chinese civilization and martial arts. Here you'll find:
Some basic info about Henan province.
Why you should visit Henan.
The places to visit in Henan (with information on how to get there, where to stay and what to do or see).
Some general suggestions for traveling in Henan.
A bit of history and clichés
Henan (河南), with nearly 100 million inhabitants, is one of the most populated provinces of China. Since most of the population is composed of farmers, this is one of the poorest regions of the country. For these reasons, together with Shangdong, people from Henan are the most numerous emigrant population in Beijing.
If you ask Chinese people about Henan, a lot of them will say that it's a poor area and its inhabitants are dishonest. If you then talk with people from this province, most of them will end up complaining that the central government doesn't want the province to develop so that they can keep on producing food for the rest of the country. However, Henan is much more than all these clichés!
Henan is considered to be the birth place of Chinese civilization and was the China's political, cultural and economic center until one thousand years ago, when the Song Dynasty collapsed. Even if the title of "Old Chinese Capital" belongs to Xi'an, looking at the list of the Great Ancient Capitals of China, half of them are situated in Henan (Kaifeng, Luoyang, Anyang and Zhengzhou).
Why should you visit Henan?
Even if Henan attracts many Chinese tourists, most international travelers don't even know the existence of this province. So the question is: why should you visit Henan?
As I mentioned before, Henan is the birthplace of Chinese culture and possesses plenty of interesting historical and natural sites. After Beijing, Henan is the Chinese province with more UNESCO World Heritage cultural sites in China.
Also, Henan is located between Beijing and Xi'an, and the trains that join these two cities have several stops in this province. Thus, if you're traveling along the popular Beijing-Xi'an-Shanghai route a stopover in Henan is quite convenient.
Finally, Henan is the birthplace of Tai Chi Chuan (太极拳) and the Shaolin Temple is located here. Therefore, if Chinese martial arts fascinate you, in Henan, you'll have the opportunity of learning more about their origin.
Places to visit in Henan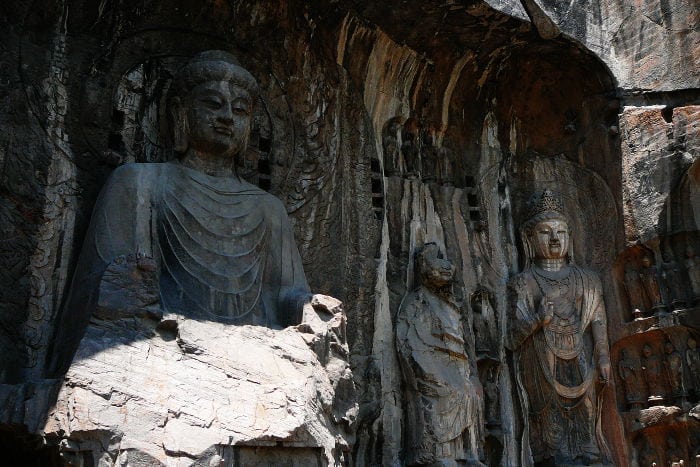 Longmen Grottoes a UNESCO world Heritage site, Luoyang –

Longmen Grottoes by dericafox
Luoyang (洛阳)
If you can only visit one place in Henan and you ask me where to go, I'd choose Luoyang. This ancient capital is extremely rich in culture and history and is believed to be the origin of Taoism. Also, here you can find the impressive Longmen Grottoes, a UNESCO World Heritage Site.
How to get there
By plane: Luoyang has an airport located 10 Km from the city center with regular flights coming from several Chinese cities.
By train: Probably the most convenient way as Luoyang is a major stop in the high speed line Beijing-Xi'an. The trip from Beijing takes around 4 hours and costs 400 Yuan. From Shanghai there are only slow trains; the journey takes around 14 hours and the hard sleeper ticket is around 250 Yuan (check out our guide on traveling by train in China to know more about Chinese trains and railways).
Where to stay
Luoyang Longmen Youth Hostel: This hostel is cheap, clean comfortable and the staff can speak a decent English. Also, from here getting the bus to the Longmen Grottoes is quite convenient.
Luoyang Aviation E-Home Inn: Even if this hotel is a bit far from the city center (1.5 Km), the rooms are clean and comfortable, overall, it offers a great quality for what you pay.
Also, click here to read our review of the best hotels in Luoyang.
Places to visit:
Luoyang has plenty of historical sites, several museums, and an impressive number of parks. Here are three places that, in my opinion, you shouldn't miss:
Longmen Grottoes (龙门石窟, Lomgmen shiku): Declared a UNESCO World Heritage Site in the year 2000, it's a huge complex of Buddhist statues carved on the mountain. Here you'll walk around 1,400 caves that contain 100,000 statues carved in the rock. Located at 13 km from the city center, you can get there by taking bus number 81 from the east side of the Luoyang train station (1.5 Yuan). The entrance ticket should cost around 120 Yuan.
Baima Temple (白马寺; Baimasi): This is the first Buddhist temple in China and one of the oldest in the world. The Baima temple is located 12 km from Luoyang city center, you can get there by taking bus number 58 from the Luoyang train station (1.5 Yuan), the entrance fee should cost around 50 Yuan.
Luoyang Museum (洛阳博物馆; Luoyang bowugan) Reopened in 2011, this museum exposes a large collection of objects recovered in the area. At the present moment, the entrance is free.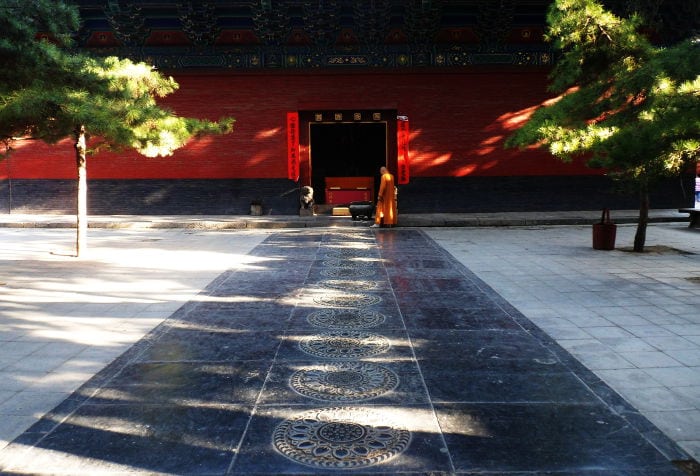 A monk inside the Shaolin Temple. Is he a Kung Fu master? Yes, he is!
Dengfeng (登封) and Shaolin Temple (少林寺)
Dengfeng is a small rural town located at the feet of the Mount Song, one of the five sacred Chinese mountains and the location of the Shaolin Temple. Even if you don't need to stay a night in Dengfeng as you can visit the Shaolin temple in one day coming from Luoyang or Zhengzhou, Dengfeng offers more than the Shaolin temple. If you have a bit of time it's not a bad idea to spend one night here and enjoy the calm of rural China. For the ones interested in Chinese martial arts, you may want to know that, besides the Shalin Temple, here there're more than sixty schools of martial arts.
How to get there
The only way to reach Dengfeng is by bus:
From Zhengzhou: There're frequent buses from both the North (北中心站) and South Central Station (南中心站). The trip takes 1:30 hours and the ticket costs 24-28 Yuan.
From Luoyang: There're frequent buses from Luoyang Bus Station (洛阳汽车站). The trip takes around 2 hours and the ticket costs around 14 Yuan.
Where to stay
What to do
"The Centre of Heaven and Earth" UNESCO world heritages sites: A group of eight historic sites across Dengfeng that have been included onto the UNESCO World Heritage list.
Shaolin Temple (少林寺; Shaolin Si) and Song Shan National Park (嵩山国家森林公园; Songshan guojia senlingongyuan): The temple is located inside the park. Today I'm not going to describe it as we'll write a whole article about it. You can get here by bus from Dengfeng, Luoyang (main bus station) or Zhengzhou (in front of the train station). The entrance fee is about 200 Yuan.
Kung Fu (功夫; Gongfu) lessons: If you are interested in Chinese martial arts, as I said before in Denfeng there're several schools. Just to give you an example, at the Shaolin Warriors Monks School the prices range between 15 and 50 USD per day (the price includes the lessons, food and accomodation).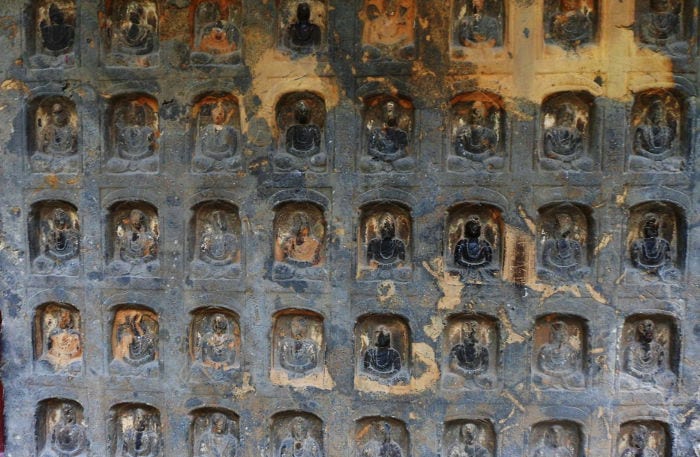 Buddhas carved in stone, Dengfeng
Kaifeng (开封)
Capital of China during various dynasties, Kaifeng features a beautiful lake, a city wall where you can take a walk and numerous rebuilt historical buildings.
How to get there
By plane: The nearest airport is in Zhengzhou, which is located around 70 Km from Kaifeng.
By train: Kaifeng is well connected with train lines coming from several major cities in China. While from Shanghai you can take a high-speed train (6:30 hours and 230 Yuan), from Beijing there're only night trains, the trip takes 9:30 hours and the ticket costs 180 Yuan (for a hard sleeper bed).
By Bus: There're regular buses arriving from many cities in Henan, including Zhengzhou (North Long Distance Bus Station "郑州市长途汽车北站" and Longhai Bus Station "郑州市陇海汽车站") and Luoyang (Central Bus Station "洛阳市汽车站").
Where to stay
What to visit
Dragon Pavilion (龙亭; Longting): This building belongs to the old Song imperial palace and it has been rebuilt many times throughout its history. The entrance fee is 50 Yuan.
Song Imperial Street (宋都御街; Song duyujie): This is the reconstruction of the ancient city of Kaifeng during the Song Dynasty.
Youguo Temple (佑国寺; Youguosi) and Iron Pagoda (铁塔; Tieta): An impressive Buddhist monastery built during the Song Dynasty, you can climb the pagoda (but if you are claustrophobic you better don't) for 30 Yuan. The entrance fee is 50 Yuan.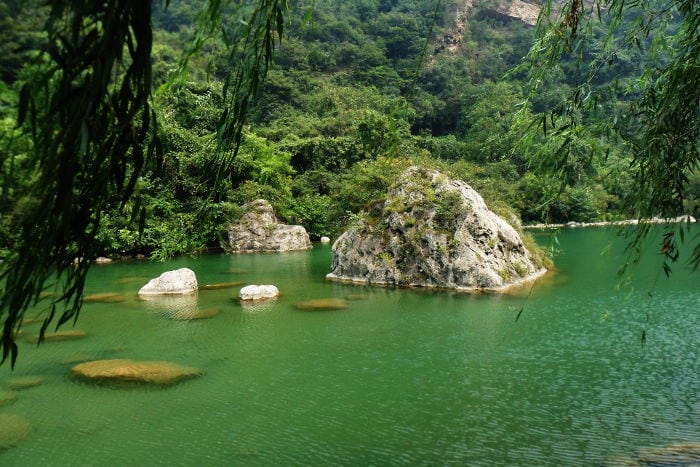 Yuntai Mountain, Jiaozuo
Jiaozuo
Jiaozuo is a typical, ugly third-tier city from Northern China that grew thanks to the coal mines in the area. However, in recent years the local government has been taking a great effort to improve the infrastructures and attract tourists to the area. Jiaozuo was declared the birthplace of Tai Chi Chuan and hosts an annual international meeting at the end of August.
How to get there
You can take a bus or train from Luoyang and Zhengzhou or a long-distance train from Beijing West Station (the trip lasts 8 hours and the ticket costs 175 Yuan for a hard sleeper bed).
Where to stay
7 Days Inn: Jiaozuo doesn't have any hostels and most of the cheap hotels don't accept foreigners, thus the 7 Days Inn is probably the cheapest and decent way to spend the night here.
Days Hotel And Suites Jiaozuo: This is an excellent hotel located at the city center. If you don't mind to spend a bit more you shall stay here.
Places to visit
Yuntai Mountain (云台山; Yuntaishan): The Yuntai Geo Park scenic area is classified as a AAAAA scenic area by the China National Tourism Administration and it attracts tourists from all over the country. This spectacular natural resort has "state of the art facilities" with finger print recognition associated with your entrance ticket. The entrance ticket is valid for two days and during the peak season costs 150 Yuan (60 Yuan during low season).

As it also happens in Jiuzhaigou, the bus fee (60 Yuan) isn't mandatory but necessary as walking from a site to another inside the park isn't practical (because of the huge distances).

You can get there by taxi (around 70 Yuan one way), by bus from Luoyang (from the Main Bus Station), Zhengzhou (from the Main Bus Station) or Jiaozuo (Train Station).

Chenjiagou Village (陈家沟; Chenjiagou): Located 5 km from the Wen County (温县) that belongs to Jiaozuo (41km from the city center), this is the place where Chen Bu established the Tai Chi Chuan (Chen style or shadowboxing). It's a sacred place of Tai Chi Culture and a peregrination destination for Tai Chi lovers.

You can get there from Zhengzhou by taking the line Zhengzhou-Wen County line (郑州-温县, 21 Yuan, 2 hours) and then transfer to the local bus line 1 (1路) to Chenjiagou (2 Yuan). You can also take a taxi from Jiaozuo (it costs less than 100 Yuan, one way).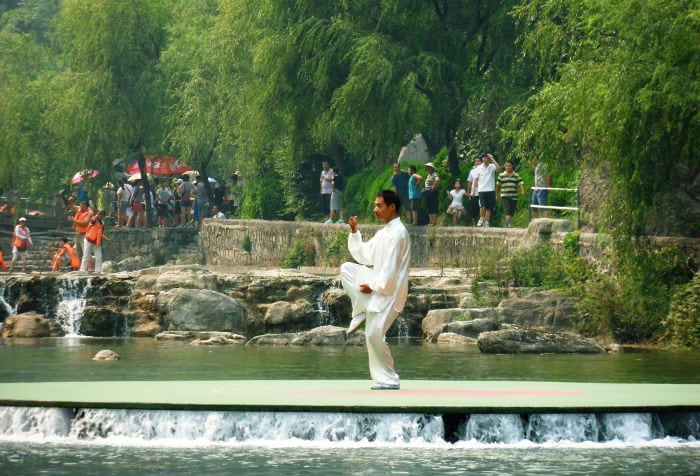 A Tai Chi master doing a demonstration in Jiaozuo
Anyang (安阳)
Anyang is the first known capital of China and here you can find the first library of inscriptions on bones and tortoise shells that is believed to be the origin of Chinese characters.
How to get there
By plane: You can take a direct bus from the Zhengzhou airport (the ticket costs around 70 Yuan) but they are not so frequent.
By train: There're frequent trains arriving at Anyang from all the major cities in Henan. Also, you can take a fast train from Beijing West Station ( the trip takes 2:30 or 3:30 hours and the ticket costs 160 or 240 Yuan).
By Bus: There're regular buses connecting Anyang with most of the cities in Henan, Hebei, and Shanxi provinces.
Where to stay
Places to visit
Yinxu (殷墟; yinxu): Anyang has plenty of interesting historical sites, but Yinxiu alone justifies the trip. Declared UNESCO World Heritage Site in 2006, this massive archaeological site was the location of the ancient capital. Here were found the earliest Chinese scriptures, that were used for divination. The entrance fee is 90 Yuan.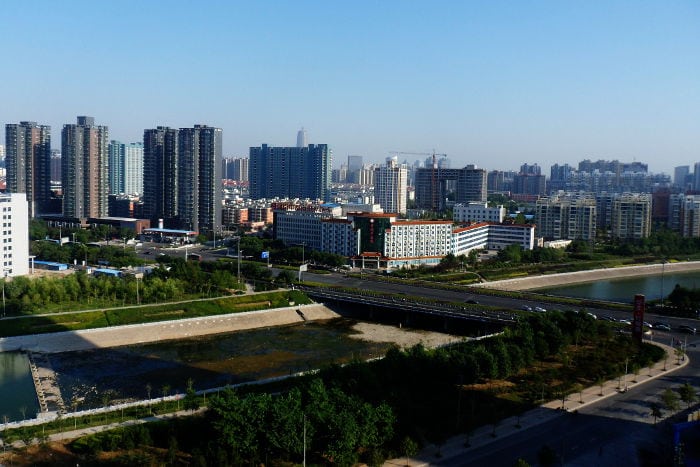 One of the new areas in Zhengzhou
Zhengzhou (郑州)
This metropolis is the capital of Henan province and hasn't much to offer to travelers besides its train hub.
How to get there
You can get there by plane or train from most major cities in China. As an example, from Beijing West Train Station to Zhengzhou Train Station the fast train takes 2:30-3:00 hours and the ticket costs 300 Yuan.
Where to stay
As I said Zhengzhou is a huge city and I don't have any special recommendations, just choose something convenient for you. Notice that you won't find international hostels here. Here you can get a complete list of hotels in Zhengzhou.
What to do
As I said before, Zhengzhou isn't that interesting. However, you may enjoy visiting these two places:
Yellow River Scenic Area (黄河风景区; Huanghe fengjingqu): A tour that will bring you to five scenic and touristic spots: Five Dragons Peak, Camel Mountain Range, Yueshan Temple, Stone Figures, and the Ancient cities of Liubang and Xiangyu. You can get the by bus from Zhengzhou Train Station. The ticket costs 30 Yuan.
Henan Provincial Museum (河南省博物馆; Henan sheng bowuguan): This is one of the most important museums in China; it especially focused in ancient civilizations.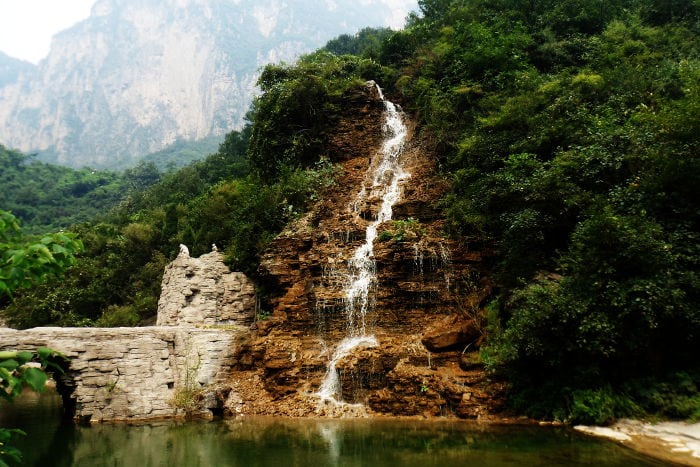 Some random suggestions
Even if Henan isn't a famous destination among international travelers, there are a lot of Chinese tourists that come here. Thus be prepared to find hordes of tourists in the most famous spots such as the Luoyang grottoes, the Yuntai Moutain, or the Shaolin temple.

<

Related to the previous point, most of the cities receive very few foreign tourists and for this reason, many hotels aren't prepared (not even allowed, actually) to host foreigners. Even if many hotels won't care so much as far as you pay, some of them won't allow you to stay. I suggest you book in advance and avoid the unpleasant situation of trying dozens of hotels and being rejected in all of them (I've been there in Zhengzhou and it can be frustrating).
Most of the foreigners that arrive here already live in China and can speak a bit of Chinese, so don't expect to find many people able to speak English.
Despite their reputation, Henan people aren't more dishonest than the average Chinese person. So don't worry, they won't try to cheat you all the time.
Zhengzhou people have a strange sense of distance. If you come here and ask for directions, never trust them when they say "it's only five minutes by walking" because you'll end up walking more than half an hour.
Henan has plenty of local dishes, you should not leave this province without tasting one of the several types of noodles. One of the most famous is the huimian (烩面).
Notice that all the information that you found on this guide comes from my personal experience, the few English sources available (most of them incomplete and with several mistakes), and some Chinese sources. If you've visited this province before, I'd appreciate any comments or suggestions you may have to improve the guide. Also, if you have any questions just ask using the comments section below.
Photo Credits: Photos by Sapore di Cina