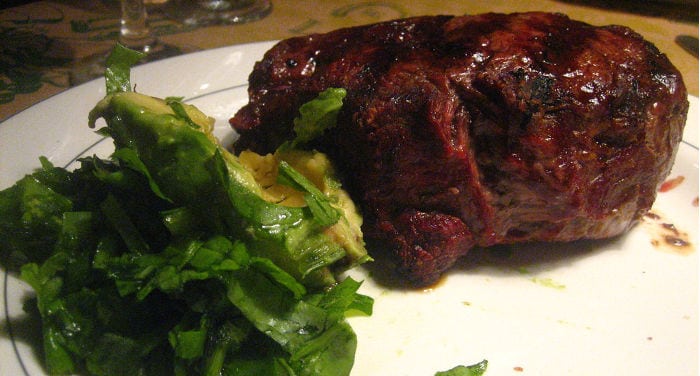 For those visiting Saigon (officially known as Ho Chi Minh City) for the first time, uncovering the city's local food scene can take time, patience and a few dodgy dishes before that ultimate bowl of backstreet pho is found. Unlike Hanoi's tourist-friendly Old Town, Saigon doesn't give up its secrets willingly. With a bit of research, however, the city quickly becomes a food lover's paradise for those seeking the best of the best when it comes to local cuisine. But that's for another day and another article.
A combination of low costs, easy access to high quality ingredients (both imported and locally produced), and relatively little red-tape and bureaucracy when it comes to opening new businesses, Vietnam's southern metropolis has, in recent years, become as much a destination for international cuisine as it has for the local fare.
"I've heard visitors from other parts of the region singing the praises of the abundance, the quality and the authenticity of Saigon's international restaurants compared to cities like Bangkok," says Daniel Gamwell, a Saigon resident, school teacher and self-proclaimed foodie. Indeed, it seems like a month doesn't pass without at least one or two new international restaurants opening up.
In August 2016, Saigon Centre, a downtown shopping mall owned, in part, by Japanese investors, swung open its doors to offer a vast range of eateries never seen before in Vietnam, from century-old Japanese restaurant chains making their first foray into international territories, to Korean table-top barbecue joints and an award-winning pizzeria.
So, when the time comes that you fancy a change to the pho, the noodles and the banh mi sandwiches, here are some of the city's top international eateries:
El Gaucho – Argentinian Steakhouse
74/1 Hai Ba Trung Street, District 1, Ho Chi Minh City
Website
El Gaucho is a Saigon dining institution, known for its vibrant atmosphere and intimate decor, its superb wine selection and, above all, its world-class steaks. Many of El Gaucho's regulars rank its USDA Prime fillet as one of the best in the world. Quality like this doesn't come cheaply, however, although a range of gradings, sizes and cuts allows for some flexibility depending on your budget. At the low end, a 250-gram certified Angus rib eye will set you back VND690,000 (approximately US$30), right up to the USDA fillet priced at VND1,090,000 (approximately $50). For a bigger bite, 1,000 gram cuts are also available. Side dishes are all extra, although with meat this good, a simple portion of French fries (VND80,000 / $3.60) is all you really need to soak up any of those escaping juices.
Robata An Dining – Japanese
15c Le Thanh Ton Street, District 1, Ho Chi Minh City
Website
Having been occupied by the Empire of Japan for much of World War II, Vietnam's relationship with the Land of the Rising Sun runs deep. Today, Saigon is dotted with Japanese-owned businesses and shops, with Family Mart, filled here with many Japanese brands and fast-foods, being one of the most ubiquitous convenience stores in the city. At the top end of Le Thanh Ton Street, from Ton Duc Thang Street to Hai Ba Trung, runs what is commonly known as 'Japan Town', a strip of bars, shops, clubs, restaurants and spas run by and for Ho Chi Minh City's large Japanese expat community. Robata An is one of many izakaya-style establishments on the main strip, although an exploration of the area's many back alleys is also essential during your visit.
Downstairs, find a classic Tokyo-style, low-slung bar overlooking the open kitchen. On the menu, fresh sushi and sashimi platters sit alongside meats and seafood from the grill, plus soba, salads, rice bowls, curries and assorted bar snacks. The menu has brief English translations, however if it all gets too much, the tempura bowl set (VND120,000 / $5.50) is a great (and tasty) place to start, and the number of Japanese diners around you will attest to its quality.
Bunker Bed & Breakfast & Bar – American
1, 79/2/5 Phan Ke Binh Street, Dakao, District 1, Ho Chi Minh City
With so much Vietnamese cuisine available in Los Angeles, it was only a matter of time before the flow of culinary inspiration began to reverse. In the years leading up to and after the Vietnam war, which ended in 1975, thousands of South Vietnamese residents made their way across the Pacific to the USA. Since the early 90s, as Vietnam's political and economic position has stabilised, many have been returning, bringing with them the flavours and cultures of America.
Set at the end of a quiet, typically Saigon alleyway, at the less touristy side of District 1, Bunker has been creating a little oasis of 90s inspired LA lifestyle since opening in the summer of 2016, dispensing top-quality coffees and all-day LA-style breakfasts. Quesadillas, breakfast burritos and pancakes with bacon and maple syrup make this an ideal spot for those feeling the effects of Saigon's nightlife, while local craft beer from Pasteur Street Brewing Company is on hand for those looking to keep the party going as Bunker slips into bar mode come sundown. Accommodation is also available upstairs via airbnb.com.
TnT BBQ – American
3 Dan Trang Con Street, District 1, Ho Chi Minh City
Website
Having started life as a delivery-only service back in 2013, TnT (an acronym of its owners' names) opened its first restaurant two years later in the heart of the city. Along with other similar (and equally popular) establishments like Quan Ut Ut and Jake's BBQ, TnT's 'low and slow' American-style barbecue offerings have proven a hit with Saigon's locals, tourists and expats alike. The Vietnamese have been barbecuing meat for centuries (check out the classic Saigon dish called bun thit nuong as one example), and with the Vietnamese love of US culture (yes, really), it's no surprise that the barbecue boom shows no signs of stopping.
TnT's ribs and pulled pork offerings made them famous way back in 2013, when they'd arrive at your door on the back of a motorbike and wrapped up in steaming hot foil. When a restaurant's dedication to flavour goes as far as shipping the wood they cook on across the Pacific Ocean, you know you're in for a treat. Today, and while any item on the menu will have you in drooling in meat-fuelled rapture, for many, their imported apple wood smoked chicken is the star.
Soul Burger – American
4 Phan Boi Chau Street, District 1, Ho Chi Minh City
Website
Sticking with the American theme, Soul Burger arrived in Saigon in 2015 and, for a time, dominated the Trip Advisor chart for the city's eateries. With a creative American chef at the wheel, its burgers are both authentic and unique, with each patty hand-ground from imported US Choice beef to an exacting recipe and slipped inside a custom-made bun. In addition to this, the toppings here stretch much further than a simple slice of cheese or bacon. Take the 'Diana Ross' burger, for example (VND230,000 / approximately $11), smothered with cognac and mushroom sauce, swiss cheese and grated horseradish. For VND195,000 (approximately $8.80), the 'Little Richard' is a good entry-level choice for newcomers, piled with cheddar cheese, two rashers of crispy bacon, grilled onions and a fried egg. With the vintage soul soundtrack being piped into the cosy dining room, it's enough to make you want to get up onto your chair and sing.
Namo Artisanal Pizza – Italian
74/6 Hai Ba Trung Street, District 1, Ho Chi Minh City
Website
The only way Namo's Neapolitan-style pizzas could get any more authentic is if you slipped one in an envelope and sent it back to Naples. The flour, the tomatoes, the mozzarella, the head chef and even the oven, all have been shipped in from the motherland to create what many are calling the best pizza in Saigon. Situated in the corner of the square behind Saigon's famous French-built opera house, Namo's top-floor bar and dining area is ideal for happy hour drinks as the sun sets, while a stool at the ground-floor kitchen counter area offers the best view of the chefs at work. Pastas, meat dishes and salads are also available, but it's a tough job to overlook the thick, bubbling, crisp-yet-soft pizzas being slid out of the wood-fired oven. Namo's classic Margherita is priced at VND170,000 (approximately $7.70), although their signature offering, named 'The Namo' and priced at aVND340,000 ($15.30), is worth splashing out on for the flavour-packed nduja topping alone.
Au Parc – Middle Eastern
23 Han Thuyen, District 1, Ho Chi Minh City
Website
Moving from Italy around the Mediterranean, Au Parc, conveniently situated just metres from the gates of the famous Reunification Palace, is Saigon's top destination for Middle Eastern fare. With a stunningly decorated dining space, lined with bare bricks and comfortable chairs, comes a menu guaranteed to suit everybody, whether you're in the mood for breakfast or brunch, after-work drinks and tapas nibbles, or a full-blown multi-course feast with a bottle (or two) from their immense wine list. For a lunchtime fill up, sandwiches begin at VND115,000 ($5.20), and for a taste of colonial-era Saigon, check out the French Breakfast (VND95,000 / $4.30), accompanied, of course, by a cup of traditional Vietnamese iced coffee with condensed milk (VND40,000 / $1.90).
The Refinery – European
74 Hai Ba Trung Street, District 1, Ho Chi Minh City
Now the third restaurant on our list at the exact same address, you may have guessed that the huddle of buildings here is a veritable magnet for Saigon's foodies. The Refinery is one of the more famous establishments here. Set in a leafy courtyard away from the main road, this building is, as its name suggest, the former home of Saigon's biggest opium manufacturer. Today, The Refinery serves as a reminder of the historic relationship Vietnam has with France, its former colonial master. Dine inside in the cool of the AC, or go al fresco and take a table beneath the twinkling fairy lights overhead.
The menu is typically continental and executed with finesse and style, featuring classic starters such as French onion soup (VND80,000 / $3.65) and a warm octopus and potato salad (VND165,000 / $7.50), up to main courses like barbecue swordfish with lime (VND250,000 / $11.50). Being a country that hugs the coastline, The Refinery clearly revels in the abundance of seafood available in Vietnam, though its meat and salad options are equally as appealing.
Ganesh – Indian
38 Hai Ba Trung Street, District 1, Ho Chi Minh City
Website
With several top-class Indian restaurants now in residency in downtown Saigon, choosing the best is a source of constant debate for the city's curry lovers. Ganesh, however, gets placed at the top of the list more often than not. Combined with comfortable surroundings and flawless service is a menu of dishes so well crafted, so authentic, you might forget that you're in Vietnam. Even something as simple as a starter serving of chicken tikka (VND98,000 / $4.50) oozes with flavour and moisture. Pair that with a homemade naan bread (from VND44,000 / $2), the assorted complimentary dips and sauces, and a cold glass of Saigon beer (VND32,000 / $1.50), and you have the ultimate affordable feast.
For those travelling Vietnam top-to-bottom, or vica versa, Ganesh restaurants can now be found in Nha Trang, Mui Ne, Phu Quoc, Hue and Hoi An.
Cuba la Casa del Mojito – Cuban
91 Pasteur Street, District 1, Ho Chi Minh City
As a reminder of Vietnam's links to socialist nations both present and past, this cosy enclave of Caribbean communism is the number one place in Saigon to find authentic Cuban food and drink. Now 16,000 kilometres from home, head chef Alexander Moreno Pujadas was spotted working the kitchens of Havana and flown over to Vietnam by la Casa's French owners. With him came a well-crafted array of traditional Cuban recipes such as the classic Cubano sandwich (VND160,000 / $7.25) and a mouth-wateringly tender ropa vieja stew (VND195,000 / $8.80). Out front is the well-stocked bar, brimming with a wide variety of aged Cuban rums, cigars and the best Mojitos in town. The classic blend of rum, sugar and mint goes for just VND100,000 ($4.50), but come during the daily happy hour (4pm – 7pm) and you'll get two for the price of one. Other varieties include passion fruit, watermelon and, if you like a bit of spice, fresh chilli.
After dinner, usually at around 9pm, la Casa regularly features live bands and salsa lessons, so be sure to hang around for the party.
Photo Credits:

Can't go wrong by suzienewshoes