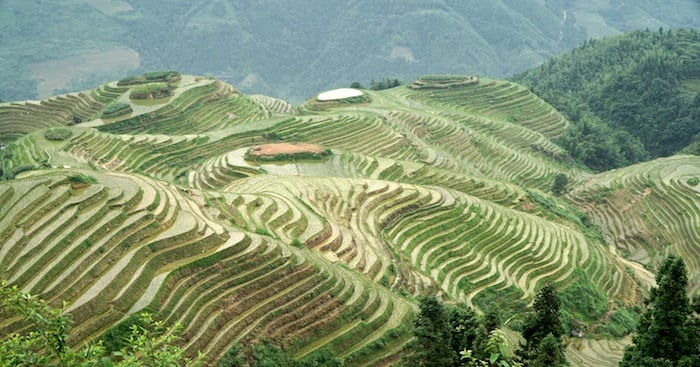 The terraced rice paddies of Longsheng – The photos are all from Matteo Bosi
You already know how to get to Guilin. And if it's still not clear, have a look at this guide. How to avoid swallowing the bait and staying only in this congested city, preferring instead smaller Yangshuo and its surrounds, you will certainly learn it from Furio's (mis)adventures.
Good,so let's talk about what you absolutely shouldn't miss in any trip to the Guanxi region, the terraced rice paddies of the Spine of the Dragon.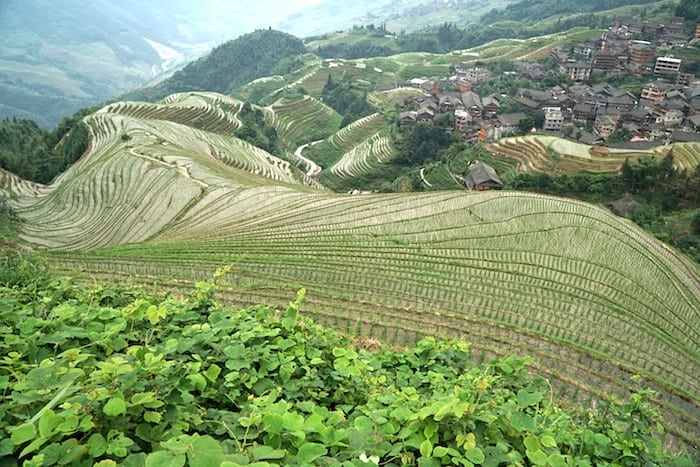 Terraced rice paddies of Ping'An
How much will I spend? How much walking?
Longji Titian (龙脊梯田) is a region 100 kilometers north of Guilin that's become a protected zone for a few years now, for which you need to buy a ticket. The amount is still reasonable if you consider other speculations, like the Tulou of the Fujian region: its 100 Yuan per person which grants permission for the length of stay in the territory of Longsheng 龙胜. With this name it indicates the region of rice paddies that hosts the Yao and Zhuang ethnic minorities as well as the Miao and Dong. If you were thinking of a purely natural tour, forget it, because this is their home, and it is thanks to them that marvels of human engineering such as terraced rice paddies exist.
The hills are about 1000 meters in height and the trails are 99% tiled and largely "staired", or carved into stairs for the ascent. So the hikes are manageable, though perhaps calves that haven't been trained might by effected by the network of stairs. It's necessary to remember that the pavement becomes particularly slippery with rain, even lightly (as my bruises can confirm…).
The region extends for 15-20 kilometers all walkable on foot on these trails, so if you plan to hang around the fields and not just stick to the villages, set out prepared for an excursion. There's the possibility of visiting villages by passing directly from one to the other through the drivable road mainly through valleys (about a half hour by car between Ping'An and Dazhai), and then eventually come out to hang around. That is actually what most tourists do.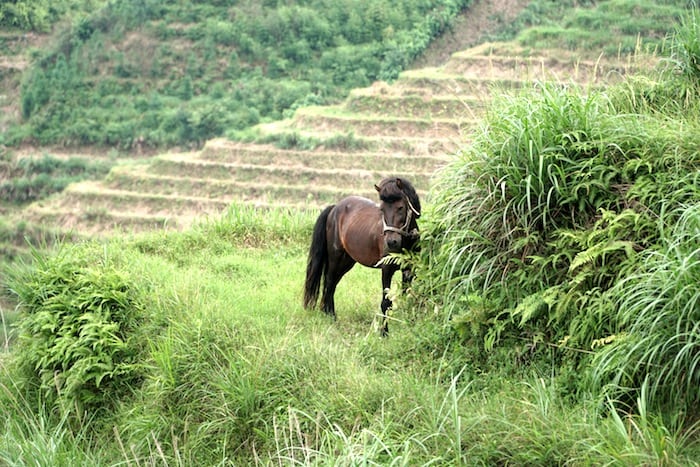 Grazing horse
What is there to see in Longji Titian?
The region of terraces are in turn subduvuded into three big areas: the terraces of Ping'An (ethnic Zhuang) and those of Jinkeng (ethnic Yao). A little beyond the valleys you'll find the villages of Huang Luo and Jinzhu which merit a stop.
The terraces of Ping'An and the contiguous village of Zhuang are the most-visited so the effect of "tourist invasion" is guaranteed. There are hotels, restaurants, shops for all tastes and budgets, so there's no risk of dying from hunger or cold; if you're looking for comfort there are little places that make one think of the cabins in the Italian mountains.
On the other hand the authenticity of the place is about to be lost, in view of the imminent construction of a road that will push deeper into the terraces and on to the small villages (and bringing tourists in droves): to this day the long-haired women of ethnic Yao arrive up to here each day just to try to pawn off industrially produced scarves as handmade. This doesn't mean that you can't find well-made products, but it all blends together easily as convenient mass production. If you travel as part of a tour group, there's the possibility of being victim of long-haired shows and puppet shows created just for business.
Jinkeng is a little less invaded and there's almost the illusion of being immersed in the rhythms of daily life. The two villages that offer structures are Dazhai first of all, and Tiantou, secondly. The views around the two centers are almost perfect, so I recommend you stay here if you want to enjoy this paradise calmly over a a few days. Nevertheless, the same panoramas are also a little less cared-for as soon as you get outside the areas adjacent to tourist centers, so you'll find uncultivated paddies and see the perfection of swaying terraces. It's up to you to decide if it's a natural landscape effect or defect in the post card. In the same way, it's not rare depending on the season or vacation days, to find oneself alone along the road.
From one village to another it's 15 kilometers of walking badly-indicated trails, that requires about five hours. It's not possible to walk these sections lightheartedly without a map or modern GPS, since you'll come across several forks in the road that lead to external observation points. Probably the Dazhai-Ping'An trail is slightly safer. If you feel lost, don't worry because there's always some Yao woman on the road that you can ask, or that will kindly offer to be your guide and accompany you to the nearest town (or her house!).
To verify the trails, if you want to go safely you can download MyTrails, an OpenSource app available for Android. The paths are well-labeled and it has been an essential reference without which we wouldn't have been sure about getting back!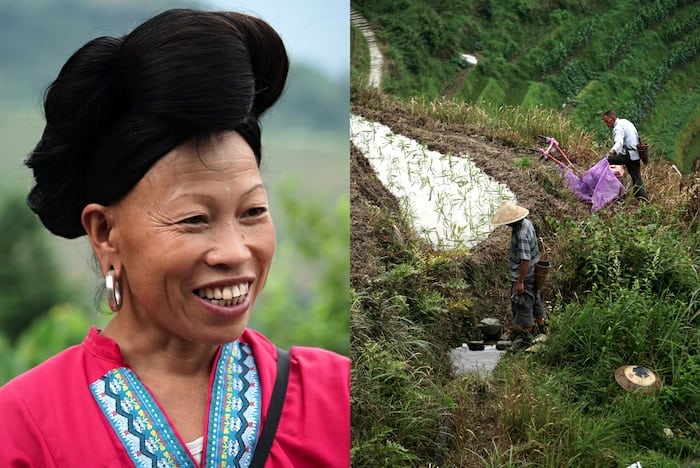 Yao woman and working farmers
When and how to get there?
The cultivation of rice in this region has just one harvest a year. Therefore in planting time the slopes of the mountains are barer because the plants are lower (Spring); the green will go on reviving until September/October, when it gives way to the yellow for the harvest. In winter the area gets snow. Now it's up to you to decide which color you prefer – we opt for green!
Longsheng is served from Guilin, but not as well as you might think. The shuttle bus leaves from the bus station in the morning from 7.30-8.00 and ends before 6, depending on the season, and requires three hours of transit. They arrive at all the entrances of Longsheng and the villages. This is the quickest solution and costs 40 Yuan. Otherwise a more economical solution consists in leaving from the train station toward Heping and switch to the shuttles going directly to Longsheng. It is strongly recommended to book transport in advance, and a hotel in Guilin, Yangshuo, or in Longsheng someone can help you.
The quickest option is by private car: for anyone who wants to visit both sites in a day, it's almost the only way to do it. The hotels and hostels are excellent references for these since they have direct contact with the drivers, although more expensive; a private transport for a day organized by a hotel costs 700-800 Yuan while getting a driver directly you can get down to about 400-500 Yuan.
If you're thinking of getting to the airport directly from the paddies, count on half a day of travel, since there are no direct services and you'll need to go through Guilin station for the shuttle bus.
Practical advice for curious travelers
Personally I am against "ethnic" tourism and reducing these people to show objects. It is a widespread problem in Asia and is a personal choice how to approach them. In Longsheng it isn't possible to completely avoid all of this, but walking the road from Ping'An to Dazhai, where the minority of tourists venture to go, you'll still encounter elderly couples working calmly in the fields, horses left to pasture and above all a silence and fascinating atmosphere. The village of Zhongliu, until the arrival of the new artery that is rapidly advancing, still remains clinging to its silent corner.
If you should return and spend the night in these areas, I would choose Tiantou, which is nestled in a little valley between sweetly profiled hills. Moreover, the paths that wind into the region of Jinkeng, up until Golden Buddha Peak or Music Hill, all merit a contemplative pause and photo stop.
The best way to visit the area is to allow for a break, maybe two days (or a day and a half) staying on top, which allows you to both cross from one area to another, and to wander about the paths leading to panoramic views. But if you don't have the time, the crossing from Ping'An to Dazhai (or viceversa) is doable in a day: in my experience, including breaks for water, food, and photos, the necessary time is 7-8 hours.