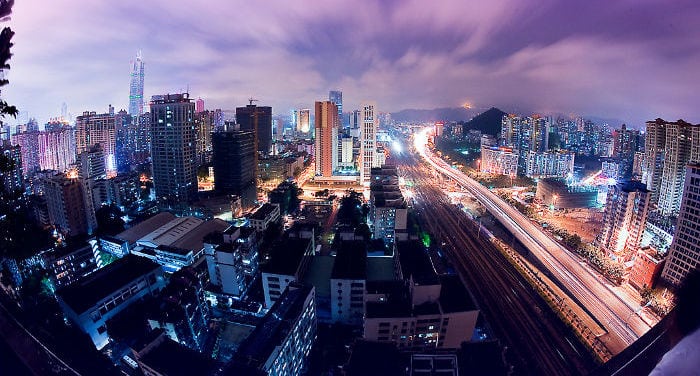 This guide is a collection of resources and practical advice for living in Guangzhou.
The cost of living in Guangzhou
Click here to read our guide on the cost of living in China.
The transportation system in Guangzhou
Airports in Guangzhou
Above all, remember that Guangzhou is one of the cities in which you can request a 72-hour visa extension.
In addition, in this guide you will find our advice for booking domestic and international flights in China.
Guangzhou Baiyun International Airport
Guangzhou's airport Guangzhou Baiyun International Airport, where both domestic and international flights arrive.
It is located 28 kilometers north of the city and the easiest way to get there is by taking subway line 3.
You can also take shuttle buses from various parts of the city, which come every 20-30 minutes, or the buses that come every hour from the majority of outlying cities (Dongguan, Foshan, Zhongshan, Huizhou, Jiangmen, Nanhai, Qingyuan, Shenzhen, Shunde, Taishan, Yunfu, Zhaoqing, Zhuhai y Wuzhou).
Last of all, you can also take a taxi. The trip from downtown should cost a little more than 100 Yuan.
Train stations in Guangzhou
Click here to read our guide to traveling in China by train (and to learn how to book a train ticket online).
In Guangzhou, there are five train stations: the central, east, south, west, and north stations. The three main stations are the following:
Guangzhou Railway Station
Guangzhou Railway Station is located in the Yuexiu district and can be reached by subway lines 2 and 5 (stop: Guangzhou Railway, 广州火车站).
From this station, a large number of bullet trains leave. It links Guangzhou to the main urban center of the country, such as Shenzhen, Beijing, Shanghai, Chengdu, Chongqing, Xi'an, Zhengzhou, and even Lhasa.
Guangzhou East Railway Station
Guangzhou East Railway Station, which is also known as Tianhe Station, is the largest station in the city and is found in the Tianhe district. It can be reached via subway lines 1 and 3 (stop: Guangzhou East Railway Station, 广州东站).
From here leaves the line that connects Guangzhou-Shenzhen-Hong Kong, and therefore, it has an immigration office. In addition, it is the main hub for bullet trains in the city, as well as for K-type trains (normal speed) heading to main urban centers in the north, such as Beijing, Harbin, Changchun, or Shenyang.
Guangzhou South Railway Station
Guangzhou South Railway Station, also known as New Guangzhou Station, is located in the Panyu district, and can be reached via subway line 2 (stop: South Railway Station, 广州南站).
This station is a station for transboarding between the bullet train lines between Guangzhou-Shenzhen-Hong Kong, Guizhou-Guangzhou, Guangzhou-Zhuhai, and Nanning-Guangzhou. In addition, it is the terminus station for the largest bullet train line in the world, that of Beijing-Guangzhou.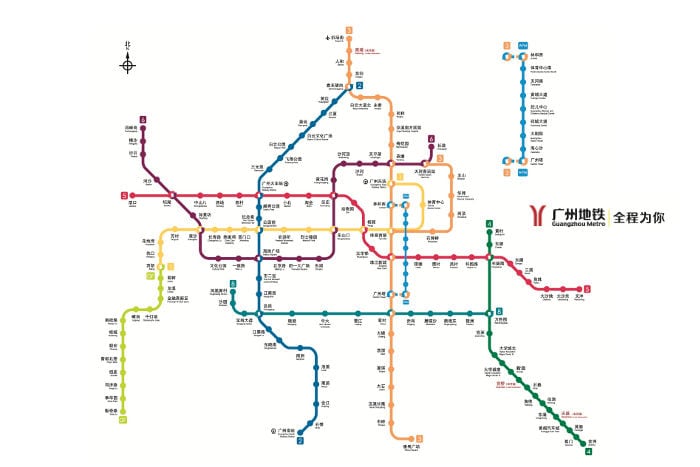 The Guangzhou subway
The Guangzhou subway is one of the most extensive subway systems in the country with nine lines, although it is still growing, and new lines are planned in the following years. Therefore, maps tend to become obsolete quite quickly.
Currently, the official Guangzhou subway website is only available in Chinese, so if you want to check out schedules or ticket prices, the English Wikipedia article is very complete and is up to date.
Here, you can check out an interactive map offered by ExploreMetro.
Guangzhou public transportation card
If you are going to stay in the city (or the area) for more than two days, I suggest that you get a "Yang Cheng Tong card" (羊城通), which you can request and top at almost all subway stations as well as at authorized stories. It is a no-contract card that is re-loadable, similar to the Oyster Card in London, and equivalent to the Octopus Card in Hong Kong.
To get one, you will have to make a deposit of 20 Yuan (that will be returned to you when you hand it in). To top it up, go to one of the subway station service counters (or stores with the Yang Cheng Tong symbol) and give the card to the salesperson along with the quantity you want to reload.
The Yang Cheng Tong card has the advantage of being able to be used not just for public transport in Guangzhou, but also in Hong Kong, Macau, Shenzhen, Foshan, Zhaoqing, Jiangmen, Shanwei, Huizhou, Maoming, Shaoguan, Yunfu, Zhuhai, Heyuan, Yangjiang, Zhanjiang, Meizhou, Qingyuan, Chaozhou, Zhongshan, Shantou, Dongguan.
In addition to the subway and buses, you can also take taxis and ferries.
Buses in Guangzhou
In Guangzhou, there are around 450 bus lines, more than 40 of which circulate during the night (between nine o'clock at night and six o'clock in the morning).
The bus system in Guangzhou is very extensive and is necessary for getting to many places, as the subway doesn't yet cover many parts of the city well. The ticket price varies between 1 and 2 Yuan per trip. Click here to see all bus lines in the city.
Guangzhou's climate
Guangzhou has a subtropical climate. Winters are very mild and are relatively dry, with temperatures that rarely go below 10ºC. Summers, on the other hand, are very hot and humid, with a long monsoon season. In Guangzhou, the monsoon season is from April to September, and torrential rain and typhoons are common.


Statistics by Wikipedia.org.
Where to live in Guangzhou
Guangzhou is the third-largest city in China in terms of population with around 20 million inhabitants (which would double if you take the whole metropolitan area into account), and is one of the ten largest cities in the country in terms of surface area. Because of this, getting around the city can take a lot of time, and it is a good idea to choose where to live based on your priorities.
Historically speaking, Guangzhou has been a city that has been quite open to the world and was one of the first cities in China that opened up to the international market. In addition, its economy is mainly based on the export of manufactured products. Because of all of these reasons, Guangzhou is a quite cosmopolitan and international city and has many areas where ex-pats can live without changing their habits too much.
In addition, the city offers a good variety of education options, including private schools, international schools, and quality public schools, as well as the possibility of finding health care facilities up to international standards.
Below, I describe the districts which are most popular among ex-pats in the city, their advantages, and their drawbacks.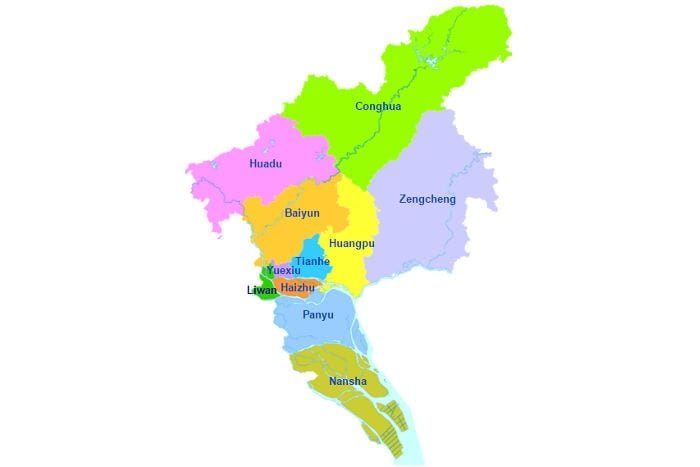 The districts of the city of Guangzhou –

Map of wikipedia.org .
Tianhe district
The Tianhe District is located in the northeastern part of the city, very close to downtown, and is currently the most popular district among ex-pats. Its most popular areas are the following:
Zhujiang New Town: Bordered by the Pearl River on the south and the Huangpu Dajie on the north, this is a very popular and cosmopolitan area filled with skyscraper office buildings, foreign businesses, and restaurants, and grocery stores specialized in imported products, especially in the area close to the Liede residential complex.
The area is constantly being developed, and is mainly a business area, because of which the living conditions and high cost of housing make it not as attractive for living as other areas.
Tianhe Bei: Tianhe Bei is located just above Zhujiang New Town and beside the Tianhe Sporting Center. It is a developed area which has recently been filled with offices, hotels, and restaurants, with better living conditions than in central districts. However, prices are high here.
Ersha Island: Located to the west of Zhujiang New Town, this is a small island is where many foreign consular officials and senior business executives live. This is because it is a very central, peaceful, and pretty area with luxurious villas. In addition, it is very close to the American International School, which is considered one of the best in the city. Obviously, prices here are prohibitive for most people's checkbooks.
Wushan Area: This is an area close to various universities, and is very popular among students due to the closeness of campuses.
Yuexiu district
The Yuexiu district is located in the downtown area, and following Tianhe, is the most popular area of the city among expats, especially the Taojin area, which is located between Huanshi Dong street and Hengfu street.
Taojin is a rather dense area, with numerous heritage buildings and abundant services, such as good restaurants and pretty cafés. Without a doubt, this area has a lot more soul than the sterile new areas in Tianhe. In the past, it was the area where the majority of foreigners were concentrated, because of which real estate agents tend to have experience doing business with foreigners. However, one of the main disadvantages of this area is the lack of decent grocery stores.
Another popular part of the city is the area close to Huanshi Dong street, between the Garden Hotel and the Tianhe Bei area, which was formerly the main business district of the city. Currently, it is an area filled with office buildings, shopping, and high-end nightclubs.
The living conditions in this district can be more complicated for expats than in Tianhe, although they are made up for by the excellent connection with the remainder of the city and somewhat more affordable rent prices.
Liwan district
The central Liwan district is without a doubt the best place for people who want to experience a bit more of what living in a real Chinese city is like, and to enjoy Cantonese culture. Nonetheless, it's not the right place for you if you're looking for peace and quiet.
The most popular areas are close to Hengbao Plaza and the bustling Shangxia shopping street. In addition, the presence of an enormous shopping mall with a grocery store just below the plaza makes it quite convenient for living.
Haizhu District
This district is located to the south of downtown and is currently quite popular among expats, due to its proximity to downtown, and the fact that it is must less populated and quieter than the districts to the north of the river. In addition, its mix of old and new buildings gives it a certain charm.
One of the most popular areas is the one that encircles Binjiang Dong street, where there are numerous buildings offering high-quality housing.
Life in this district is quite convenient, as there exist multiple grocery stores and coffee shops. In addition, the area around Sun Yat-Sen university offers numerous nightlife possibilities for students.
Panyu district
The Panyu District is located in the south of the city and is particularly suited for people who are looking for a more peaceful area in which to live which is cheaper. In addition, its good transportation connection with downtown makes it ideal for people with a lower budget, but who continue to need services that are only present downtown. The most convenient area is without a doubt the Shiqiao area.
Panyu is also ideal for people with higher budgets that want to live in much quieter and more pleasant areas. The Clifford Estates communities are very popular. These are high-end residences with spectacular gardens, a gym, a pool, restaurants, grocery stores, and 24-hour security.
Tourism in Guangzhou
This article only covers the practical aspects of living in the city, so if you're interested in visiting the city as a tourist, below you will find a selection of previous articles on this subject:
The Canton Fair
Each year, Guangzhou organizes the Canton Fair, one of the largest business fairs in the world. This important event is not the topic of this article, but if you're interested, we previously published multiple articles on the subject:
Hospitals and clinics in Guangzhou
Before all else, if you are thinking about traveling or living in Asia without health insurance, you're making a mistake. If you get sick or have an accident, nobody is going to help you unless you can pay for the treatment in cash in advance or it is covered by your insurance. Click here to learn more about insurance for short stays and here if your intent is moving there to live.
International hospitals and clinics in Guangzhou
If you want to avoid having to communicate in Chinese or being attended to in a hospital whose quality and hygiene standards are somewhat debatable, I recommend that you choose an international hospital or clinic. Here is a list (not exhaustive whatsoever):
United Family Guangzhou Clinic
Address: 301, Guangzhou Avenue, 1F Annex, PICC Building, Yuexiu District
Telephone: +862087106060
Guangzhou Can-Am International Medical Center
Address: 368, Huanshi Dong Road, 5/F Garden Tower, Garden Hotel, Yuexiu District
Telephone: +862083866988
Global Doctor Guangzhou Medical Center
Address: 136, Linhe Zhong Road, 1st floor, Building D, Tianyu Garden, Tianhe District
Telephone: +862038906699
Eur Am International Medical Center
Address: 19, Hua Li Lu, 1/F North Tower, Ocean Pearl Building, Tianhe District
Telephone: +862037585328
Local hospitals
At Chinese hospitals, unless it is a private VIP hospital (which is obviously much more expensive), don't expect staff to speak a single word of English or to receive you immediately. You will have to wait in line and communicate in Chinese. Here is a non-exhaustive list of some of the public hospitals that accept foreigners:
Guangzhou No.8 People's Hospital
Address: 627, Dongfeng Road, Yuexiu District
Telephone: +86208383 8688
The First Affiliated Hospital of Guangzhou Medical University
Address: 151, Yanjiang Xi Road, Yuexiu District
Telephone: +862083336797
Guangzhou First Municipal People's Hospital
Address: 602, Renmin Bei Road, Yuexiu District
Telephone: +862081048888
Guangdong General Hospital
Address: 106, Zhongshan 2nd Road, Yuexiu District
Telephone: +862083827812
Fuda Hospital
Address: 91, Jude Zhong Road, Haizhu District
Telephone: +862034471200
Schools and universities in Guangzhou
International, private, and public schools
In China, in terms of education, for kindergarten, primary schools, and secondary schools, there are three options: international schools, private schools, and public schools. As Guangzhou is a large urban center and a large number of foreign families live there, it is possible to find the three types of schooling.
International schools
In Guangzhou, there exists a large number of international schools which include a broad variety of study plans (American, British, French, and Japanese, among others).
International schools have multiple advantages, including teachers with good qualifications and small groups of 10-20 students. The main problem is their high price, which can be around or even greater than 100,000 to 150,000 Yuan per year.
Obviously, this option is only within the reach of people with a large amount of purchasing power or who have a work contract with a Western company that includes schooling for children.
Chinese private schools
Chinese private schools tend to offer programs with particular emphasis on teaching English. Compared to international private schools, they are less expensive. However, they require children to have an advanced level of Mandarin.
Public schools
Public schools tend to be free for Chinese children but come at a price for foreigners, although they are much cheaper than private schools.
Public schools present multiple problems: education is exclusively in Mandarin, the teaching method is the traditional Chinese method (where memorization is the priority to the detriment of creativity), and homework tends to be too demanding for the majority of foreign children. And if that's not enough, the best schools require a demanding selection process and good contacts, despite the fact that classes are very big (around 50 students per class).
Last of all, one of the requirements for being accepted into a Chinese public school is that your child must reside in the area in which the school is located. That has made it so that over time, many families have moved to areas around the best schools, thus increasing the price of rent.
Universities
Below, I list the most well-known universities in Guangzhou:
Sun Yat-Sen University (中山大学, Zhongshan Daxue)
Founded in 1924 by the founder of the Republic of China with the same name, it is one of the most prestigious universities in the country, and certainly tops the list of university rankings in the Guangdong province, even competing with the top universities in Shanghai and Beijing. The main campus of the university is located in the Haizhu district. Among its numerous educational specialties, it is necessary to highlight Sun Yat-Sen Business School (SYSBS), with broad international acknowledgment, as well as its faculty of medicine, with the best network of associated hospitals in China.
Founded in the year 2000 through the merger of multiple education centers in the city. it is one of the best universities in the city and country. Despite being one of the main educational centers in China, this university does not have the same national and international prestige as Sun Yat-Sen University.
South China University of Technology (华南理工大学)
Founded in 1952, South China University of Technology benefits from a privileged location in the Tianhe district. South China University of Technology is one of the most prestigious universities in the country for specialties related to engineering and forms part of the 33 key universities under the Chinese Ministry of Education.
Guangdong University of Foreign Studies (广东外语外贸大学)
This relatively small university founded in 1964 is a leader in Southern China for the study of foreign languages and culture, economics, and world trade. Despite not benefiting from the rankings of its older counterparts in the city, it is without a doubt a leading university for people interested in international business and is a good choice for studying Chinese.
Click here to see the complete list of universities in Guangzhou.
Shopping in Guangzhou
If you want to buy Western brand-name products, you can find numerous grocery stores in the central districts of Tianhe and Yuexiu, and even in the university area of Haizhu, such as Rosie's Pantry, Oliver, Corner's Deli, Store-X Imported Food Mart, Metro or the Tesco chain of stores. Nonetheless, like in all main cities in China, Carrefour is never a bad option, as in it you can find a good selection of imported products at lower prices than in specialized stores. Here you will find a complete list of Carrefour in the city, including addresses and directions to get there.
Below, we list some of the main shopping malls in the city:
Victoria Plaza Guangzhou
Address: 101, Tiyu Xi Road, Tianhe District
Laperle Plaza Guangzhou
Address: 367, Huanshi Dong Road, Yuexiu District
The Friendship Store Guangzhou
Address: 228, Tianhe Road, Tianhe District
Zhong Hua Plaza Guangzhou
Address: 33, Zhongshan San Road, Yuexiu District
Grandview Mall Guangzhou
Address: 228, Tianhe Road, Tianhe District
Hours of operation: 10:00 – 22:00
Useful addresses and phone numbers in Guangzhou
General consulates in Guangzhou
If you lose your passport, you need to renew it, or you need to go to your consulate while in China, here is a list of the main consulates:
Consulate of the United States
Address: 43, Huajiu Road, Tianhe District
Telephone: +862038145000
Website: https://china.usembassy-china.org.cn/embassy-consulates/guangzhou/
Consulate of the UK
Address: 5, Zhujiang Xi Road, 22/F Guangzhou International Finance Centre, Tianhe
Telephone: +862083143000
Website: https://www.gov.uk/government/world/organisations/british-consulate-general-guangzhou/office/british-consulate-general-guangzhou
Hours of operation: Monday to Friday 9 am to 12.30 pm and 1.30 pm to 5 pm
Consulate of Canada
Address: 1 Liuhua Road, Suite 801, China Hotel Office Tower, Yuexiu District
Liu Hua Lu
Telephone: +862086116100
Website: http://www.canadainternational.gc.ca/china-chine/offices-bureaux/guangzhou/index.aspx?lang=eng
Hours of operation: Monday to Thursday 0 8:30 am to 12:00 pm and 1:00 pm to 5:00 pm
Friday 8:30 am to 12:00 pm and 1:00 pm to 2:30 pm
Consulate of Australia
Address: 3, Linjiang Avenue, Tianhe District
Telephone: +862029106150
Website: http://china.embassy.gov.au/
Hours of operation: Monday to Friday 8:30 am to 17:00 pm
Consulate of Germany
Address: 208, Tianhe Road, 14 Floor, Teem Tower, Tianhe District
Telephone: +862083130000
Website: https://china.diplo.de/cn-de/vertretungen/gk-kanton
Consulate of France
Address:339, Huanshi Dong Road, Guangdong International Building- Main Tower Room 810, Yuexiu District
Telephone: +862028292000
Website: http://www.ambafrance-cn.org/-Consulat-Canton-
Hours of operation: Monday to Friday form 9:00am to 12:00am and from 2:30pm to 4:30pmyo09h00 à 12h00 et de 14h30
Entry and Exit Administration Office of the Guangzhou Public Security Bureau
To extend your visa or renew your residency permit, you will have to go to the Entry and Exit Administration Office of the Guangzhou Public Security Bureau:
Address: 155, Jiefang Nan Road, 6/F, Liwan District
Website: https://www.gdzwfw.gov.cn/
Telephone: +8683111895
Hours of operation: From 9:00 to 12:00 and from 13:00 to 17:00
Guangzhou Entry-Exit Inspection and Quarantine Bureau
To convert your work visa or student visa into a residency permit, you will have to undergo a medical examination at the Guangzhou Entry-Exit Inspection and Quarantine Bureau:
Address: 66, Huacheng Avenue, Tianhe District
Telephone: +8602038290753
Public Security Bureau
To register your address (this is a requirement unless you live in a hotel), you will have to go to the Public Security Bureau or to the local police station in your neighborhood (ask for the address from your landlord or from the agency that rented you the house or apartment).
Forums and directories for Guangzhou
Life of Guangzhou
A very complete website and a mixture of blog, classifieds directory, and forum.
This website is quite useful because of its list of places for expats to go during their free time, although it has many more sections.
Internations is an excellent website for people who want to meet others with similar interests, sign up for events to meet other expats living in the city, or to find information and advice.
MeetUp is a perfect website for people who are looking for others with similar interests, from rock climbing to wine, vegetarian food, and even Chinese literature.
Frequently asked questions
What language is spoken in Guangzhou?
Mandarin is the official language and spoken by most people in Guangzhou. At the same time, Cantonese is widely spoken among locals, as
Guangzhou is a part of the Guangdong province
. You'll hear Cantonese pretty much everywhere, like in restaurants, shops, and local markets.
Do they speak English in Guangzhou?
It's not easy to get around just speaking English. Sure, you might come across younger educated people or staff in hotels who speak English.
Still, you'll not be able to speak English with taxi drivers, in local restaurants, at supermarkets, and more. My personal experience is that it can even be difficult to get around with English in Hong Kong from time to time.
How to pronounce Guangzhou in mandarin?
English speakers can pronounce Guangzhou (Guǎngzhōu, 广州) as "gwang joe". According to Google translate, it can be pronounced as gwäNGˈjō.
How big is Guangzhou?
The urban area of Guangzhou is 3,843 km² and the population is more than 13 million. By comparison, Shanghai has an urban land area of 4,000 km² and more than 26 million inhabitants. Beijing, on the other hand, has a land area of 4,144 km² and more than 20 million inhabitants.
What's the zip code in Guangzhou?
The area code of Guangzhou is 20 and the zip codes are as follows for each district/city:
Liwan District: 510000
Tainhe District: 510000
Panyu District: 511400
Luogang District: 510000
Yuexiu District: 510000
Baiyun District: 510000
Huadu District: 510800
Zencheng City: 511300
Haizhu District : 510000
Huangpu District: 510700
Nansha District: 511400
Conghua City: 510900
Is Guangzhou safe?
Guangzhou is
generally safe
compared to other cities of a similar size in Asia.
Violence towards foreigners is rare and mostly happens in bars and nightclubs. People do encounter pickpockets and purse snatchers in crowded places from time to time. Counterfeit money is also a common problem, so learn how to distinguish counterfeit bills. Violence, robberies, and harassment towards women are also very rare.
Is Guangzhou in mainland China?
Yes, Guangzhou is the capital city of Guangdong, one of the biggest provinces in mainland China.
Is Guangzhou a tier 1 city?
Yes. Being the third biggest city in China, Guangzhou is one of China's tier 1 cities. The tier 1 cities in China are Beijing, Guangzhou, Shanghai, Shenzhen, and Tianjin.
Is Guangzhou polluted?
Despite having much manufacturing and traffic, the
air quality in Guangzhou
is fairly good and considered "Moderate" by the US consulate.
At the moment I'm writing this article, the PM2.5 is 65 micrograms in Guangzhou while Shanghai has a PM2.5 of more than 160. Beijing, on the other hand, has even higher levels than Shanghai. To summarize: Guangzhou is less polluted than Shanghai and Beijing and has a similar air quality as Shenzhen.
Can I drink the tap water in Guangzhou?
You cannot drink the tap water in Guangzhou, or in any other cities in China for that matter. But, you can take showers, wash fruits and vegetables, and brush your teeth with tap water.
Don't be scared if you accidentally drink some tap water, in a worst-case scenario, you might just end up with a bad stomach. I know a friend who drank a whole glass of tap water and nothing happened. It's recommended to not boil and drink the tap water (when drinking tea, for example) over long periods of time as it can contain harmful substances that remain after the water is boiled.
Is Guangzhou near Hong Kong?
Yes, Guangzhou is very close to Hong Kong. As mentioned above, you can reach Hong Kong by train and it won't take you more than 2 hours.
Does it snow in Guangzhou?
Guangzhou is on the same latitude as Shenzhen and Hong Kong and you won't experience any snow. In fact, there's been no snow in Guangzhou for the past 100 years.
How cold does it get in Guangzhou?
Temperatures drop to around 10 degrees Celsius in January on average, which is the coldest month. For more information about the weather and climate in Guangzhou, you can check the section "Guangzhou's climate" above.
Photo Credits:

Guangzhou night by Wallace Lan