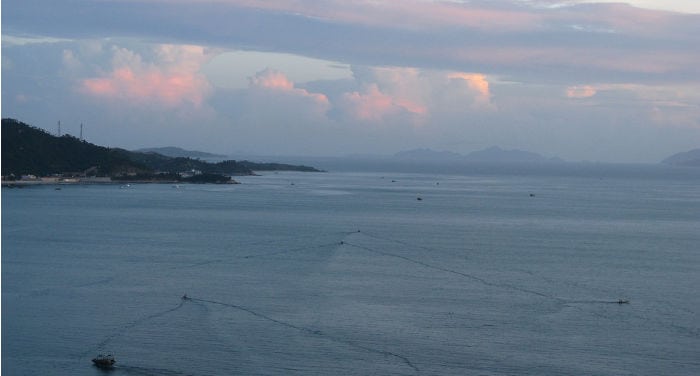 There are choice benefits to residing or exploring the Guangdong province of southwestern China.
It could be the fool-proof access to Hong Kong and Macau territories, the subtropical climate, or the pleasures of metropolises such as Guangzhou and Shenzhen. However, those common reasons are weakened after experiencing the beauty of Huizhou.
Nestled along the coast of South China Sea this beach city is neighbor to Hong Kong and Shenzhen. With daily access via train and bus from Guangzhou, Shenzhen and Hong Kong there's no reason to not visit this haven.
How to get to Huizhou
The bus is the most efficient and direct way to travel to Huizhou. If you're leaving from major cities such as Shenzhen, Hong Kong, or Guangzhou, there are charters located throughout the city. If in Shenzhen or Hong Kong, there's slight advantage with many daily charters available at the Shenzhen Airport, Hung Hom Hong Kong train station and local hotels throughout the city.
If leaving from Guangzhou, there are travel agencies can that book accommodation and travel to Huizhou, with picks up at two major locations to ease travel difficulties.
You can also reach Huizhou by train. There are two train stations in the city: Huizhou Railway and Huizhou South Railway. These train stations don't put you beachside but they are only 45-min drive away from from your waterfront getaway. However, let's say if you want to stay in the city-center, then the train is for you.
It'll put you around many hotels and will you open to exploring the near forest parks or heading to the waterfront. Huizhou South would be the better choice for travellers on a time crunch because it's the closest proximity to the beach.
When to go to Huizhou
Huizhou being located in Southern China makes year round travel possible.The temperatures will always be hot to moderate. July to September is the rainy season so avoid this if possible. However, it's recommended to go spring or summer seasons and on a weekday.
Visiting this place on weekdays can make for a more pleasurable experience. The weekends are a little packed with those escaping the vast cities and heat, whereas the weekdays leave room and peace for those looking to enjoy the views. Simply put: weekdays travel for those looking to feel like a tech-tycoon on a private tropical beach… but in China.
Where to stay in Huizhou
Blue, beautiful and clean. That's Xunliao Bay in a nutshell. It's the main tourist location and offers plenty of accommodations such as the Sheraton, the Sea-Prince Resort and other locally owned hotels. In the Xunliao Bay area, firsthand experience goes to the Sea-Prince Resort & Conference Center.
This hotel sits on a massive private beach and gives some amazing views whether you're in the hotel itself or on the clean, white beach looking out on the horizon. If a breakfast buffet or infinity pool aren't enticing enough for you, then the stretches of beach on the bay provide plenty of space to enjoy, tanning, jet-skis, swimming or impromptu photo shoots. Xunliao Bay is popular enough that there's even delivery service available for those too lazy to leaved the beach.
Another good choice for stay would have to be the Le Meridien Xiaojing Bay Hotel. It's a modern hotel along the beaches of Huizhou. It's crisp and elegant for the travellers looking to keep their Shenzhen and Hong Kong lifestyle while on vacation. The grounds include a breathtaking pool at the waterfront making it easy to pool and seaside simultaneously.
The staff here is even ready for English speaking travellers, making it efficient and enjoyable for foreigners visiting the area. Along this the beachfront of this hotel you can even find boats for hire to take you sightseeing along the bay.
Click here to check out the best hotels in Huizhou.
What to see and do in Huizhou
If you've made this far in the guide then it should be clear that the main attraction in Huizhou is its waterfront and beaches. Xunliao Bay is the place to be and can safest a multitude of people. For the lovers, there's opportunity for sunsets and strolls along the beach.
For families, there's safe and clean beaches equipped with picnic tables and umbrellas for a beach day. For funseekers, if along the beach you'll inflatables ready to ride waves, jet-skis for rental, and amazing swimming areas to cool off in. For the daring folks, I recommended heading to the beach after sunset and purchasing some fireworks for one of the local vendors.
For less than 200 Yuan you can purchase fireworks for personal use. These aren't just your average sparklers but something comparable to something you'd see at Victoria Harbor. Just keep safe and lookup in appreciation to something only the countryside can offer.
While in Huizhou you have to satisfy your tastebuds. Being off the coast of the South China Sea, the freshest seafood is available to your delight. There are endless, and I mean endless seafood restaurants serving up Cantonese style seafood and some interesting ways to utilize the fruits of the sea. The go-to has to be the crab and oyster dishes, seeing the ocean as you eat fresh seafood only enhances the taste and experience.
Let's say you tire of the beach and its blue glory, there's Nankun Mountain and Luofu Mountain. Nankun is located in Longmen county and boasts some fresh air and vast greenery for those feeling bogged down by pollution. There's resorts and even airbnb's available if you want to stay elevated. Luofu Mountain is the go-to for mountain lovers. It's known as a "heavenly grotto" putting it in China's top 10 mountains.
There's waterfalls and serene escapes throughout the landscapes and plenty of Taoism influences can be found here. Baishuimen waterfall is the biggest waterfall in the Guangdong province, so make sure to add it to your list while visiting Luofu mountain to top off a "heavenly" experience.
Everything above is greater starter kit to your Huizhou adventure. This city is more nature than urban to say the least. It's suited for those used to the hustle and bustle of China's mega cities and smog-ridden air. I spent some time here after weeks of the rising Guangzhou heat and appreciated the kind people, breathtaking views and clean air to reset myself.
When a fellow teacher told me to hop on a bus with her to a beach town a couple hours away, I never knew what to expect. I can say that I wasn't disappointed.
Photo Credits:

Huizhou by Neo Kwong Ming