>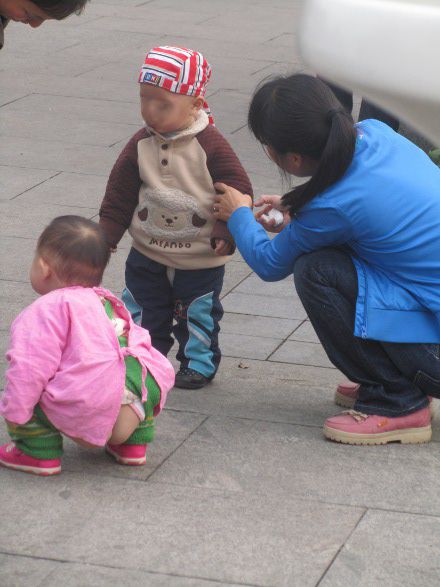 How to pee on the street…
The daily savageries
Where do I start from?
The Beijiners that every summer wander with the t-shirt rolled-up on the stomach to get some fresh air; the Qingdao people puking in Pijiu Jie (Beer Street); the hygiene (?!) of the restaurants kitchens among the draining of dirty waters, garbage of epic dimension and fishes beheaded on the wet floor; the loud spits, so popular all over the Middle Kingdom; the parents that push the little children to pee on the sidewalks; the free burps at office or the followers of Schwarzenegger that arrive at the gym without t-shirt and let a ring of sweat on each bench?
The traffic
In Beijing even the taxi drivers get lost. Then they scream:
"Zai nar, zai naaar!" Where, wheeeere! And you can only shake your hear and think "Why am I living here?" After three phone calls to the central and a far-sighted glance at the map, they seem to understand where they are but, just to be safe, they reach anyway the third ring. The result is always the same: taxis till you can see, traffic that moves slower than a lame turtle and thousands of horns and curses that compose Beijing's soundtrack.
And if you are a pedestrian, forget it. The priorities go like that: Tractor-trailer beats Truck. Truck beats Bus. Bus beats car. Car beats Motor Scooter. Motor Scooter beats Tricycle Full of Bean Boxes. Tricycle Full of Bean Boxes beats Bike. Bike beats Fat and Sweaty Pedestrian. Fat and Sweaty Pedestrian beats me…
When the average Chinese driver sees you in the middle of the street, he accelerates, honks and points towards you… moving target.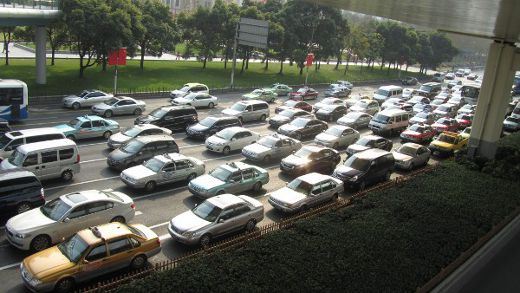 Jan An Road, Shanghai, on Saturday afternoon.
The pollution
When you breath Beijing's air for the first time, you ask yourself whether it was the right choice to sign a job contract for that famous multinational. And it does not matter whether you spend all your money on Marlboro red or your lungs are still virgin: after a couple of months you will get the smokers cough anyway.
Three days after I landed I bought a couple of running shoes for 100 kuai. I thought it was a great deal, but after twenty minutes of outdoor training my lungs were burning and my knees were completely fucked up by the cheap sole.
When I left Beijing, the situation improved a bit but if you like vegetables and you take the train to Shanghai, make you a favor and do not look outside: the countryside is dying, the vegetables almost gray.
When I was living in Europe, I used to feel guilty when I was eating French fries for two days in a row – I'm a frustrated health fanatic, – here in China I feel guilty when a eat more than half lettuce per day.
The lack of privacy
Maybe it's because Chinese people are a lot. Or maybe because the right to privacy is, as the welfare, an European concept destined to sink into oblivion. Anyway, when you arrive from Europe, you feel naked. Intellectually, I mean.
The experience starts already in the plane, where Chinese feel free to peek at the screen of your laptop. To stare at them does not work, they are too busy decoding the documents you are working at. There are many situations that make you think the idea of "privacy" in China is something different from what we intend. An example? Once I went to hospital to make the blood tests and I reach a little front office, the one where you usually pay the fee or ask for information.
However, the girl at the window got a needle, took my arm and filled three vials of my blood right there, in front of a line of people looking at the white devil.
The hairdressers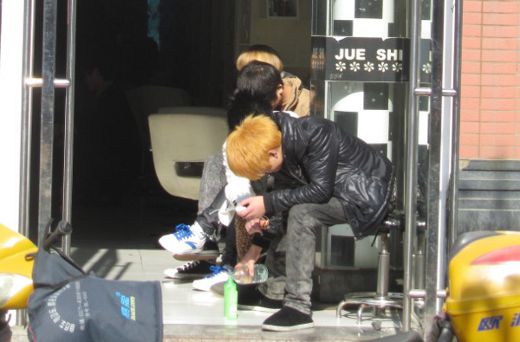 Chinese hairdresser.
All male. Terrible. You can tell them whatever you want, bring Yao Ming as an interpreter or show them that pic where your hairstyle look so cool.
Invariably, they will try to shape your hairs as Jacky Chan, a style they are really proud of! Don't try to argue, it does not work. They get all emotional and cut you a hear off. Finally, to close your shirt while you are cutting my hair seems too much, right?