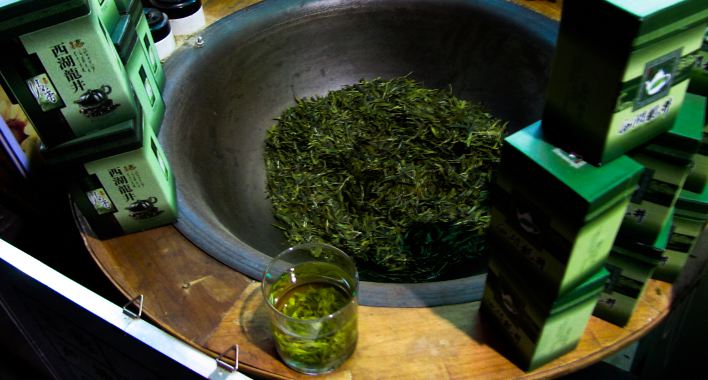 The 7 Classes of Chinese Tea – Index
"Rather go without salt for three days than without tea for a single day," Chinese Proverb.
I'm in love with Chinese tea. I drink it every day and every time I come back to Europe I bring some nice tea packages to my family and friends. Most important, I buy a ton of tea for myself.
My favorite Chinese tea is the Long Jing, the green tea produced close to the West Lake of Hangzhou. I also like flower tea and Pu'er, the fermented tea from Yunnan Province.
If you do a quick search on the internet you'll find a lot of information about Chinese tea.
I decided to limit this first article about Chinese tea to two topics that I find interesting: the different classes of Chinese tea and the most famous tea brands of China (for each class of tea there are many different brands, for instance you have the Long Jing green tea from Hangzhou, the Bi Luo Chun green tea from Tai Hu and so on).
The different classes of Chinese tea
Chinese Green Tea
The green tea is the most natural, within the Chinese teas. It's dried as soon as it's picked from the field and then fried. This process blocks the activity of the leaf enzymes that otherwise would alter the composition and the properties of the tea leaves.
It has been proven that regularly drinking green tea can prevent cardiovascular diseases, obesity, cancers and diabetes.
Even if it's much healthier than coffee and black tea, many people find it difficult to switch from these products, way more common in the West, to green tea, which has a very different taste.
In my opinion it's just a matter of habits and, once you make the switch, you will probably enjoy green tea much more than black coffee.
Chinese Oolong Tea
Oolong tea is semi-fermented (or semi-oxidized) and, in this sense, stands between green and black tea. The leaves of oolong tea are usually green on the middle and become red at the edge. The change on the leaves' color is caused by the fact that this tea is fried, rolled and roasted.
Even if its taste is pretty mild, you shouldn't drink too much oolong tea because it's stronger than it seems!
Chinese Black Tea
Black tea, which is called "Red tea" in China, is dried, oxidized and then roasted. It's more oxidized than white, green and oolong teas. It has a stronger flavor and, generally speaking, contains more caffeine than any other class of tea.
While green tea loses its flavor within a year, the flavor of the black tea can last several years. This is the main reason for which it has been traded to Europe since centuries.
Chinese White Tea
White Chinese tea undergoes a similar process than green tea. Since it retains its anti-oxidation properties it's considered one of the healthiest varieties of tea.
The white color comes from the hairs on the unopened buds of the tea plant.
Even if the tradition of white tea production is very old, this variety is quite rare and in the past only the emperor and is crew could enjoy it.
Chinese Yellow Tea
The process to obtain the yellow tea is similar to the one used for the green and the white tea. The difference lies on the fact that the tea leaves are let drying for a longer time so that they become yellow. It's a slightly oxidized tea. According to some experts yellow tea may be more beneficial than green tea.
Chinese Flower Tea
This variety of tea may be subdivided into flower and scented tea. Flower tea only involves dried flowers such as chrysanthemum, hibiscus, jasmine, lily and globe amaranth. Scented tea consists of a bundle of tea leaves wrapped around one or more dried flowers.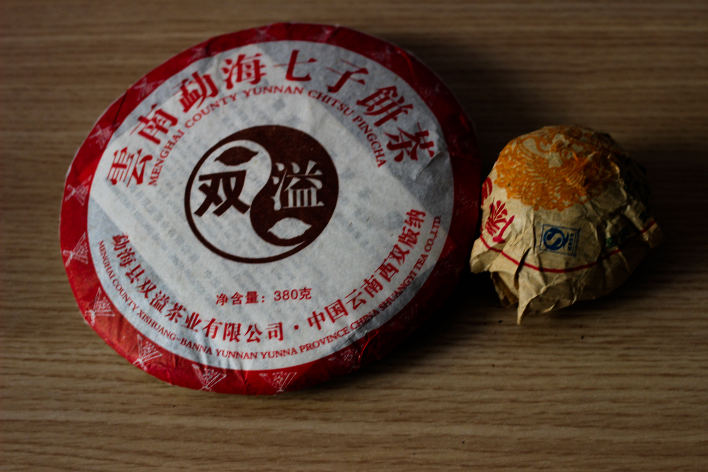 Pu'er Tea
Pu'er Tea (also spelled as Pu-erh)
The pu'er tea is a variety of oxidized and fermented tea produced in Yunnan province. The leaves undergoes fermentation after being dried and rolled. The pu'er tea is pressed and sold in confections that remember a bun or a small cake.
This variety of tea should be stored at contact with the air so that the fermentation process can continue. As for good wine, the value of pu'er tea goes up with the time.
Even if it's often classified as a black tea, being so characteristic pu'er deserves a category on its own.
Note that the difference between "oxidation" and "fermentation" is that, while the oxidation is a spontaneous chemical reaction, the fermentation is catalyzed by microorganisms.
The 10 most famous Chinese tea
Do you want to know more? Click here to check out the Chinese teas that we recommend.
Where to buy Chinese tea
Finding quality Chinese tea for a reasonable price isn't easy. After buying from several e-Commerces, I found that Teavivre is one of the best because it offers a large range of Chinese teas (including organic tea) that come directly from China, at a reasonable price.
Frequently asked questions
What Chinese tea is good for health?
It's proven that Chinese teas have a number of health benefits, each with unique features.
Green tea
has plenty of nutrients and antioxidants, which also helps you relax and to become more focused.
Other benefits of drinking green tea is that you can lose weight, get improved brain function, and reduce the risk of getting cancer. Not to forget, Chinese teas can prevent people from getting a number of other diseases, like Alzheimer and heart diseases.
What Chinese tea is good for weight loss?
Green teas such as Oolong tea and Pu Erh tea are proven to help with weight loss. The teas help you to feel more energetic and to improve metabolism.
What are the benefits of Pu Erh tea?
Pu Erh is outspoken to increase energy, improve metabolism, cleanses toxins, prevent cancer, protect bone health and increase weight loss. These are just examples and there are more benefits of drinking Pu Erh tea.
Which Chinese tea has the least caffeine?
Below you'll find a list with the different kinds of tea and the amount of caffeine for each:
Black tea: 40 – 60 mg / cup
White tea (e.g. Jasmine): 10 – 15 mg / cup
Green tea: 23 – 35 mg / cup
Oolong tea: 30 – 50 mg / cup
Pu Erh tea: 30 – 40 mg / cup
By comparison, a cup of brewed coffee has around 150 mg of caffeine.
What is Longjing tea (Dragon tea) good for?
Longjing tea has a number of health benefits as it contains among the highest amounts of antioxidants. Some of the most well-known benefits of drinking Longjing tea are: Weight loss, it's calming, reduces the risk of cancer and protects your heart. In addition, the tea has fluoride and minerals that help you to reduce dental plaque on your teeth!
Can Jasmine tea help you sleep?
Jasmine tea can help you sleep as it has some soothing and relaxing features. Yet, Jasmine tea is a white tea and contains a bit of caffeine. As such, it can be better to drink Chamomile tea or Rooibos tea, for example, that don't contain any caffeine.
Is Jasmine Tea Good for anxiety?
Yes, Jasmine makes you more relaxed and slow down cells that cause aging. You can relieve anxiety, depression and stress by drinking Jasmine tea. If you suffer from anxiety, switching from coffee to Jasmine can be a good choice.
Can I drink Chinese tea every day?
Yes, you can drink most of the Chinese teas mentioned above every day. Just be careful with the black tea and Oolong tea that contain higher levels of caffeine.
Is Chinese tea safe during pregnancy?
You should avoid drinking black tea and green tea if you're pregnant, or if you want to become pregnant. The reason is that these teas affect the folate levels, also, caffeine is not really good for your child.
What is the most expensive Chinese tea?
Da Hong Pao tea comes from the ancient Chinese Da Hong Pao bushes and is some of the most expensive teas in the world. A wealthy buyer bought as little as 20 g of Da Hong Pao tea in 2002 and paid almost 28,000 US dollars. That's 1,400 US dollars per gram.