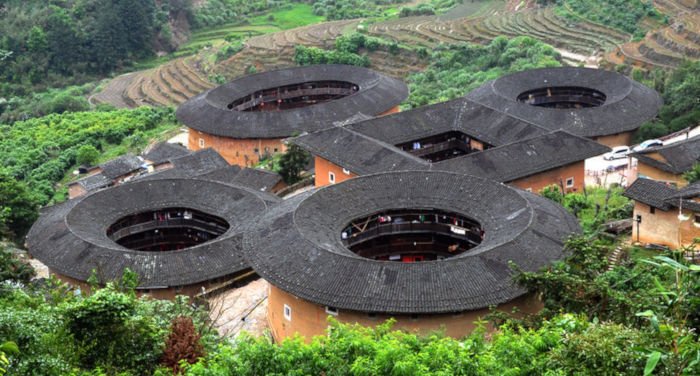 Located in Southeastern China, Fujian is an old province with many historical cities and villages. It has played an important role throughout China's history and is one of the cities that Marco Polo visited during his voyage to China.
It has plenty of UNESCO World Heritage sites, mountains, lakes, beaches, and islands. It's also famous for its cuisine, which is one of the 8 Great Cuisines in China. Simply put, I recommend you pay a visit to Fujian if you have the time while traveling in China.
In this article, you'll learn how you can get to Fujian, the best time to go there, where you should go, about some of its famous dishes, and more. Let's start and review a summary of the province.
Key Information
Chinese Name: 福建
Location: Southeastern China
Provincial capital: Fuzhou
Area: Around 121,400 square kilometers
Population: Around 38.5 million
Ethnic groups: Han (98%), She, Hui
Famous cities: Xiamen, Fuzhou, Quanzhou, Zhangzhou
Borders to: Zhejiang, Jiangxi, Guangdong
Why you should travel to Fujian
Located along the Southeastern coastline in China, Fujian is the ancestral home to many overseas Chinese (especially in Southeast Asia). It's the starting point of the "maritime Silk Road" and an old province with evidence that people inhabited the area more than 5,000 years ago.
Fujian is mainly popular thanks to its many vast green landscapes (more than 60% of the province is covered by forests), mountains, and islands. It also has plenty of history, relics, statues, museums, and a distinct local culture.
The weather is comfortable all year round as it's neither too hot or cold, which can be problematic when traveling towards the North. Many travelers are also drawn to Fujian's cuisine, if you're a seafood lover, then Fujian is definitely a place you should visit while in China.
As mentioned, Fujian cuisine is one of China's 8 Great Cuisines, which speaks for itself.
How to get to Fujian?
Travelers often land in one of the bigger cities in China, such as Shanghai or Beijing, and later continue their journey to Fujian. The main reason is that it's cheaper to fly there and many want to see the metropolises, before going to other provinces.
You can also reach Fujian directly from overseas by flying to cities like Xiamen, Fuzhou, and Quanzhou. Xiamen is probably the most popular city, offering some of the most competitive flight rates.
If you want to reach Fujian by a domestic flight you'll most likely land at one of its five main airports, including:
Gaoqi International Airport (Xiamen)
Changle Airport (Fuzhou)
Jinjiang International Airport (Quanzhou)
GuanZhaiShan Airport (Longyan)
WuyiShan Airport (Nanping)
Having said that, some travelers prefer going by train as this will save you costs and is an experience of its own. You'll see more of China's beautiful nature and interact with Chinese and foreign travelers during the ride.
You can take trains from Beijing to Fuzhou, Gutian, Longyan, Xiamen, for example. There are plenty of train lines reaching Fujian from the major cities in China. There are around 30 trains reaching Fuzhou from Shanghai and where 28 are high-speed trains.
It normally takes 4.5 to 5 hours and costs around 300 – 400 RMB to go by high-speed train from Shanghai to Fuzhou.
What's the best time to visit Fujian?
Fujian offers good weather all year round, but it's best to visit the province during the Autumn and Winter. There are fewer domestic tourists in Fujian during this time, which is preferable for a relaxed experience and to avoid spending an excessive amount of time queuing.
During the Spring, you'll experience more rainfall and the Summer months are fairly hot, averaging between 24 to 28 degrees Celsius. Having said that, Fujian is a great place to visit during any time of the year. Just be prepared to pack accordingly.
Accommodations in Fujian
Fujian is a comparable popular province for travelers, especially the city of Xiamen, which is renowned for its beaches and nice weather. If you look for accommodation in Fujian, I recommend you check Agoda, Trip, and Booking.
These websites have plenty of options and discounts and are some of the most widely used in the world. Below I've summarized some of the pros and cons for each one of them.
Agoda
Agoda is the is my recommended option if you look for hotels and hostels in Asia. The website is easy to navigate and you can find plenty of options with good discounts with just a click. Agoda is famous for collaborating with many hotels and hostels. One disadvantage of using the website is that you sometimes have difficulties finding accommodation in remote areas.
Booking
Booking and Agoda are both subsidiaries of Booking Holdings, a multinational company with 24,500 employees in total. Thus, Booking and Agoda bring some similarities. Booking.com is one of the biggest hotel-booking websites in the world, but doesn't offer as many options as Agoda in Asia.
Trip
Trip is a major hotel-booking site and online-travel agency in China. In addition to hotels, you can book flights, cars, trains, and tours on the website. Trip has the biggest coverage in China among the three and focuses much on the domestic market. Thus, you sometimes come across hotels that don't accept foreign travelers as they don't have the necessary permits.
What makes Trip popular is its beautiful layout, acceptance of payments via non-Chinese banks. Besides, the website is available in English.
Hotel prices in Fujian
According to Booking.com, 3-star hotels cost 69 USD per night on average in Fujian. Thus, it's comparably expensive to many cities in Southeast Asia. If you want a more luxurious experience, you can go to a 5-star hotel which will set you back 109 USD per night on average.
If you're on a strict budget or just want to save money, you can opt-in for a hostel. Hostel nights cost as little as 20 USD and it's also more social, as you'll come across other travelers.
What to see in Fujian?
Fujian is a relaxed port city with a handful of cities that are worth visiting. Below I've listed our top-picks and with more detailed information about local or nearby attractions in these cities.
Xiamen
Xiamen is one of the biggest cities in Fujian province with many historical sites, it's becoming an increasingly popular location for weekend-getaways and holidays among the Chinese.
The city has a long beautiful shoreline, tasty food, European style houses, and a unique cultural heritage.
Gulangyu Island
Gulangyu is a UNESCO World Heritage site and no cars or bicycles are allowed on the island. It's one of the most visited tourist attractions in China, receiving around 10 million visitors a year.
The city was founded hundreds of years ago and was occupied by the Japanese in 1942. Western imperial powers used the island as a concession after the opium wars, thereby its many beautiful old villas, churches, consulates, and relics.
The city rose to prominence after the signing of the treaty of Nanking in 1842. Foreigners later built consulates, churches, and villas on the island.
You can reach Gulangyu Island in around 8 minutes by boat, which makes it highly accessible. If you travel to Xiamen, you should not miss this island.
South Putuo Temple
South Putuo Temple was built during the Tang Dynasty (618 – 907) and has become one of the most popular tourist attractions in Xiamen. Facing the ocean, the temple covers 30,000 square meters and offers spectacular views. You can visit the following halls at the site:
Devajara Hall (the Hall of Heavenly Kings)
Mahavira Hall (Daxiongbaodian)
Dabei Hall (the Hall of Great Compassion)
You'll also find a Pavilion that was built in 1936 and has ivory sculptures and images of Buddha.
Hulishan Fortress
Hulishan Fortress was built during the Qing Dynasty and construction started in 1874. It's one of the most popular attractions in Xiamen and covers an area of 70,000 square meters.
The fort is one of the most famous landmarks in Xiamen and served as an important site to fend-off the Japanese soldiers in 1900.
Hulishan Fortress has received hundreds of top reviews online and you should not leave Xiamen without visiting this fort.
Earth Buildings of Fujian (Fujian Tulou)
Earth buildings, referred to as Tulou in Chinese, are large and mostly circular fortress-like buildings built by the Hakka Chinese. The Hakka people built the structures as they were driven South from wars in the late Tang Dynasty and in the early Song Dynasty.
There are more than 4,000 earth buildings in Yongding alone and dozens have been inscribed as UNESCO World Heritage sites. The sites you should have a look at in Yongding are Chuxi Tulou Cluster, Hongkeng Tulou Cluster, and Gaobei Tulou Cluster.
You'll also find earth buildings in Nanjing, specifically the Tianluokeng Tulou Cluster and Hekeng Tulou Cluster. Nanjing has 13,000 earth buildings with different shapes and heights. I recommend you to visit both these sites if you go to Fujian.
Fuzhou
Fuzhou is the provincial capital and one of the biggest cities in Fujian province. The city is over 2,000 years old and has many historical sites, green areas, and water. Fuzhou is also famous for its preserved Ming and Qing dynasty buildings.
Yushan Scenic Area, a mountaintop in Fuzhou, showcases the restored 10th-century White Pagoda, which is one of the most popular tourist attractions in the city. If you visit Fuzhou, you should also pay a visit to Mount Wuyi.
Mount Wuyi (Wuyi Shan)
Mount Wuyi is a UNESCO World Heritage site and located close to the border to Jiangxi province. It's famous for its scenic, cultural, and biodiversity values. The area has many rare plant species, flora and fauna. It also has many rare amphibian, reptile, and insect species.
The area has an ancient volcanic landscape that was created due to erosion millions of years ago. Tourists can enjoy its beautiful and peaceful environment with green forests surrounding deep lakes with crystal-clear water.
You can reach MountWuyi by bus, train, or by flight.
Quanzhou
Quanzhou is a historical city located in the Southeastern parts of Fujian, next to the ocean. Marco Polo visited the city during his trip to China and claimed it to be one of the most glorious and rich cities in the world. It's a port city on the Northern bank of the Jin River, having around 8 million inhabitants.
If you go to Quanzhou, I recommend you visit the following historical sites: Kaiyuan Temple, Heavenly Empress Palace, and Luoyang Bridge. The city also has a number of scenic spots, including Mount Qingyuan Scenic area and Water Rock Temple.
The Kaiyuan temple is the biggest Buddhist temple in China, spanning over 78,000 square meters. The temple has a splendid architecture and was built as early as 685 or 686.
Food in Fujian
Fujian cuisine is sometimes called Min cuisine and Hokkien cuisine where pork, rice, beef, chicken, seafood, duck, and different vegetables are some of the main ingredients. The food in Fuzhou is light and with dishes being sweet and sour.
Southern Fujian food is usually spicy and sweet, while western Fujian style food is moderately spicy and with flavors of pepper and mustard.
So what dishes are worth trying in Fujian? Below you can find some of the most popular ones.
Buddha jumping over the wall
This dish has 28 different ingredients, including sea cucumber, abalone, fish stomach, fin, mushroom, ham, and more. Add some Shaoxing wine and seal the jug.
After opening the lid, its fragrance will spread to praying Buddhists who will jump over the wall to eat this delicacy, thereby its name.
Spring rolls
People from Fujian are serious about spring rolls and even claim that spring rolls originate from here. It's a common dish and they sometimes stuff the rolls with seafood, such as clams. Common stuffing include chives, eggs, mushrooms, and bean sprouts.
Fish ball soup
As it speaks, fish ball soup contains fish balls that have a pinch of ginger and salt. It's mostly eaten during the colder winter months.
Drunken ribs
Drunken ribs are ribs marinated in wine and a delicious dish worth trying.
These are just some examples of popular dishes that you can find in Fujian. If you have any other recommendations, just drop a comment below!
Photo Credits:

7_3843_Tianluokeng Tulou Cluster by Nyukwha