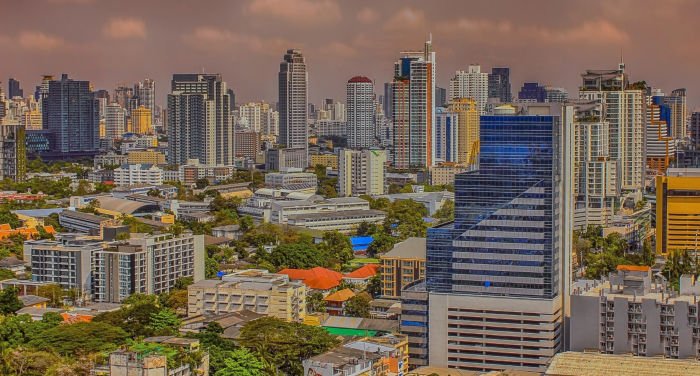 Study Thai in Bangkok – Index
Do you plan to study Thai and consider Bangkok as one of your main options? It should be at least. Being one of the most visited cities in the world, Bangkok offers a great quality of life, with low living costs and many career opportunities.
Another great benefit of studying Thai in some of its most reputable language schools is that you can get an ED-visa for up to 14 months, which is kind of amazing.
In this article, we explain both the pros and cons of studying Thai in Bangkok, present some of the most popular private language schools, and the best universities to study Thai. Let's get started and check what the pros are of studying Thai in Bangkok.
Pros of studying Thai in Bangkok
Below I've listed some of the perks of studying Thai and living in Bangkok.
It's an international and bustling city
Bangkok is the most visited city in the world and received more than 20 million tourists in 2018. That's crazy, taking into consideration that a bit more than 30 million people visited Japan as a whole!
There are plenty of reasons why so many people like Bangkok. One of the main reasons is that the city is home to numerous night markets, food streets, bars, lounges, clubs, restaurants, and shopping malls.
You'll never be bored here (unless you're totally into trekking and canoeing) as the city always has something to offer. I recommend you to sign up on Meetup.com and Internations.org once you arrived in Bangkok as that will allow you to meet new people.
Bangkok is also famous for its many music festivals, people even fly from places like Ho Chi Minh City to visit them (yes, there are way fewer music festivals there).
It's cheap
Despite being one of Southeast Asia's major hubs, Bangkok is surprisingly cheap. Here, you can stay in a studio in a fresh condo with swimming pool and gym for USD 500 a month.
Groceries and nights out are cheap as well and you can easily survive on USD 1,000 in the city. Thus, it doesn't make sense to study Thai, in let's say, the US when you have the option to live a more comfortable life at lower costs in Bangkok.
Meals at inexpensive restaurants won't set you back more than a couple of US dollars. Three-course dinners for two persons cost around THB 800 (USD 27) in medium-expensive restaurants that I consider reasonable, at least.
That said, tuition fees are also comparably low, something that I will explain more about later in this article.
The food is great
So, it probably doesn't come as a surprise that you can find some of the region's best food in Bangkok (sure, Penang is still at the top of my list). Examples of popular dishes in Bangkok include:
Thai Duck Rice (Khao Na Bpet)
Chicken and Rice (Khao Man Gai)
Braised Pork Knuckle on Rice (Khao Kaa Moo)
Pineapple Fried Rice (Khao Op Sapparot)
You should also try the Papaya salad and Tom Yum Soup.
Some of the food markets you should visit while in Bangkok are:
Khlong Toei
Chatuchak Market
Talat Rot Fai 1 and 2
Many activities and entertainment
Bangkok is famous for having tons of music festivals, events, and interesting spots. Timeout.com and Eventbrite.com are two good websites that list upcoming events in the city.
Do you want to know where to go during New Year's Eve or want to check an open-air cinema? Simply go to Timeout.com or Eventbrite.com and they will show you everything that's planned for the coming week or month!
I always use Eventbrite and Timeout when traveling to different cities as it helps me to understand where I should go during the weekdays or weekends.
More job opportunities
So, if you go to Thailand to study Thai you might want to stay there to pursue a career afterward. Truth be told, Bangkok is (from my point of view) one of the most livable cities in the world, a reason why many foreigners decide to stay there.
If you look for jobs in Thailand, then Bangkok should be at the top of your list. Being the capital with more than 8 million people, Bangkok is home to everything from start-ups to Fortune 500 companies.
That said, the salaries are also higher, even when considering living costs.
Cons of studying Thai in Bangkok
We've checked some of the advantages of studying Thai in Bangkok. Now, let's review some of the drawbacks.
It's not close to the coast and the ocean
Many tourists are travelers are tempted by Thailand's beautiful shores and prefer to stay close to the ocean. Unfortunately, this is not an option if you live in Bangkok.
If you live in Bangkok and want to visit the beaches, your best option is probably to visit Hua Hin, which is located 2 hours and 45 minutes away, which is not too bad. It's a perfect weekend getaway.
If you live in Bangkok, you still have the opportunity to visit Thailand's beautiful islands during the weekends and holidays though.
Can be congested and polluted
Bangkok is a metropolis with plenty of cars, buses, and scooters. Even if it has an efficient Metro and Skytrain system operating, you'll experience issues with traffic jams and bad air from time to time.
Having said that, the air in Bangkok is still better compared to many of China's major cities, including Chengdu, Shanghai, and Beijing. As of December 17th, 2019, the Real-Time Air Quality Index showed a level of 167, which is considered unhealthy.
More expensive than other cities in Thailand
Bangkok is still fairly cheap and you'll easily survive on a budget of USD 1,000 a month if you share an apartment in the city center. If you're on a budget and want to find even cheaper options, you should check out Chiang Mai, which is Thailand's biggest city in Northern Thailand.
Compared to Bangkok, Chiang Mai has a more relaxed atmosphere with much vegetation and nature. It's a perfect place to live if you want to stay away from the hustle and bustle but still enjoy nights out.
By comparison, rents are almost 50% cheaper in Chiang Mai compared to Bangkok, which speaks for itself.
Private schools in Bangkok
Let's have a look at some of the most popular private language schools in Bangkok.
Duke Language School
Duke Language School is a high-quality language school located only 5 minutes away from the Nana BTS station, in central Bangkok. They help everything from individuals to corporations and provide original up-to-date textbooks.
They emphasize that it should be fun to study Thai, with the hundreds of positive reviews received, Duke lives up to this statement. A great benefit of studying Thai with Duke is that they can also provide 8 to 14 months ED Visas.
Their prices are currently as follows (including discounts in some instances):
1 course (60 hours): THB 7,000
5 courses (300 hours): THB 31,000
7 courses (420 hours): THB 43,000
For up-up-date information, I also recommend you to visit their website.
Asoke Language Academy (ALA)
Asoke Language Academy is a fairly new language school that has increased in popularity since it started. It's located in the modern building of Trendy Building and only a four minutes walk from the BTS Stations Asoke/Nana.
It's also located right next to the famous shopping mall Terminal 21, having plenty of stores and restaurants. Studying with ALA is fun and they can help you to apply for a 6 or 12-month ED-visas.
ED-visa courses start at THB 24,000 where average students study 8 hours a week. Thus, keep in mind that you might not be able to apply for student loans in your home country as it's not treated as full-time studies.
They also offer free trial lessons and you can pay as little as THB 5,900 for 20 days.
Universities for studying Thai in Bangkok
Below I've listed some of the best universities to study Thai in Bangkok.
Chulalongkorn University
Founded by King Vajiravudh in 1917, Chulalongkorn University is the best university in Thailand and is located in the downtown area of Bangkok. According to the QS World ranking as of 2018, the university is the 245th best in the world.
At the moment, the university has almost 40,000 students and it has given honorary degrees to Nelson Mandela and Bill Clinton.
You can study Thai at the university through its Intensive Thai Program (ITP), which costs THB 28,000 per course and commence from Mondays to Fridays, 9:00 AM to 12:00 PM or 1:00 PM to 4:00 PM in the afternoons.
Mahidol University
Mahidol University is another top university in Thailand that was ranked 58th in Asia and 334 worldwide. It was founded as early as 1888 and was initially a medical school in Bangkok. It later turned into a research university.
The university is slightly smaller than Chulalongkorn and has around 31,000 students.
Foreign students can enroll in its course "Basic Thai Language for Foreigners" which lasts for a month.
You can also enroll in another course called "Introduction to Thai Language and Culture" which lasts for three months.