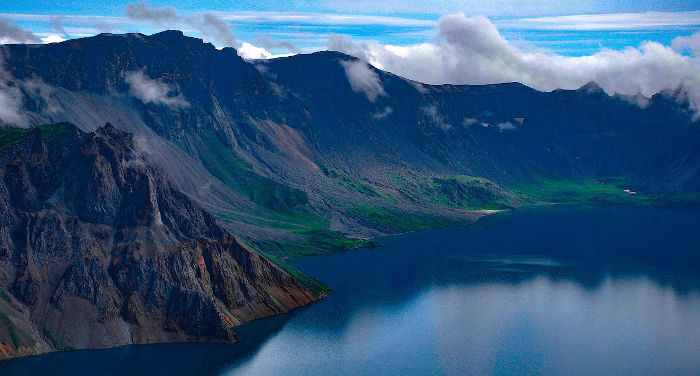 Are you fed up with the "usual" China? In this article I will present to you one of the most unique provinces in the Middle Kingdom: The Province of Jilin.
Jilin 吉林, with its Western-style architecture, its ancient Korean ruins and mix of old and new, is a Chinese Province located in the northeastern part of China. With an area of 191,126 square kilometers divided into 60 cities, it has a population of 27 million and a half inhabitants.
The most eastern part of Jilin is occupied by a little known autonomous Korean prefecture, the prefecture of Yanbian 延边 (with Yanji 延吉 as its main town), where more than a million Koreans live; the aforementioned prefecture is also famous for its mausoleum of Jeonghyo, a princess of the ancient multiethnic kingdom known as the Kingdom of Balhae.
The name Jilin probably comes from Girin ula, a Manchurian term that means "along the river"; this was transcribed into Jilin wula and then shortened into Jilin. Other scholars say that the name comes from the ancient inhabitants that lived here known as Wuji 勿吉. In either case, the literal meaning of the characters used for Jilin in Chinese is "forest of luck".
Since 1954, the capital of Jilin is Changchun 长春. Jilin Province is rich in minerals (about 137 different types) and wild plants (27 thousand different types) of which many are used in traditional Chinese medicine. Through Jilin passes the mountain chain Changbai 长白山脉 ("The mountains that are always white") and its highest peak is an active volcano at a height of 2,744 meters, also known as Paektu Mountain.
Jilin is mostly known for its automotive industry, cities full of smokestacks and, not to be forgotten, the largest natural reserve in China. Jilin is also one of the preferred destinations for skiers with its breathtaking Beidahu Ski Resort which is located right around the famous Lake Beida 北大湖, which is better known as "Heavenly Lake".
The Beidahu ski resort hosted the Asiatic Games in 2007, thereby becoming one of the most famous ski locations in all of Asia; the station is located in a village more than 50 kilometers south of Jilin, which is a little difficult to find. The location of this ski resort has made it so that it sees little profit despite the fame it enjoys.
The language and climate
The first language of this province is Mandarin Chinese, but as you likely noticed in the first paragraph, since it isn't hard to find Koreans in Jilin, it's not unusual to find Chinese speaking Korean.
Another language spoken, though to a lesser degree, is Mongolian. There are two main reasons for this: during the Cultural Revolution, some Mongolian territories were annexed to Jilin; today, instead, in the northwestern area there is an autonomous prefecture, Qian Gorlos, where Mongolian is spoken.
Winter in Jilin is long and hard, with lots of snow, freezing winds and temperatures that go down to -20; summers are cool, with moderate precipitation. There is no ideal period in which to go; it depends on what you want to do: if you like to ski, clearly you have to go in winter!
A little history
A long time ago, some parts of Jilin were ruled by the Korean kingdom of Koguryo (37 B.C.-668 A.D.) of which some ancient ruins remain, and who contributed to making some of its small cities a World Heritage site. In the early Thirties, after the Japanese invasion of Manchuria, Changchun became "capital" of the dummy government of Manzhouguo 满洲国, established by the Japanese who put the last emperor, Puyi 溥仪 (1906-1967) in charge.
The time of Puyi came to be referred to as 康德 (kangde) "peace and virtue", to give the impression that they should absolutely not create any disorder during the period of occupation. In 1944, the Russians took Jilin from the Japanese and gave it back to the Chinese only after dismantling its industry.
Jilin's geographical position has had a great influence on its history, especially in recent times: due to its border with North Korea, many North Koreans have come as refugees to escape their own country (such as for a lack of food); however the Chinese government doesn't seem to look favorably on these refugees, to the point that they won't guarantee them refugee status and the advantages that this brings.
Mount Changbai
Mount Changbai, literally "the mountain that's always white", is the crown jewel of Jilin Province: this is an extremely vast natural reserve that includes over 2,100 square kilometers of dense vegetation.
A curious point: North Koreans say that Kim Jung-il, dictator and ruler of North Korea from 1994 to 2011, was born in these mountains, which in Korea are known as Mount Paekdu or Paekdusan. Perhaps the most beautiful part of this mountain chain is the area around the Beidahu Ski Resort: there, around the gigantic volcanic crater at the border between China and North Korea, you'll find the famous Heavenly Lake, 北大湖.
Around this lake, known as 天池 (tianchi) "heavenly waters" or even 龙潭 (longtan) "dragon pond", there's a series of popular beliefs that revolve around it, famous in Asia as being similar to those of Loch Ness in the West: in fact, the legend says that a terrible monster protects this lake, called 天池水怪 (tianchi shuiguai) the "water monster of the heavenly waters".
This volcanic lake, likely formed two million years ago, has a circumference of about 13 kilometers, rises to an altitude of 2,195 meters and is surrounded by 16 mountain peaks. The highest is 白岩峰 (Bai yanfeng) "The peak of white rock", which reaches an elevation of 2,750 meters and can only be climbed with a few special permits.
Not far away there's a small area of thermal springs where you can go down a path that will lead you to the Changbai Waterfall, 70 meters high. Near this beautiful waterfall you'll find a wooden catwalk that brings you to the 绿渊潭 (Lv yuan tan) "The green source lake", an enchanting place where peace reigns sovereign.
Close to this small lake, buses pass that will take you to the subterranean forest park, 地下森林 (dixia senlin), a luxurious wooded area, rich in 针叶树 (zhenye shu) "conifers" and 苔藓 (taixian) "lichens".
The capital of the autonomous Korean prefecture, Yanji 延吉
Yanji 延吉, capital of the autonomous Korean prefecture with "just" 400,000 inhabitants, is a very peaceful and fascinating place that clearly reflects a lot of North Korean influence: those living here speak Korean and even the street signs are written in Korean and Chinese.
The capital is split in two by the river Bu'erhatong He 布尔哈通河, a name that probably comes from Manchurian. It's a very modern city that lives on tourism and commerce between China and North Korea.
Here there have been numerous "incidents": the abduction of a South Korean reverend in 2000 by a group of Chinese/North Koreans trained in Pyongyang; a very strong earthquake in 2009 following a nuclear test by North Korea; in 2009 the arrest of two American journalists, Euna Lee and Laura Ling who crossed the border to enter North Korea and were later released due to the efforts of Clinton, and so on.
From a cultural point of view, Yanji is much more Korean than Chinese, even when it comes to food; moreover, in the month of September they always hold a Korean festival, with traditional music, dance and various sports.
Ji'an
The river Yalu 鸭绿江 passes through Ji'an, whose name comes from the Manchurian where "yalu" means "at the border of two worlds", and divides China and North Korea. This town, with an area of 3.408 square kilometers and a population of about 230,000 inhabitants, was once part of the Korean kingdom of Koguryo; in 2004, this area which possesses pyramids, tombs and ruins from the Koguryo Kingdom, was declared a UNESCO World Heritage Site.
In the area around Ji'an the remains of 3 cities and about 40 tombs were discovered. For years Ji'an tried to take advantage of its touristic potential given its Korean heritage: well-maintained parks, tree-lined roads and a very recent river walk that allows you to see North Korea adorn this "little" town.
What's there to see in this city? Besides the aforementioned sites of the Koguryo Kingdom, which sadly are mostly just piles of stone (with the exception of the most imposing site, the City of Mount Wandu), you can visit 将军坟 (Jiangjun fen) "the General's grave", a tomb of about 12 meters built for a great General from the Koguryo Kingdom of which sadly, nothing is known.
The City of Mount Wandu was built in 3 A.D., later becoming the capital of the kingdom of Koguryo in 209 after the fall of the first capital; not much remains of this city but you can enjoy an excellent view that explains why this was chosen as the capital. Another must-see is the stele of Haotaiwang 好太王碑, also known as the Gwanggaeto Stele, a slab of rock from 415 A.D., 6 meters tall, that tells of the conquests of the Koguryo king, Tan De (374-412 A.D.). A perfect reproduction of this stele can be found in the War Memorial Museum in Seoul.
Not far from the stele, you'll find a small park that has stone crypts, the burial place of various nobles. In this burial site known as 禹山贵族墓地 (Yushan guizu mudi) "Cemetery of Yushan's Nobles", you can only access tomb number 5 where there are beautiful murals painted on its walls depicting dragons, tigers, black turtles and lotus flowers that beautify the ceiling.
To conclude, on the river walk where you can see North Korea there's a recently opened museum, the Ji'an Museum, that holds swords, armor and golden objects from the Koguryo Kingdom's heritage.
Changchun
The capital of Jilin Province, Changchun 长春 (long Spring), as was mentioned above, was also the capital of the Manchurian Kingdom between 1933 and 1945; later on, in the 50's and 60's it became the heart of the Chinese filmmaking industry. During the years of the Manchurian kingdom, Changchun became the renowned 新京 (xinjing) "New Capital".
Fans of Chinese history can find a series of historical buildings here from the early 1900's that were built by the last emperor, Puyi. In fact, in Changchun you can find Pu Yi's ex residence, whose story inspired the colossal worldwide film by Bernando Bertolucci, 末代皇帝 (modai huangdi) "The Last Emperor", with a length of 163 minutes.
Today his residence has become a museum, the 伪满皇宫博物馆 (weiman huanggong bowuguan) "museum of the Manchurian puppet emperor". This museum has been classified a 国家5A级旅游景区 (guojia 5A ji lvyou jingqu) "5 star national tourism site" by the Chinese department of tourism; it is therefore considered as one of the most important and fascinating places to see in all of China.
Inside this museum, divided into an inside and outside part, it was designed to be a miniature Forbidden City. There are very detailed reconstructions of his study, bedroom and concubine rooms; an interesting thing is that you can see his American car (which was extremely rare at that time) and an exposition of photographs covering his entire life. The architectural style is quite varied: in fact we find Japanese, European and – naturally- Chinese styles.
Another two places worth visiting in Changchun are: 般若寺 (banruo si) "Banruo Temple" and 净月潭旅游区 (Jingyuetan lvyou qu) "the tourist site of Lake Jingyue". Banruo Temple is a Buddhist temple that is very popular and one of the largest in northeastern China.
This temple was founded around 1923 by the monk 倓虚 Tanxu, one of the monks that greatly contributed to the spread of Buddhism between the end of the Qing and the beginning of the republican periods.
The "tourist site of Lake Jingyue" is a very large park on the shores of Lake Jingyue in Changchun; here you can relax with excellent food while enjoying marvelous views at the same time. There's also a very long cyclable track of about 20 km in this park.
Despite the things written above, today Changchun – with its 7,674,440 inhabitants – is known as the main automobile producer in China, so much so that it's known as the "motor of China".
The autonomous Korean prefecture (of the north)
I hope that you too were struck by the fact that there are so many Koreans living in China – I didn't know that!
延边朝鲜族自治州 (yanbian chaoxian zu zizhizhou) "The autonomous Korean prefecture" was founded in 1955 to house the North Koreans that fled to China during the civil war, even though Koreans already lived there since 1880.
It's important to specify that in Chinese, Korea and North Korea are completely distinct: To say Korea it's 韩国 Hanguo, North Korea is 朝鲜 Chaoxian. It's necessary to make this distinction since this prefecture was originally established by North Koreans, even though today you can find South Koreans too. During the Chinese civil war between the Nationalist Party and the Communist Party, many Koreans took the side of the Communist Party, contributing to its eventual success.
There aren't a lot of attractions here; nevertheless if you go to the extreme eastern part of this prefecture you can enjoy a unique view of Russia to the north, North Korea to the south, China to the west and sometimes can even see the Sea of Japan to the east.