Haikou is the capital of the Hainan island, one of the top touristic destinations in China. Here you will find a selection of the best hotels in the city, covering all kinds of budgets. Just choose one and relax in this beautiful island!
If you want to know more about booking hotels in China, you can read our tips here.
Reviews of Luxury Hotels (5 Star) in Haikou
Mission Hills Resort Haikou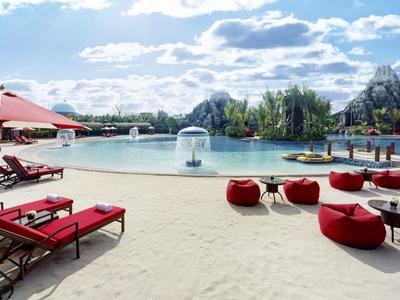 The Mission Hills Resort Haikou is an enormous hotel that houses over 500 rooms. Located in the heart of the Longhua, this hotel is a perfect place to enjoy the close by attractions and modern amenities. The rooms offer free Wi-Fi internet connectivity and the same is offered in public areas of the hotel. It is only 40-minutes away from the West Seaside and Haikou Volcanic Cluster Global Geopark, and merely 5 minutes from the Mission Hills-Huayi-Feng Xiaogang Movie Town. The hotel provides you with a wide range of recreational activities and services that include a fitness center, games room, indoor and outdoor pool, sauna, airport transfer, shuttle service, and much more. Guests can indulge in mouthwatering cuisines offered in 6 different restaurants. The staff members are fluent in English, Korean and Chinese, so you will not have any problem in communicating with them and getting things done.
Shangri-La Hotel Haikou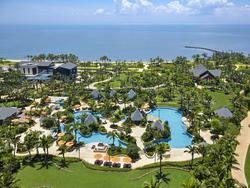 The Shangri-La Hotel Haikou is in the Xiuying area of Haikou, located just next to the sea, offering sea views from the rooms. The hotel offers abundant of facilities and service to provide you with memorable five star experience. From business center to indoor pool to hot spring bath, to private beach to children's playground, the hotel has plenty to offer whether you are on a business trip or family vacation. If you are a golf lover, you can reach an expansive golf course, located within 3 km from the hotel. The hotel's staff speaks fluent English and always takes an extra step to delight you with the services. It serves western dishes along with local Cantonese food at its two restaurants to gratify all kinds of preferences and tastes. In addition to free Wi-Fi across the property, the hotel offers services like BBQ facilities, tennis court, fitness center, bicycle rental, car hire, currency exchange, and much more.
Hilton Haikou Meilan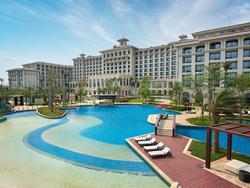 The Hilton Haikou Meilan is a luxurious hotel that provides an easy access to everything that the city has to offer. This hotel boasts a 10-floor building with 453 rooms, equipped with modern amenities and en suite bathrooms. The Haikou Meilan Airport is just a 15-minute drive away, while the Haikou High Speed Railway is a 20-minute drive from the hotel. City's must-see destinations like the Qiongzhou Bridge, Haikou Museum and the Haikou Gym Centre are all in close proximity of the hotel. The facilities provided by the hotel include fitness center, outdoor pool, sauna, restaurant, and much more. The hotel also has a private beach that allows you to relax by the sea anytime during the day. The staff members speak excellent English and are always present at the 24-hour front desk to help their guests. Free Wi-Fi internet in and around the rooms allows the guests to stay connected with the outside world.
Eadry Royal Garden Hotel Haikou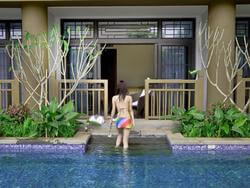 The Eadry Royal Garden Hotel Haikou is located in the Meilan area of Haikou with plenty of recreational activities, well-equipped rooms, and many services to make your stay comfy. When it comes to recreational activities; billiards, horse riding, and table tennis will keep you entertained, while spa, sauna, massage, and hot spring bath will take care of your mind, body and soul. For families, the hotel features family rooms and separate pool for kids. Enjoy Cantonese and Western delicacies at its two restaurants serving Cantonese and western cuisine. The hotel is located only 6 km away from Meilan International Airport and attractions such as Holiday Beach and Shishan Volcano are about 27 km away. The English speaking staff is warm and takes care of all your needs. Additionally, free Wi-Fi in public areas and rooms make it a great choice among business travelers and leisure travelers alike.
Reviews of mid-range hotels in Haikou
Guesthouse International Hotel Renaissance City Haikou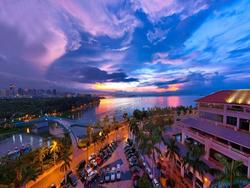 The Guesthouse International Hotel Renaissance City Haikou is situated in the Longhua area of Haikou, providing you with 180, well equipped rooms at economical rates. The hotel rooms feature modern amenities and offer sea views and harbor park views. It is 18.5 km away from the Haikou International Airport and about 2.5 km from Yefengtang and Western Restaurant. You can reach Haikou Park in 25 minutes on foot from the hotel. By staying at the hotel, you will get services like car park, restaurant, coffee shop, meeting facilities, shuttle service, business center, and airport transfer. Access to free Wi-Fi is available only in the public areas. The staff members are efficient, responsive and speak English, which add on to the experiences. The hotel is a good choice if you are looking for location, good facilities, and beautiful views at relatively cheaper rates.
Bao Happiness Hotel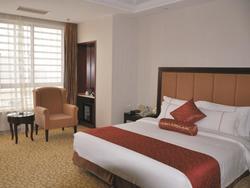 The Bao Happiness Hotel features 268 rooms with almost 25 room types to suit your preferences and needs. All the rooms are clean, cozy, and offer modern amenities with some them offering sea views. The hotel staff speaks English and is always prompt in resolving your inquiries. It offers recreational facilities such as karaoke, outdoor pool, games room, spa, and steam room. In addition to this, the hotel houses a salon, restaurants, business center, and executive floor. You may not find the breakfast selection according to your taste and preference; however, its central location provides you easy access to close by restaurants. To stay connected to the world, the hotel offers free Wi-Fi in its public areas only.
Oscar Hotel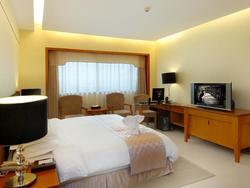 The Oscar Hotel is situated in one the most popular locations of the city offering a value for money accommodation with tons of services and facilities to ensure you enjoy a comfortable stay. With the Haikou Railway Station and the Haikou Meilan International Airport just 30-minutes away, this hotel is easily accessible via car, bus or foot. The hotel offers free Wi-Fi internet in the rooms and public areas, along with many other facilities like car park, business center, laundry service and special facilities for disabled guests. For recreational purposes, you can enjoy a leisure time in the games room or sing your heart out at the karaoke. The two on-site dining options are a perfect to enjoy traditional Chinese, Hainan and western dishes. The hotel staff is super-friendly and is fluent in English, making it easier to communicate with.
Reviews of budget hotels in Haikou
Haikou Shi Guang Yin Theme Hotel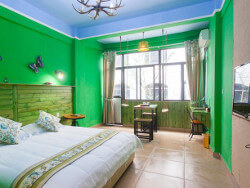 The Haikou Shi Guang Yin Theme Hotel is a calm and peaceful place for guests to enjoy a relaxing stay in the city. The hotel is located 20-minutes away from the West Coach Terminal Station and Haikou Railway Station, and the Haikou Meilan Airport is 40-minutes away. Just a 10-minute drive will take the guests to the Arcade Street. The staff members at the 24-hours help desk go out of their way to help the guests, however, their lack of English speaking skills can be a disappointment to many visitors. Free Wi-Fi in all the rooms and public areas allow guests to stay connected to the social media, while recreational facilities like a games room and billiards make sure that you never get bored during your stay
North20 International Youth Hostel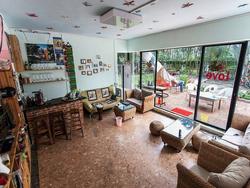 The North20 International Youth Hostel is a budget stay option in the Meilan District, offering family rooms and dormitories with shared kitchen. The rooms are comfortable and feature air conditioning and electric kettle. This hostel is cleverly located amid many attractions of the city and you can easily reach Qilou Old Street in only 10 minute on foot. Meilan Airport is 30 minute drive away while the Haikou East Railway Station is only a 25-minute drive away. Also, at the hotel, you have access to free Wi-Fi in all the rooms and public areas like garden and Sun terrace. The staff speaks English and is readily available to fulfill your needs.
Haikou Twinstar Youth Hostel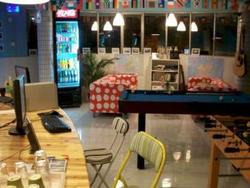 The Haikou Twinstar Youth Hostel is a 30 room hostel, featuring 10 types of rooms that cater to groups, solo travelers, and families. It also features a garden for you to relax in outdoors. At the hostel, you will get car park, coffee shop, bar, bicycle rental, room service, and free Wi-Fi across the property. The hotel is closely located to popular attractions of the area, like Western Restaurant, Haikou Park, Yefengtang with Haikou International Hotel only 17.6 km away. The hotel may need renovation; however, it is a good stay option for short stays. The staff may not be fluent in English, but they strive hard to make you feel at home and provide you with excellent customer care.

Hotel Photos on Agoda.com