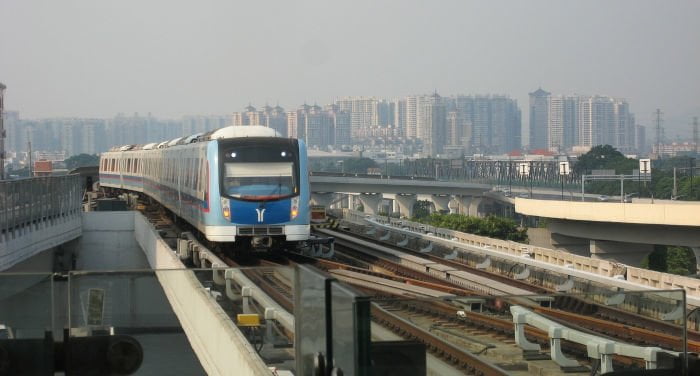 Taking the metro in China – Index
There are many ways to unravel yourself from the vastness of Chinese cities: taxis, didis, buses, bikes, on foot, by train.
One of the most comfortable ways to get around the various parts of the city, is without a doubt the metro, which you'll find in the majority of the large Chinese cities (more than 40 cities offer a metro system, including Hong Kong and Macao, and many that don't have one are building metro systems or expanding existing ones).
It's fast, comfortable, cheap, high-tech, clean and well-developed, but alas, often overcrowded (especially on certain routes during certain times).

The first Chinese metro was built in Beijing (Beijing ditie 北京地铁) in 1969 (Line 1) and until 2002 it only had two lines.
Despite the enormous development that took place in the XXI century, these days Beijing's metro has 23 lines and is not able to adequately handle the needs of its users.
Nevertheless, it's still the most convenient form of transportation in the city, since it ably avoids traffic on the roads, especially during rush hour.
In this article I will describe the nature of the Chinese metros, what to expect inside the stations and then focus on the rates, lines, maps and metro systems of the most important cities.
What to expect inside a Chinese metro station
Finding and entering a ditiezhan 地铁站 (metro station) in China is not a problem, since each station has a minimum of 5 entrances/exits (you'll find some with more than 20 entrances such as the Xinjiekou stop in Nanjing).
Inside you'll think you've arrived in a small underground town where you can find everything: supermarkets, banks, atms, all sorts of shops, hairdressers, nail artists, restaurants, cafeterias, electronic shops, opticians (I also found dentists), escalators, elevators, restrooms, and recently even facial recognition (in some stations).
In short, the only difference from the surface is that here…you're closed in.
This is an environment so big that, at times, from the street entrance to the metro platform you'll have to walk for several minutes, not to mention connecting stations where multiple lines intersect.
Besides everything on the "side", you'll find numerous automatic ticketing machines, information counters (that also serve as a "human" ticket counter), security, controls, and especially trains.
All the metro systems that I've visited have the same structure: arriving at the "platform", a barrier with automatic doors will block you from the rails (safety first, anquan diyi 安全第一).
These doors, in fact, will only open after the train is in position, after which the doors will open for the actual metro.
The same happens on closing (first the metro doors, then the barrier). The opening and closing of the doors are accompanied by an acoustic signal.
Moreover, you'll find numerous signs (often with nice cartoons) that invite passengers to be civil and respect the rules: don't smoke (jinzhi xiyan, 禁止吸烟), don't push, stay in line while waiting for the metro (qing paidui houche, 请排队候车), don't cross the yellow line (every so often some controller will nicely whistle at you to put the tip of your feet behind the yellow line), give way to those getting off, and only after get on board (xian xia hou shang, 先下后上), the famous "Mind the Gap" (xiaoxin zhantai jianxi, 小心站台间隙), don't lean on the doors of the vehicle (jinzhi yikao, 禁止倚靠), don't put your hands between the doors (dangxin jia shou, 当心夹手), don't spit (yes, it's necessary to remind them: qing wu suidi tu tan, 请勿随地吐痰), etc.
But it would seem that these signs are transparent, especially when going up or down in the metro. It's a really struggle to not be trampled or pushed.
No animals are allowed inside the metro stations or on the trains.
Note that inside the train you'll find many maps of the entire metro system, but in particular, you'll find the details of the line you're on that will indicate the direction of the trip and your position.
Cards, tickets and prices
The Chinese metro system, unlike ones in other countries, doesn't have any temporary subscription that will allow you to save on metro rides.
Most likely this is due to the fact that the prices to get around by metro are really cheap in China, some routes can cost just 1 CNY (about 0.13 USD).
Only in the largest cities are there temporary "Passes" meant for tourists: 1 day, 3 days, 7 days or 15 days.
Cards
It is possible to buy a card for public transportation (jiaotong ka, 交通卡), which is different for each city.
This card can be recharged by cash at one of the information counters at the metro stations, at some ticket selling machines, for some cities through their App, and in some cases, you can even recharge it through Alipay or Wechat and you can also use it on buses, since this is a card for public transportation in general.
As I said, this is not a subscription but the only thing that this card will save you is time: in fact you won't have to waste precious minutes at the ticket counter or automatic machines to buy a single ride.
With this card you can go right to the turnstile at the entrance to the platform, swipe the card in the designated section and pass through.
You'll do the same when exiting and that's the actual moment that the credit will be paid from your card: the exit turnstile will in fact calculate the amount on the basis of the metro entrance station, and at times, it will give you the remaining credit.
This option is particularly convenient when you're in China for medium to long periods of time. You don't have to show any identification documents to get a card and you can ask for a refund (by returning it) when your stay in the city is over.
It's also possible to get a refund of the remaining credit on your card.
Simple and fast.
In some cities you can also create an electronic ticket thanks to Alipay (in some cities there are Apps dedicated to their own metro system. One of these is Beijing: Biejing yikatong 北京一卡通).
In fact, by entering the name of the city metro system, you can get an electronic card for every ride.
In particular, by means of a QR Code on your cell phone, which you'll use as a card, you can enter and exit the metro quite easily (therefore saving the temporary cost of the physical card) by scanning the code in the specific section of the turnstiles (not all the cities support this, so you can use these only in a few places).
In this case too you'll pay at the metro exit by entering the payment password when you're given notice at the exact moment that you pass the QR Code to go out.
As I said, some cities provide for temporary cards with the option of using it for a predetermined number of rides. I will specify the characteristics in later sections dedicated to single cities.
Tickets
If instead you're in China for a brief period (as a tourist, for example), buying single rides is the best choice (since the card doesn't allow you to save money).
Don't worry if you don't speak Chinese. If you go to the information counter (chengke fuwu zhongxin, 乘客服务中心) to buy a ticket, all you have to do is say the name of the station you want to go to or show a card.
Easy.
If you choose to buy a ticket at one of the automatic ticket counters (zidong shoupiao, 自动售票), you have the choice of changing the language from Chinese to English.
Choose the station you want to go to on the map you'll see on the screen and the method of payment, pay and get your ticket (they only accept coins from 1 CNY or banknotes of 5, 10 and 20 CNY).
Easier still.
Note that tickets can have different shapes from city to city: you might be using tickets that look like the cards (as in the case of Shanghai) or tokens (as in Nanjing).
Single ride tickets are only valid on the day of issue.
In any event, at the arrival station, you'll have to enter "ticket/card" or "ticket/token" at the turnstiles. That's the only way to get out. So remember to carefully save your ticket during the trip.
It may happen that you get distracted when buying your ticket, and you enter an arrival station different than the one you're getting off at, and you want to go to the next one: in this case the turnstile will not recognize the ticket and won't let you out (unless the distance doesn't leave you passing the next threshold).
Go to the information counter (which can be reached both inside and outside the metro) and let them know you have a problem. Most times they will let it slide and let you pass (especially if they realize that you don't speak Chinese. They don't speak English, so not being able to explain they'll let you go), otherwise if you run across someone who's a real stickler, you'll have to get a new ticket and pay the difference of the distance (a few CNY) or just the difference. Don't worry, there are no fines.
Rates
As was mentioned before, getting around by metro is not only convenient in terms of time, but especially in terms of economy.
The price of a card is practically identical in all Chinese cities: 20-25 CNY (about 2.50-3.50 USD).
When it comes to the price to pay per ride (which is the same if you use a card or single ticket, but different in each city), this is based on the distance in kilometers from the departure station.
For short distances (generally one to three stops) it goes from 1 to 3 CNY (from about 0.13 to 0.40 USD), while for longer distances they can get up to or even beyond 10 CNY (a little more than 1 USD).
As you can see, it's very convenient.
Useful applications
Personally, one of the most useful Apps I've found in China for getting around by metro has been "Metro of China" (you can also find it under the old name of "MetroMan"), indicated by a yellow "M".
Thanks to this App you can nimbly check all metro lines for every Chinese city in a few seconds, entering the departure and arrival stations by checking the suggested itineraries, maps, single metro stations, the price on the basis of the route, the number of kilometers to travel, timetables, and you can check your route by automatically connecting to Maps or a digital map, etc.
In addition you can choose the App's language among the 11 available (such as English, Italian, Spanish, French and German).
Lastly, besides being able to set a preferred city, the thing that I like best about this App is that it's very intuitive and is constantly being updated, totally free and it works offline!
Survival advice
When it comes to getting around by metro, I feel I should counsel you on two things in particular.
Try to avoid rush hour, otherwise coming across a train packed full of people is not far-fetched (you'll find yourself crushed and unable to move).
If you're close to the doors, be careful not get one of your body parts or backpack stuck, and try not to be carried away by the stream of people entering and exiting.
There could even be waiting lines several meters long with a controller to direct the "human traffic".
Moreover, when you find a train packed full of people (yes, it will happen, without a doubt), be mindful of your personal effects. Try to keep your bag or backpack in front of you and close your pockets.
Metros in the biggest Chinese cities
In this brief section, I'll tell you the specific ticket and card rates, lines and metro system maps of 5 Chinese cities.
Note that each metro system has a very specific symbol, which is different from city to city, but the stations are extremely recognizable.
At the moment more than 40 Chinese cities have a metro system (or similar) and according to Baidu they will boast a total extension of more than 6,000 km with more than 200 metro lines.
It's definitely one of the best ways to reach the majority of the best places to visit.
Beijing
Hours of operation: 5:00-23:00.
Rates
0-6 km: 3 CNY;
6-12 km: 4 CNY;
12-22 km: 5 CNY;
22-32 km: 6 CNY;
More than 32 km: an additional 2 CNY for every 20 km.
The public transportation card costs 20 CNY (deposit).
The Beijing "Passes" are the following (for each there's a 20 CNY deposit):
10 CNY for 3 days (maximum 18 rides);
20 CNY for 7 days (maximum 42 rides);
40 CNY for 15 days (maximum 90 rides).
Shanghai
Hours of operation: 5:00-23:00.
Rates
0-6 km: 3 CNY;
6-16 km: 4 CNY;
More than 16 km: an additional 1 CNY for every 10 km.
The public transportation card costs 20 CNY (deposit).
Rates for the Shanghai "Pass" are the following (there is no deposit, once they expire you can throw them away or keep them as a souvenir):
18 CNY for 1 day (24 h);
45 CNY for 3 days (72 h).
Chongqing
Hours of operation: 6:30-22:30.
Rates
0-6 km: 2 CNY;
6-11 km: 3 CNY;
11-17 km: 4 CNY;
17-24 km: 5 CNY;
24-32 km: 6 CNY;
32-41 km: 7 CNY;
41-51 km: 8 CNY;
51-63 km: 9 CNY;
More than 63 km: 10 CNY.
The public transportation card costs 25 CNY (deposit).
Prices for the Chongqing "Pass" are the following (there is no deposit, once they expire you can throw them away or keep them as a souvenir):
Chengdu
Hours of operation: 9:00-23:00.
Rates
0–4 km: 2 CNY;
4–8 km: 3 CNY;
8–12 km: 4 CNY;
12–18 km: 5 CNY;
18–24 km: 6 CNY;
24–32 km: 7 CNY;
32–40 km: 8 CNY;
40–50 km: 9 CNY;
More than 50 km: 10 CNY.
The public transportation card costs 20 CNY (deposit).
At the moment there is no "Pass" for Chengdu.
Guangzhou
Hours of operation: 6:00-23.30.
Rates
0-4 km: 2 CNY;
4-12 km: an additional 1 CNY each 4 km;
12-24 km: an additional 1 CNY each 6 km;
More than 24 km: an additional 1 CNY each 8 km;
APM (Automated People Mover System): 2 CNY.
The public transportation card costs 20 CNY (deposit).
Prices for the Guangzhou "Pass" are the following (there is no deposit, once they expire you can throw them away or keep them as a souvenir):
20 CNY for 1 day (24 h);
50 CNY for 3 days (72 h).
Taking the metro in China is easy, costs little and is convenient, but be careful to not get stuck in the does and get trampled. Make it worth it and happy travels!
Photo Credits: Photo by Andy Leung on Pixabay