I decided to write this article to pay homage to one of the most beautiful cities I have ever visited: Chongqing (重庆). My history with this city began in February 2016. Every time I think about the days I spent in Chongqing I get a lump in my throat… and think that the first day there wasn't even the best!
Climate and topography in Chongqing
Chongqing is a hot and spicy city in all senses: high temperatures, spicy food, and, especially, hot people! The lifestyle is different than any other city in China, full of energy and life in all aspects, maintaining its uniqueness. It's an unforgettable city that leaves a beautiful memory in the hearts of those who visit.
Chongqing represents one of the four cities directly controlled by the central government, along with Beijing, Shanghai and Tianjin. It's also the independent city with the most inhabitants since the data from 2014 lists a population of 29,914,000 inhabitants.
Being located at the point of convergence between the river 长江, "Long River" (better known by its old phonetic transcription Yangtze and the name "Blue River") and the river 嘉陵江, "the Jialing River", Chongqing is a huge industrial city with a very active port – divided into 8 parts – 重庆港, the "Port of Chongqing".
The confluence between the Long River and the Jialing River is called 朝天门, "The gate that goes through heaven", an area where there's also the famous Chaotianmen Bridge, which is also where many tourist ferries depart. The most beautiful thing about Chaotianmen is being able to see the point where the two rivers converge in differing colors,
a unique panorama!
In Chongqing there are also many attractive scenes, considering that there are many mountains. It's really thanks to its growing economy and its many scenic points that Chongqing has become a popular and important tourist destination. There are in fact many ancient poems that have been written about the beauty of this magnificent city.
In winter we find a mild temperature, warm, while in summer there is Heat with a capital "H"! If you decide to go to Chongqing in this season, bring along lots and lots of changes of clothes, because the weather, together with the spicy food, will make you sweat more than you ever have in your life. Chongqing is known by many names: one of these is "the City of Fog".
Not many know that in the past it was chosen as a strategic base for avoiding air attacks thanks to the fog coverage that is guaranteed (in that time, Chongqing was known as "the White City"). In fact, Chongqing rivals London when it comes to fog!
Chongqing is also a mountainous city, with about 70% of the city built "on the hills", in fact, we find many streets that contain the name 坡 (po), which means "climb". The famous dormitory of Chongqing University is called 松林坡, "climb in the pine forest".
Many buildings in Chongqing have entrances on different floors, not just the ground floor. Besides this, Chongqing also has another peculiarity: there's a metro line that goes right through the buildings (click on the link to watch the video)!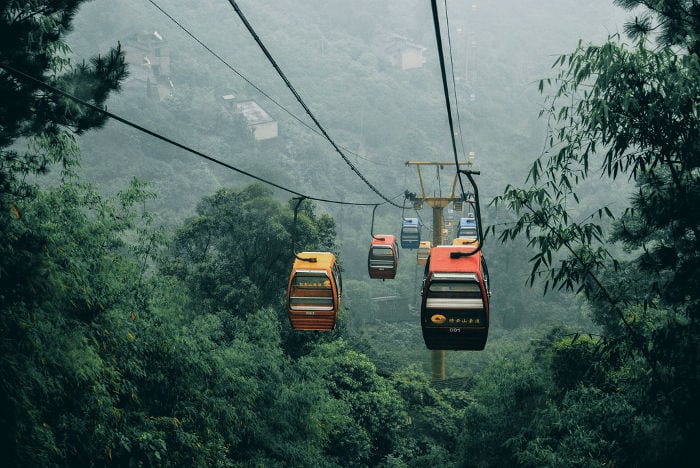 Going into the fog by faungg's photos
Public transportation in Chongqing
Public transportation in Chongqing is comfortable and convenient for getting around the whole city. If you plan on staying in Chongqing for a rather long period, I recommend that you buy an IC card, a card that allows you to take the bus and metro with small discounts.
In Chinese it's called 宜居畅通卡 (yiju changtong ka): it is a really convenient card, also because you can recharge it once a month so as to avoid the lines for buying tickets. This card also gives you discounts on tourist attractions such as EXPO Park.
The Chongqing metropolitan system is known as 轨道交通, a combination of monorails and light rail. Only 4 of 18 lines are currently working: line 1 (red), line 2 (green), line 3 (blue), line 6 (pink). Lines 1, 2 and 3 open at 6:30 and close at 22:30; line 6 from 7:02 to 20:30.
By 2050, they should have built 820 km of metro lines. There are different types of tickets you can get (5 to be exact), or you can get a ticket that you pay for on the basis of distance. From 0 to 6 km the ticket costs 2 Yuan, from 6 to 11 km it costs 3 Yuan, from 17 to 24 km it costs 5 Yuan, and so on, up to 63 km which costs 10 Yuan.
Taxis in Chongqing are as convenient but as dangerous to take as those in Beijing since the taxi drivers in Chongqing drive as if the world is about to end a second later.
There are lots of taxis, more taxis than people; however, from 15 to around 18 it's really hard to find a taxi with the writing 空车, "free taxi". Usually, as soon as you decide to take a taxi you pay 10 Yuan for the first 3 km, after which you pay 2 Yuan for each additional km.
Buses are cheap but always packed with people. You'll often hear the phrase 太挤了, "too crowded". Another thing that could drive you crazy is the traffic: it is truly crazy on the streets. If you can, it's easier to take the metro.
It should be said that the buses, nevertheless, are very well organized. At every stop, there are tables with the destinations and timetables written in detail. Inside the buses, there are also screens that indicate everything both in Chinese and in English. In theory, you could also use Google Maps if you need to (but you'll have to have a VPN on your cell phone), or Baidu Maps, which is an entirely Chinese system.
Where to stay in Chongqing
As always, when talking about staying in a Chinese hotel (or hostel), we recommend Agoda or Booking.
The main areas of Chongqing
解放碑 (Jiefang Bei)
The "Liberation Monument" is a gorgeous area that developed around this monument which was erected around 1940. This area is full of stores, restaurants, malls, language schools and many other things. In the evening, this area is filled with lights that make it an enchanting and breathtaking place.
Another characteristic of this area is represented by all the gigantic jumbotrons attached to skyscrapers of which you can't even see the top. Unforgettable among the towers there, perhaps the most important one, is Chongqing World Financial Centre (WFCC).
观音桥 (Guanyin Qiao)
The "Guanyin Bridge" is perhaps the most trendy area there is in Chongqing: a fashion center full of young people that are brimming with energy. The most famous 5-star cinema chain in Chongqing (and perhaps all of China!), UME, 国际影城, was inaugurated in Guanyin Qiao.
南坪 (Nanping)
Being located to the south of the Blue River, this area offers magnificent nighttime views, besides being full of shops, restaurants, and recreational activities.
沙坪坝 (Shapingba)
The majority of schools and universities in Chongqing are located in this area, making it the cultural center of the city. In the central area of Shapingba there's a very famous square: 三峡广场, or "The Square of the Three Gorges".
杨家坪 (Yangjia Ping)
Being very close to the Sichuan Institute of Fine Arts, in this area, it isn't unusual to find exhibitions and art shows.
What to see in Chongqing
Chongqing offers tons of sights, let's review these places:
若瑟堂 (Ruose Tang)
"St. Joseph's Church" (line 1 on the metro): built in 1893, this church can welcome thousands of the faithful at a time. Catholicism was introduced to Chongqing around 1858 when there was the Second Opium War in China, which involved the Anglo-French alliance.
通远门 (Tongyuan Men)
"The Tongyuan Gate" (line 1 of the metro about 300 meters from St. Joseph's Church): built in the last years of the Southern Song Dynasty (1127-1279) where it served as an access point to the outside world; in 1922, inside this area, the British, French and German Consulates were built. Now it's just a tourist site full of statues picturing warriors on foot and horseback.
洪崖洞 (Hongyadong)
Located near the junction between the Blue and Jialing Rivers, it has lots of ancient streets, delicious foods and little restaurants; however, anyone who's ever been there will absolutely prefer the view (especially at night) which you can admire from there.
山城步道 (Shan Cheng Budao)
The "Mountain City Pass" starts at Zhongxing street, near Jiefangbei, and ends around Tongyuan Gate. It is the only path that goes along a slope of Chongqing: 1.5 km long, it allows for a very beautiful view of the city along the Blue River.
过江索道 (Guo Jiang Suodao)
The "cable car that crosses the river" crosses the whole Blue River. The north station is found on Xinhua Street (Jiefangbei), while the one to the south is located on Nanbin Street (in the Nan'an district). The cable car was launched in 1987 and is used by both tourists and locals (even though it's a rather rare event for them since in general the residents of Chongqing are always on the run). A single ticket costs about 20 Yuan, but if you have an IC Card (see above), the price should cost about 9 Yuan.
湖广会馆 (Huguang Hui Guan)
The "headquarters of the Hunan-Hubei-Guandong-Guanxi corporation" is a "temple" located on Changbin Street (Yuzhong). Built around 1759 (Qing Dynasty) but in the same typical style of the first period of the Ming Dynasty (1368-1644), it was used for meetings between representatives of the Hunan, Hubei, Guangdong and Guangxi. Now, besides being a well-known tourist destination, it hosts many traditional events.
重庆三峡博物馆 (Chongqing Sanxia Bowuguan)
The "Three Gorges Museum of Chongqing" (line 2 of the metro) around the four floors are artifacts and documents exhibited about the history in development of the Three Gorges region, along with the traditional culture of Chongqing. The museum is free and can be visited from 09:00 to 17:00 (careful because you can't enter at 16:00).
鹅岭公园 (E'Ling Gong Yuan)
The "E'Ling Park" is located about 300 meters from the E'Ling station on line 1 of the metro. In the past, E'Ling Park was a private garden, as well as the home of the first president of the chamber of commerce, Liyaoting. In this park there's a "little tower", called the "swan's neck", which offers a 360-degree view of the city. It's good to climb this little tower in the early afternoon and days without fog. Admission costs around 5 Yuan.
老君洞 (Laojun Dong)
"Laojun Cave" is located on the southern mountain in the Nan'an district. It's the largest Daoist temple in Chongqing. The name likely goes back to the period of the battle of the Three Kingdoms, but it's not certain. Laojun Cave offers a breathtaking view of the city and is most often visited during the holidays
一棵树 (Yikeshu)
A "Tree": this is a gorgeous scenic overview about 400 meters high in the shape of a rose blossom. This too is found in the Nan'an District. It's called "a Tree" because a Ficus Virens tree was planted there.
南滨路 (Nanbin Lu)
"Nanbin Street": still in the Nan'an District, you can find this wonderful street that is gorgeous at night, full of lights that reflect on the Blue River. Besides the view, there are innumerable Szechuan restaurants, along with places where you can play Majiang.
洋人街 (Yangren Jie)
The "foreigners street": before its defeat at the hands of the Communist Party, Chongqing was the capital of the Nationalist Party. In those days it was very difficult for foreigners to find a safe place within Chongqing, for this reason, many choose this area that only later came to be called "the foreigners street".
Now, in this area a beautiful Western-style amusement park has been built. Another characteristic is the "bakery" by Yangren Jie where you can buy fabulous sweet bread. As a witness to this, just go there on a Sunday morning and see how many hundreds and hundreds of people are in line in front of this "bakery" in the shape of a castle.
磁器口 (Ciqikou)
This area was built in the Song epoch and became quite prosperous during the republican period. Since it's located right behind the Jialing River port, Ciqikou was always teeming with merchants and local citizens and for this reason, it was called "Little Chongqing".
Now Ciqikou is the only ancient city in Chongqing and attracts lots of tourists. The city's style is really that of make-believe ancient China, all accompanied by the typical Chinese red lanterns. In this place, there are lots of businesses that sell prepared foods and various ingredients.
华岩寺 (Huayan Si)
The "Huayan Temple" is located in the Jiulongpo district and is very famous and visited: a beautiful experience to have if you want to experience a little of ancient and traditional China. This temple is in the style of the Ming epoch, with its typical arches in the shape of a dragon. The festival of dragon boats is held here every year. At the foot of the temple is a vegetarian restaurant that is worth trying.
重庆野生动物园 (Chongqing Yesheng Dongyuyuan)
The "Chongqing Safari Park" is very far from the city center (found in the Yongchuan district) and has about 430 rare wild animal species from Australia and Africa. For visitors without a car, there's a bus that takes you from one part of the park to another without risk from the wild animals.
The consulates of Chongqing
In case of need, whatever your nationality, Chongqing is home to numerous consulates. Here's the complete list: Consulate General of the United Kingdom, Consulate General of Canada, Royal Consulate General of Denmark, Consulate General of Italy, Consulate General of the Republic of Hungary, Consulate General of Japan, Consulate General of Cambodia, Consulate General of the Republic of the Philippines, Consulate General of the Netherlands, Consulate General of the Democratic Republic of Ethiopia.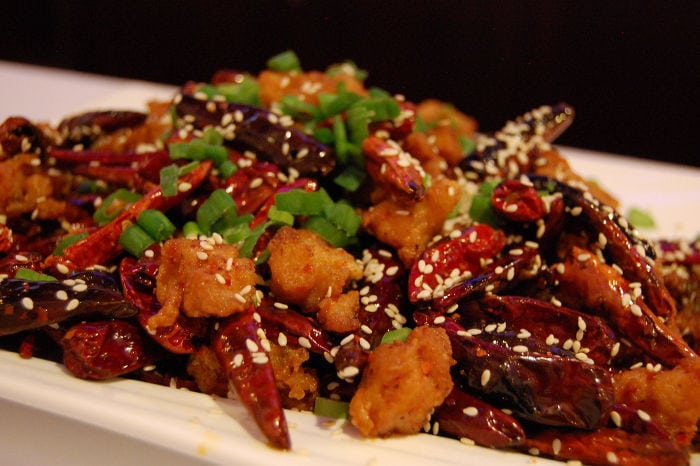 chongqing chicken by stuart_spivack
Food in Chongqing
Since Chongqing once was part of the Province of 四川 (Sichuan), the majority of dishes from Chongqing are in Szechuan style, so spicy and/or peppery.
As ingredients, we have various peppers, garlic, ginger, and fermented soybeans. I won't stay long on each dish, I'll just give you a few names then look for images on Google and start drooling! Let's start with the very famous hot-pot, 火锅 (huoguo), of which there's an entire road dedicated to huoguo restaurants: truly an explosion of spicy smells that will make you tear up.
Let's move on to a shortlist (there are countless varieties of dishes in Chongqing, you can't actually list them all):
干锅 (Gan guo), "dry pot" (very similar to huoguo but this dish doesn't make use of the soup that huoguo needs); 串串 (chuan chuan), "kebabs"; 宫保鸡丁 (gonbao jiding), "Gongbao Chicken"; 鱼香肉丝 (yu xiang rousi), "Little strips of fish flavored meat"; 回锅肉 (huiguo rou),"Twice cooked pork"; 麻婆豆腐 (mapo doufu), "Tofu Mapo"; 辣子鸡 (la zi ji), "Chicken with whole chilis"; 水煮牛肉 (shui zhu niurou), "boiled beef"; 酸菜鱼 (suan cai yu), "Sour river fish"; 粉蒸肉 (fen zheng rou), "steamed pork with rice flour"; 番茄炒蛋 (fanqie chao dan), "scrambled eggs and tomatoes"; 牛肉面 (niu rou mian), "beef noodles"; 番茄鸡蛋面 (fanqie jidan mian), "scrambled eggs and tomato noodles"; 重庆小面 (Chongqing xiaomian), "Chongqing noodles", 麻花 (ma hua), "fried spicy dough" (they sell the best at Chen Mahua 陈麻花, locaed in Ciqikou); 冰粉 (bing fen), "cold rice noodles"; 凉虾 (liang xia), "cold shrimp"; 凉面 (liang mian), "cold noodles"; 烧烤 (shao kao), "grilled meat".
Naturally, besides the varieties of Chinese food, in Chongqing its very easy to find international restaurants: Japanese, Korean, Thai, Italian, French, Mexican. If you want to have Italian food, you can go to the restaurant "Cupola", by "Alessi", to "Dcafè" and "Nova-Italian Cuisine".
Not far from Jiefangbei there's a road called 好吃街 (haochi jie), "the road with good things to eat", where you can eat lots of Chinese foods at rock bottom prices. It's hard to find a table to sit at on this road since the food is eaten while walking. Even though this street is easily recognizable, at the entrance you'll find a sign with the writing 重庆好吃街 (Chongqing Haochi Jie), so you can't go wrong!
To conclude, I want to mention the Taiwanese blackballs: this is a spectacular ice cream that they sell everywhere in Chongqing. On this site you'll find more detailed information.
Nightlife in Chongqing
As a large metropolis, emblem of modernity, as well as a giant melting pot of different culture's and nationalities, the nightlife in Chongqing is something unique that makes it even more livable. Just imagine how many discos, pubs, bars, nightclubs and KTV can be found in Chongqing. There's a huge selection!
The center of nightlife in Chongqing is without a doubt 较场口得意世界 (jiaochang kou deyi shijie), easily recognizable thanks to its very large sculpture of a globe in the center of the square. The most fashionable music houses are Nuts Lie House, the Cotton Club, the 88 Club, S-Muse Club, and Flavor Lounge.
Not far away there are also places where you can eat shaokao "grilled meat" during hours that in Europe would seem rather improbable (from 4 to 6 in the morning), after spending the night having fun with friends. In the same area there's a wonderful place: Helen's Cafe, frequently visited by foreign students from Chongqing University.
Even though I don't like it, I want to let fans of beer know about Paulaner Munich Beer Garden (in the Yubei District), the only restaurant that imports the Paulaner brand. In this restaurant, besides drinking German beer, you can eat hamburgers, pizza, sandwiches, German sausage, wurstel, and foods like that.
In Hongyadong, there's the Harp Irish Pub, the only authentic Irish Pub in Chongqing, where you can find HD screens with excellent connections that will allow you to watch sports in the company of friends.
The people of Chongqing
The people of Chongqing are rather tough: they build tunnels that pass under mountains, very sophisticated bridges and overpasses; they struggle with the mountains and rivers, but at the same time live above them. Because of the humidity, the people of Chongqing love to eat spicy food all the time. In local family-run taverns, instead of olive oil and bread, you'll find only chili oil that's so spicy that it will burn and make the lips of even the most fearless Western pepper-eaters swell.
However, once you get used to it, the spice of Chongqing is pleasant. The people of Chongqing really can't live without spiciness and don't enjoy eating without it. If then a Westerner is able to handle the spice of Chongqing, they'll sing his praises as if he were a hero.
In China, everyone loves the food in Chongqing: fantastic at low prices! Whatever it might be, perhaps even thanks to this excellent food, the people of Chongqing are almost always in a good mood, very nice and ready to help you with anything. Nevertheless, the people of Chongqing are also famous for the ease with which they lose their patience, and their habit to speak very quickly in a loud voice with a strong dialect.
A piece of advice for students of Chinese who are just starting out: before going to learn Chinese in China, do some schooling in Beijing and similar places, don't go directly to Chongqing because there's a risk that you won't understand anything you hear.
The 棒棒 (Bangbang) of Chongqing
Despite the countless, extremely fast, and radical changes that the city of Chongqing has experienced in the last thirty years, one thing has remained unchanged: the 棒棒 (bangbang) of Chongqing. The bangbang of Chongqing are wooden rods (usually of bamboo) that are often used by Chinese porters to carry around various objects and materials.
These rods are positioned on the back, and the extremities usually have little baskets attached by cords that hold all sorts of objects and materials. The bangbang are called "wooden poles".
In ancient times, the bangbangs were only used to transport water from the rivers. Despite the high level of modernity that permeates Chongqing, it's quite common to find people using bangbangs at work or seated on steps intent on drinking tea or smoking. These are middle-aged people (or even older) that you can recognize by what they wear or better yet, what they don't wear: in fact, they almost always have bare torsos.
The interesting thing is that if you should ever get tired of dragging your suitcases behind you, or the packages from a crazy shopping spree, you can shout out BANG-BANG and expect that one of these men will run to help you for a small price, most of the time one of your choosing.
The universities of Chongqing
Besides admiring Chongqing's wonders and tasting its culinary delicacies, Chongqing is also the site of lots of prestigious universities with established traditions. The following is a brief list of the most noteworthy: 重庆大学 (Chongqing Daxue), 西南大学 (Xinan Daxue), 重庆医科大学 (Chongqing Yike Daxue), 重庆邮电大学 (Chongqing Youdian Daxue), 重庆交通大学 (Chongqing Jiaotong Daxue), 重庆师范大学 (Chongqing Shifan Daxue), 四川美术学院 (Szechuan Meishu Xueyuan), 重庆三峡学院 (Chongqing Sanxia Xueyuan).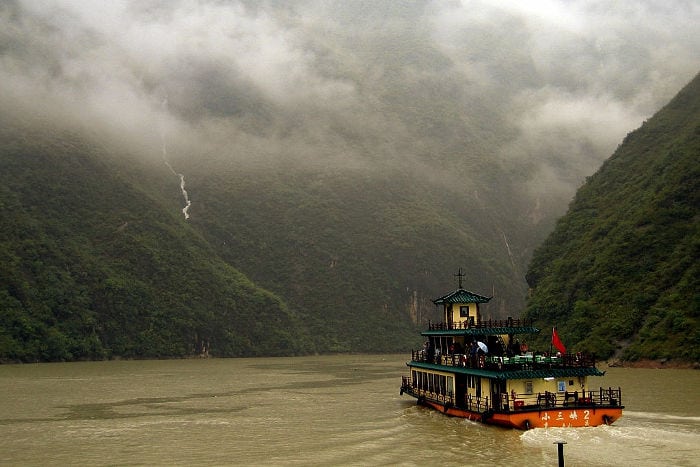 Photo Credits:

China* 三峡 by neverhide
What to see just outside of Chongqing
Let's review what you can see right outside of Chongqing:
三峡 (San Xia)
The "Three Gorges" are likely the sight most worth seeing. The Three Gorges (西陵, 巫 and 瞿塘峡) are 120 km long and are about 300 km from the city. The Three Gorges are one of the top ten most visited places by Chinese tourists. You can take beautiful cruises out of Chongqing, departing from Chaotianmen, at a price of 1500 Yuan (4 days, 3 nights, meals included).
武隆仙女山 (Wulong Xian Nu Shan)
The "mountain of the immortal witches of Wulong" is about three hours by car from Chongqing. Famous for its forests that are covered in snow in winter, this is an especially beautiful place for the residents of Chongqing, who are not at all used to seeing snow.
大足石刻 (Dazu Shike)
The "Rocks with Dazu carvings" are located in the Dazu district, about 167 km from the Chongqing city center. You can easily take direct buses and trains to get there. These rocks with carvings were preserved with much care and show various religious histories (Buddhism) that are worth discovering.
黑山谷 (Hei Shangu)
The "Black Valley" is located about 110 km from the middle of the city. This is an area that is about 97% covered by forest. A gorgeous summer resort with crystal clear rivers and little hills covered by trees. You can cross this valley by electric bus. You can also visit the stone forest.
v四面山 (Simian Shan)
"Simian Mountains" is located to the southwest of Chongqing, about 130 km from the city center. Simian Mountains is known as one of the all-time most beautiful forest parks. The first thing that comes to mind when talking about Simian Mountains is the waterfall 妄想台 (Wangxiangtai), "Terrace of Nostalgia", the longest in China. There are also many lakes, rivers, and temples. You can enjoy various activities such as biking and fishing. In summer it's very hot, whereas in winter you can easily come across snow.
丰都鬼城 (Fengdu Guicheng)
The "city of the Fengdu ghosts": this name was given to the city when, during the Eastern Han Dynasty, two imperial officials, Yin Changsheng and Wang Fengping were there, and according to legend, became immortal during their Daoist practices.
Their combined name 隐王 (Yin Wang) means "Lord of the darkness". This city has also been mentioned in several Chinese classics, such as 西游记, "Journey to the West", 聊斋志异, "Strange stories by a Chinese study", 封神演义, "The creation of the gods". Now, Fengdu is a very popular tourist destination with its mysterious atmosphere and numerous temples.
白帝城 (Baidi Cheng)
The "City of Baidi" is in Fengjie, nearly 450 km from Chongqing. During the period of the three kingdoms, the very famous Liu Bei, before dying there, recommended his son to the just as famous Zhuge Liang. Baidi is also called the city of poems because many ancient poets wrote poetry about Baidi. Below is a poem by Li Bai:
Chao fa Baidicheng《朝发白帝城》 (Leaving Baidi in the morning):
"[…]朝辞白帝彩云间,千里江陵一日还,两岸猿声啼不住,轻舟已过万重山。"
"In the morning, among the pink clouds, I leave Baidi. To cover the distance that separates me from Jiangling will take a day. The grunts of monkeys are heard without letup on the two shores. My little boat has already passed infinite serious mountains."
金佛山 (Jinfo Shan)
The "Mountain of the Golden Buddha" is found in the Nanchuan district, about 177 km from the city center, and has breathtaking scenes: lakes, rivers, forests, hot springs, caves, mountains. The peak of the Mountain of the Golden Buddha goes up to 2251 meters. In this area, there are numerous species of protected and non-protected animals, as well as very rare plants.
钓鱼城 (Diaoyu Cheng)
The "Diaoyu Fortress" is one of the fields where the most memorable battles took place. Some accounts report that here is where the last fierce battle between the early Chinese and Mongols took place before they were conquered at the end of the Song Dynasty era.
桃花源 (Taohuayuan)
The "pear flower spring" is found in Youyang County, about 360 km from Chongqing. This spring was created in the celebrated component style of Tao Yuanming, 桃花源记, "Memories of the pear flower spring".
Conclusion
I hope that this guide to Chongqing will have created such a desire to see this marvelous city that you want to immediately book a flight and take a great vacation. Travel and discover new worlds!