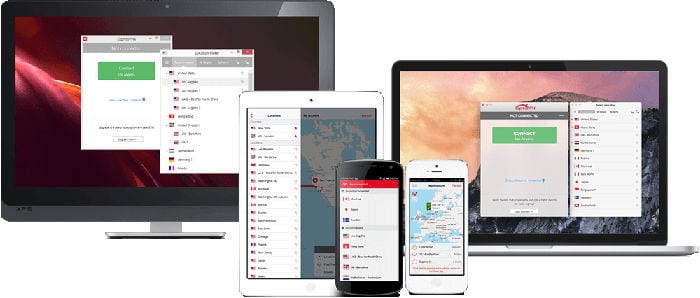 The purpose of this article is to review ExpressVPN, which, in my opinion, is one of the best VPNs currently on the market. If you still don't know what a VPN is, just scroll down till the end of this article to learn more.
Why is ExpressVPN one of the best VPNs on the market?
ExpressVPN offers one of the best encryptions and IP blockers on the market. How do I know? Because it is one of the few VPNs that is able to pass one of the most demanding tests that exits: I'm talking about the Great Firewall of China, which limits access to innumerable websites such as Google, Facebook and Twitter.
In China I have tried a lot of VPNs, both paid and free, and I ensure you that few are capable of getting around the Great Firewall of China, and among those, few offer a stable and fast connection.
The strong points of ExpressVPN
It has its own servers: This may seem obvious, but the large majority of cheap or free VPNs don't have their own servers, and what they do is use your computer as a server, because of which they offer slow connections and make your computer much slower.
It offers servers in 78 countries: This is one of the most important features, especially if your intent is to elude the geographic limitations of certain services. Don't worry! You can watch your favorite Argentine series via streaming!
It is very easy to use, regardless of your device: This is one of the aspects that I like the most. ExpressVPN offers the adequate software and apps, regardless of your device or operating system (Windows, Apple, Android, Kindle) or explains in detail how to configure it in the case of Linux, Apple TV, Playstation, Xbox or older versions of Andriod. In addition, its software is very easy to use: It does not require login (just activation when you install it), it automatically selects the best encryption protocol for your network and suggests the location of the servers that offer the fastest speeds from the place you are connected.
It offers 2 simultaneous connections: This also makes it ideal for mobile devices, so if you want to use your VPN both on your cell phone and your laptop, you won't have to worry about connecting and disconnecting the VPN each time that you want to use it on a different device.
What would improve of ExpressVPN?
Difficult to manually optimize: As I have mentioned, it is very easy to use, but this simplicity is at the detriment of the ease of manually optimizing your connection, for example, the speed tests for servers.
How much does it cost ExpressVPN?
ExpressVPN costs $8.32 USD per month if you take out an annual plan, $9.99 per month if you take out 6 months, and $12.95 if you get it for only one month.
In my opinion, $8.32 per month for a good VPN seems very reasonable. In fact, it is one of the cheapest VPNs with its own servers. Obviously you can always choose a cheaper or free one, but don't complain when everything is slow, your browser is filled with ads and you realize that your connection is not just insecure but that your browsing history is copied and sold to third parties.
What is a VPN and why is it useful to me?
A VPN or Virtual Private Network, to put it simply, is a system that allows you to send and receive information over the internet as if you were directly connected to a private network. It is mainly used to:
Get around restrictions on internet use that exist in countries such as Iran and China, for example.
Access services which are geographically limited; that is, which are only available in certain countries. For example, if you want to see your favorite series on Netflix or Hulu, you won't be able to, unless you are in the United States. However, if you use a VPN to connect to an American server, you will be able to.
Send send sensitive information (such as banking information) over insecure networks. VPNs allow you to encrypt the data you send over the internet, and as a result, it is much more difficult for third parties to read this information.
Click here to try Express VPN now!