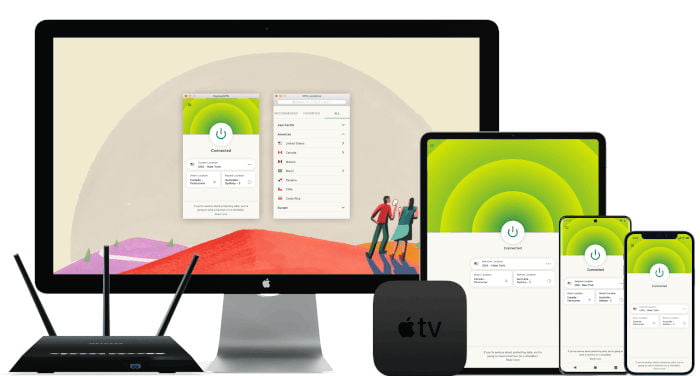 Does ExpressVPN still work in China? The short answer is "YES"!
This article is a complete review and a study of the functionality of ExpressVPN in China, which in our opinion, is one of the best VPNs currently on the market.
If you still don't know what a VPN is, just go till the end of this article to learn more.
Why ExpressVPN is one of the best VPNs for China
We have been using and testing a multitude of VPNs for more than ten years as a way of getting around the Great Firewall of China, which as you know, limits access to innumerable websites and apps, such as Google, WhatsApp, Facebook or Twitter.
Very few VPNs are capable of offering acceptable performance in China, and among the few that currently work, ExpressVPN has shown itself to be one of the most reliable and quickest.
We have been using ExpressVPN in China since 2014, and during this entire time, it has always been a surefire way to continue to access the Internet without restrictions.
Technical features of ExpressVPN
Encryption protocols: ExpressVPN allows the main encryption protocols, such as UDP-OpenVPN, TCP/UDP, SSTP, L2TP/IPsec and PPTP.
Simultaneous connections: ExpressVPN allows you to have 5 simultaneous connections.
Number of countries with servers: 94 countries and 160 different locations
Server count: 3.000+
Server changes allowed: Unlimited
Applications: Windows, Linux, Mac, Android, iOS and routers. In addition, it offers extensions for Safari, Chrome and Firefox browsers
Customer service: 24/7 via live chat and email.
Guaranteed money back: 30 days.
Special functionalities: Split tunneling (lets you decide which programs and/or websites use the VPN and which don't), acceleration technology, TrustedServer technology, kill switch and integrated speed test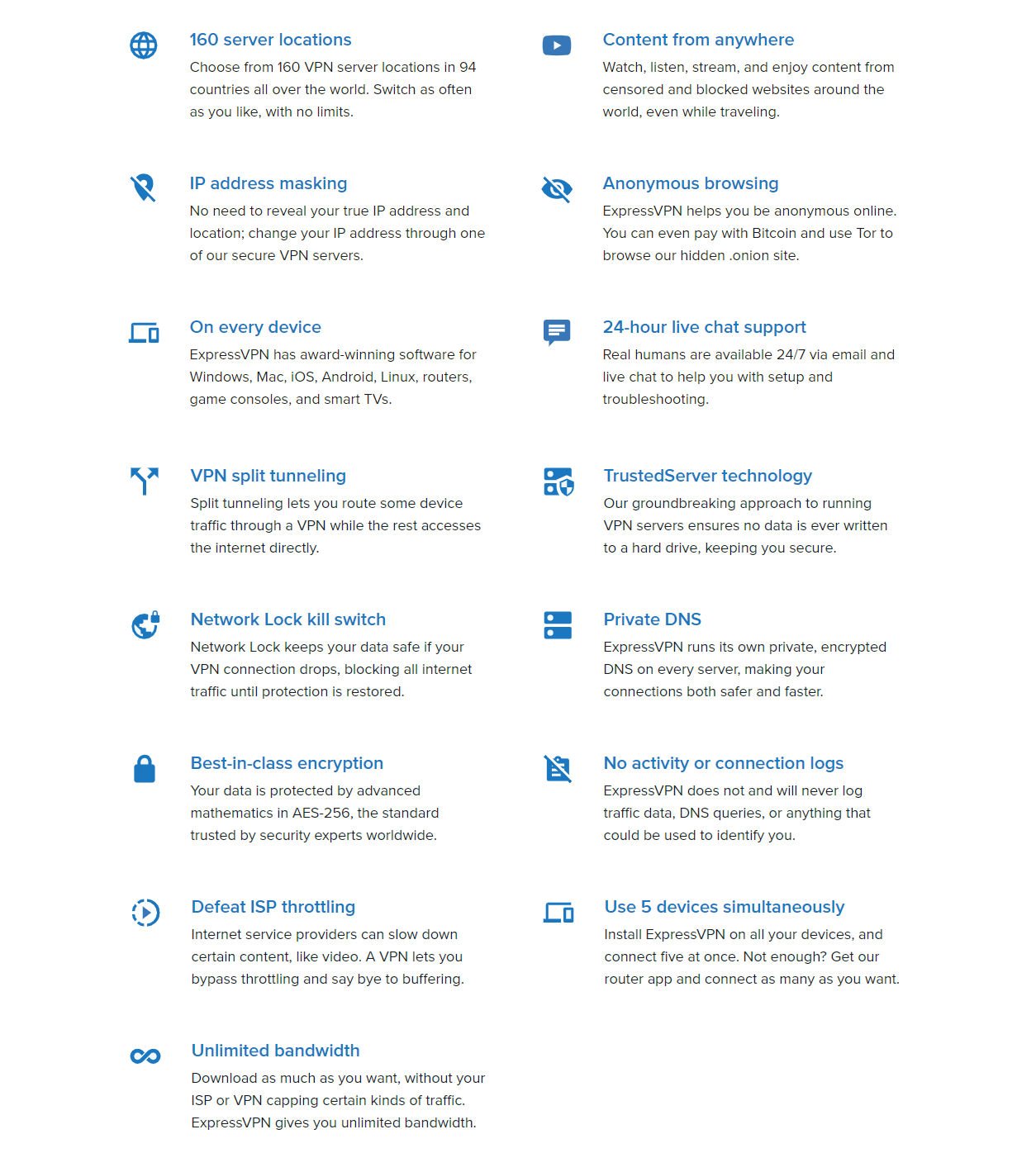 The strong points of ExpressVPN
Speed: Thanks to its patented acceleration technology, ExpressVPN offers one of the best speeds on the market and is one of the few VPNs that enables connections that are compatible with a smooth browsing experience in China.
Server count: With more than 3000 servers located in 94 different countries, ExpressVPN allows you to get around the geographic restrictions of certain services without this affecting the performance of your connection, as it has sufficient servers at the global level to absorb its users' demand.
Easy to use, regardless of which device you are using: ExpressVPN offers adequate software and apps, regardless of your device or operating system (Windows, Mac, Android, iOS, or Linux) or explains in detail how to configure it in the case of PlayStation, Xbox or older versions of Andriod. In addition, its software is very easy to use: It does not require login (just activation when you install it), it automatically selects the best encryption protocol for your network and suggests the location of the servers that offer the fastest speeds from the place you are connected.
Technical support: It is one of the few VPNs that offers live chat 24 hours a day. They are usually quick to answer and normally resolve the problem efficiently. This aspect is very important, especially in countries with significant Internet use restrictions like China, where properly adjusting the features of your VPN is essential to enjoy a fast and stable connection.
External audits: Installing a VPN can be a risk to your security or privacy, and because of this, it's important for VPN providers to be subjected to external audits to ensure that they are secure and do not constitute a risk to your privacy. ExpressVPN has undergone multiple audits, including by PwC and Cure53
What would improve of ExpressVPN?
Dedicated IP addresses: There is an increasing demand for users that want unique IP addresses that aren't shared with other users. At this time, ExpressVPN is not yet offering this possibility.
WireGuard: WireGuard is a new encryption protocol with huge potential due to its security and speed. Some of the main VPN providers are already starting to include it in their software. However, ExpressVPN doesn't yet offer this option.
Price: ExpressVPN is a premium VPN and as a result, is more expensive than VPNs with poorer performance. However, if you purchase an annual plan using one of the links on this page, you will get a relatively inexpensive monthly price (6.67 USD).
Suggestions for using ExpressVPN in China
Despite being one of the VPNs that is the easiest to use and optimize on the market, to get the most out of ExpressVPN in China, you should follow a few simple recommendations:
Keep the software up-to-date: Many of the frequently published software and app updates have the purpose of countering or preventing new Internet use restrictions that are implemented in the country, thus improving connectivity and stability.
Follow the provider's recommendations: ExpressVPN has a regularly updated website dedicated to informing you about the VPN's state in China and offering recommendations in order to optimize your connection.Here are all of the recommendations for connecting ExpressVPN in China.
Purchase and install the VPN before going to China: Even though the links that we offer on this website are usually up-to-date and can be accessed in China (ExpressVPN's websites tend to be blocked frequently), downloading and purchasing a VPN once you are in China can be a headache.
Patience: In China, connecting a VPN isn't always simple. It often takes time to establish a connection, or you might even need to try out several servers. With patience and following the provider's recommendations, there won't usually be any problems when connecting the VPN and browsing without restrictions.
How much does it cost ExpressVPN?
ExpressVPN costs 6.67 USD per month if you buy an annual plan (with our exclusive discount), 9.99 USD per month if you buy it for 6 months and 12.95 USD per month if you buy it for only one month.

In our opinion, 6.67 USD per month for one of the best VPNs on the market is quite reasonable. You can always choose a less expensive or even free VPN, but don't be surprised if the VPN has problems connecting, is slow, your browser is filled with advertisements or you realize that not only is your connection insecure but that your browsing history is collected and sold to third parties.
What is a VPN and why is it useful to me?
A VPN or Virtual Private Network, to put it simply, is a system that allows you to send and receive information over the internet as if you were directly connected to a private network. It is mainly used to:

Get around restrictions on internet use that exist in countries such as Iran and China, for example.
Access services which are geographically limited; that is, which are only available in certain countries. For example, if you want to see your favorite series on Netflix or Hulu, you won't be able to, unless you are in the United States. However, if you use a VPN to connect to an American server, you will be able to.
Send send sensitive information (such as banking information) over insecure networks. VPNs allow you to encrypt the data you send over the internet, and as a result, it is much more difficult for third parties to read this information.
Click here to try ExpressVPN now!
Frequently asked questions
Can ExpressVPN be used in China?
Yes, ExpressVPN is one of the few VPNs that can still be used in China. This VPN lets you access the Internet in China without restrictions, either from your laptop or your mobile devices. Currently, only the OpenVPN protocol tends to work in China.
Does ExpressVPN work in China in 2020?
Yes, ExpressVPN works in China in 2020. Despite the intense campaign to limit VPN use in China during the last years, ExpressVPN continues to work without problems in 2020. In fact, it is one of the VPNs that has best withstood all of the updates to the Great Firewall of China over the past years and tends to be a safe bet for the country.
What is ExpressVPN used for?
ExpressVPN has multiple uses. Among the most popular are:
Accessing restricted websites in countries like China.
Accessing geographically-restricted websites, in particular TV streaming websites.
Safely downloading files.
Improving the security of your connection, especially when using public Wi-Fi networks.
Is ExpressVPN safe to use?
In theory, using a VPN should improve the security of your Internet connection, but there are many VPNs (and especially free ones) that are sometimes more dangerous than the potential risks of connecting without a VPN. ExpressVPN is a serious company that has been on the market for many years, and which has proven itself to be a reliable and safe VPN.
How do I know if ExpressVPN is working?
The fastest way to know if your VPN is working is to go to a website like whatismyip.com and check your IP address and location without connecting the VPN. Then, once you've connected ExpressVPN, go back to the same page and check that your IP address and location have changed.
What is the best VPN protocol?
Normally, OpenVPN is usually the most used protocol, as it is secure and quite fast, as well as the only protocol that works in countries like China. The PPTP protocol tends to be the fastest, but it's better to avoid it, as it isn't very secure. The L2TP/IPSec protocol tends to be quite secure, but it's without a doubt the slowest.