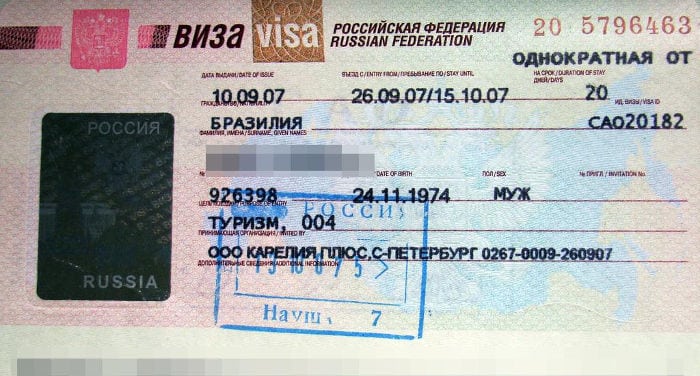 This article is a complete and updated guide on how to obtain a visa for Russia. In this article, we are going to cover the following points (you can click on them to jump directly to the point which interests you):
Do I need a visa for Russia?
Yes, for the majority of passports you need a visa to enter Russia. However, there are a few exceptions, as I specify below:
Stay of a maximum of 72h: Passengers who arrive at St. Petersburg in cruise ships (as long as you sleep on the boat).
Stay of up to 90 days: Citizens of Azerbaijan, Armenia, Belarus, Kazakhstan, Kyrgyzstan, Moldavia, Tajikistan, Turkmenistan, Uzbekistan and Ukraine.
Stay as a tourist of up to 90 days: Citizens of Argentina, Brazil, Chile, Colombia, Israel, Nicaragua, Peru, Venezuela.
Non-working stay up to 30 days: Citizens of Cuba, Montenegro, Serbia (biometric passport), Thailand, Turkey and Hong Kong (up to 14 days).
Stay as a tourist with an agency of up to 30 days: Citizens of Bosnia and Herzegovina, Croatia, Macedonia.
How long does it take to get a Russian visa?
Normally, to obtain the visa, it takes 10 business days for standard processing and 3 working days for express processing.
How much does it cost?
The prices vary greatly depending on your nationality. As an example, for US citizens 50 USD for standard and 100 USD for express. For European citizens, the cost is 35 EUR for standard processing and 75 for express.
Where to apply for the visa?
You can check on this website the places where you can apply for a Russian visa in your country.
The different types of visas for Russia (and the requirements for obtaining them)
The basic requirements for obtaining a Russian visa are:
Passport: The passport has to have at least 6 months of remaining validity and two empty pages.
A recent photo: A color photo with a white background and with size 1 3/8 x 1 3/4 inches (3х4 cm).
Invitation letter: The letter of invitation must be issued by an authorized organization (see below to find out how to get a letter of invitation).
Other requirements
Travel insurance policy: This requirement is only for European citizens of one of the following countries: Austria, Belgium, Bulgaria, Denmark, Hungary, Greece,

Spain

, Italy, Cyprus, Latvia, Lithuania, Luxembourg, Malta, the Netherlands, Norway, Poland, Portugal, Romania, Slovakia, Slovenia, Germany, Finland, France, the Czech Republic, Sweden, Switzerland and Estonia. Click here to read our suggestions on obtaining a health insurance policy for travelers.
Residency permit: If you are applying for the visa in a country other than your own, in the majority of cases, you will have to present a residency permit which shows your legal status in the country.
Tourist visas
Tourist visas are issued to people who wish to travel to Russia for tourism purposes and require a invitation letter (see below) issued by a travel agency registered with the Department of Consular Services of the Ministry of Foreign Relations in accordance with Russian legislation or based on a hotel reservation.
Tourist visas are issued for a period of 14 to 30 days and normally allow only one entry.
Business visas
Business visas are issued to people who wish to travel to Russia for business reasons whether to sign business contracts, attend events or other reasons related to business activities.
For this type of visa, you need a trip itinerary and reservations for hotels following this plan.
The invitation letter must contain the following information: name, date of birth, sex, nationality, passport number of the person invited, duration and reason for the trip and number of entries. It also must contain the complete name of the organization or company which is inviting, its address, the name and position of the person signing the invitation and the fiscal number or registration number in accordance with national legislation.
Business visas have a maximum total validity of 3 months and allow for one, two or multiple entries.
Transit visa
Transit visas are issued to people who have a layover in Russia for a maximum of 72 hours.
To obtain this visa, you don't need any letter of invitation but you do need confirmation of a plane ticket with an origin and destination outside of Russia. Keep in mind that the country of origin and destination can't be the same.
Note: Travelers with a layover in Russia but who don't leave the airport don't need to apply for any type of visa.
Private visa
Private visas are issued to people who have family members and/or friends who live in Russia.
The letter of invitation must be issued by the Local Department of the Federal Immigration Service of the place where the person who is inviting resides.
These visas have a validity of one to three months and only one entry.
Visas for family members
These visas are issued to people (normally minors) who are traveling accompanied by a family member. The duration and type of the visa will depend on the letter of invitation of their family member.
Other visas
There exist other types of visas, for example, work visas and study visas, but we aren't going to talk about them in this article.
If you are interested in these types of visas, I recommend that you ask for information from the company or organization where you are going to work or study, or otherwise, at the embassy in your country.
How to get a invitation letter?
A invitation letter is the most complicated requirement to obtain for a Russian visa and must be issued by the Local Department of the Federal Immigration Service or by a legal company registered in Russia.
For people who are traveling to Russia for tourism reasons, this letter can be obtained from a hotel where you have made a reservation or through a travel agency. My recommendation is to choose the second option, as in the majority of cases, hotels charge abusive fees (around 60 USD).
If you don't know where to get your letter or you need help applying for a Russian visas, I suggest you check out VisaHQ, a trustworthy and experienced visa agency which will help you during this complicated process.
Photo Credits:

Russian Federation : visa and stamp by Henrique Bente