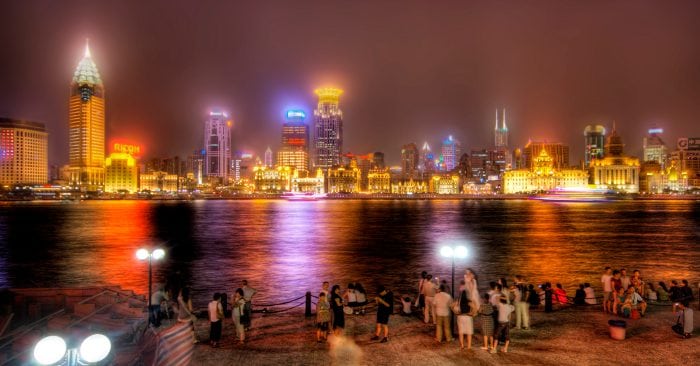 Shanghai's skyline
People often ask us what is the best city to live in in China, Shanghai or Beijing? And is Hong Kong an option? What about second or third tiers cities?
Obviously, there isn't a right answer: it depends on what you're looking for. In this article, we'll focus on Shanghai, Beijing, and Hong Kong and look at the most important factors (cost of living, carrier opportunities, quality of life, and so on) in order to solve some of the most common doubts.
Before we start…
If you're looking to move to China and you didn't read it yet, make you a favor and get our free e-book.
Also, keep in mind that Hong Kong S.A.R. (Special Administrative Region) is a Chinese Province only since 1997 (before it was a British colony).
The fact that Hong Kong is a special administrative region and that was a British colony for a long time implies that there is a border between Mainland China and Hong Kong (they will stamp your passport and so on), that the Hong Kong currency is the "Hong Kong Dollar" while the Chinese currency is the "Renminbi", that the law system isn't the same (for obvious reasons Hong Kong's laws are much more similar to British laws than to Chinese laws), that in Hong Kong people drive on the left (as in the U.K.) while in China people drive on the right and so on.
As you can guess, living in Hong Kong represents a completely different experience than living in Mainland China. In the sequel of this article, we'll explore the pros and cons of each choice.
Visa situation
Visa in Mainland China
In order to visit China, you need a Visa. We already published a long article on how to get a Chinese Visa and what are the different types of Visa in Mainland China. Click here to learn the details.
While before it was relatively easy to live in China for years by applying every three months for a new touristic or business Visa in Hong Kong, nowadays the government is cracking down on this behavior and if you want to live in China for a long period (more than three months) I suggest you get the right Visa (working or student Visa).
Visa in Hong Kong
According to your nationality, you can stay in Hong Kong for tourism or business purposes for up to 180 days per year without any Visa. People from the U.S. or the European Union can stay up to 90 without any Visa. If you own a passport from another country click here and find out what kind of Visa exemption you can get.
Of course, without the proper Visa, you can't work legally or enroll in a university. In order to get a working or student Visa for Hong Kong S.A.R. you need to apply on a Chinese Consular Office in your country.
As for Mainland China, as far as you find a decent job or study program you shall get your Visa without any problem. Here you find the details on how to apply for an Hong Kong Visa.
It's worth mentioning that if you have a company in Hong Kong or in mainland China then your company can provide a working Visa for you. Keep in mind that this only works if your company is a real business that generates profit and pays taxes (and not some empty box you opened to get a Visa).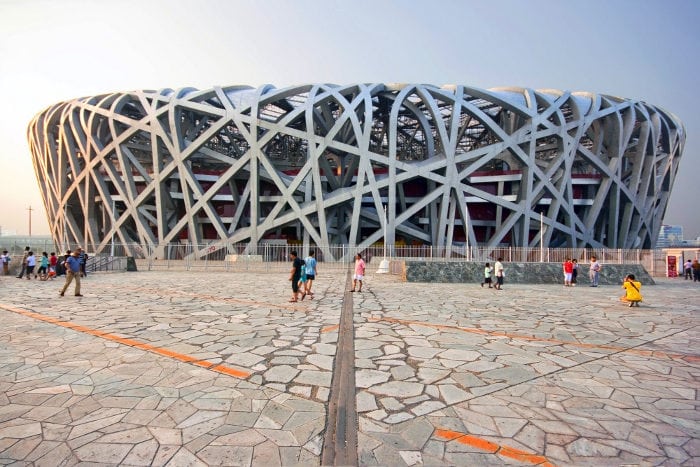 Beijing's Olympic Stadium
Cost of living
I'll start with a fact: salaries in Hong Kong are, on average, much higher than salaries in Beijing and Shanghai. This means that prices are higher too.
The result is that if you're a student or you're paid in foreign currency by a foreign firm then your purchasing power will be much higher in Beijing or Shanghai.
However, if you plan to work for a Chinese firm in China or for a Hong Kong firm in Hong Kong, then your purchasing power may be the same because, as I said, even if Hong Kong is a bit more expensive, salaries are higher too.
In general, salaries in Shanghai are a bit higher than in Beijing. Thus, I think that in Shanghai you'll get the best salary/cost of living ratio.
Rent
Let's start with the biggest expense. Hong Kong is small and crowded, especially on Hong Kong Island, where is situated the city center. The result is that here real estate is bloody expensive and rents aren't an exception. Unless you make a ton of money or settle for an apartment in the middle of nowhere, you'll have to live in a tiny (REALLY tiny) apartment.
In Beijing and Shanghai rents are much cheaper. Probably Beijing is a bit more expensive but there aren't huge differences of price. The problem is that the quality of Beijing's apartments is low so you'll have to visit many of them before you find something you like (for a decent price).
Click here to read our guide to find an apartment in Shanghai and here to read our guide to rent an apartment in Beijing.
Groceries
Hong Kong is more expensive. However, I find the quality of the food in Hong Kong much better. Being an ex-English colony, finding Western products is much easier too.
In Beijing food is a bit cheaper than in Shanghai but, if you want to find Western food, you'll have to visit an expat neighborhood (mainly Sanlitun).
Transportation
As for groceries, Hong Kong is more expensive than Shanghai or Beijing.
Bars and club
I don't think there is any difference in the prices. I'll discuss the nightlife of the three cities later on.
If you want some numerical data you can check this cost of living index, which I find pretty accurate.
Internet
In Mainland China internet is censored. This means that in order to accede to many Western sites such as Facebook or Youtube you'll need a VPN. If you want to learn more about the Internet situation in China click here.
If having a fast and reliable internet connection is a must for you (because you're an online entrepreneur, for instance), than keep in mind that if you decide to move to Mainland China this will probably be the main issue for you.
In Hong Kong internet isn't censored and you won't have any problem.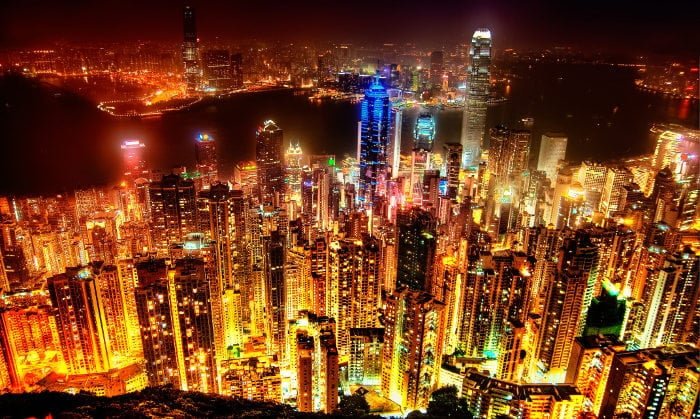 Hong Kong's skyline
Learn Chinese and/or find a job
Suitability for learning Mandarin
The most common language in Hong Kong is Cantonese, which is the dialect from South China, not Mandarin. The second most common language is English. So if learning Mandarin is your priority, you shall avoid Hong Kong.
Shanghai isn't good either: there are too many foreigners and many Chinese people that can speak decent English. Within these three cities, Beijing is by far your best bet for learning Chinese fast. Click here to read our guide for studying Mandarin in Beijing.
Notice that if learning Mandarin is the only reason for which you're coming to China, then you shall also avoid Beijing and move to a second (or even third) tier city such as Chongqing, Chengdu or Kunming where there are much less people that can speak English and thus you'll be more motivated (because learning Mandarin will be your only way to get a social life).
Suitability for finding a job or start a business
The three cities have a different economies; thus your choice is related to what kind of job (or business) you're looking for. If you want to teach (either at the university or at a private English school), then Beijing may offer more opportunities to you.
If you're an engineer or a fashion designer, I'd say to try with Shanghai first. If you're a sourcing agent, probably you're best bet is Hong Kong (or Shenzhen, which is close to Hong Kong S.A.R., just across the border).
If you're looking for a job I suggest you start with our free job search engine.
If you're coming to China in order to find new opportunities and start a business, I have to warn you: this is not 2003 anymore and you'll find a lot of competition. Also, the two Chinese cities that show the greatest economic growth rate nowadays are Chengdu and Chongqing, situated in Western China. The reason is that the Chinese government is investing a lot of resources in order to develop the economy of the internal provinces.
This means that the best cities to start a business in China aren't anymore Hong Kong or Shanghai, while less known cities such a Chengdu, Kunming or Changsha.
Quality of life
Weather
Within the cities where I lived, I think that Beijing is the one with the worst weather. On Winter it's bloody cold, on Summer super hot and rainy, and in Spring you'll have a bit of rain and sand storms. The Autumn is good but the problem is that it only lasts from middle September to middle November because then it starts to get cold.
Shanghai's weather is acceptable (although far from perfection). The Winter isn't so cold (it may snow once or twice but that's all); Summer is hot but in China, there are few exceptions (Yunnan, where you can enjoy eternal spring or the North, where winters are terribly cold). Spring is the rainy season while Autumn in Shanghai is awesome and quite long.
Hong Kong has a subtropical climate: from October to March is the dry season and it's not too hot while from April to September is bloody hot and it rains pretty much every day. During the summer there may be some violent typhoons (this can also happen in Shanghai).
Pollution
China is infamous for pollution so if you're reading this article, you probably know and accepted it already. Having said that, Beijing is much worse than Shanghai.
In Hong Kong, in my opinion, pollution isn't a big issue. Sure, it's a metropolis and it's close to China, so it's not exactly a virgin forest. However, there isn't much heavy industry and the wind helps to clear the smog.
Transportation
All three cities have extremely modern and functional international airports from where there are flights to any part of the world. Also, all cities have a massive subway system (my favorite is probably Shanghai's one). Taxis are pretty cheap anywhere but the difference is that in Beijing the traffic is much worse.
Cultural life
If you're an artist or, anyway, the cultural scene is important for you, then you shall consider Beijing as there are much more cultural events (i.e. music festivals, readings, art exhibitions, museums, and so on) than in Shanghai or Hong Kong, which are more "business-oriented".
Nightlife
While Beijing and Hong Kong have their bar districts (Sanlitun, Gulou, and Wudaokou in Beijing, LKF in Hong Kong), the bar scene of Shanghai is pretty scattered (unless you consider Yongfu Lu a bar district).
Speaking about clubs, in Beijing and Shanghai you'll mostly find Chinese-style clubs. They are quite dark, there is no dance floor and the music is so high that you can barely hear your friends. In these places, the 99% of the clients are Chinese people, most of which are drinking whiskey and green tea at their table. You may also find some clubs that are closer to the Western idea of the club, but they are usually quite small (for instance The Apartment in Shanghai).
Hong Kong is pretty different; especially LKF where there are a ton of English pubs and several Western-style clubs.
For a list of bars and clubs you can check Timeout Beijing, Smart Shanghai or Hong Kong Clubbing.
Distance from the countryside
An aspect I hate about Beijing and Shanghai is that, if you want to reach the countryside, you've to travel for hours. Hong Kong is totally different: in half an hour you're out of town and you can even get to a tropical beach like Shek O.
Have you ever been to Beijing, Shanghai, or Hong Kong? What's your opinion? Share your thoughts through the comments below!
Photo Credits:

Admiring Shanghai from the Bund by Trey Ratcliff


Hong Kong Skyline by Spreng Ben


Beijing National Stadium by Wojtek Gurak