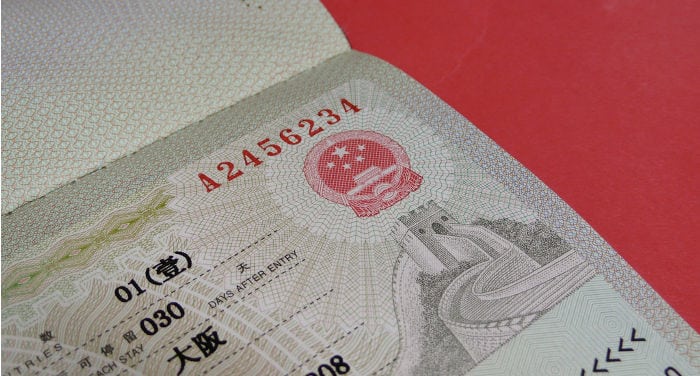 How to get a Chinese Visa in Hong Kong – Index
Before you begin
If you can't apply for a visa in your country of residence because you already live in Asia or you're traveling, Hong Kong is still the best place to get one.
In the first part of this article, we'll explain where you can apply for a visa in Hong Kong (you can use an agency or go directly to the CVASC), and which documents are necessary for getting a visa.
In the second part of this article, we'll explain how to travel from China to Hong Kong in the quickest and cheapest way in order to get a visa.
Note that all the information that you'll find in this article is the result of our own personal experience since we've applied for many visas in Hong Kong, starting way back in 2012.
For more general information on Chinese Visa, I suggest you read Chinese Visa application: A complete guide.
Do I need a Visa to visit Hong Kong?
If you are an American, Canadian, Australian or European (from E.U, I mean) citizen, then you don't need a Visa as long as you stay for less than 90 days (British people can stay 180 days). If you come from another country, you should go to this page to check whether you need a Visa or not.
Once you arrive in Hong Kong, a customs officer will stick a "Visa exemption" ticket on your passport, which specifies for how long you can legally stay in Hong Kong without a Visa.
In the second part of this article, I'll provide all the Visa costs in HKD (Hong Kong Dollars). Keep in mind that at the time of writing, 10 HKD = 1.29 USD = 1.16 Euro (you can find the exchange rate in real-time here).
Where can I get a Chinese Visa in Hong Kong?
Option A: Using an agency
First Update: At the moment, according to our readers, this is the easiest solution (unless you hold a Hong Kong resident permit).
Second update: Generally speaking, if during the last twelve months you have already obtained one or two Chinese Visas in Hong Kong, it's going to be hard to get more than a 14 day tourist or business Visa (unless you have a legit invitation letter from a Chinese company).
If you aren't one of those people that basically live in China with a tourist or business visa, then you should be able to obtain at least a 60 day tourist Visa (double entry, this means that you'll have to exit and reenter China after 30 days) or a multi-entry 6-12 month business visa.
Note that if you obtain a multi-entry business Visa of 90, 180 or 365 days, you'll have to exit China every 30, 60 or 90 days (according to the Visa you will get).
Moreover, in order to obtain a business visa with a duration of 90, 180 or 365 days, usually you must have already obtained in the past a Chinese Visa outside the Chinese territory and have in your passport at least a stamp from the Chinese immigration office (that is you have already been in China).
If you applied for your Visa through an agency before August 2013, it was possible to obtain it within five hours. Nowadays, the rush service is two working days (that is, 24 hours because in China, the day on which you apply is included in the working days) for short term tourist and business Visas, and up to fifteen working days for a 6 or 12 month business Visa (according to the situation).
There are a lot of visa agencies in Hong Kong. Personally, I like Forever Bright. With the normal service (4 working days), you'll pay 750 HKD for a single entry L or M Visa and 970 HKD for a double-entry L or M visa (30 days per entry).
The prices for the faster services (two or three working days) are 1,170 HKD and 1,720 HKD, respectively.
However, there are many exceptions; you can check the price for your nationality by following this link.
The multi-entry 6-12 months visa isn't available for all nationalities and will cost you between 1,370 and 2,890 HKD (however we heard of people that paid up to 8,000 HKD; thus we advise you to contact the agency well in advance, in order to know what fee you will have to pay in your case).
Here is their address and contact information of Forever Bright Agency:
Rooms 916-917, New Mandarin Plaza Tower B
14 Science Museum Road,
T.S.T. East, Kowloon, Hong Kong
Tel: 852-2369 3188
Website: www.fbt-chinavisa.com.hk

The easiest way to find the agency is to take the subway to Tsim Sha Tsui East Station, leave through exit P2 and walk North on Mody Road (just turn left at the exit) up until the intersection at Science Museum Road, where the agency is located. From the P2 exit, it takes about ten minutes to get to the office.
The other agency that seems to be quite good is CTS (China Travel Service), located at the Hong Kong airport. I've heard that here, you'll need at least three working days to get your Visa.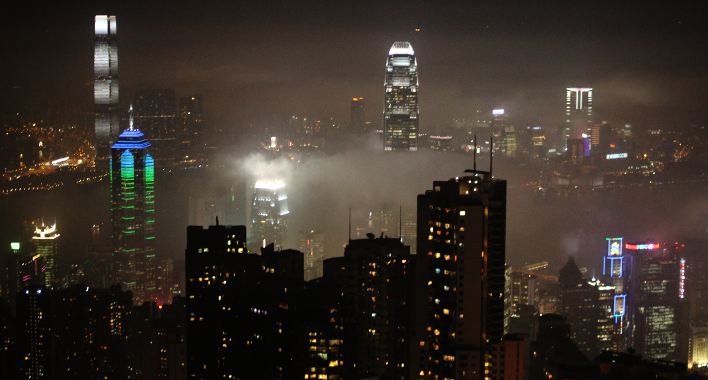 Option B: The Chinese Visa Application Service Center (CVASC)
If you don't want to use an agency, then you will have to apply for your Visa at the CVASC (unless you own a special passport).
Here the address and contact information:
Address: 20/F, Capital Center, 151 Gloucester Road, Wan Chai, Hong Kong
Business Hours: Monday-Friday (closed on Saturdays, Sundays and Public Holidays)
Submission of Applications and Payment: 9:00 to 16:00 (Urgent service before 12:00)
Collection: Regular Service: 10:00 to 17:00, Express and Urgent Service: 12:00 to 17:00
Tel: + 852 29921999
Fax: + 852 29891116
Email: [email protected]
Website: www.visaforchina.org
Here you can find most of the information you will need (including the list of required documents, according to the type of Visa you want to apply for).
Here you find the Visa fees.
Here you can schedule an appointment for your Visa application.
Option C: The Consular Department Office (not applicable for ordinary passports)
Update: Since January 2018, this option is not applicable anymore for ordinary passports. Thus, if you own an ordinary passport, your only options are to apply with an agency or at the CVASC.
Although we don't have any first-hand experience with it, If you have a diplomatic passport, it seems you can still apply for your Chinese Visa at the Consular Department Office. It's close to Wan Chai subway station. The exact address is:
7th Floor, Lower Block, China Resources Building
26 Harbour Road
Wanchai, Hong Kong Island
Tel: +852 3413 2424 (here you find working time and email address)

In general, a single entry Visa costs 200 HKD, a double-entry visa 300 HKD and a multiple-entry visa 500 HKD. However, we are talking about China! This means that there are many exceptions. For example, American citizens have to pay 1100 HKD for any kind of Visa, and British citizens need to pay 360 HKD for a single entry one, 540 HKD for a double entry one and 1090 HKD for a multiple-entry Visa. There are also exceptions for other countries; you can find the complete price list here.
It takes four working days to get your Visa; however, you can apply for the express service if you want to have it within three working days (you'll pay 200 HKD extra), or the rush service if you want to get the Visa within two working days (you'll pay 300 HKD extra).
Note that the day on which you apply is included in the working days, so if you apply for a rush Visa on Monday you'll get it on Tuesday. Also, take note that for some nationalities (France, for instance), express and rush Visa service isn't available. Don't ask me why; this is just the way it is!
If you are planning to stay in a hotel and have no interest in visiting the city, then the rush service is more convenient, as hotels in Hong Kong are quite expensive. This means that you'll end up spending more than the 300 HKD extra needed for the rush Visa process.
The list of necessary documents for obtaining a visa at the consular office
Here's a testimonial from our reader, Enrico Penna (edited by me).
Getting a visa at the consular office is complicated because, even if they require various documents, the complete list of the specific documents needed isn't published anywhere, and moreover, when they deny you at the counter, of the many necessary documents they tell you only one at a time in a way that you won't even get it the next time around.
Between my direct failings and those of other unfortunate ones, I believe I'm able to provide a complete list of necessary documents:
The application form, which among other things must be compiled without errors or omissions otherwise they'll make you fill it out all again (losing your place in line);
Photocopy of your passport, including the Hong Kong immigration slip (the so-called "Visa exemption"), a small rectangle of White paper that they give you at Passport control (when you arrive in Hong Kong), often without stapling a page. Note that if you're not paying attention and lose it, you're screwed;
If you're more than one applying for a visa, they don't accept two copies of the same page; each passport must have a good A4 photocopy;
Copy of your round trip air ticket in both English and Chinese; if your agency has printed it in another language (such as Italian), it will be denied even if your name, airline, booking number and flight information are clearly visible;
Copy of your hotel reservation in China, also in English or Chinese and must absolutely have your name (and the names of all people that are applying for the Visa and will stay at the same hotel) clearly visible; Booking.com had sent me a receipt via e-mail in Italian with a booking code but no name and I had to return to the site to print a copy in English;
Depending on the number of days of your stay, which they deduce for your flight dates, they can ask for proof of your booking for the entire length of your stay in China. The problem is that if you explain to them that you don't have an exact itinerary and will decide where to stay from day to day, there's a very strong possibility that they'll refuse your visa;
This aspect is really controversial and discretional; I saw a Pakistani pass through with just bookings for the first two days in Shenzhen; whereas a French couple was chased off and had to appeal to their agency because they only had a pair of bookings for almost a month-long stay;
To conclude, if you're traveling with a minor child, you'll also need a birth certificate in English and two copies of the parents' passports.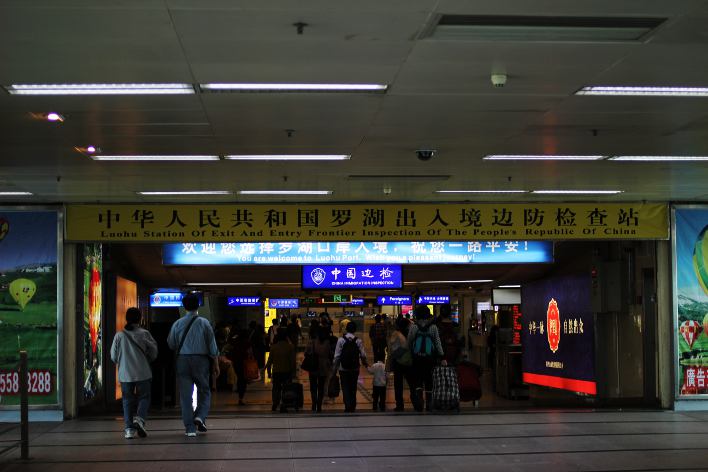 Luo Hu: The border between Shenzhen (China) and Hong Kong S.A.R.
How to get to Hong Kong from China Mainland
Hong Kong by plane
If you are coming from Europe or the U.S., you can just take a flight to Hong Kong International Airport. Then take the subway or a taxi to your hotel (click here to read our reviews of the best luxury, medium-range and economic hotels in Hong Kong).
However, if you live in China and are coming to Hong Kong to renew your Visa or for a Visa run, you may want to consider taking a plane to Shenzhen, a Chinese city located just across the Hong Kong S.A.R. border.
Why? Because a domestic flight from any Chinese city to Shenzhen is usually cheaper than an international flight from any Chinese city to Hong Kong. Click here to learn what are the best website to book a flight in China or Hong Kong.
Once you get to Shenzhen, you can take line 1 of the subway from the airport to Luo Hu station, which is located on the border with the Hong Kong S.A.R. It will take ab out 90 minutes, as you have to cross all of Shenzhen.
At this point, you can cross the border by walking (it takes from 10 to 30 minutes depending on the line) and then take the Hong Kong subway to downtown (about 50 minutes). The total price is about 80 HKD.
The other option is the bus that departs from the arrivals floor at Shenzhen airport and arrives at Tsim Sha Tsui Station, which is in Kowloon but very close to Hong Kong island, and which takes about 90 minutes (if there isn't too much traffic at the border).
Even though you have to take two buses, one to the border and the second from it, it is only one ticket (I think it costs 150 HKD). The first bus drops you off at the border, which you have to cross by walking, while the second bus waits for you across the border (it's all explained on the ticket).
If this trip from Shenzhen to Hong Kong seems too complicated to you, you can fly directly from China to Hong Kong. In this case, I suggest you to read our guide on how to book a flight ticket in China.
Hong Kong by train
The other possibility is to take a train from any Chinese city to Shenzhen and then cross the border at Luo Hu (the train station is quite close).
Take note that a hard sleeper ticket on the night train from Shanghai to Shenzhen will cost you 470 Chinese Yuan while a plane ticket is worth around 650 Yuan. Since the difference in price is relatively small and the train is way slower (around 15 hours instead of 2), I usually go by plane.
Frequently Asked Questions
Can I get a work or student visa in Hong Kong?
According to many comments we receive, it is possible – even if in theory such visas should be requested in the country to which you belong. They've told us that the key is, besides having all your documents in order, having an invitation letter that clearly specifies that the visa be applied for in Hong Kong.
How long does it take to get a visa for China in Hong Kong?
From two to four business days including the day you apply for your visa.
Where can I stay while I wait for my visa?
Click here to read our reviews of the hotels we recommend in Hong Kong.
How long does a visa issued in Hong Kong last?
It depends on the type of visa you apply for and what you manage to get. Note that if for example you apply for a two-entry tourist visa of 30 days each, you won't necessarily be issued that exact visa.
It is possible, depending on the case, that they'll just issue you a single entry visa of 30 days (or less).
Have you ever personally applied for a visa in Hong Kong, or is this article based only on the experience of your readers?
Yes, we have applied for – and obtained – several times a visa in Hong Kong.
Is Hong Kong and China visa the same?
No, Hong Kong is defined as a Special Administrative Region (SAR) of mainland China and where different entry regulations apply.
Can I get a Chinese visa in Hong Kong the same day?
Yes, you can get a visa the same day with the help of an agency (one example is Forever Bright that we presented above). Just keep in mind that it's not possible to use these kind of express services during weekends or public holidays.
Can I enter China with a Hong Kong visa?
No, you cannot enter China with a Hong Kong visa as there are different entry regulations.
Which nationalities need to have a visa before entering Hong Kong?
While most nationalities can stay in Hong Kong between 14 – 90 days visa free, there are almost 59 listed nationalities that need a visa. You can find these countries on the
Immigration Department's website
. Indians don't need visas but pre-arrival registrations.
How do I get a 10 year Chinese visa?
US citizens can apply for a 10 year visa, either as tourists or business persons. Your passport need to have at least two blank pages and should not expire within 12 months.
How much does a 10 year Chinese visa cost?
It's surprisingly cheap and costs you only USD 140. If you're American, there's really no reason why you shouldn't apply for a 10 year visa!
How long can I stay in China with a 10 year visa?
You can normally stay for up to 60 days at a time, if you're a tourist. If you're travelling for business purposes or family visits, a longer period might be granted.
No, you cannot, but need to apply for a proper work visa.
Can I work with the 10 year visa?
No, you need to apply for a proper work visa.
What is a Q2 Chinese visa?
The Q2 visa is a family visa and used for foreigners who have Chinese spouses, or for Chinese descendants. The visa is issued to people who wish to visit their relatives in China, or to foreign permanent residents in China.
Can someone else submit my Chinese visa application?
Yes, your friend, relative, or travel agency can submit your application, as long as the form is filled in and signed by yourself. They can also pick up the visa on your behalf, as long as they have the "Pick-up Form".
Can I apply for a Chinese visa online?
You can let an agency handle the application for you, that is, walking to the embassy to submit all the paperwork and your visa. You cannot submit and receive a visa purely online, as the visa needs to be attached in your passport.
When should I apply for a Chinese visa?
As mentioned, the application takes 2-4 business days. However, it's recommended to start the application at least 2-4 weeks in advance.
How early can I apply for a Chinese visa?
Your visa can expire before your departure and it's advisable to not apply for a visa more than 3 months in advance.
How do I extend my Chinese visa?
First of all, you need to bring your passport, a recently taken passport photo, a registration form of temporary residence, and a proof of reason why you intend to extend your visa. For example, you need to show a travel itinerary in case you want to extend a tourist visa.
For how long can I extend the visa?
You can extend the visa for an equal time period of the original visa. For example, if your original visa permitted you to stay in China for 30 days, you can extend the visa for an additional 30 days.
When do I need to apply for the extension of my visa?
You should submit your application at least 7 days before the first visa expires. But it's advisable to do it even earlier as you can face the risk of overstaying your first visa.
What happens if I overstay in China?
Overstaying for a short time of period, for example a handful of days, will result in a warning and a fine of RMB 500 per day, with a total amount not exceeding RMB 10,000. If you overstay the visa for a longer period of time, for example over several weeks, you can be put in a detention camp for 5-15 days and repatriated back home. In addition, you'll face the risk of getting blacklisted from entering China, which can affect your future plans to visit other countries.
Photo Credits:

Auf nach China by Max Braun