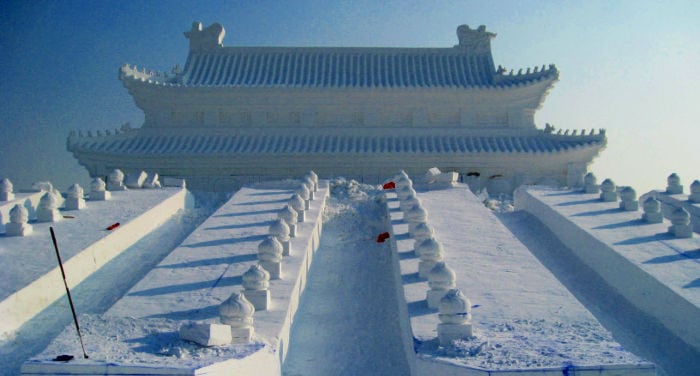 Winter has already arrived in China, and it's probably the worst time to come here. If you go to Beijing the gelid and ultra dry Siberian wind will destroy your beautiful skin. Shanghai isn't better as the humidity will get inside your bones and you'll be unable to get rid of it for weeks.
If you're coming to China at this time your best option is head to the south, especially to Yunnan and its permanent spring. However, today I want to talk about a different option for winter travelers: I'm talking about Harbin, the most famous city in northeast China (Dongbei, here you find our article on Dongbei's food).
This article is our practical guide to visit Harbin, the city that hosts the International Ice and Snow Sculpture Festival.
If you want to join a tour in order to visit Harbin we can suggest you a reliable agency. Click here to contact us and we'll get back to you as soon as possible.
How was the Harbin's International Ice and Snow Sculpture Festival born?
How to get to Harbin
Harbin is the most important city in the North East of China and also the capital of Heilongjiang Province, so is pretty well communicated.
Harbin by plane
You can get to Harbin from all major airports in China. You also have international flights from Russia, Japan, South Korea and U.S.
The Harbin Taiping International Airport is far from downtown, about 35 kilometers. You can get there by cab (it should costs around 100 yuan) or by bus (around 20 yuan) from downtown.
Harbin by train
Harbin is connected by overnight trains with all major cities in China. Also, if you're coming from Beijing you can take the high speed train (it takes 8 hour and costs around 300 yuan).
Harbin is also a major station along the Transmanchurian section of the mythical Transsiberian Express Line and it's considered a "mandatory stop" in the way from Vladivostok to Beijing.
Where to stay?
Personally I stayed at the Harbin Russian Huropa Hotel, an economic, clean and well located hotel.
Click here to read the review of the best luxury, mid-range and economic hotels in Harbin.
What to do in Harbin
Even if Harbin is a relatively young city (the modern city was built to connect Vladivostok and Dalian with the Transmanchurian), there are plenty of things to do. In this article I'll focus on the main attraction that you can find on the winter.
If you aren't going there on winter, you can check the eChina Cities website to know what is going on during your stay. I recommend you to check when the International Beer Festival and the Music Festival are held.
Notice that if you organize your trip well enough you can visit all the places I suggest in two days (weekend trip). So what are the best attractions during the Harbin's Winter?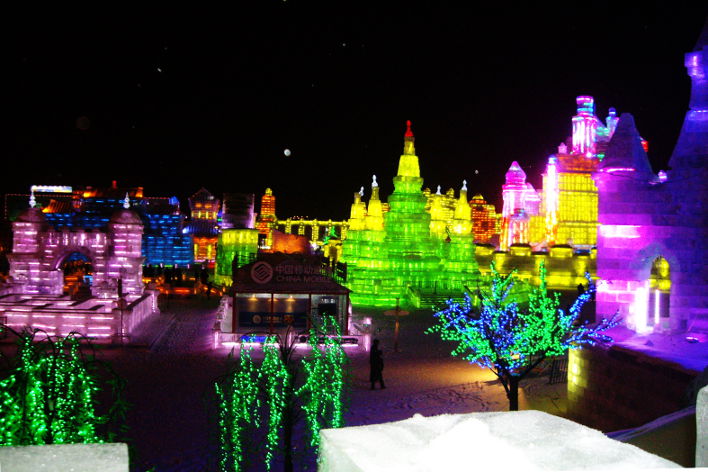 Visit the Harbin International Ice and Snow Sculpture Festival
The Harbin International Ice and Snow Sculpture Festival starts at the beginning of December and last until the end of February. There are many locations around the city where they host different activities and you can appreciate the ice monuments. However if you have a tight schedule, the best place is without any doubt the Ice and Snow World (冰雪大世界; bīngxuě dàshìjiè), which is opened from 9 am to 9:30 pm. My favorite time to visit it is after the sunset as you'll be able to see the ice buildings and sculptures illuminated. The price of the ticket is 150 yuan before noon and 300 after.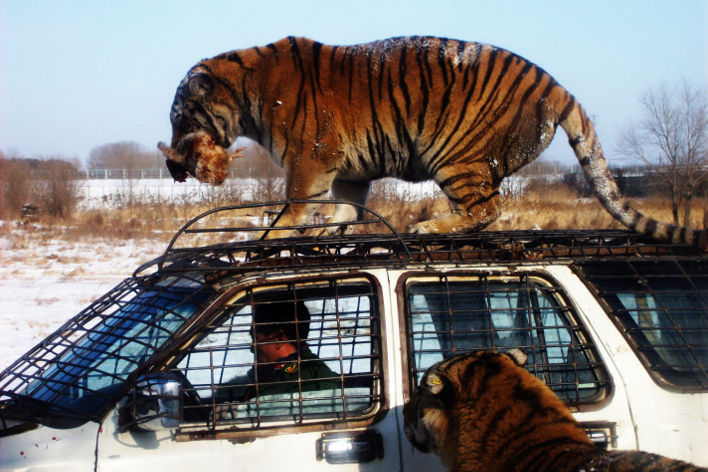 Next time remember to leave the chickens at home!
Feel the danger facing the Siberian tiger
The Siberian Tiger Park (老虎公园; Lǎohǔgōngyuán) holds hundreds of Siberian tigers (as you can see in the photo they are huge and quite dangerous). I think that visiting the park is an experience you can't miss. The visit includes one hour ride in a bus with a metal caging around and costs around 90 yuan. If you want you can also purchase some meat to feed the tigers or even alive chickens, ducks, goats or cows.
Cute, isn't it?
Explore the polar fauna and get enchanted with the polar bear dance
Harbin Polarland (哈尔滨极地馆;Hā'ěrbīn jídìguǎn) is a huge complex where you can admire most of the polar fauna: jellyfishes, penguins, wolfs, belugas and my beloved polar bears. I spend at least twenty minutes watching them swimming in their tiny swimming pool (watch the video). You don't have to be a huge fan of animals to enjoy this complex, just let the polar bears seduce you. The entrance fee should be around 130 yuan per adult.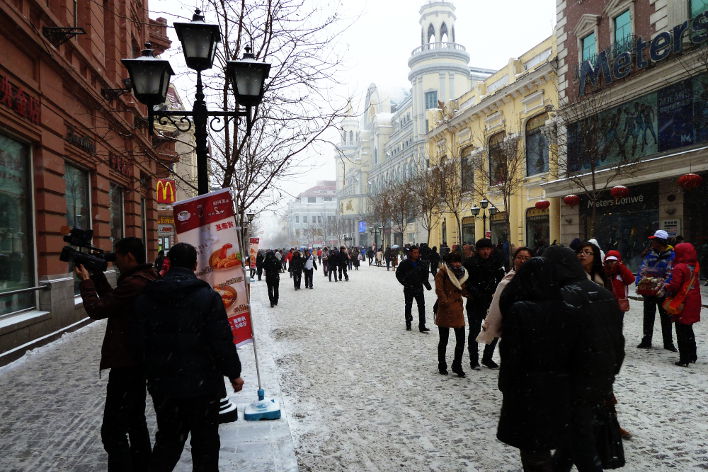 Discover the Russian culture in China
Walking around the Harbin historical city center you'll feel like being transported to Russia as the area is full of old Russian style buildings, Russian shops and restaurants. It's the perfect occasion to have a break from Chinese food and enjoy the bread, cheese and meat or even the caviar, everything for a reasonable price.
Feel like a local "Harbiner" and get a bath in a sauna house
You can find saunas/bath houses (洗浴中心; Xǐyùzhōngxīn) all over the city as many local people don't have showers at home or simply prefer to have it at the public shower houses instead. The price will depend on the quality of the establishment (from few yuan to some hundred).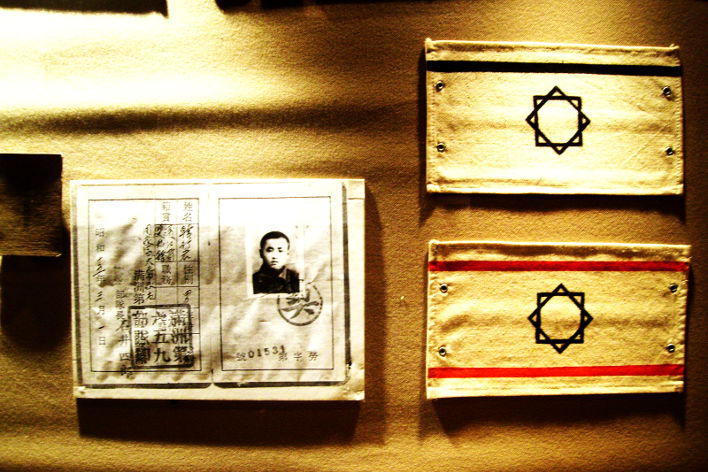 Unit 731 Museum
Learn a bit more about the convulse history of the Japanese occupation
In the West we know quite a lot about the horrible things that happened inside the Nazi's prisoners camps, but almost nothing about the Japanese's camps in China. If you are interested on understanding a bit more about the difficult relationship between Chinese and Japanese, you shouldn't miss the Unit 731 Museum (侵华日军地731部队遗址, Qīnhuárìjūnde 731 Bùduìyízhǐ). It's a unique opportunity to learn more about this obscure period of Asian history.
Is Harbin safe?
When I decided to go to Harbin my Chinese friends advised me to be careful as it's a dangerous place (Dongbei's people have the reputation of having bad temper). After living in China for a while I couldn't believe it, until I got there. After walking less than five minutes, I slip down on the ice and I fell on my ass, really a painful experience…
No, seriously, the city is pretty safe as almost all Chinese cities but the ice can be extremely dangerous, I probably slip down a thousand times and I'm lucky to still be alive!
Some suggestions
Harbin is a place with extreme temperatures ranging from minus forty (on Winter) to forty Celsius degree (on Summer), so be sure to wear the appropriate clothes for the season. Notice that the average temperature in the Ice and Snow Sculpture Festival sites are between minus twenty and minus thirty Celsius degrees.
There are very few cabs in the city so be sure to arrange your transportation in advance as I don't think you want to wait half an hour freezing your ass at minus thirty. Any decent hotel should help you to arrange it.
Considering the previous points and the fact that the main attractions are a bit far from each other, I suggest you to book a private car or minivan (depending on the number of people you're traveling with) for the whole day. It should cost you between 400 to 600 yuan.
In my opinion the best time to visit Harbin is the end of February, that is when the temperatures are a bit less cold but you're still on time to enjoy the Ice and Snow Sculpture Festival. The only downside is that by February some ice sculpture might be a bit damaged.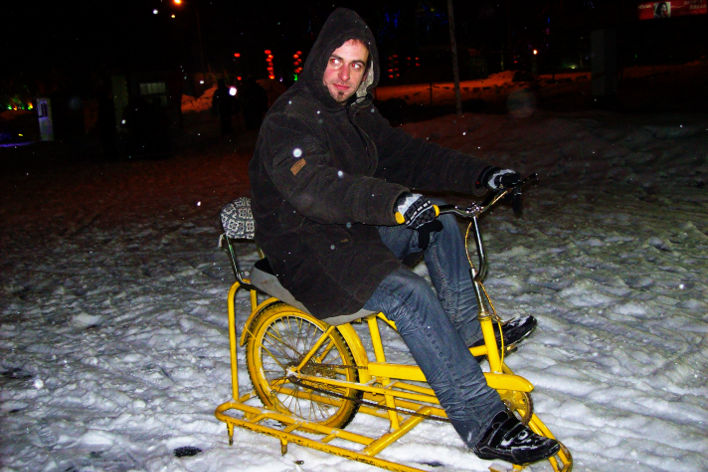 Have you ever ride a snow bicycle?
That's all! I hope you'll enjoy the Ice City as much as I did. Please feel free to share your experience or ask a question using the comments below!
Photo Credits:

Harbin Snow & Ice Festival by Trent Strohm