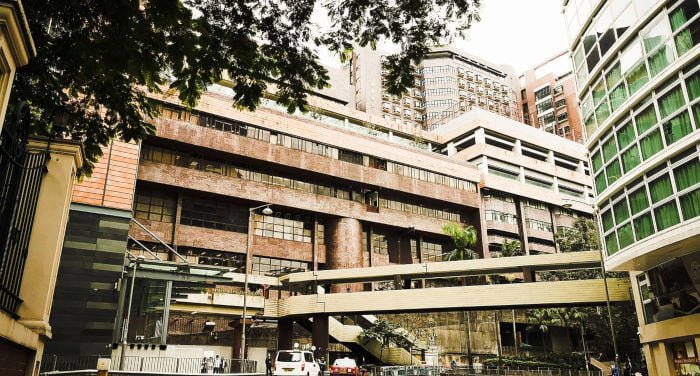 Study Chinese in Hong Kong – Index
Studying Chinese can be a great choice as you'll stand apart from foreign job-applicants that merely have a "B.Sc or M.Sc" on their CVs. Truth be told, if you can speak Chinese you'll find job opportunities, not only in Asia, but in Europe, the US, and plenty of other places.
If you read this article, I assume that you're interested in pursuing Chinese language studies in Hong Kong.
Today, I will explain both the benefits and disadvantages of studying Chinese in Hong Kong and also what some of the best universities schools are. Let's start and have a look at some of the pros of studying Chinese here.
Pros of Studying Chinese in Hong Kong
It's a vibrant city
Being merely 1,106 kilometers and with a population of around 7.5 million people, Hong Kong is one of the most densely populated cities in the world. Thanks to its business-friendly system, low taxes, and a long history in trading, Hong Kong has become the financial hub of Asia that attracts foreigners from every corner of the world.
To say that Hong Kong is a vibrant city is almost an understatement, if you like shopping and nights out, then this place should be on the top of your list.
Career opportunities
If you have a degree in economics, finance, law, or similar, then it can be a great choice to study Chinese at one of Hong Kong's universities and look for jobs at the same time. Having said that, you can also study Chinese before you enroll in a local university.
Hong Kong is famous for having some of the best universities in Asia, a reason why it always snaps some of the top spots in various rankings. Salaries are high for foreigners who can fill a demand in this competitive market. Preferably you should have some years of work experience as entry salaries are fairly low.
High quality of life
Hong Kong is a free society with no censorship and freedom of speech. On top of that, the air quality is generally good, at least in comparison with major cities around China. Even if Hong Kong can feel a bit cramped, it offers a high quality of life.
Good universities and schools
As mentioned, Hong Kong is the home of several universities that rank high in international rankings. Even if Hong Kong mainly attracts lawyers and bankers, you'll find one of the best tech-universities worldwide here.
Later in this article, I will explain more in detail about some of these universities that also offer courses and programs in Chinese. Two of Hong Kong's most reputable institutions include Hong Kong University of Science and Technology (HKUST), The University of Hong Kong (HKU).
Plenty of activities
There's so much more to do in Hong Kong than going to bars and visit the shopping malls. Hong Kong is a cultural melting pot with islands, jungles, hiking treks, and beaches. Have you ever dreamt of attending a Vipassana? Just head to Lantau island and participate in a Vipassana for ten days.
If you like sunbathing and swimming, you should pay a visit to any of the following beaches:
Big Wave Bay Beach, Shek O
Hung Shing Ye Beach, Lamma Island
Repulse Bay Beach
The food is great
Being one of the most international cities in Asia, you can find many kinds of food in Hong Kong. Chinese, Cantonese, and Indian restaurants can be found in great abundance. Food is generally expensive in Hong Kong, at least compared to Southeast Asian countries.
That said, you can find gems in some of its street corners. Don't be surprised if you end up at a 1-Michelin restaurant serving local wontons for as little as HKD 30 to 40.
Cons of Studying Chinese in Hong Kong
They speak Cantonese
Even if Mandarin is an official language in Hong Kong, locals speak Cantonese which is a variety of Chinese that originates from Guangzhou (Guangdong province). As such, most people (especially the young ones) will speak English with you.
Sure, you will have the opportunity to speak Mandarin, but it will be way more limited compared to places like Taiwan and the mainland. There are many mainland Chinese living in Hong Kong as well, it can be good trying to make friends with a couple of mainlanders to enhance your mandarin skills.
It's expensive
Hong Kong has attracted plenty of mainland Chinese and foreigners over the years, a reason why it's become the most expensive housing market in the world. Be prepared to pay up to HKD 10,000 (USD 1,275) for a 1-bedroom apartment in the city center. Your best option is to share an apartment with at least 1-2 other people here.
On top of that, taxis, restaurant visits, and nights out are comparably expensive. A pint of beer often cost 8-10 US dollars in 'regular' bars. According to Numbeo, a three-course meal in a mid-range restaurant costs HKD 400 for two people.
Private Schools in Hong Kong
Coming soon.
The Best Universities for Studying Chinese in Hong Kong
The University of Hong Kong (HKU)
The University of Hong Kong (HKU) was founded as early as 1911, but has traces back since 1887. It was also the first university to be founded by the British Empire in East Asia. QS World University & Business School Rankings put HKU on a second spot in 2019, the university is ranked as the 30th best globally.
The school has around 29,000 students some of its best-performing faculties include humanities, law, dentistry, biomedicine, education, economics, linguistics, business administration, political science, and sciences.
At the moment, HKU offers three different programs for Chinese language students:
Chinese courses for international undergraduate students
Certificate in Chinese language courses for foreign students
Voluntary Putonghua courses for local undergraduate student
Staff language courses
If you're not an exchange student and don't plan to enroll in an undergraduate program, then the second option (Certificate in Chinese language courses) is probably your best option. The course can be taken in either the Cantonese or Putonghua stream.
The only drawback of going for this certificate-program is that it lasts over two years, with three terms each year. Preferably, courses should be divided into different levels with one semester at a time.
What documents do I need when applying?
A photocopy of your HKID card/passport/birth certificate
The original/ certified true copy of the academic transcripts and examination results
The proof of payment of the application fee HKD 300
For up-to-date information, check this page.
How much does it cost?
The tuition fees are rather high and HKD 29,400 per term, with three terms per year. Thus, you need to pay HKD 88,200 per year and HKD 176,400 for the whole program.
The Chinese University of Hong Kong
The Chinese University of Hong Kong was founded in 1963 and the second oldest university in Hong Kong. It has around 20,600 students and eight faculties as follows: The Faculties of Arts, Business Administration, Education, Engineering, Law, Medicine, Science, and Social Science.
The university offers Chinese language programs and courses to both native and non-native speakers. Up until today's date, 30,000 students from 72 countries have attended the programs and courses, which is an impressive number.
The following Chinese language programs are offered at the school and most interesting to foreign students:
University programs
Putonghua and Cantonese Courses for International Exchange Students
As it speaks, this program is made for international students who already study in Hong Kong. Thus, it might not be the most suitable option if you simply want to study Chinese in Hong Kong.
Courses for Public
Putonghua/ Cantonese courses for non-native speakers (Teaching Chinese as a foreign/ second language, TCFL)
Full-time and part-time Chinese program
Full-time Chinese language program
This is one of the most suitable programs for foreigners who wish to move to Hong Kong and study Chinese. It comes with certificates, diplomas, advanced diploma programs, and credits. Classes are held five days a week and with three sessions every day.
Part-time Chinese language courses
This course is held during evenings or daytime during weekends, one to two times a week and two to six sessions. It's available to both native speakers and non-native speakers. It's a suitable program if you want to pursue other studies in parallel or perhaps if you have a job.
How much does it cost?
Certificate Programme in Chinese as a Foreign/Second Language: HKD 50,700
Diploma Programme in Chinese as a Foreign/Second Language: HKD 76,050
Photo Credits: Photo by Inactive account – ID 10948287 on Pixabay