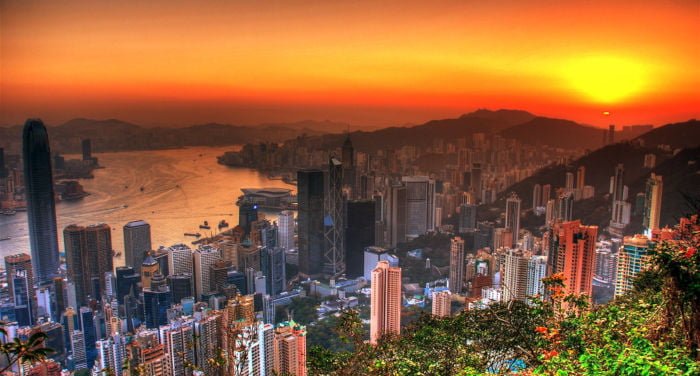 Hong Kong is a melting pot of different cultures and has one of the most business friendly climates in the world. With skyscrapers standing tall, islands, low taxes and a well-functioning system, it's not strange why many professionals and travelers go here.
Yet, before you embark on your journey to Hong Kong, it's important that you know if and what type of visa you need. This article covers most of the information you need to know when applying for different visas in Hong Kong.
Do I need a Hong Kong Visa?
Despite being part of China since 1997, Hong Kong has significantly less strict Visa requirements than the Mainland. Almost 170 nationalities can travel to Hong Kong Visa free, staying 7 – 180 days at a time.
Below I've listed different countries and the Visa regulations that apply:
UK – 180 days Visa free
Macau – 180 days Visa free
EU countries – 90 days Visa free
United States – 90 days Visa free
Argentina – 90 days Visa free
Brazil – 90 days Visa free
Canada – 90 days Visa free
Chile – 90 days Visa free
Israel – 90 days Visa free
Japan – 90 days Visa free
Philippines – 14 days Visa free
Russia – 14 days Visa free
For more information about what regulations that apply for each country, I recommend you to check the Hong Kong immigration department's website. They've listed and stipulated the regulations in greater detail, including the latest information.
How long does it take to process a Hong Kong Visa?
According to Hong Kong's Immigration Department, it usually takes around four weeks to manage the visit/transit Visa/entry permit application. But, the time is estimated from the day that all necessary documents have been provided.
As such, I recommend you to set aside 6 – 8 weeks for the application, if you need to provide complimentary documents or information.
How much does a Hong Kong Visa cost?
It's comparably cheap to apply for a visa in Hong Kong and the fees are currently as follows, according to the Hong Kong Immigration Department:
Ordinary Visa: HKD 230
Transit Visa: HKD 120
Change of conditions of stay or extension of limit of stay: HKD 230
Endorsement to a travel document for which no specific fee is provided: HKD 240
I recommend you to visit the Immigration Department's website as fees can change over time.
What are the different types of Hong Kong Visas?
You can find a number of different Visa options in Hong Kong, depending on your purpose of stay. Below I've listed the most common Visa options available.
Visiting Visas for Hong Kong
APEC Business Travel Card
HKSAR Travel Pass
Working Holiday Visa
Visit or Transit Visa
Pre-arrival Registrations (e.g. India and Taiwan)
1. APEC Business Travel Card (ABTC)
The APEC Business Travel Card is, as it speaks, used for business professionals who need to travel frequently between participating countries in the APEC. Simply put, it serves a purpose to increase the mobility for persons who don't have the time to apply for new visas every time.
The card is made of plastic and similar to a regular ID card. By having the card, you can make multiple visits to participating countries and 2-3 months at a time, without the necessity of a Visa clearance.
The participating countries of APEC currently include:
Australia
Brunei Darussalam
Chile
People's Republic of China
Hong Kong (China)
Indonesia
Japan
Republic of Korea
Malaysia
Mexico
New Zealand
Papua New Guinea
Peru
The Philippines
Russia
Singapore
Chinese Taipei
Thailand
Vietnam
For more information about the APEC Business Travel Card, I recommend you to read about the APEC card on the Immigration Department website.
2. HKSAR Travel Pass
The HKSAR Travel Pass is similar to the APEC card, but can only be used within Hong Kong.
The purpose is to enhance the mobility of business travelers who travel to Hong Kong frequently. The document consists of 32 pages and is valid for 3 years. By having the Travel Pass, you can enter Hong Kong multiple times a year and stay up to 2 months each trip.
You'll be able to use Hong Kong resident counters at airports and the immigration clearance will be faster and more efficient.
For more information, you can visit this page.
3. Working Holiday Visa
The Working Holiday Visa scheme is used to facilitate educational and cultural exchange between your home country and Hong Kong. People aged 18 – 30, living in their home countries and that visit Hong Kong for holiday purposes frequently can apply for the visa.
But, there are quotas in the thousands for each country.
If you get a Working Holiday Visa, you'll be allowed to participate in a short study, training course or employment.
4. Visit or Transit Visa
This type of visa is one of the most common and used for people who simply want to visit or have a layover in Hong Kong. You can apply for a visit Visa in case you cannot benefit from the Visa waiver concession, or if you intend to stay beyond your time limitation (often 14 – 90 days).
To be granted a visit Visa, you need to prepare valid travel documents, including a return ticket to your country of citizenship or residence, have a clean criminal record, you're not likely to create a burden for the government, and have been of no security concerns.
Work Visa
There are many types of work visas in Hong Kong and these are, frankly speaking, not the easiest to obtain. The work visas offered include:
General Employment (GEP) Visa
Employment/Investment Visa
Imported Workers Visa
Entry Visa for New Helper
Capital Investment Entrant Scheme (CIES) Visa
Investment (to establish / join in business) Visa
Immigration Arrangements for Non-local Graduates (IANG) Visa
Admission Scheme for Mainland Talents and Professionals (ASMTP) Visa
The General Employment Permit (GEP) Visa is one of the most common for foreign professionals. To get the GEP, you firstly need to get a job offer from a company in Hong Kong, to prove that they'll be able to sponsor you.
On top of that, a number of conditions apply to protect the local workforce:
You need to have a graduate degree, unless you have a considerable technical experience in a specific field.
You shall have relevant experience in the position.
Your salary needs to meet local standards (currently around HKD 20,000).
The company who wishes to employ you needs to prove that the position cannot be filled by a local. In addition, the company needs to show that you have a skill which is in short supply locally.
You'll contribute to Hong Kong's economy.
The application process takes 4-8 weeks.
Student Visa
The student visa is similar to the work visa in the way that the educational institution needs to apply for a visa on your behalf.
To be eligible for a student visa, you need to meet the normal immigration requirements.
To know more about the student visa, I recommend you to read this article.
Permanent Residency (PR)
If you reside in Hong Kong for seven years or more, you have the right to apply for a Permanent Residency card. This card will allow you to work in Hong Kong without a visa, vote and stand in elections, get access to public housing and more.
If you leave Hong Kong for more than three years after you've received the permanent residency, you'll lose it.
Where can I get a Hong Kong Visa?
Your first option is to send the Visa application to Hong Kong's Immigration Department by mail. You can do this with the help of a local sponsor. You can also apply for a Visa at a Chinese consulate or embassy.
In case your sponsor is an individual, you should provide the following:
A photocopy of the sponsor's HKID card
A sponsor application form
A photocopy of the of the sponsor's flight tickets (if the sponsor is a non-permanent resident)
If your sponsor is a company on the other hand, you need to provide:
A photocopy of the Business Registration Certificate
A sponsor application form
To shorten the processing time, you can send the application forms and the supporting documents by fax in advance to (852) 2824 1133. However, keep in mind that you should send the original copy of the application form, filled in and signed, by mail to the Hong Kong Immigration Department.
What are the documents required for a Hong Kong Visa?
To be granted a Hong Kong Visa, you need to provide the following documents:
A photograph attached to the application form.
Photocopy of your travel documents, such as your flight itinerary.
Photocopy of financial proof, like a bank statement or employment certificate.
Proof of purpose of visit.
The proof of purpose of visit will differ. If you plan to study in Hong Kong, you'll need to submit the admission notice or a sponsor letter, for example.
Here, a sponsor can increase the chances that your application is accepted. He or she should be a Hong Kong resident or a company and at least 18 years old.
If you go to Hong Kong for business, you should provide an invitation letter from the company.
If you move to Hong Kong for employment, on the other hand, you need to provide a series of documents such as the employment contract, resume, medical report and more.
Frequently asked questions
How can I extend my Hong Kong visa?
Sometimes, foreigners are able to extend their visit in Hong Kong, but need to have a special/urgent need in that case. The application for extension should be made within 7 days before expiry.
Non-mainland Chinese visitors can make the applications to the Extension Section on 5/F, Immigration Tower, 7 Gloucester Road, Wan Chai, Hong Kong. You can also do the extension at any Immigration Branch Offices(except Hong Kong Island Travel Documents Issuing Office).
What are the Hong Kong visa regulations for US citizens?
As mentioned above, US citizens can visit Hong Kong for up to 90 days visa free.
Do Indians get visa on arrival in Hong Kong?
Since 2017, Indian nationals need to apply for and successfully complete pre-arrival registration (PAR) online before they can visit the Hong Kong without a Visa free.
Can I work in Hong Kong without a visa?
No, you're not allowed to work or study in Hong Kong without a valid visa (see above).
Can you work in Hong Kong on a Dependant visa?
Dependants of the following persons can work in Hong Kong:
Hong Kong permanent residents
Persons who are not subject to a limit of stay
Persons who have been admitted for employment (as professionals, for investment as entrepreneurs or for training)
Entrants under the Capital Investment Entrant Scheme, the Quality Migrant Admission Scheme or the Admission Scheme for the Second Generation of Chinese Hong Kong Permanent Residents
Dependants of persons that will enroll in schools are not permitted to take up employment, unless they have obtained prior permission from the Director of Immigration.
How can I get a pre-arrival registration in Hong Kong?
Indian nationals need to apply for an entry visa to the Immigration Department, in case you can't manage to apply for the pre-arrival registration.
How can I get in touch with the Hong Kong Immigration Department?
Address: Receipt and Dispatch Unit, Immigration Department, 2/F, Immigration Tower, 7 Gloucester Road, Wan Chai, Hong Kong
Photo Credits:

Sunrise over Hong Kong by slack12