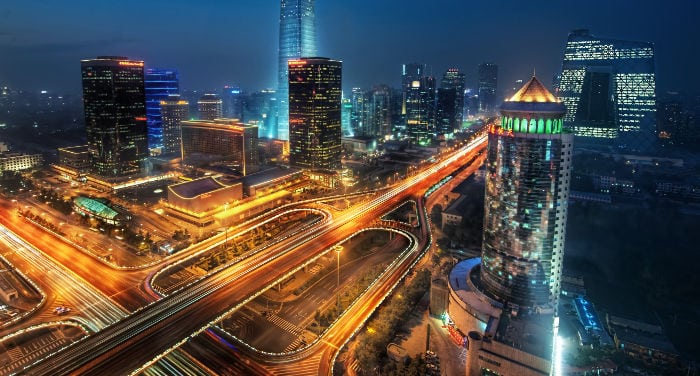 Beijing: the current situation
Before to start I would like to share some thoughts on the current situation in Beijing. Just so you know what to expect.
First at all, the quality standards of Beijing apartments are quite poor. Even if the flat looks good, it doesn't mean that is good. As an example, a friend of mine just rented a new apartment but, when she tried to have a shower, the shower box exploded. It probably wasn't built to get wet, I dunno.
Beijing isn't cheap as it used to be, especially when it comes down to the rent. In 2009 the standard price for a flat with two bedrooms close to the downtown – let's say on the third ring, – was 2.500 RMB per month.

At the end of 2010 it was already difficult to find something for 3.500 RMB. Nowadays you are lucky if you can get the same apartment for 4.500 RMB.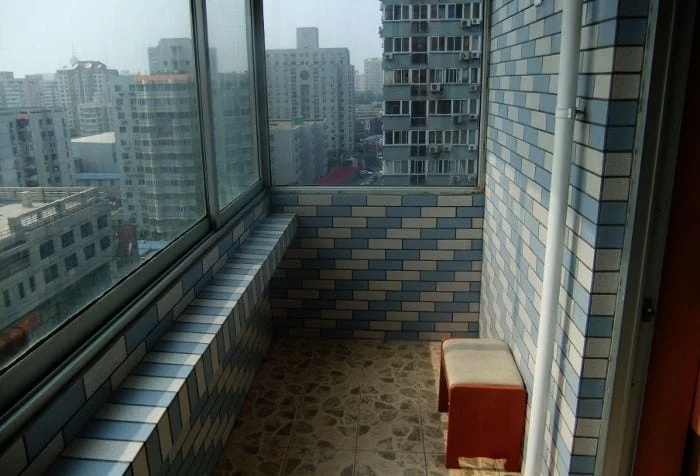 My first apartment in Beijing
Find an apartment on the web
If you are just landed in China and are a bit lost, the quickest way to find a flat or a room in a shared apartment is to look at the websites in English language. I recommend The Beijinger and eChinacities.
There are many other websites in English. But I don't think you'll find something unless you have a big budget as they are mostly agencies that focus on diplomats or expats who work for firms that offer a ton of benefits.
The advantage of using the websites that I linked to is that you'll bypass the – often terrible – Beijing's agencies. If you are lucky you may even find a landlord or a roommate who speaks English!
The first disadvantage is that the prices will be a bit higher – even up to 20% – because these announcements target expats. Moreover these deal disappear quickly, especially in the case of a room in a shared flat. So, if you find something you like, take it right away or it will be gone soon.
The other disadvantage is that the offer for expats is concentrated on Salitun, that is the neighborhood of the embassies where most of foreigners live, and Wudaokou, that is where are located the most important universities such a Bei Da (Beijing University) or Tsinghua. Thus, if wish to live in a different zone you may have some troubles on finding an offer in an English website.
If you can speak Mandarin or know a Chinese person that can help you, then you should consider the possibility of check the websites in Chinese language. I recommend 58.com, Soufun and Lebiao.
There you'll find cheaper apartments. Even if in theory landlords can post an offer by themselves, this market is dominated by the agencies.
As for the websites in English language, the best apartments get rented fast. Moreover you'll have to deal with "fake announcements," that is agents that post the photos of a nice apartment even if what they got is much worse. Their goal is to meet up with you and then convince you to rent a shitty apartment that nobody wants.
I advice you to always ask to the agent whether the apartment corresponds to the one on the photos and, in the case the answer is negative, walk away.
A trick to find a cheap room in a shared apartment
In the article we wrote about how to rent an apartment in Shanghai, we discussed how you can exploit social websites as Couchsurfing to find other foreigners interested on team up to find an apartment.
You have a lot to gain from it as finding a cheap room in a shared apartment in China is really difficult. Conversely, if you team up with other two or three guys you can rent a whole apartment for a reasonable price as there are tons of empty apartments.
Find an apartment with an agency: what to expect
There are a few things you must know before to look for an agency:
The 99% of agents in Beijing can't speak English. Hence, if you can't speak Mandarin, it's better if you seek some help.
The majority of agents are simply retarded. No offense to anybody, this is just the way it is. Thus, when you find a good agent, stick with him (or her).
Be ready to pay cash: in Beijing isn't unusual to pay an amount equal to five months of rent the day you sign the contract (three months of rent, a month of deposit and the agency fee, which often corresponds to your monthly rate).
If you find an apartment you like, take it. Foreigners in China tend to look for the same stuff (cleanness, a decent kitchen and bathroom, big windows and so on). The affordable apartments that have these characteristics are rare so they get rented soon (sometimes in a couple of hour).
Usually the contracts last for a year. If you are planning to stay in town for a shorter period than find a roommate that want to stay at least a year (it will be easy to find someone that takes your room when you leave) or go for an agency that specializes on short term contracts (they are more expensive though).
Be patient, very patient. You aren't in Florida. Beijing is one of worst place in the world to find an apartment, but it's not impossible (I've already moved three times). Don't lose your cool, especially if a Chinese person is helping you (she could take it personally and get hurt).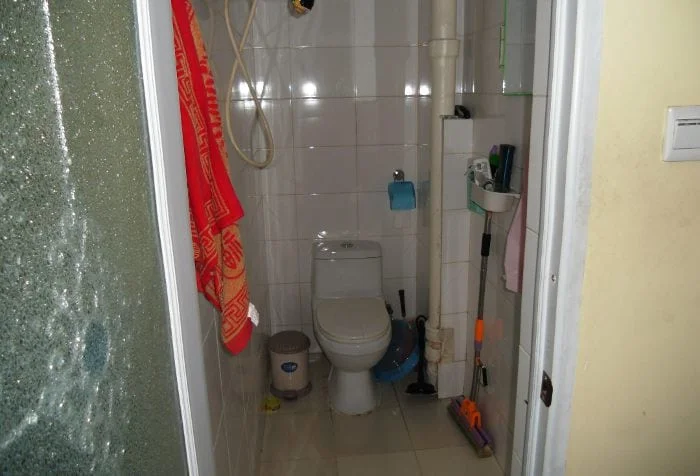 The bathroom of my second apartment in Beijing
Find an apartment with an agency: the steps you should follow
Walk around the neighborhood where you wish to live (Wudaokou for instance) and look for an agency. There are plenty so it shouldn't be a problem.
Ask for an apartment with the characteristics that you desire. Try to go into detail as much as you can and ask to the agent if he has some photos of the apartment. I especially recommend you to specify that you want a decent apartment, clean and with a good bathroom (or in the best case you'll end up with a bathroom like the one on the photo below).
If you don't want to lose too much time, be polite but inflexible. If you notice that the agent keeps showing you horrible apartments, just move on.

Many agents will keep showing you unacceptable apartments, even when they know you won't take them. The idea is to "scare" you so that, after visiting so many terrible flats, you'll downgrade your standards and settle for an apartment that is just so-so.

Don't fall for it. If the first apartment is a disaster, don't lose you calm and explain again what you want. If the second apartment is also bad then it's time to change agent.
Never forget to bargain a bit. In China is fairly common and, in general, you should get a discount of about 1-10% (depending on your bargain skills). A good way to get a better price is to let the agent (or the landlord) notice all the little problems of the apartment (the furniture is too old, there is no tv, the kitchen is bloody dirty and so on).
Which are the best agencies of Beijing?
There are a ton of agencies in Beijing. However most of them belong to a couple of big companies.
The problem is that many agencies don't control any apartments on their own; they simply look on the internet and act as intermediate between the wannabe tenant and the landlord.
This is the main reason for which, among fake announcements and agents constantly looking for apartments to rent, find a flat it's so difficult.
Getting to the point, in my opinion 我爱我家 (Wo Ai Wo Jia) is the Beijing's company that controls more apartments (but be careful because at the beginning they always try to convince you to get a shitty flat). Another good company is Century 21.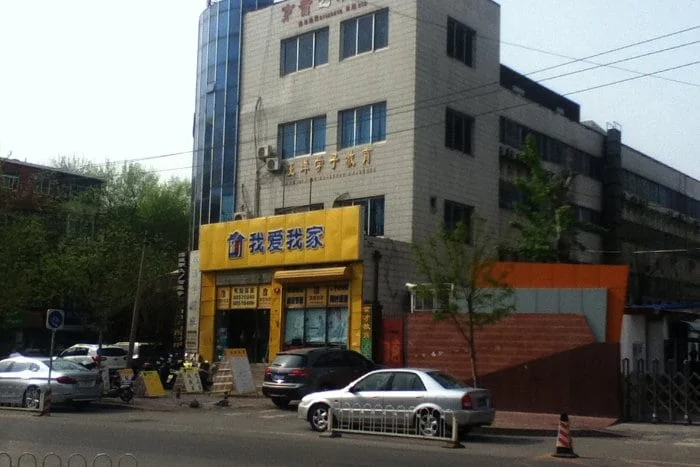 What are the expenses of a flat (beside the rent)
In Beijing is quite common to pay the rent each three months. You'll also have to pay a deposit worth a month of rent. Don't pay more for the deposit. If the landlord or the agent asks for more it's probably a scam.
When you find a flat that you like you must "secure" it by paying a certain amount of money that may vary from 500 to 5.000 RMB. Always ask for a receipt, bargain on the price and remember to discount is this money from the first rent as this is just a deposit to get the apartment.
The day after you'll have to visit again the apartment, verify that everything is working fine (air con, fridge, hot water and so o), approve the document that describes the state of the apartment (verify that it corresponds to reality if you wish to see again your deposit), sign the contract and pay on cash (welcome to China!).
Usually the agency will ask you for a fee that corresponds to what you pay for a month of rent. You can often get a discount of 10-20% for cheap apartments and up to 30% for expensive ones. Don't bargain too hard on the agency's commission or the agent will try to get his money in other ways (such as increasing your rent).
More in general, you'll have to pay the electricity, water, gas and internet bills. Sometimes you'll also have to pay a fee issued by your building that is needed for cleaning and keeping the compound safe. The total amount shouldn't be more than 200 RMB per month (for each person).
Why do you need a regular contract?
There are two main reasons.
In China it's compulsory to register to the local police station within 24 hours you entered the country (a delay of a few days isn't a problem though).
If you are just traveling or live on a student dorm you can skip this step as there will be someone at the hotel (or a the dorm) that will inform the police.
However if you renting an apartment you'll have to register yourself. Here you find the details of the procedure.
The second reason for which you need a contract is that you can't trust the landlord. If you don't have a contract what would you do if, let's say, the landlord decides to increase your rent? Because it happens fairly often.
If you got a legal contact you can just tell them that he can go to the police and try to see what they say. But if you don't have any contract you have no legal right to stay on his house!
Moreover, having a contract is often your only chance to get back your deposit.
What should be written on your contract?
If you aren't able to read in Chinese you should find someone that can help you as in Beijing the contracts are almost always in Mandarin (in Shanghai it's easier to find a contract in English). Don't sign any contract without knowing what it says!
The name of the landlord should be mentioned on the contract. You should also require to see his ID so that you are sure that it's the same person.
The address of the apartment should be mentioned on the contract (usually on the first page).
The rent fee, the deposit and the scheduling of the payments should appear on the contract.
The lenght of the contract should be specified.
The contract should states that the landlord is responsible for the extraordinary maintenance such as fixing a broken fridge and so on.
The contract should indicates that, in the case the landlord asks you to leave before the end of the contract, he should pay a fee (corresponding to at least a monthly rent).
I send you again to the article about rent an apartment in Shanghai to read about the most common scams you can stumble upon while looking for an apartment in China.
Frequently asked questions
Can you rent an apartment in China on a tourist visa?
Yes, you can rent an apartment on a tourist visa, but be sure to register your new address at a local police station. Some people say it's not required, but it's highly recommended as the police can do random inspections and visit your home. This has happened to a couple of my friends while in China.
If you're a "friend" of the landlord and don't "pay rent", it's not required to be registered as a rental apartment. When you go to a local police station to register your new address, fill in that you're living at a friend's place, and don't rent a unit/room. You'll also need to provide information about the landlord such as his or her name and the ID card number.
However, keep in mind that if your company/school will pay your rent, you need to get the invoices (fapiao, 发票) for the monthly payments. Thus, you need to have a rental unit, and "living with a friend" is generally not an option if you want to get reimbursed.
How much does it cost to rent an apartment in Beijing?
Rents and real estate prices have increased significantly the past years and Beijing is simply not what it used to be.
If you're moving as a single person and want to share an apartment in the central areas, be prepared to pay everything between 400 – 800 US dollars for a room. You need to pay as much as 1,000 US dollars if you want your own 1-bedroom apartment in the city center. A studio will set you back even more.
A 3-bedroom apartment, on the other hand, will cost you around 2,000 – 3,000 US dollars in the city center.
If you move as an expat with family, be prepared to pay everything between 3,000 – 5,000 US dollars, depending on your preferences and standards. By comparison, in 2016 I rented a 1-bedroom serviced apartment in one of the prime areas in Shanghai (Xujiahui) and paid around 2,800 US dollars. At that time, I was an expat and my company paid my rent.
If you look for units outside of the city center, you'll save around -30% of the costs mentioned above.
Should I buy an apartment instead of renting one in Beijing?
If you consider to buy an apartment instead of renting, I suggest you to do some more research. First of all, the foreign ownership regulations are very strict by comparison in China. You need to study or work in China for at least one year, before you can purchase one unit (not two, or three, which you can in most other Asian countries). Also, the unit can only be used for self-dwelling purposes.
China's real estate market is in a bubbly phase and prices have increased immensely over the past 5-10 years.
How much does an apartment cost in Beijing?
Prices have reached new record breaking levels and it's advised to not buy real estate in the major cities in China at the moment, including Beijing. In December 2018, the average
price per square meter
was 26,732 RMB (around 4,000 US dollars) in the 10 big Chinese cities, according to China Daily.
Photo Credits:

Bustling Beijing by Trey Ratcliff