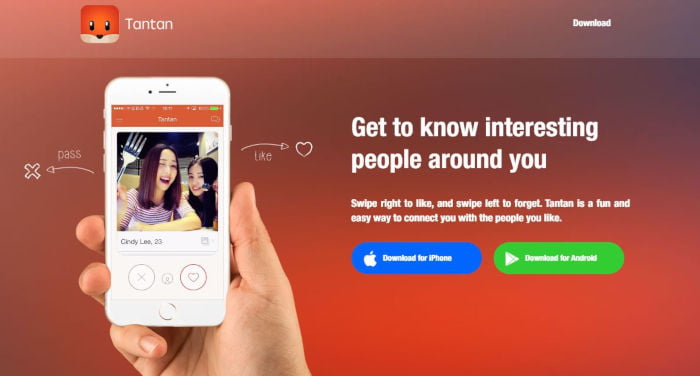 Best Dating Apps for China – Index
The online dating applications industry has literally exploded and companies receive funding in the hundreds of millions of dollars and are valued in the billions. China is not an exception and there are plenty of both local and foreign companies that target the Chinese online dating market.
If you plan to visit or move to China and look for the best dating applications, don't look any further. In this article, we list some of the biggest and most popular dating apps you can find.
1. Tan Tan (探探)
Founded in 2014, Tan Tan has more than 100 million users and is one of the biggest dating applications in China. At the moment I'm writing this article, almost 4 billion matches have occurred in the application. The application has received tens of millions of dollars in funding.
Tan Tan is similar to Tinder in the sense that you can swipe, left or right, when seeing people's photos and bio in the card deck. Compared to Tinder, which is blocked in China, by the way, I'd say that Tan Tan is more popular among local users.
Some pros of using Tan Tan are that you can use all the features for free, and upgrades are affordable. Besides, you're allowed to swipe a lot of profiles per day, and it's fun chatting as they have getting-to-know-you games.
Some drawbacks of using the application is that many profiles are incomplete, some even fake.
2. Tinder
Tinder is the biggest dating application in the world and was launched as late as 2012. Since then, the application has grown to become a monster, valued to 10 billions of dollars. Before Tinder, many people met partners through friends, at bars, nightclubs, and cafes, for example.
Nowadays, you'll notice that a decent number of acquaintances and friends meet their beloved ones online. Interestingly, it's still some kind of taboo of using online dating applications, even if these are so widely used.
To use Tinder, you can simply go to Apple Store or Google Play and download the application. As long as you have a VPN (Tinder is blocked in China), it won't take you more than a few minutes to register, after that, you can write your bio and upload photos.
Perhaps as you know by now, people are matched if they both swipe right when seeing each other's profiles in the card deck. You cannot see whether a person has swiped right unless you use Tinder Gold (more about that later).
Tinder also has plenty of other functions, such as super likes. Super likes come in limited numbers and the other person will see whether you liked them or not before they swipe.
Over the years, Tinder has evolved into a freemium product, which means that there's a free version and paid versions. The paid versions are Tinder Plus and Tinder Gold. Let's review them a bit more in detail.
Tinder Plus:
Unlimited Likes
Rewind (lets you take back your last swipe)
5 Super likes a day
1 boost a month (allows you to be one of the top profiles in your area for 30 minutes)
Passport (other destinations than your current city)
No ads
Tinder Gold:
See who likes you before you like or no
New top picks every day
Unlimited likes
Rewind (see above)
5 super likes a day
1 boost a month (see above)
Passport (see above)
No ads
3. Badoo
Badoo is one of the biggest online dating applications, not only in China, but in the whole world. Founded in 2006, Badoo started out years before Tinder and was long the biggest dating application in the world.
The application is similar to a social network as you can visit people's profiles and send them private messages, without the need of matching with them.
Badoo has a function called "People nearby" that allows you to see, as it speaks, people nearby or bumped into. On the contrary to the free version of Tinder, you can also find persons that aren't located in your city, but even in other countries.
Thus, you can start using Badoo before you relocate or travel to another country.
In addition to visiting people's profiles directly, Badoo also has a function similar to Tinder where you see people's profiles in a card deck. You choose either whether you like them or not.
In 2017, Badoo introduced a video chat function where you can connect and talk with users in real estate. First, you have to exchange messages though.
You can download the application on both Google Play and Apple Store.
4. Mo Mo (陌陌)
Mo Mo is a free instant messaging and social search mobile application that was launched in 2011. It's by far one of the most popular dating applications in mainland China and allows you to contact nearby strangers and friends.
Momo was listed in NASDAQ in December 2014, which kind of speaks for itself.
You find other users according to their location and interests. You can find groups, nearby users, nearby events, message boards, and groups. The same as it goes with Tinder, Mo Mo offers both free and paid memberships.
Memberships cost around USD per month, unless you commit to longer terms of use. The paid membership offers benefits such as VIP logos, discounts in the emoticon store, advanced searches, ability to see recent visitors, and more.
In September, 2014, there were 2.3 million paid subscribers on Mo Mo.
5. Tencent's QQ
QQ is an instant-messaging application that is widely used in China, having more than 700 million users. Launched in 1999, it was the first application launched by Tencent, one of the biggest companies in China and the creator of WeChat.
Compared to WeChat, QQ is primarily used on desktops, a reason why WeChat is sometimes referred to as QQ 2.0. Today, QQ is primarily used among people born after 1995 and in companies as employees use it for file-sharing purposes.
6. WeChat
WeChat is the biggest chat application in China and was launched in 2011. With more than 1 billion users, it's called a multi-purpose application as you can chat with friends, buy things online, and use it's people nearby function.
It's the third most downloaded application in the world, just behind Facebook Messenger and WhatsApp.
A benefit of using WeChat's people nearby function is that WeChat isn't blocked in China, like Tinder, thus, you won't need any VPN when using the application.
If you can't speak Chinese, don't worry. WeChat allows you to translate each message with just a click!
What should I do if a dating application is blocked in China?
Many foreign applications and websites are blocked in China. For example, Tinder and Badoo are both blocked in China. If you want to use these applications, you have to download a VPN first.
Are you looking for people in a different place?