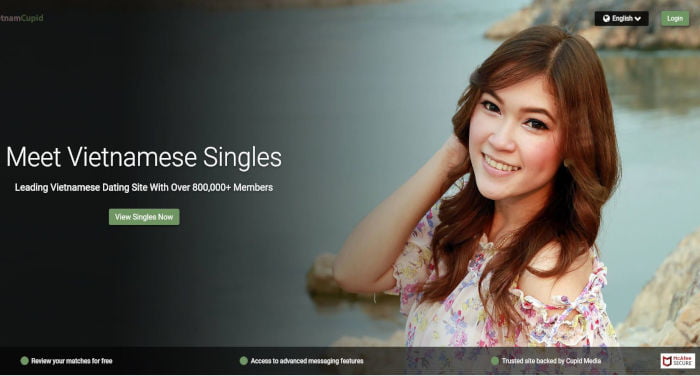 Best Dating Apps for Vietnam – Index
The online dating scene has exploded in the past 5 years, something that used to be tabu has become completely normal. Vietnam is not an exception and we've seen both international and local dating apps that are gaining more and more traction in the country.
If you live in Vietnam and would like to know what are the most popular dating apps, don't look any further. In this article, we list some of the best and most popular dating apps in Vietnam.
1. Tinder
Tinder needs no further introduction as it's the most popular dating application worldwide. Being released in 2012, Tinder has transformed our societies and shaken up industries. Previously, many saw nightclubs, cafes, and bars as the only options to meet new people.
That truly changed after 2012 as many people could easily connect with people online. Interestingly, many people meet their partners and spouses on Tinder, yet, it's still some kind of tabu to mention that you use the application.
Tinder is easy to use, simply download the application, upload your photos, and write a bio. You can then start swiping (left means that you like a person, right means not). You can not see whether a person has swiped left for your profile. If you swipe left when you see their profile and they have swiped left on your profile, it will be a match.
You can also super-like persons, which means that they can see whether you have swiped left or not. Your profile will appear in their card stack with a bright blue border and star, highlighting that you super-liked them.
Tinder also has two premium versions, Tinder Gold and Tinder Plus.
Tinder Plus:
Unlimited Likes
Rewind (lets you take back your last swipe)
5 Super likes a day
1 boost a month (allows you to be one of the top profiles in your area for 30 minutes)
Passport (other destinations than your current city)
No ads
Tinder Gold:
See who likes you before you like or no
New top picks every day
Unlimited likes
Rewind (see above)
5 super likes a day
1 boost a month (see above)
Passport (see above)
No ads
2. YmeetMe
YmeetMe is only used in Vietnam and an online dating application for Vietnamese and foreigners that want to meet new friends or a new partner in Vietnam. The name of the app is pronounced similar "Why meet me?".
The functionality is similar to that of Tinder as you create a profile and select whether you like a person or not. In the first quarter of 2019, the application had 1.8 million users. It can be worth trying this application as it has a more local appeal compared to Tinder.
3. Vietnam Cupid
Vietnam Cupid is part of Cupid Media Network and one of the biggest local dating applications in Vietnam was established in 2000. They operate various niche dating sites based on religion, ethnicity, physical appearance, special interests, lifestyle, and more.
They also operate in other parts of the world, including North and South America, Europe, Asia Pacific, and the Middle East. Over the years, they have helped more than 30 million couples to find love.
The process works like follows when using Vietnam Cupid:
Create a profile within minutes
Browse your photos
Start communicating directly
You can read many testimonials on the website from members who have found love thanks to the website.
4. Badoo
Badoo is another major and global dating application that is used not only in Vietnam, but worldwide. Compared to Tinder, Badoo is more of a social network where you can visit people's profiles and text them directly. Badoo offers the following features:
People nearby: Users can see and contact people who live in their area, and people they bumped into on the street.
Search: Users can browse other users in different cities and other parts of the world.
Encounters: This feature is free and allows you to swipe right or left on users' profiles. You will be notified if there's a match.
Video chat: Badoo launched its video chat function in 2017, which allows you to connect with other users in real-time, once you've exchanged messages.
If you meet a person that doesn't have Tinder as his or her favorite dating application, it will most likely be Badoo. These two applications have been competing for years and many users prefer to use both at the same time.
5. Bumble
Bumble was released in 2014 and has managed to become one of the most popular dating applications, not only in Vietnam but worldwide. The application is a location-based social application that helps users to communicate.
Interestingly, only female users can contact men in heterosexual matches, which makes the application different from other competitors. This is not the case for same-sex marriages where anyone can make the first contact, no matter the gender.
The founder, Whitney Wolfe Herd, previously worked at Tinder and has called Bumble a feminist dating app. In September 2019, the application had as many as 5 million users in the US alone and it keeps on growing. It is the second-biggest dating application after Tinder in the market.
The application has 55 million users in total and is worth USD 1 billion, according to Forbes.
6. VietSocial
As you can hear by its name, VietSocial is solely dedicated to the Vietnamese market and one of the best free dating apps to connect with Vietnamese singles, or to meet Vietnamese singles around the world.
The application is different in the way that you can meet people directly by watching videos of them. By using the app, you can meet people, make friends, chat, socialize, and of course, date.
VietSocial has the following features:
Group social chat rooms
Private inbox with photo, video and audio
Make fans (people that like you)
Friends (people you like back)
Video and photo profiles
7. Facebook Dating
Facebook Dating was launched in 2019 and you can filter results based on the location, number of children, religion, age, or height. You can match with other users within a 100-kilometer range.
Evidently, Facebook is set to compete with online dating service providers, such as Tinder and Badoo. Facebook Dating allows you to integrate your Instagram posts and Facebook stories into the application.
This application will be interesting to follow in the coming years and it will probably become one of the most popular dating applications in the future. Why? Because it's convenient to use as it's already integrated with Facebook and online dating becomes more 'normalized'.
To use Facebook Dating, you need to be at least 18 years old and have a Facebook account. You also have to create a separate dating profile, which is good, for private reasons.
The app was launched in Europe in early 2020 and in a couple of dozen countries.
Are you looking for people in a different place?