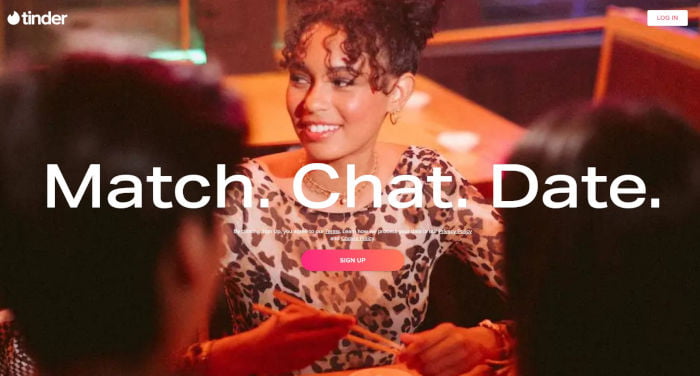 Best Dating Apps in Hong Kong – Index
The online dating application market has grown immensely in the past decade and we've seen several new big brands popping up.
At a start, people primarily used Badoo and Tinder, but we now see increased competition from companies that offer unique functions, targeting different segments. Hong Kong is a market where we've seen new dating applications entering the market in the past years.
In this article, we list some of the most popular dating applications for people traveling or living in Hong Kong.
Tinder
Tinder is the biggest dating application, not only in Hong Kong but in the whole world. According to surveys, Tinder has a market share of 36% in Hong Kong, which speaks for itself. Originally released in 2012, you'll most likely be surprised if a single person doesn't have the application downloaded on their cell phone.
Tinder is well-known for being easy to use, simply go to Apple Store or Google Play and download the application. You can log-in by using your Facebook account. So will my friends see that I'm on Tinder? They won't, don't worry.
So how does Tinder work? First of all, you have to upload one or more photos and write a short bio. There are also some other details you need to have a look at, such as which genders you want to match with.
When you're ready, you'll see people like in a card deck. If you like a person's photo and/or profile, swipe to the left. If you don't, swipe to the right. If you and another person both swipe left (that means, you both like each other) then there's a match and you can start talking.
Tinder also allows users to "super-like" other users. These super-likes come in a limited amount and other persons can then see whether you've liked them or not.
Worth mentioning is that Tinder has two premium versions at the moment, Tinder Gold and Tinder Plus. The paid versions come with the following benefits:
Tinder Plus:
Unlimited Likes
Rewind (lets you take back your last swipe)
5 Super likes a day
1 boost a month (allows you to be one of the top profiles in your area for 30 minutes)
Passport (other destinations than your current city)
No ads
Tinder Gold:
See who likes you before you like or no
New top picks every day
Unlimited likes
Rewind (see above)
5 super likes a day
1 boost a month (see above)
Passport (see above)
No ads
Badoo
Badoo was launched some years before Tinder and is still one of the most popular dating applications in the world. One of the main differences between the two is that Badoo is more of a social platform where your profile includes more information. Besides, you can visit people's profiles and message them without the need for matching first.
Just keep in mind that you might need to upgrade your account to a paid subscription if you want to talk with "popular" users.
In short, Badoo offers the following functions:
People nearby: You can view and contact people who live in your area. Not to forget, you can also see persons that you "bumped into" on the street.
Search: What makes Badoo a better application than Tinder is that you can find users in other cities and other parts of the world without the necessity of opting-in for a premium version. This can be great if you'll go somewhere else in a week or so and want to get to know people in advance.
Encounters: Encounters is a function that is similar to Tinder as you can see people's profiles like in a card deck. You swipe left if you're interested in a person and right if you're not interested. If there's a match you'll get notified.
Video chat: In 2017, Badoo launched a video chat function that allows users to connect with other people in real-time. The function was well-received among users and remains popular.
I recommend you to give Badoo a try if you're serious about dating in Hong Kong.
WeChat
Believe it or not, but WeChat is pretty good for online dating. Being one of the biggest chat applications in the world with around 1 billion users, you can find other users thanks to WeChat's "People Nearby" function.
Many people use WeChat and you can start chatting with people instantly.
Interestingly, WeChat also has a function called Shake. In short, go to WeChat, tap on Discover at the bottom, and then select Shake. When you start shaking your phone, you'll be connected with another user who's shaking his or her phone at the same time.
If there's a "match", you can respond or ignore the user. To connect with another user, just shake your phone again!
Coffee Meets Bagel
Coffee Meets Bagel was launched as late as 2012 in New York and is a bit more sophisticated than other applications. My point is that it's not merely used to hook-up with other users.
Since its release, Coffee Meets Bagel has become one of the most popular dating applications, not only in Hong Kong but in the world. The founders behind the application saw a demand for a dating application where users can find more long-term relationships, prioritizing quality over quantity.
The difference between Coffee Meets Bagel and Tinder, for example, is that the application sends you a few profiles every day, these are referred to as bagels. The app chooses the profiles according to your Facebook data and profile criteria.
The same as it goes with many other applications, you'll get a match if you and another person like each other. You can then start chatting with the person.
If you check Apple Store and Google Play, you can see that the application has got more than one hundred thousand reviews with a great rating. I recommend you to try Coffee Meets Bagel if you want a more sophisticated online dating experience.
The process to get started is easy. Simply download the app, set up an account, write your profile, send likes, and start talking to bagels.
Bumble
Bumble is one of the newest online dating applications in the market and was released in 2014. In addition to Hong Kong, Bumble is available in many other Asian countries and regions, including Thailand and Vietnam.
In short, it's a location-based social application where you can talk with strangers. The founder of the company, Whitney Wolfe Herd, used to be an executive at Tinder and she's referred to the application as a feminist dating app.
Keep in mind that male users cannot contact female users directly.
With more than 55 million users globally, Bumble has received several rounds of funding and is valued at around USD 1 billion. Interestingly, the company only has 70 employees and the head office is located in Austin, Texas.
The same as it goes with other applications, Bumble has started to offer a paid membership since 2016. The paid version is called Bumble Boost and costs USD 24.99 per month. If you use the paid version, you can see people who liked you, rematch with expired matches and extend matches by 24 hours.
Are you looking for people in a different place?